I'm very excited about Halloween this year coz I've never been to any Halloween party before. Halloween every year spells EXAMS except this year! Whoopee!
I don't know what to dress up as.
Suggestions so far were:
>Vampire or any blood sucking creature.
Simply coz I look like one. [???]
>Sadako
With my long hair, some suggested Sadako. But they also pointed that I have to dye my hair black and it's not worth it.
>Simply ghost
>Broken doll
Em said "No need to dress up la. Just go as yourself. You are scary enough."
WTF!
I then thought that I should not dress up fully but just to play around with make up. I played around with my eyeliner and got these…
Design #1
My mum freaked out when she saw this. At first she thought it was very nice then later as if it suddenly dawn on her that her daughter's face should not look like this, she went," Since when do you have this on your face???!!"
I seriously believe she thought that I tattooed it.
Design #2
This was from yesterday. I added the spidery looking lower lashes as inspired by Corpse Bride.
AHHH! Upper lashes look so short... Think I'll either coat loads of mascara like Corpse Bride or go attach fake ones. I love her morbid-looking spidery eyes.
And I will put my Nightmare Before Christmas coffin handbag into good use.
I'm still clueless as to what to dress up as. Will collect more suggestions.
Photos from yesterday…
The day before, I left my sms line hp at kh's house and he left his watch in my bag so yesterday, we were supposed to meet after work to exchange our goods. It turned out that last minute he asked me join his friends at New Asia Bar.
So I went there in my T-SHIRT while the rest of the patron were so impeccably dressed.
Such embarrassing telepathy when kh and me saw each other's tops… RED!
So must take photo… But his friends always ka jiao and spoil the shots.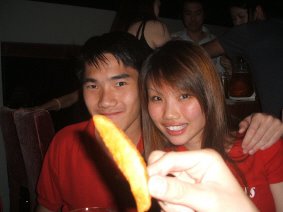 Finally!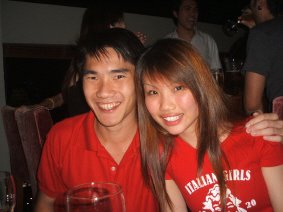 Us and Heineken
Eh… no permission to put the group's pic up.
Friends who are going on Monday and reading this, please sms me suggestions for dressing up k?
Seeya!!!
Waiting for Manic Monday