hollered my 2nd sis when Weilian was crowned the champion of Project Superstar last Thursday .

Oh my goodness gracious me! Shit from a thousand holy cows! That utterance is pure malediction. It is blasphemous!
Yet, throwing all politically correct crap out of the window, what she said certainly holds some truth.
By now, everybody is quite pooped up by the whole issue on Kelly versus Weilian and how each deserved to win. Four days has since passed and I'm still writing about this. (That is because I do not have time to write before today =P)
Kelly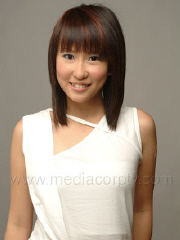 Damn I so wanna cut her kind of bangs now.
Weilian

This is a Superstar competition, not some annual karaoke contest. Kelly certainly has the whole package. She has a good voice, stage presence, looks, good PR skills (Just listen to the way she speaks… I suspect she is already a superstar incognito) and most importantly, she sings much better than Weilian.
Although I've only caught 4 episodes of the whole competition throughout the 3 months, I've heard many others who sang better but were booted out. This is after all a popularity contest. I was told by many of my friends that Junyang and Xinhui (the last of the male and female to be booted out) are better singers than both Kelly and Weilian.
Shrugs…
Till the final showdown, I've not heard Weilian sung. Nevertheless it was quite obvious that in terms of singing credibility, Weilian pales in comparison to Kelly. He went off key so many times and his voice isn't exactly that fantastic.
I would say that his singing is damn good if I were to hear him busking in the street or belting out his number at a KTV lounge. I would even say his singing is excellent after giving him credit for being blind and awarding brownie points for his sentimentality. But in this way, I'm not judging him on fair ground anymore.
As mentioned above, you need the full package to be a superstar. But Weilian? His Music videos would certainly be yawningly boring as he isn't able to show much facial expressions, much less dance and groove around. All his songs would be mellow, somber, sentimental and rich with emotion… PERIOD. No variations, no variety.
It is true that Weilian has certainly touched the hearts of many. His choices of sentimental songs sung with great emotions had certainly brought tears to many and his perseverance struck a chord in all.
It is evident that his visual impairment is clearly not a physical DISABILTY.
His will, courage and undying spirit are truly laudable. But is he ready to be a SUPERSTAR?
Time will tell.