I decided to take a break from reading my textbook, so I switched on the TV and the computer.
I watched Ronald Susilo battle the 1.92m, left-handed German guy. He won!!!!! Singapore has hope!
I managed to catch the whole match which had Susilo battling China's world Number One Lin Dan on TV mobile yesterday. That was the first time I've ever watched a badminton game so intensely. I was really impressed by his performance and decided to follow up his matches to find out if Singapore has any hopes of attaining a medal in this Olympic. Also, although he isn't exactly a good looker, he is pretty good to look at. Oh well, maybe his side view. Oh well, maybe not at all. I can't find any photographs of him looking good!
People are really interested in Fiona Xie's boobs! Everyday, there would be somebody wrongly directed to my blog when he searches for her voluminous boobs. Only to be disappointed by the lack of pictures of her bosom buddies.
I did a search on Fiona Xie. (I suspect I have too much time on my hands!!!)There are just too few pictures of her and her twin assets. Even the photo gallery on Mediacorp is outdated. Let's trace her transformation from an un-pretty and irritating genie to a much prettier but still as irritating, this time a human.
This was how she looked back then:

Taken in 2001, this picture does answer some of your queries on whether her boobs have bloomed only recently. She seemed well-endowed ever since she started off.

A studio shot with makeover effect. And so, she looks prettier here.

Same studio shot. Notice her eyes back then.

Without the studio makeover effect. Not only is she un-pretty, she has a bad dress sense as well. I reckon she just emerged from some A-go-go party.
This is how she looks like now:

She did her eyelids and her dress sense miraculously improved too. In fact, from the 3 episodes of the 9pm show I've caught, I think she dresses really well.

And finally, a really gorgeous picture of her! Nice eyes, nice face, nice makeup, nice gown and nice hair. Her hair is styled so nicely, it looks like the kind of hair I would cut if I should ever cut my hair...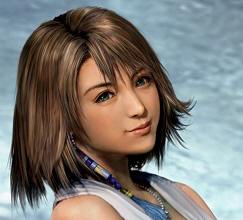 Which looks just like Yuna's hairstyle. However, I figured that if I ever cut this style, I would have to buy a bottle of gel or wax every month and blow my hair for 2 hours everyday and so decided against it.
Oh, how can I forget Fiona Xie's most recent photo? This will be a treat for all guys.

Babelicious Fiona had to wear 2 bikini tops to support her overflowing breasts. This was taken from a shoot for a
new drama serial
.
And after I've typed all these, I realized how boh liao I can get. Oh well, at least I'm adorning my blog with pretty pictures. Displaying pictures of pretty girls on your blog is an advantage, it misleads people into thinking the pretty girl in the picture might be the author of the blog.
I think I had better get back to my books or I would never be able to complete my assignments in time.