~*Day 5: The Supposedly Last Day in Paradise*~
It was supposedly our last day at Maldives.
Thus, we whacked the buffet table like some savages who had not eaten for days.
Of course, we did not do that. We did take lots of food but we did it with professional aplomb.
As usual, the dainty Japanese and Koreans would only fill half their plate and once again used their forks and knives ever so gracefully with such poise.
Over breakfast and bubbly champagne, kh decided to extend our stay.
We mused about how we had initially thought that 5 days would suffice for an island stay and how in actual fact time passed by in a flash. I for one, thought that I would very quickly get bored with 5 days on an island
After breakfast, kh made some enquiries and arrangement for a one-day extension. Everything was settled in a jiffy.
~*Day 5: Engaging in Many Last Activities*~
Besides lounging in the pool and making full use of our water villa for the last time, we also ventured out for some boat paddling.
I was still bumped about not being able to see any sea turtles or manta rays, sting rays whatever rays that I kept deluding myself that any grey diamond or triangular shape object on the sea bed was a sting ray. Some of these shapes looked like they were moving.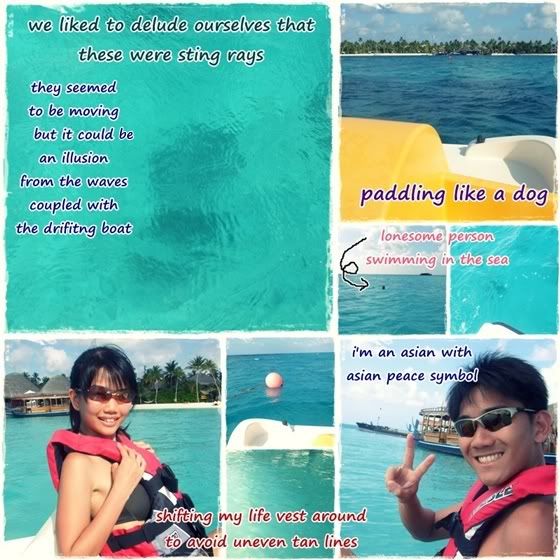 We were supposed to take the same seaplane and same SQ flight with our newfound HK friends, whom we knew from diving. Hence, the couple were surprised to see us paddling nonchalantly while they were heading for the last seaplane of the day.
~*Day 5: Exploring the Island*~
After some paddling, we decided to explore the island. The staff there informed us that it would take just 15 minutes to walk leisurely around the periphery of the island.
We uncovered a few beach villas. Some were single storey and some double. Whether the former or the latter, we could not help laughing at their gates for one could easily slip in through the open "cracks" at the sides. Of course, they were only for show-- to indicate where the entrance to each villa was.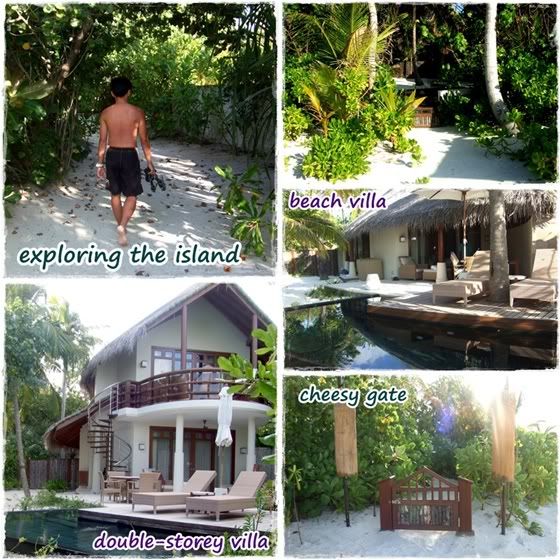 Some distance away, we saw a single golf range and as usual, kh got into the king-of-pretenders mode and started hitting imaginary golf balls with imaginary putters. I can't help wondering where all the balls would go and if the golf balls were meant to be hit into the ocean, would anyone be picking up these plastic trash?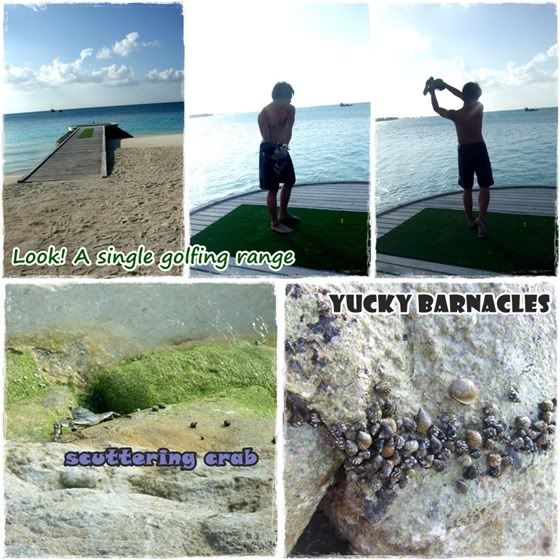 Somewhere in the middle of the island, quite hidden by greenery, we spotted what looked like the staff quarters. We also espied many tree planting plaques by couples who had wedded there. Back to where the main eateries were located, we saw a collective effort to plant a coconut tree and I smiled a little smile to myself.
I cannot help but wonder at how kh was so far away from the shore and yet the water level was still below his knees.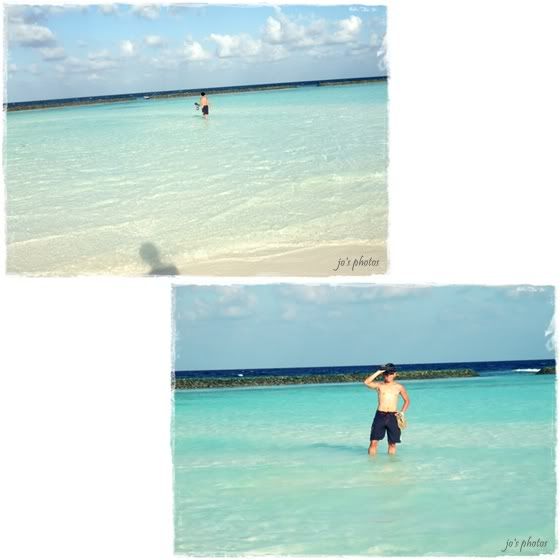 As the afternoon sun readied itself for sunset, our shadows stretched long and thin.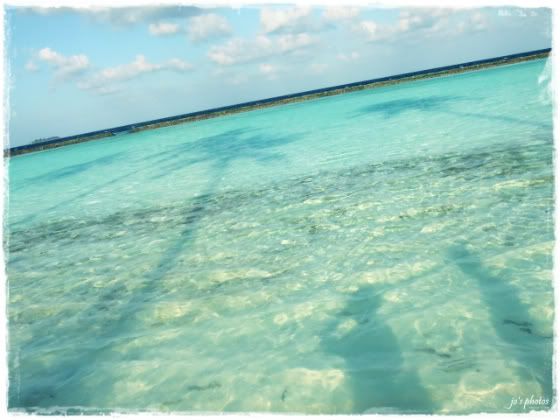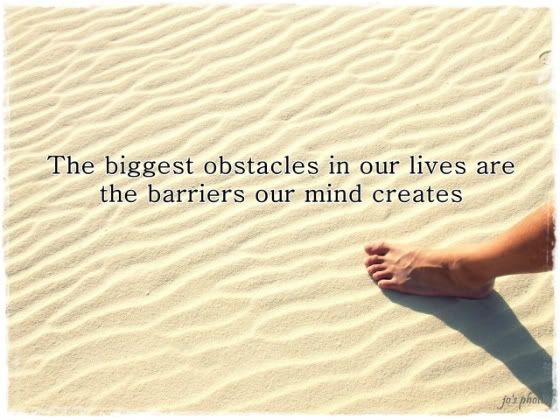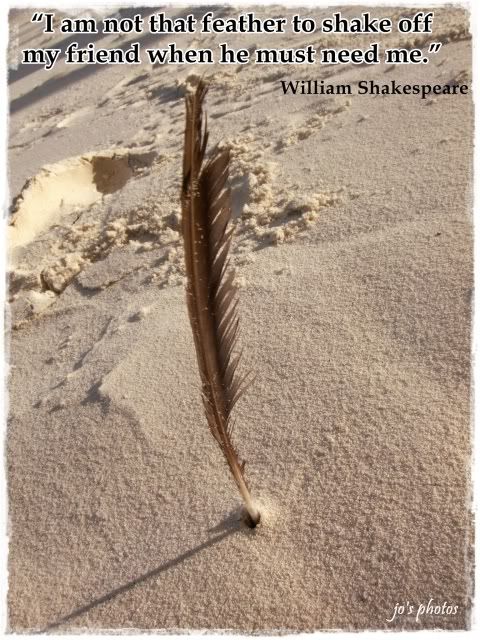 ~*Day 5: Heavenly Dinner at Meeru Barefoot Grill*~
Soon the sun set and it was time for dinner.
This time, we managed to reserve seats at Meeru Barefoot Grill (the one which could only accommodate 20 people). The food was on par with that of JING where we dined on Day 3.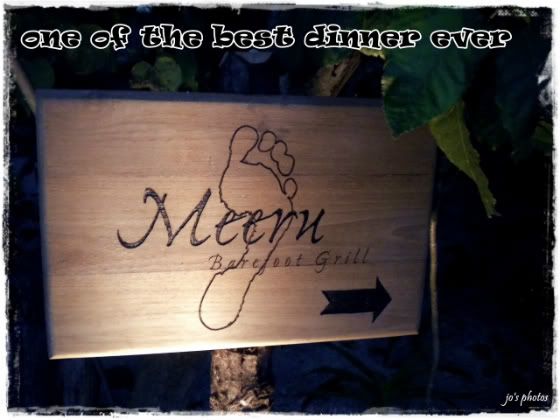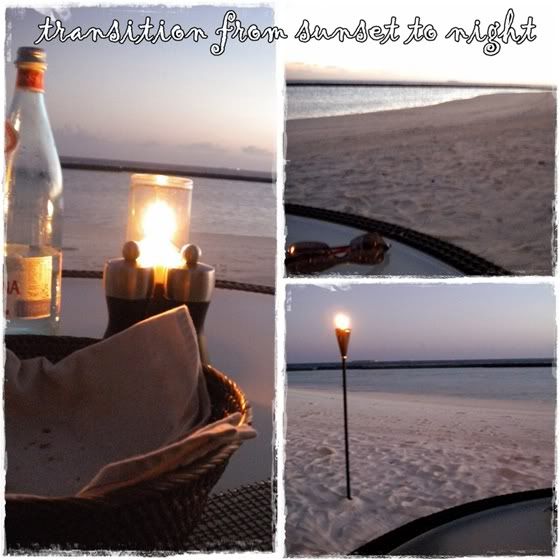 I thought that since it was a BAREFOOT grill place, I could dress down and headed off in my Tee shirt, dishevelled hair with no make up on. I didn't expect the food to be fine dining style and felt totally under dressed for the occasion. Then again, you could never be under dressed at a beach resort.
Our very last sunset and the clouds just wouldn't clear themselves from the horizon.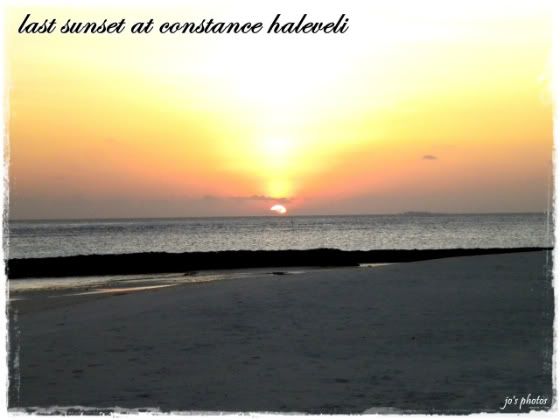 My camera which was better at low light shots was left charging in the room and so all the photos of the food you see here were taken with my BIL's spare camera and simply do not do justice to the food. The flash made the food look so washed out yet it was too dark not to use flash.
I love the salmon tataki and tuna, the yellow fin tuna loin and the angus beef tenderloin steak (in medium rare of course). All their raw food in the form of tartare, tataki etc were all scrumptious that I had cravings for them for the next few weeks.
Their sauteed and grilled vegetables were a little salty but delicious. And oh their desserts... they're to die for! I really love the honey glazed pear poached in red wine. It was served with Grand Marnier Sabayon and rum ice cream. The bitter chocolate sponge was topped by dulce latte mousse with crispy dark chocolate and vanilla ice cream. Do the mere description in words already make your mouth water?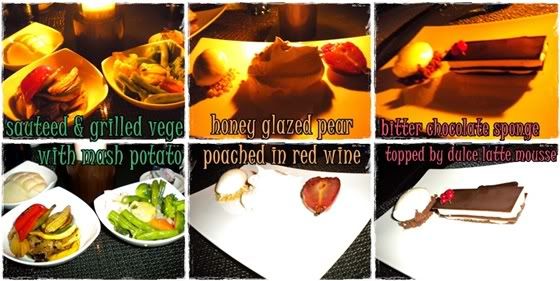 Soon a blanket of darkness dusted with brilliant stars enveloped us.
In highly urbanized Singapore, every part of our country is lit by street lamps. It is quite difficult to spot stars in the sky in lighted places. On the other hand, it was really surreal to see so many stars in the night sky on a dark Maldives island, as if a frolick of fairies had waved their wands and sprinkle fairy dust onto the blanket of darkness.
The camera certainly could not capture it, but every part of the black you see is actually filled with stars.
The moon was exceptionally low that night. I'm pretty used to seeing the moon hanging high in the sky back in Singapore.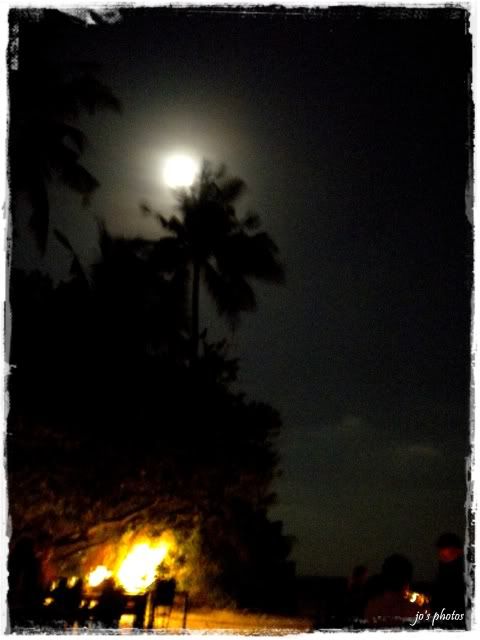 As usual, we'll watch movies in the lazy comfort of the bed.
~*The Disappointing Underwater Pictures*~
After
complaining
on a few occasions about the underwater pictures taken by the disposable camera, I've finally picked out the best from the worst to scan them into my laptop to share them with my friends and readers.
Could you see what I mean by murky blue waters and sea of corals that look like grey rocks?
Here are some from snorkelling:
Well, it's fortunate that they look a lot more vibrant when scanned as soft copies.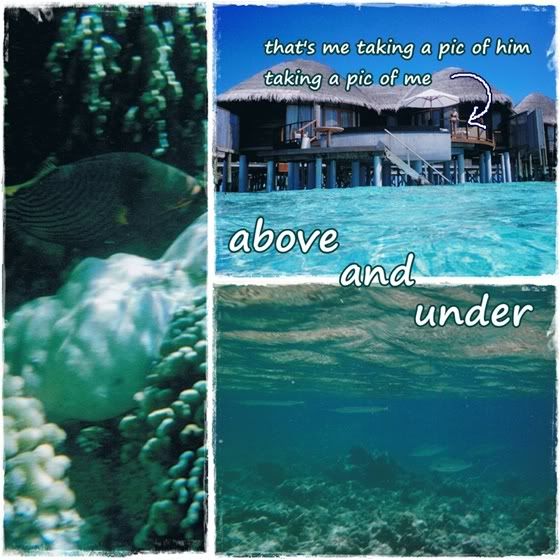 Here are the scuba diving ones: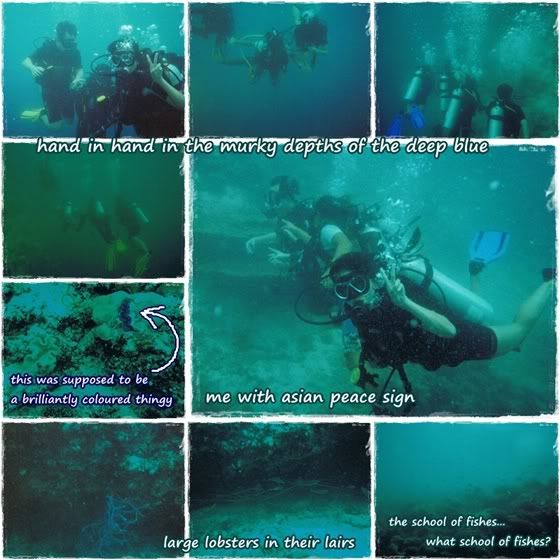 We saw so many strange and colourful creatures but do you see them in the photos above? No.
It was great that the scanned photos looked a tonne better. Yet, they pale in comparison to what we perceived with our own eyes.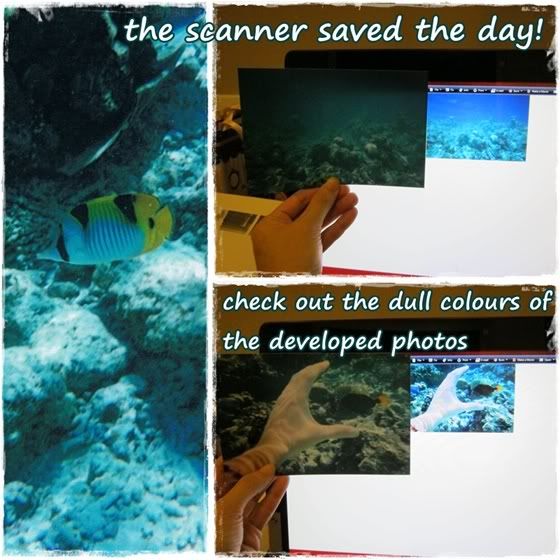 One more volume to go and we would wrap up Maldives.