~*Day 4: The Disappointing Sunrise Fishing*~
It had been four days in paradise and I had yet to catch the sun rising from the horizon.
On the first two days, I made sure I set my alarm clock to the sun rise timing just to catch a glimpse of how it looked. Alas, there were always clouds along the horizon shrouding the golden ball. Kh suggested we sign up for sunrise fishing so that we could once and for all catch the sunrise.
Apart from the staff, there were only us and another Japanese couple with their cute toddler son on board. We set off on the traditional Dhoni for line fishing when the sky was still dark. We were taught by the guides on how to use a line to fish. After about 15 minutes of bobbing on the choppy waters, a slight drizzle ensued. As I stared for quite some time at the rising and falling crest of water where my line was cast, I gradually felt nauseous. That was then that I realized that I was suffering from sea sickness.
I felt the world spinning around me and had to lie down. Any more vertigo and I would puke right into the ocean.
Hence, you could see that there aren't many photos of our fishing trip.
Kh caught a fish and the Japanese couple with the cute toddler son caught two. One of the fish was brightly-coloured in patterns of brilliant yellow and blue. I was quite surprised that that fish could actually be eaten.
Soon, the rain fell more heavily and we had to wrap up the fishing trip.
And you know what? I was disappointed with the sun rise yet again. I wish I could wave a magic wand and chant
"evanesco"
to chase those darn clouds away.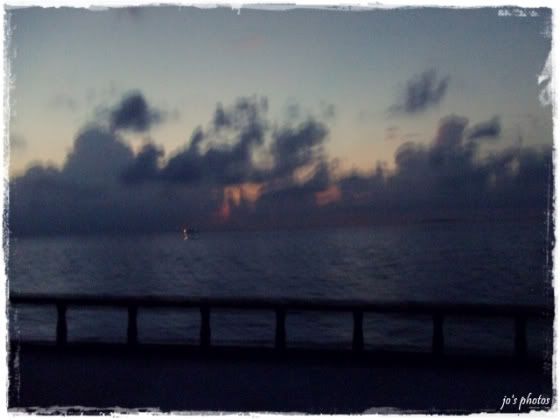 Some really powerful being cast the
"ascendio"
spell on the clouds instead for they rose higher and higher like this.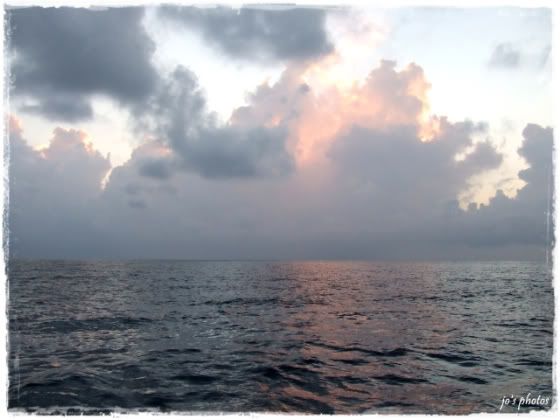 ~*Day 4: Breakfast & Walk*~
I was still recovering from nausea and the savoury smell of food irked me.
In the end, I could only drink hot cocoa. Hot cocoa wasn't on the menu actually but the wait staff saw how pale I looked and offered it. I reached out for some KokoKrunch when I felt better.
Meanwhile, kh took a plate of food which he thought was perfect for my state but had to finish my share instead when I was still feeling nauseous.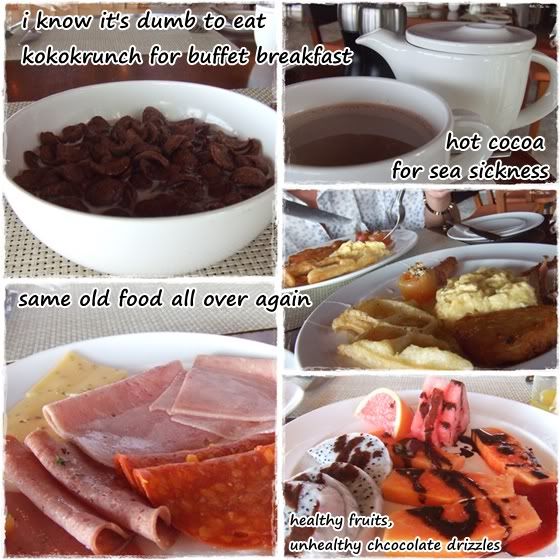 After that, we strolled along the beautiful beach The water was crystal clear, turquoise where it was shallow and royal blue far out in the deep. The beach was a pristine sandy white peppered with pieces of seashells and marred only by our footprints.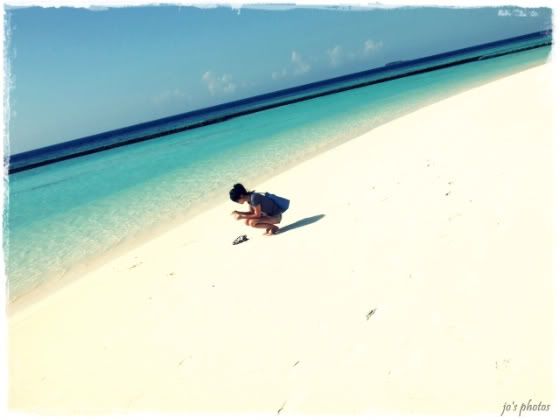 Little fishes swam right up to the shoreline; I often wondered if they would be swept onto the shore and be beached.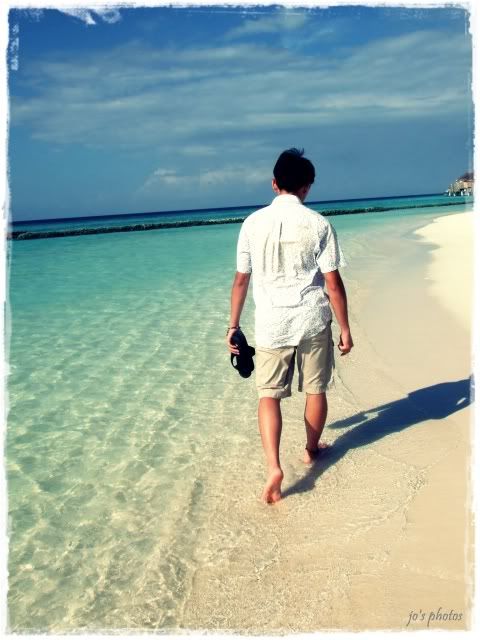 A boat had beached itself along with a lunatic who thought he was Captain Jack Sparrow.
There I went destroying the smooth sandy canvas in reply to what kh drew in the sand two nights back.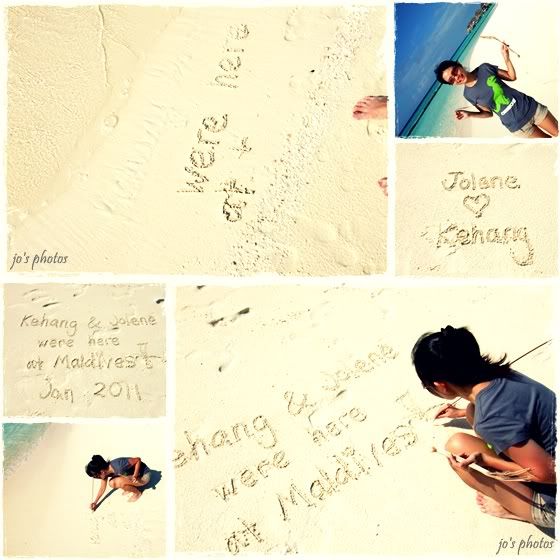 Making our mark and leaving our footprints on the sand.
Like little children, we had a whale of a time playing with the little fishes in the water. I relish walking through them and seeing the colours of the water changed around me.
Minus the shadows of the palm trees, the darker parts of the water were where the fishes were. You could see how they form a circle around us.
Here's a video of how these little fishes reacted to stimuli above the water surface like shadows.
Here's another video depicting the fishes swimming all around us in the water. Kh kept suggesting we should bring our snorkelling masks just to take a peek at these fishes underwater.
If you're watching the video with audio, please excuse kh's
"Here's my fit. I'm standing right in the bitch."
lol
The most absurd thing happened right when the video space ran out-- A whole horde of silver fishes jumped up from the water, flew right across my waist and disappeared into the water all within split seconds. I was taken aback by the sudden gleam of silver before me as they reflected the sun's glare into my eyes. I was dumbfounded for a few moments before I screamed, "What just happened?"
The staff from the dive centre who happened to be on the bridge near us laughed and explained why.
Apparently, the little fishes were escaping from the bigger fishes. I guess I was standing in their way and so they had to jump out of the water and back in again. Kh and I were both kicking ourselves and the camera for not having recorded that down! You could see some splatters of water on my t-shirt.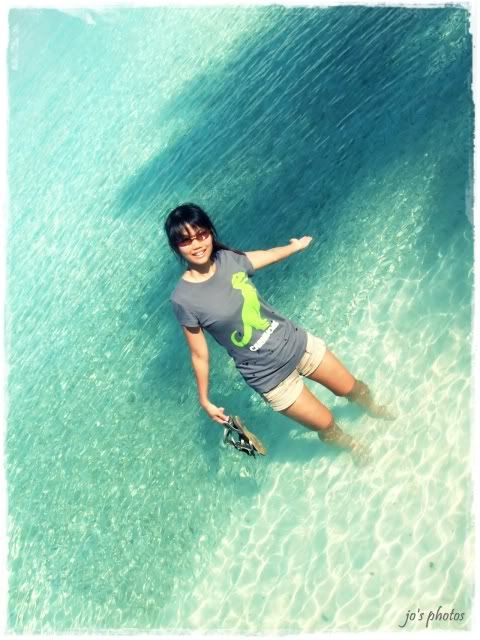 Outfit of the morning:
♥ Heritage 1981 Carnivore T-shirt
♥ Oakley Dartboard shades in berry red
♥ Worn to death shorts and shoes
~*Day 4: 2nd Scuba dive*~
I've shared a lot on my experience, thoughts and feelings about my 1st dive in
Volume 2
. I was really fast falling in love with diving by then. My only gripe was that we did not manage to meet with any manta rays or sea turtles
Outfit before dive:
♥ Rip Curl bikini
♥ Sheer Romance beach outerwear
♥ Oakley Dartboard shades in berry red
~*Day 4: Cocktail Party & Dinner*~
When we got back to our room, we saw an invitation lying idly on our bed. It was an invitation to a cocktail party at Jahaz Bar that evening.
Being greedy pigs, the first thought that came to us was: Would there be food provided?
We wondered if the cocktail reception included food and did not know if we should make any dinner reservation thereafter.
After dining at
JING
the other time, we were both dying to try out the food at Meeru Barefoot Grill. As we were able to access the menu from the tv in our room, we could see that all the food on the menu sounded really appetizing. Seating capacity was however limited to 20 people and we could not possibly walk in with no reservation made.
Before we headed to the main island, we took some sun set shots.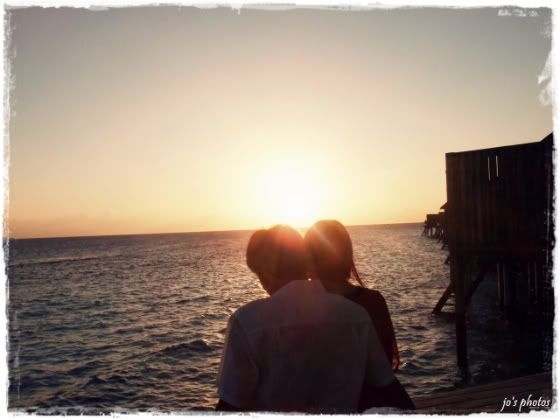 Sunset on one side and moonrise on the other. I love the blends of grey and orange on side and the hues of blue, purple and pink on the other.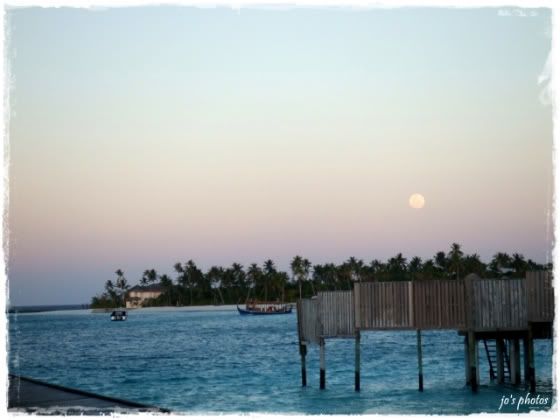 As we neared the main island, we could smell smoke and bbq in the air. From the distance, we could see that most of the outdoor seating at Jahaz Bar were already taken up.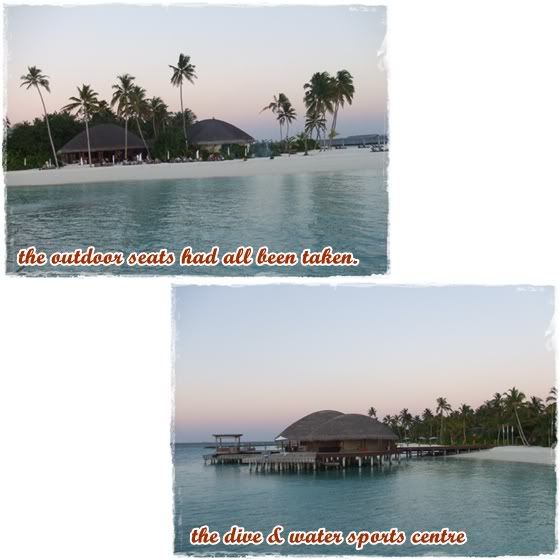 Other than alcoholic drinks, there was this one other finger food and I was about to die in drunken hunger there and then.
We didn't exactly know what the cocktail reception was about but we hazard the guess that it was more for the staff to mingle with us and get to know their visitors better. Although Maldives Constance Haleveli Resort is an idyllic getaway, I cannot imagine myself as a staff working there long term. I guess the staff enjoyed themselves a lot more than the guests did. lol.
A Caucasian staff attended to us for a while and remarked that we spoke very good English for Japanese. In a joking manner, kh answered, "Ah, that's because we're not from Japan." He enquired where we were from, meekly apologized and then drifted away to attend to a Caucasian couple. I wondered if he was embarrassed or anything but we certainly didn't take offence at all.
Next a Filipino staff came forward to chat with us. We found out that he is the chief engineer for Constance Haleveli. He shared with us about how such water villas were built, how they distilled their own drinking water, the water filter system and about island life. We were filled with awe. As for me, I was deeply impressed with the piping and draininage system on the island.
We dug a little deeper about how employment works in the Maldives and soon found out that most people in the tourism sector are foreigners and that the local themselves do not enjoy working in the various resorts on the various islands for months without their families and friends.
I've gained many new insights about Maldives but I guess it would take a whole post to write about my new-found knowledge.
By the time cocktail ended, JING and Meeru were all fully booked that we had to settle for Jahaz restaurant. Instead of an Australian themed buffet like in Day 2, it was Japanese this time round.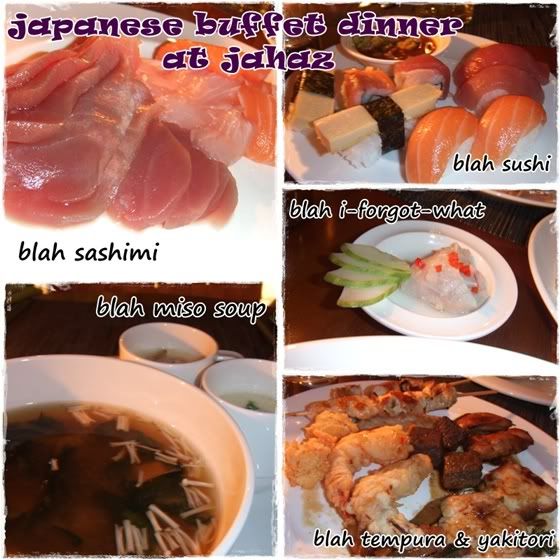 So far, we had nothing but praises for the food at the resort. However that time round, they fared a little low with their Japanese food. The sashimi were not exactly cold and fresh. Some were a little mushy. The miso soup tasted like MSG with kelp and beansprouts (or were they mushrooms). As for the meats, the yakitori and tempura were a little overdone and tough. The only saving grace were their desserts.
I think we've been spoilt by good Japanese restaurants in Singapore and thus felt that the Japanese buffet was the most disappointing meal we had in Maldives.
What I like about Maldives is how they focus on eco-tourism. Every man-made structure is built around natural structure. If a tree was standing in the way of erecting a wall, a space would be made in the wall for the tree.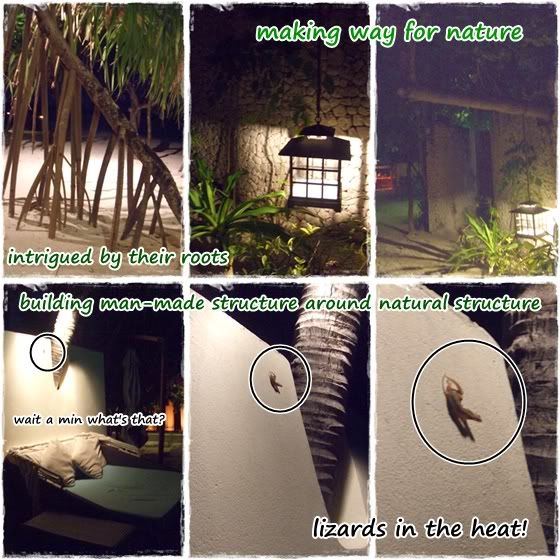 Kh thinks the lizards pictures above are one of the most disgusting pictures of our trip. I was thrilled to have captured 2 lizards mating to care about what he had said.
A little surprise greeted us when we returned to our villa. We had a little cake each in two bell jars by the sides of the bed. The staff also arranged a bottle of water and a glass by the bedside as if to remind us to drink more water. Mats were also laid out for our bedroom slippers.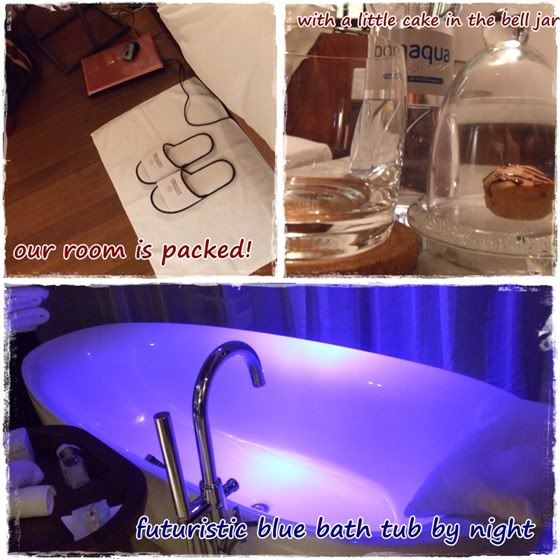 The bathroom was bathed in a futuristic blue glow. I never once noticed that there was a switch to switch the blue lights on.
Like every other night, we watched lots of on-demand movies and was glad to have caught so many shows which I've missed in the cinema.
I would conclude Volume 4 with a picture of my outfit.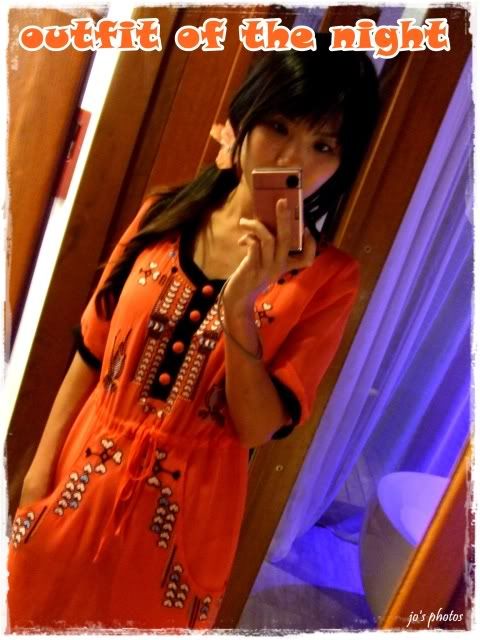 Outfit of the night:
♥ Prada embroidered silk lounge dress
♥ Sheer Romance flower clip
I've been a little caught up with lots of non work issues that have been keeping me really occupied recently so pardon me if I don't reply to your comments or visit your blogs as frequently. I will continue to keep up with the reading of some of my favourite blogs. Continue to keep those lovely comments coming in though coz I simply love reading them!