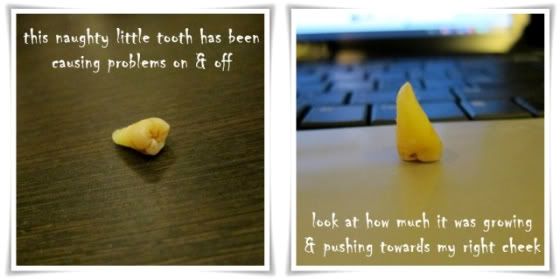 My upper right wisdom tooth had been giving me some problems every now and then. It was growing towards my cheek and when hard food got stuck at the little gap between it and the gum at the end of the jaw joint, it would grate against my cheek. I was contemplating to extract it in May but after that it stopped giving me problem till now.
Earlier in the evening, I went to the dentist for scaling and polishing and decided to extract my wisdom tooth once and for all. Extracting the upper tooth did not require any surgery so I thought it would be fine to make the decision after listening to what the dentist had said.
So I did it.
It's been 6 hours and the wound is still bleeding.
It's been 6 hours. I'm very hungry but I can't eat as I've to bite the gauze to cease the bleeding.
It's been 6 hours and the dull aching pain is beginning to set in. My 2nd gauze is soaked red and I've only got 1 gauze left. My hubby and mil are wondering why I wasn't given an MC. It didn't occur to me as I thought it was just a normal extraction unlike extracting the lower one which requires surgery and warrants a 5-day MC.
Have you ever gotten MC for extracting your upper wisdom tooth?
~~~
On a separate note, I went to the Watson's members only closed door sale near the dental clinic chipmunk cheek, mute and numb from the anesthesia and all. I'm SGD193.40 poorer but I saved a lot, earned a lot of points and I'm happy with my buys.
~~~
Updated:
I managed to wrangle an MC from the dentist. I was in pain and fever set in so I requested for one to cover me for I was sleeping the pain and fever away for half the day. After leaving the clinic, I went back to work and everyone was wondering why I was back.