~*Day 2: My life is like a stroll on the beach...as near to the edge as I can go*~
As much as we would like to sleep in like what people on vacation usually do, we had to peel ourselves off the sheets once the sun rose as we could not afford to miss our complimentary breakfast.
You know, that's one meal settled and lots of money saved in a place called paradise where money and debit still exist. ;P
It was such a sunny day that I set my hat on my head and felt like I was ready to brave the sun. Alas, the wind was so strong; I had to to constantly hold onto my hat for fear of it being whipped off my head and sent a fluttering into the clear blue ocean.
Remember that from Volume 1 of the Maldives series, I mentioned that our water villa was located right at the tail of the "jetty"? Whenever we had to walk from our villa to the main island, I would constantly look out for the buggy to hop on. It was really fun trying to catch a buggy to hitch a ride from. You could actually call for a buggy from your room but we decided it was more fun trying to catch them while snapping pictures along the way.
Buffet breakfast at Jahaz --the main buffet restaurant and bar-- was always enjoyable as we love to people-watch while we tucked into our food.
It was interesting checking out other couples and guessing what nationalities they were. Kh and I were the only Singaporeans there. For Asian, we spied lots of Japanese and Koreans and two Hong Kong couples. There was also a Japanese family with a very cute toddler boy in toll. Of course there were Caucasians too but the Asians clearly outnumbered them.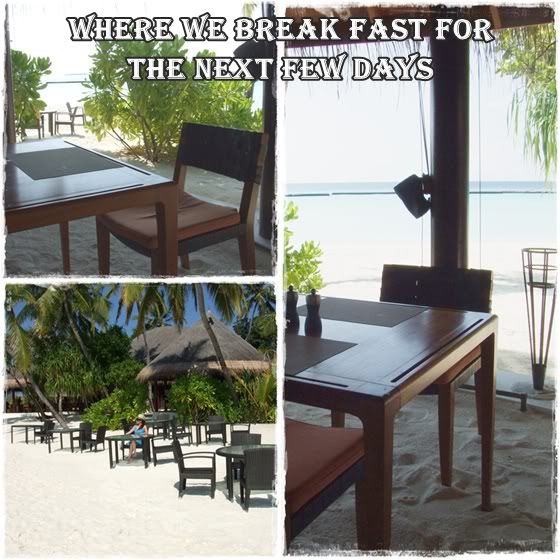 I reckon Kh and I were the most uncivilized couple there. People often stared at us and at our plates wondering how these two seemingly thin people could finish all the food.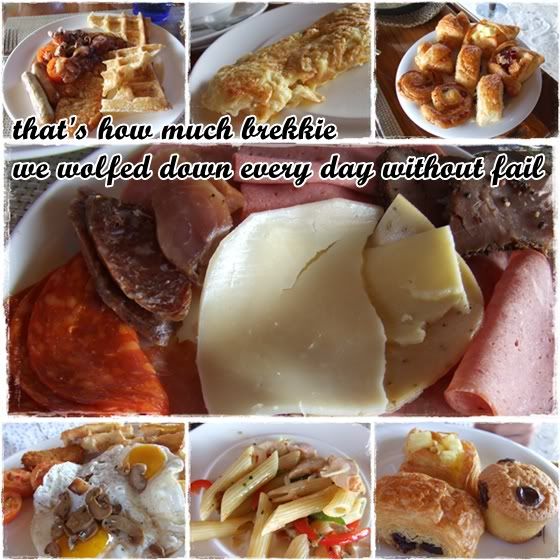 I was perpetually hungry at Maldives, much hungrier than in Singapore. Breakfast was what I looked forward to every day to appease my gnawing tummy.
kh and I constantly left our seats for 2nd and 3rd helping. We attacked and devoured our food like how normal Singaporeans eat during lunch time when there are people standing around your table, tapping their feet and waiting for you to scram... only this time, we had all the time in the world and nobody waiting for us to scram.
All around us, the dainty and elegant Japanese and Koreans consumed a small portion of food with delicate little nibbles. Most of them, especially the ladies, had only ONE helping of food before they wiped their mouths artfully and wafted away.
kh and I merely stared at each other in utter surprise, read each others minds with knowing looks and continued lingering on till the buffet breakfast ended. Those refined Japanese and Koreans might have thought we were such glutton and secretly wrinkled their noses in disgust as they walked out from plain sight.
After making sure we stock up enough in our bodies to withstand till dinner, we took a leisurely stroll along the beach.
I've always loved the beach. There's something about the blue-green in its waters and brilliant golden in its sand, the briny wind in my face and the gentle swish of the waves all combined to give a sense of serenity.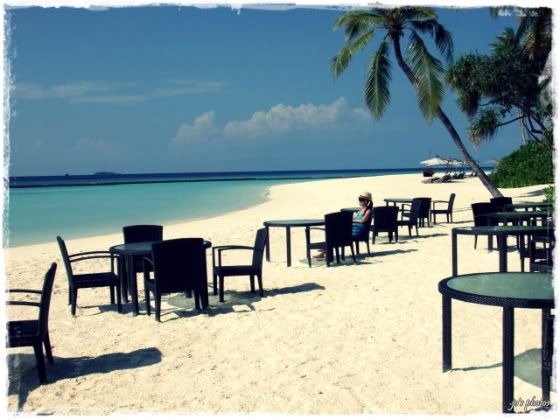 "At the beach, life is different. Time doesn't move hour to hour but mood to moment. We live by the currents, plan by the tides and follow the sun." -- Anonymous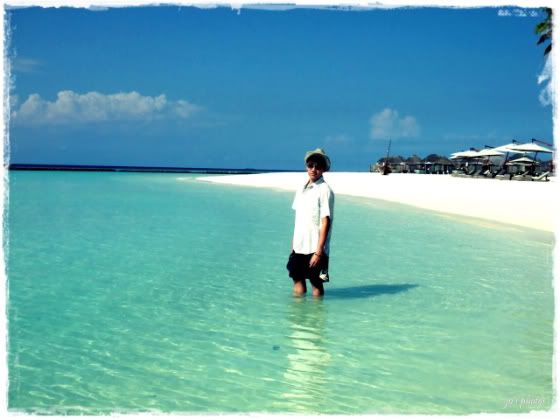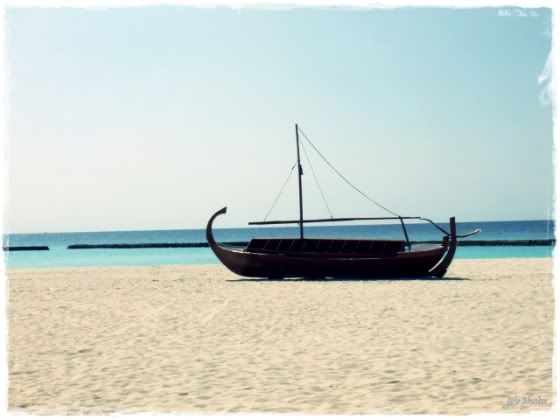 ~*Day 2: Snorkeling fun! Snorkeling fun?*~


Since we signed up for a scuba diving exploration trip, I decided I had to overcome my fear for water by first going snorkeling in our "backyard ocean".

That was the 2nd time I ever snorkeled in my life... with a life vest of course.

The first time was in Bintan a few years back and after I overcame the initial fear, I let kh pull me as I drifted along with him and marvelled at the sights underwater.

However this time, I just could not do it. Each time he squeezed my palm to signal for me to look out for some nemos or dorys, I would turn my head and saltwater would gush into my tube and into my nose and mouth. If the water level was too low, I would gag and immediately stand up and pull my mask away to cough violently. If the water level was too high, I would flip myself face up while floating with the help of the life jacket. Then, I would cough and sputter till tears and mucus flowed nonstop.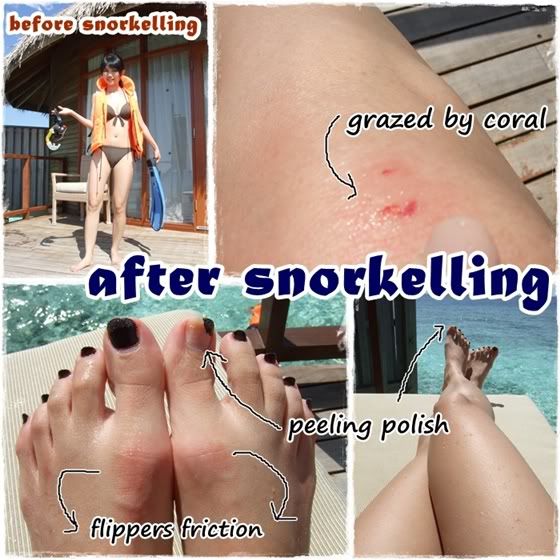 kh checked my tube and realised that it was facing downwards such that any slight movement of the head would render saltwater in. However, no matter how we adjusted, the tube continued to face down. I decided to head back to the safety of our plunge pool and "practise snorkeling" there.


I didn't wanna hold him back coz of my silly aquaphobia and told him to snorkel by himself instead of accompanying me and waiting for the fear to wash away.
See the divide between the deep blue and the light blue? That's the edge of the atoll and you couldn't even see the bottom of the seabed once you reach the dark blue parts.
I forced him to put on a life vest just in case. Everyone put on life jackets there too, even those who looked like swimmers so I insisted he did it for safety.
We did not have an underwater camera and so we used the instant one available in the room for USD25. He took lots of pictures for me to see how it was on the other side of the blue. Imagine my disappointment when I collected the photos from the photo developing shop and saw how
how the actual photos turned out
. I will try to scan some for all of you to see in my diving post.
The rest of the afternoon was spent lazing in and by the pool soaking up the sun, taking some videos (which I won't upload here) as well as in the bath tub soaking up the bubbles with a hydrating mask on.
Life is bliss!
By the 2nd day of our stay, I've become as brown as a berry and I really love my tan then.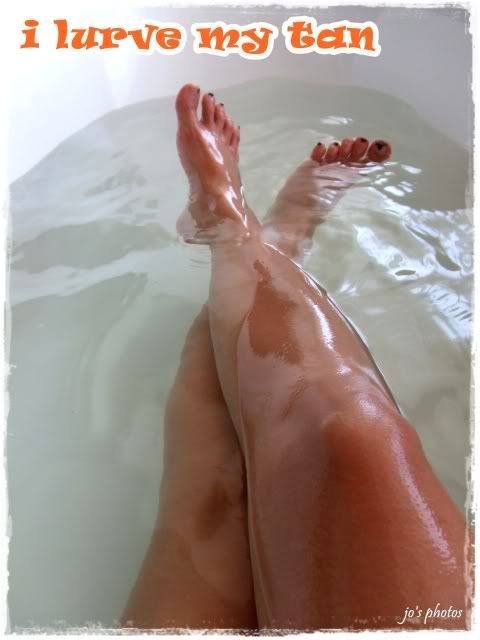 We expended lots of energy on snorkeling and overcoming the fear of snokeling and felt hungry way before dinner time.
Kh was too spoilt and would only eat salty food when hungry. In the meantime, decorative fruits had become my saviour to tide me through the next meal. Thank god for these fruits. I wiped out all except the rambutan which was a little overripe by then.
~*Day 2: An adventurous dinner by chance*~
Preparing to head out for dinner... Here's my outfit of the day and night. For the night, I added some accessories like the hairband and the necklace both of which received many compliments from the staff there. I guess nobody else dressed as silly as I did for an island getaway holiday!
♥ ASOS blue sundress
♥ No label small floral prints Usamimi hairband (aka rabbit ears hairband)
♥ No label camera mirror necklace
♥ Pretty Fit embellished hooked on sandals
The nerds of the 70s headed out to eat. That's us featuring the opened and closed eyes.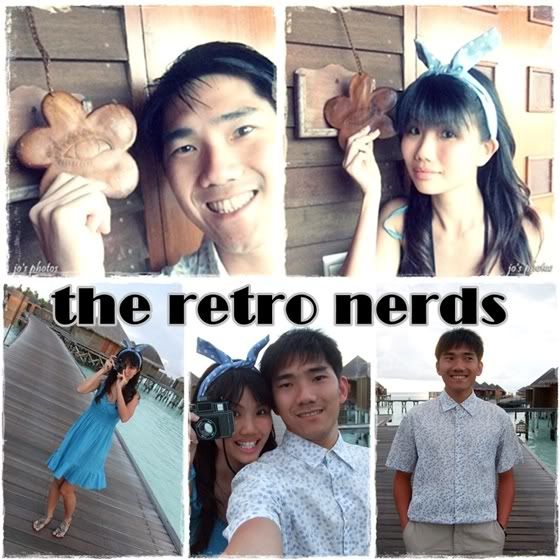 The 2 restaurants which we wanted to try were fully booked and thus we had to head to the main Jahaz restaurant which was having an Australian-Asian themed buffet that night.
The food looked a lot nicer in daylight and Acqua Panna is my new favourite atas (malay slang for high class) water.
Once again, it was a cloudy sunset...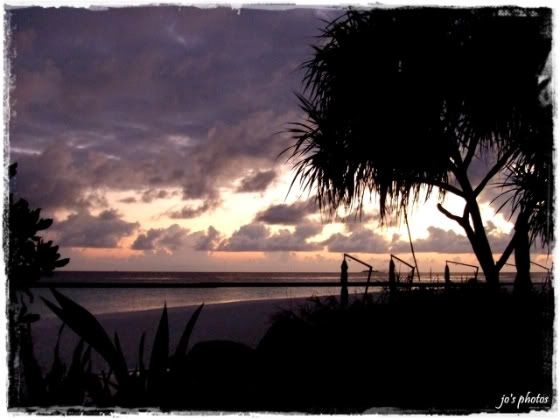 and by then, the food photos didn't look good at all under the low light unflashed condition. The food looked worse with flash photography.
Could you guess the unknown skewered meat up there? I can't remember if it was kangaroo or crocodile meat. The one in the burger was crocodile. I refused to eat them and chided kh for taking them.
They also served rabbit meat too which fortunately, kh didn't take for he knew I would never eat it. (I used to keep rabbits as pets.)
The rabbit meat incident was quite comical. Many of the staff commented on my usamimi hairband and said I looked like a rabbit. When I was at the meat station and enquired about that certain unknown meat, the staff there replied politely that it was rabbit meat and urged me to try. Kh intervened by saying, "Look at her ears. She wouldn't want to eat her family."
After that, many of the staff remembered us!
Desserts were so so.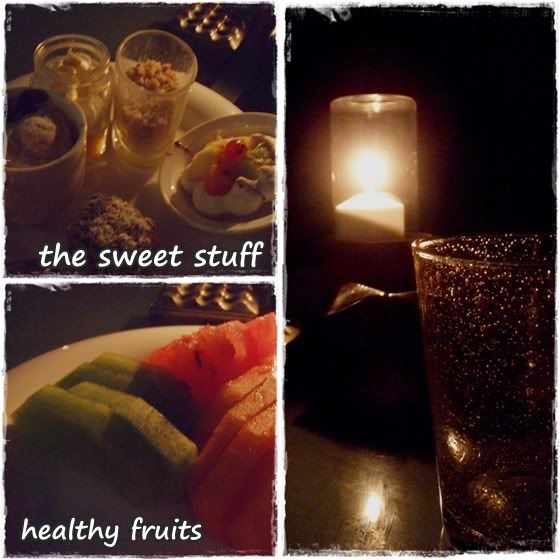 ~*Day 2: Circles in the sand*~


After eating, we took a night stroll back.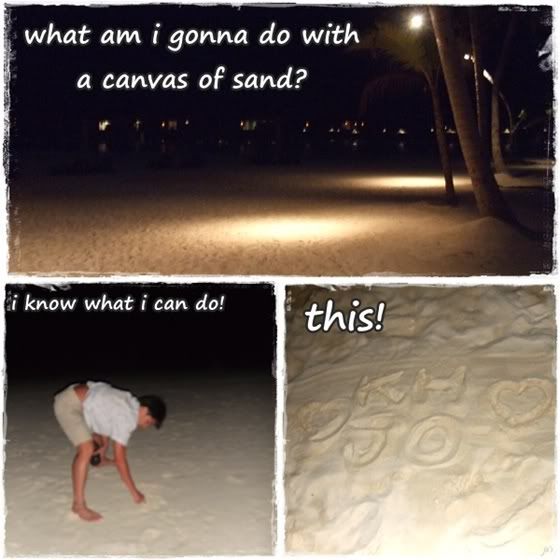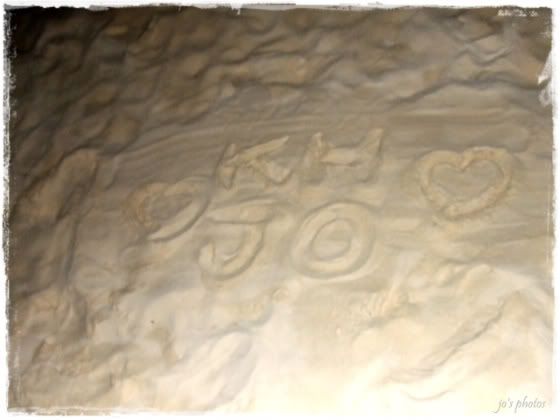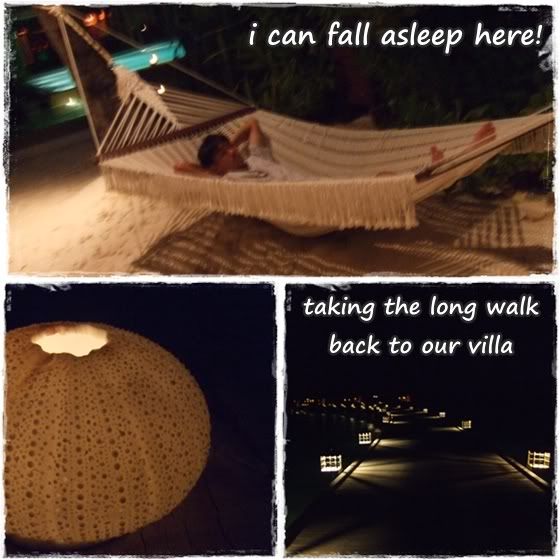 This concludes Day 2 of the trip. Look out for photos of my maiden diving experience and one of the BEST fine-dining meal we've ever eaten all in the next volume.