Edited to add:
Louis and Emmie are NOT MY dogs. They are my gal pal's dogs. I felt the compelling need to add this line in after reading all the comments.
One Sunday, a group of us met up at East Coast Park for a really late lunch. I forgot the name of the place but it served pretty awesome beach bar food.
Regina's
friend Jun came along with her bf and it turned out that kh and her knew each other from school. I managed to get along quite well with Jun and am always happy to be acquainted with new people.
Even though my dear hubby kh and I had already taken our lunch, he being a regular dude could not help ordering some "finger food" other than drinks. He explained that it was for all to share but I knew that he just wanted to much on something.
He ordered nachos and it came topped with lip-smacking cheese with spicy salsa beef dip. It was so heavenly that I could not scold him for binging.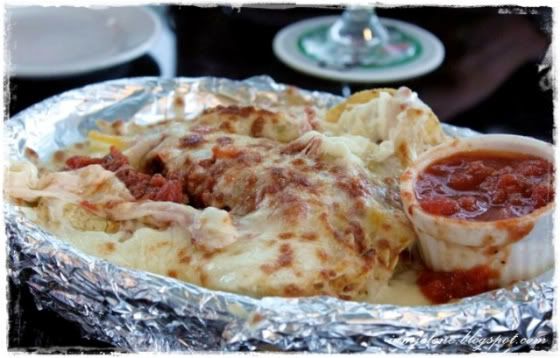 After that, we proceeded to our main agenda for the day -- to help
Karen
to clear her clothes.
She had got so many huge recyclable bags full of clothes (both new and gently worn) that she was letting go. Hence we as all good gal pals are, were tasked with the mission of trying to help clear some space in her house while our significant others shook their heads and played big boys' games.
Louis and Emmie love visitors as they would be spoilt by the many people showering attention on them.
Louis the intelligent Spaniel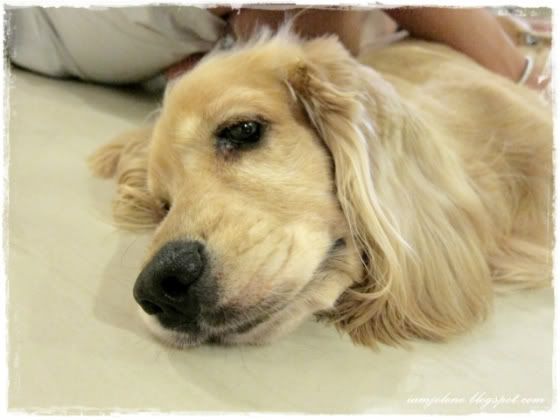 Emmie the loving "slutty" Pomeranian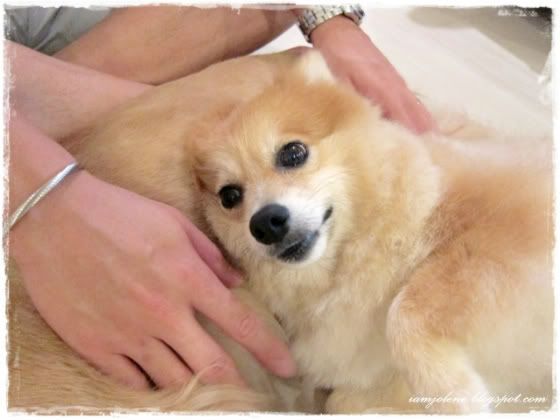 Before you start lambasting me for being a bitch and calling a bitch a slut, do note that this is a term of endearment which Karen also uses. Emmie really loves to be petted and would not hesitate to flip over for us to stroke her belly.
They really love to be petted and have their tummies rubbed and would fight to squirm their way near us.
Actually it was more of Emmie doing the squirming and manja-ing while Louis would coolly let her be if she squirmed to take his space.
Whenever Louis got affection from one of us, Emmie had to do the same.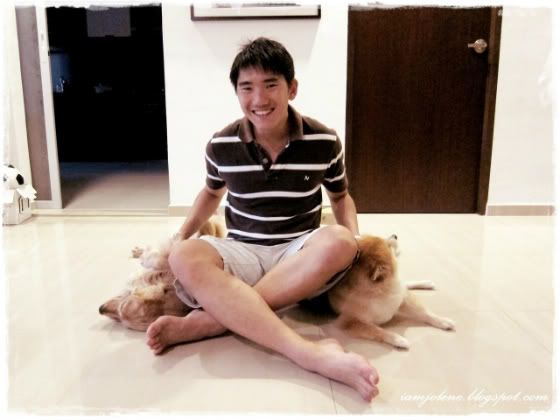 She would nestle herself at the other side. Really cute!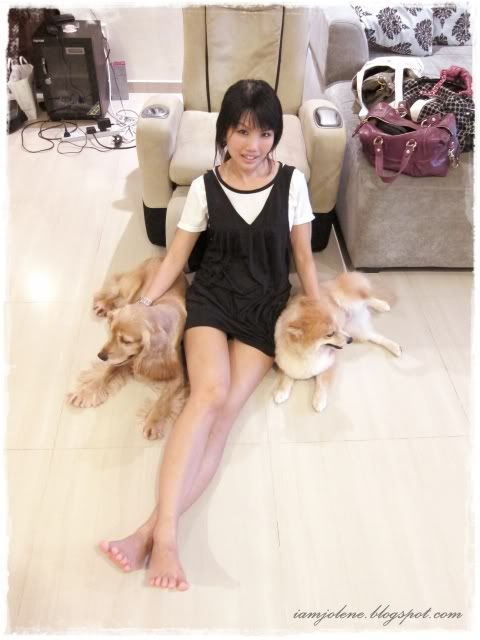 Besides playing with dogs, we also had one more "toy" to amuse ourselves with -- HAMSTERS!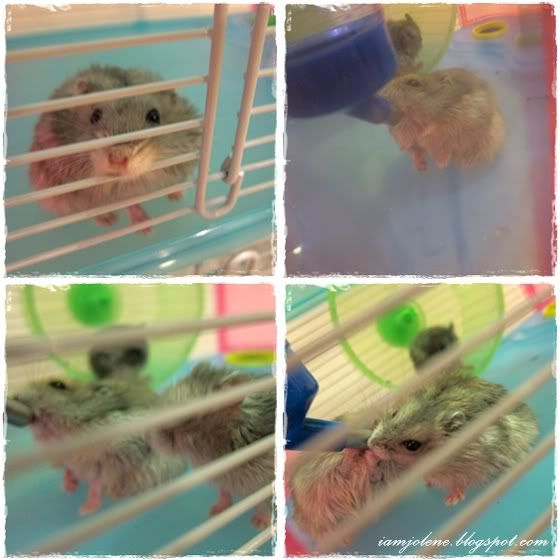 The hamsters you see here are currently in my house and they are the fattest little dwarfs I've ever seen. Not fattened by me though. Long story as to why they are in my house.
Louis and Emmie are such sweet creatures and they would not hurt the hamsters. We learnt that we could even let the hamsters run all over them.
We were hesitant to try such dangerous stunt though so the most dangerous stunt that kh tried was this.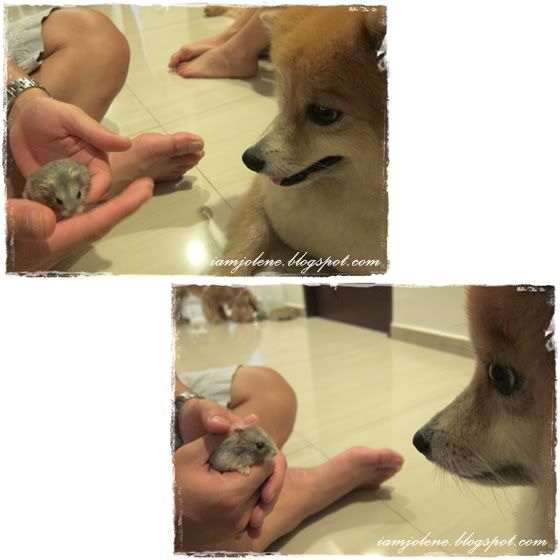 Seeing that we would stay at her place till late, Karen decided to start whipping up what she deemed "a simple fare" for us.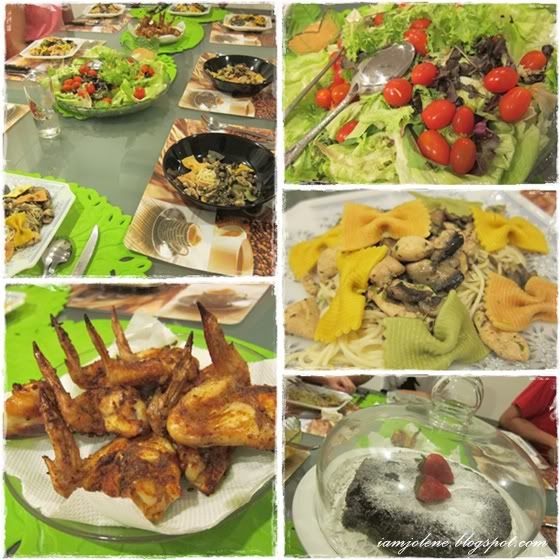 It was anything but simple! It was a 4-course affair consisting of salad for starters, curry baked chicken wings for sides, olive chicken pasta for mains and French styled flourless dark chocolate cake for dessert.
She is definitely the hostess with the most-est. I could never ever be a hostess like this.
It was great that we had late lunch coz by the time we girls picked out the clothes we wanted, the boys finished playing their games and Karen finished cooking, it was 10pm. It was actually really a dinner cum supper.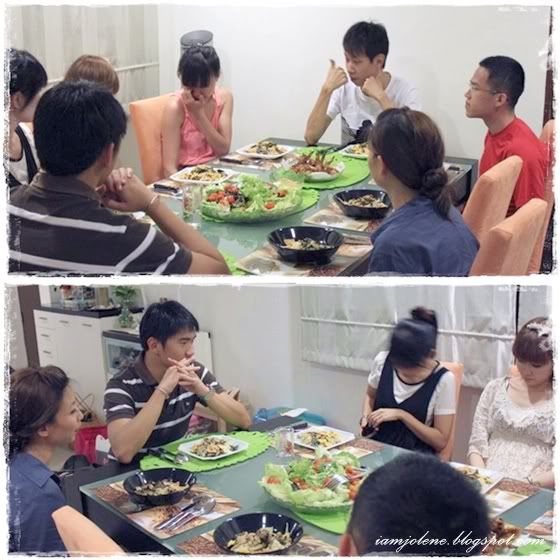 I love desserts that aren't too sweet and this dark chocolate cake definitely sat in well with my taste buds when served with whipped cream.
I would end this post with a comment made by kh:
"Paiseh leh. Come here let my wife take free clothes, play free games and eat free food."
-_-|||
For my international blogger friends, "
paiseh
" is a term in Hokkien to signify that we are embarrassed.