I really love receiving parcels in the mail!
When I came back from Hong Kong, I saw a huge parcel sitting by the side of my bed. I knew at once that my parcel from
Little Little Gifts
had arrived.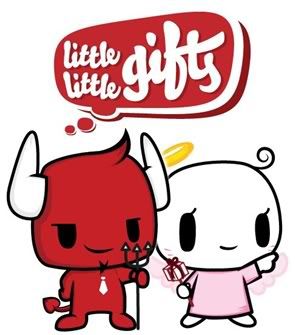 When I first knew of this website, I spent almost two hours clicking around the site and marvelling at the many cute stuff there.
Little Little Gifts
is company based in Singapore. With their cute tag line of
little little gifts, big big thoughts
, they believe that no gift is too small and that it is indeed the big thoughts that count. In the act of gifting and paying it forward, Little Little Gifts aims to spread the joy locally and to other parts of the world. Yay for my international blogger friends!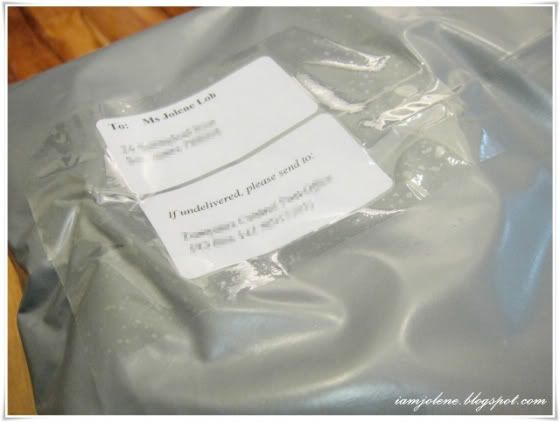 Everything was bubble wrapped with newspaper cushioning the spaces in between.
I was pleasantly surprised to see that the items have been gift wrapped.
Upon checking out at their site, gift wrapping arrangement could be arranged in the special request field. I did not opt for the gift wrapping service; hence, imagine my pleasant surprise when I saw the items being wrapped. I'm pretty impressed with their good service.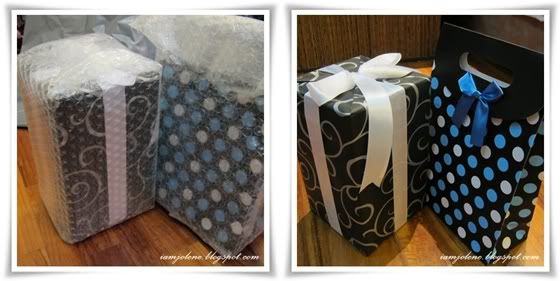 Wanna see what I got from them?
~* Mini Fridge Pen Stand *~
Here's unveiling a
mini fridge pen stand
. It's actually a stationery holder. If I were still at the Barbie playing age, I would use this as Barbie's fridge.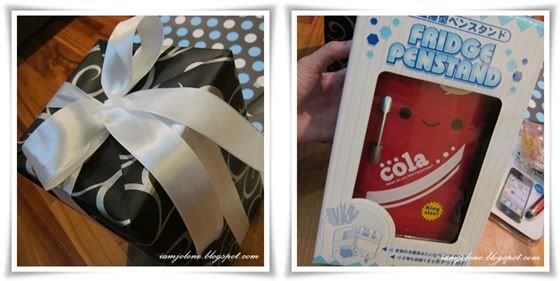 Various designs like Cola, Coke Zero, Pepsi etc are available. I was like a kid in a candy store deciding on which design to choose. In the end, I chose this cute Cola fridge.
Like a little girl (or should I say a bimbotic lady), I was rather thrilled that the vegetable crisper compartment could be pulled out.
I did not snap a picture of the top part of the fridge. It could act as a coin bank when the cover is closed with the coin slot at the top or as a pen holder when the cover is slid to the back. Click
here
to see the pictures.
~* Merci! La Vie! Key Ring *~
Next was the
Merci! La Vie! Key Ring
. I was particularly drawn to the antique-looking key that came along with it. My current feng shui key ring had lost its "charm" and it's time for me to change a new key chain.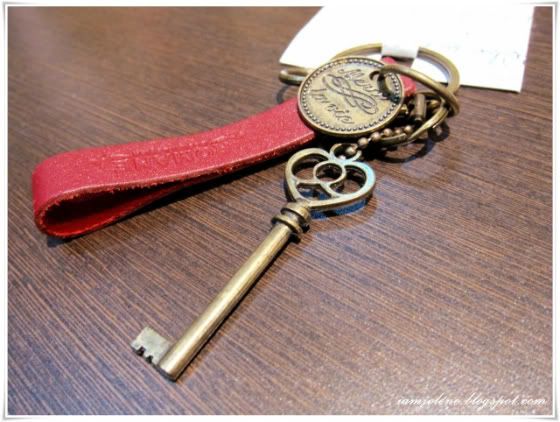 I love the vintage feel of this key ring. Oh yes, it is stated that the strap is made of natural cow hide leather. I could smell the leather as soon as I opened the box.
They have other designs available too but I'm only drawn to the antique key design.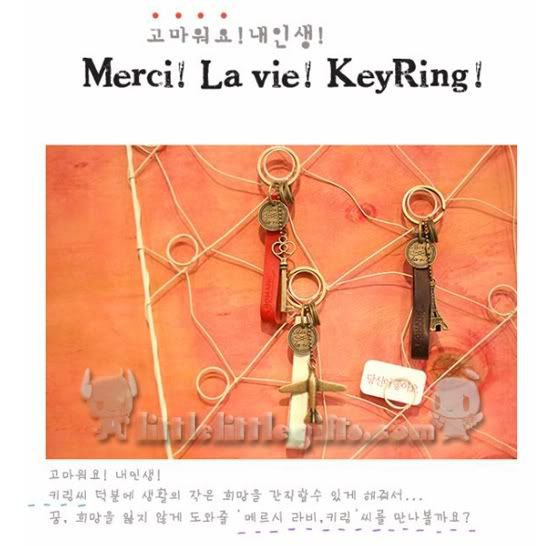 ~* Sunny-Side-Up Frying Pan Clock *~
Next on the list is this quirky
sunny-side-up frying pan clock
. I opted for the red one coz I've been conditioned to think that frying pans are red. lol...
I could not snap a good picture of the frying pan so here's one which I ripped off little little gifts website.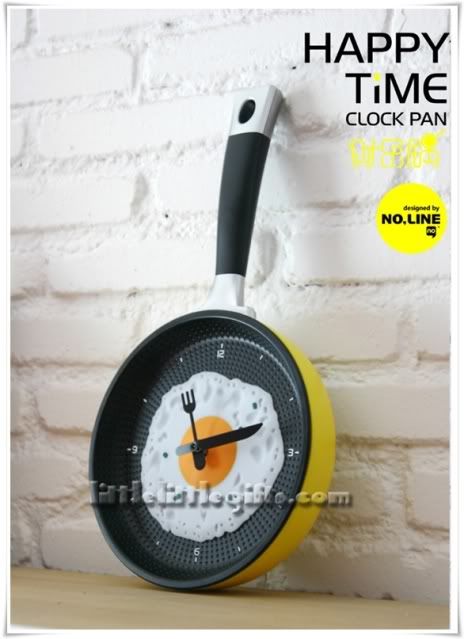 It is available in many other colours and they're having a sale now. Great to give to that chef friend of yours! I'm giving this to my jovial uncle who happens to be a really great cook. It will match the wall in his dining room very well.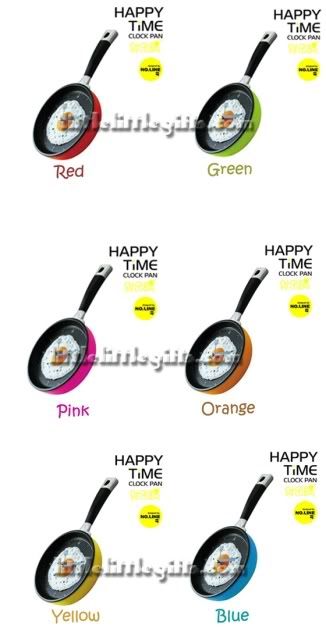 ~* Touch Stylus Pencil *~
I also got this old-school-looking
touch stylus pencil
which I intend to give to either of my sisters as I'm an iDiot with no iPhone or iPad.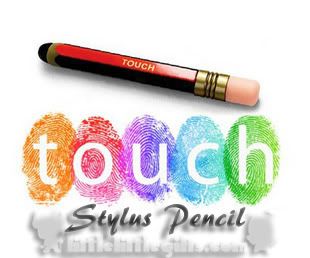 Wait, I think I would keep it for myself and use it on my hubby's iPad when he's back from the seas or probably when we decided not to be iDiots anymore and get iPhone 4s or something.
The pencil mimics the natural conductive qualities of the human finger using a special electro conductive rubber which works with both capacitive and resistive screens.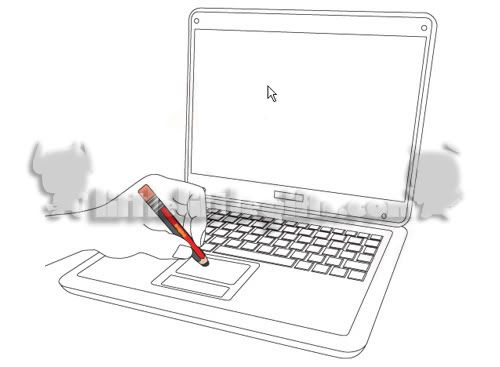 Did you know? I have a little pet peeve. I simply cannot stand products with bad English on them. I was reading the back of the packaging for the stylus pencil, trying to pick up all the bad English to laugh at but I found none. This sort of gave me a good impression of the product even though I haven't tried it yet.
Don't laugh at me, don't you do that too? You don't? Sigh... I'm gonna sit in the corner and eat some worms now.
~* Chi Cat Handphone Strap *~
I have a soft spot for furry animals especially cats and I instantly fell in love with this lovable sad-looking
Chi cat handphone strap
which was used as this product's main picture.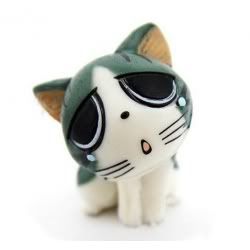 It reminds me of my late Simba looking at us with sad eyes when we did not give her food as we thought she was too fat and should cut down on food.
There were so many different expressions of Chi cat which nudged at my soft spot that I could not quite decide which to choose.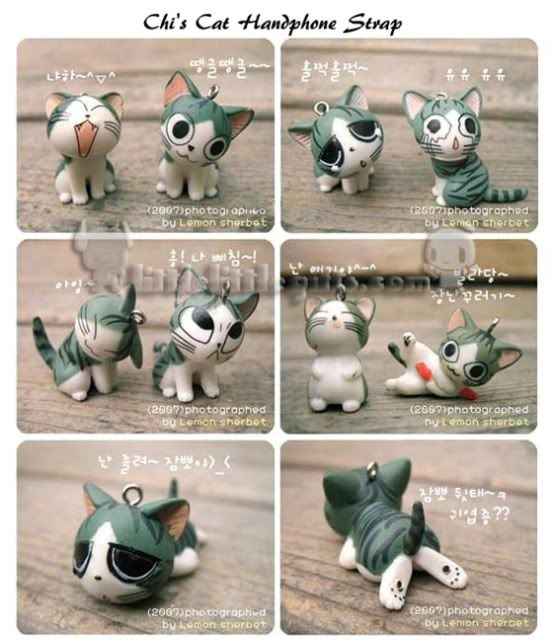 In the end, I chose B, C, E and G.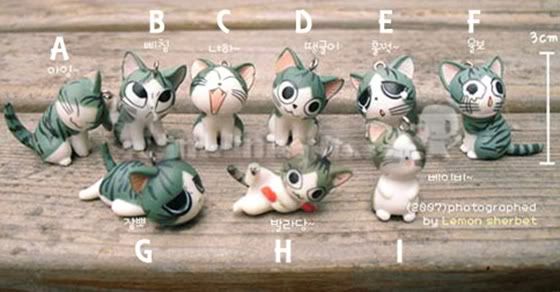 My 4 cuties came wrapped like this.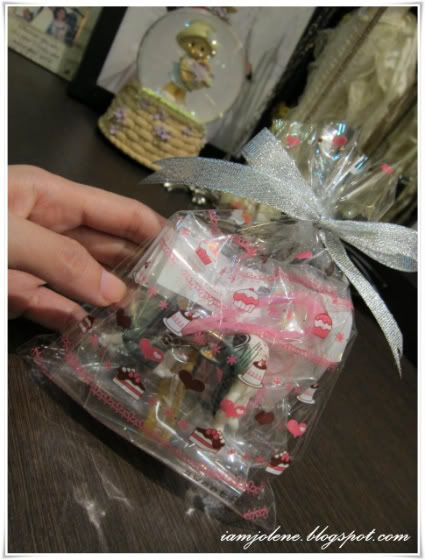 Presenting my 4 cuties.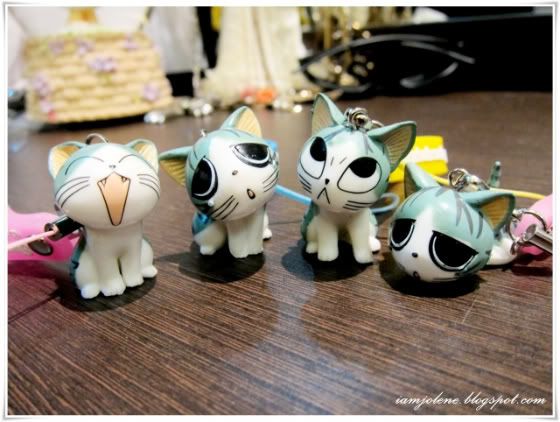 Happy Chi, Depressed Chi, Angry Chi and Sad Chi which I shall call Planking Chi.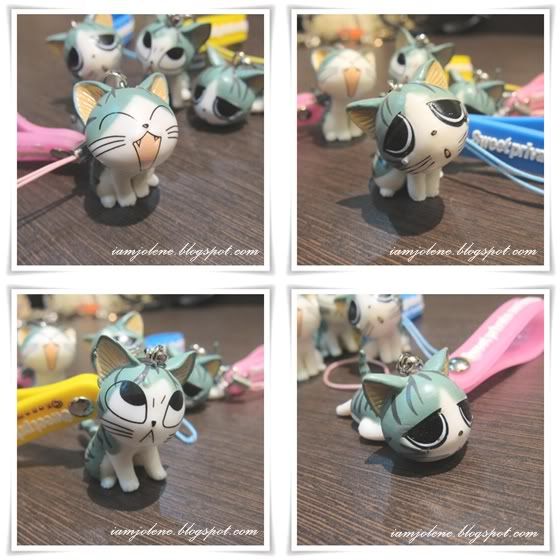 My only problem now is that I can't decide which Chi cat to keep for myself and which to give my sisters.
I'm really pleased with all my items and the whole shopping experience at
Little Little Gifts
was truly a pleasant and fuss-free one. Queries which I posted on their
Facebook page
was promptly answered within the same day.
Quality items at affordable prices with top-notch service all at one-stop, I'm very sure I would be a return customer at
Little Little Gifts
.
Disclaimer: All pictures are taken by me except for those with Little Little Gifts watermark. Thank you Little Little Gifts for allowing me to use your pictures.