Back to updating backdated entries yet again.
On the 26th of March, the night of
Earth Hour
, tiff, gera and I had wanted to meet for dinner at some eateries that participated in the lights out. Alas, we missed the hour due to everyone's lateness.
If I remember correctly I think gera and I had work and had to go home to change out from work clothes since we were in very warm attire that would not fit the humid weather and a long night out. Our contingency plan was to have steamboat at 国府珍锅 (Guo Fu Steamboat) which is located at China Square Central.
It was the first time I was there but tiff and gera had been there a few times and nodded in agreement that it is a humble place that offers comfort soupy food.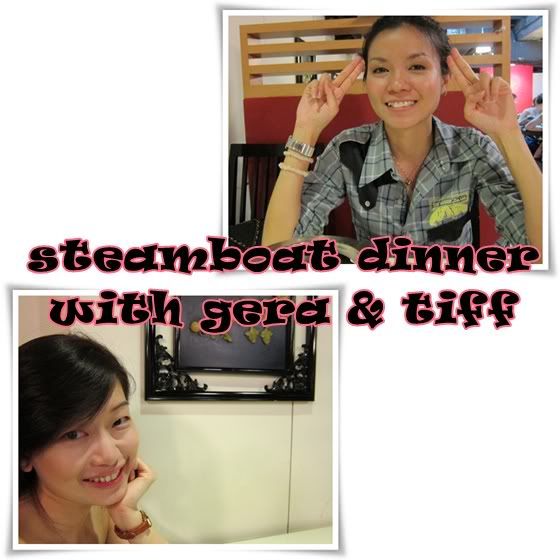 I like the herbal soup base and the beef slice combo that I chose. We each chose different kind of meat so that we could grab some slices from one another. The little side dishes were quite good too.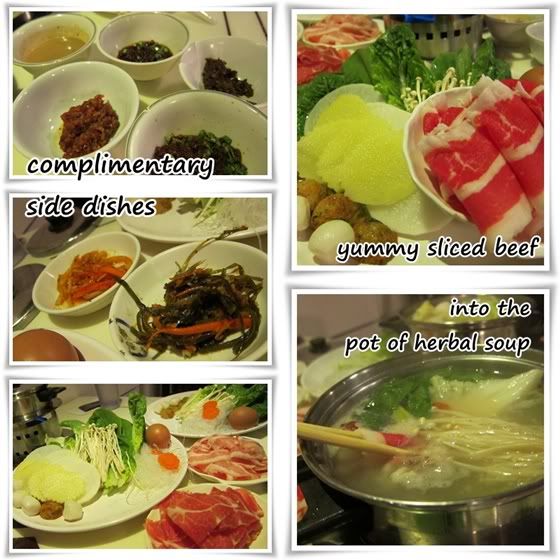 As I'm typing this, I feel like eating soupy steamboat!
A tacky feature about this place was/is the Santa Claus at the entrance. Pardon the grainy feel of the photo. I've to up the exposure to show all of you the Santa by the entrance.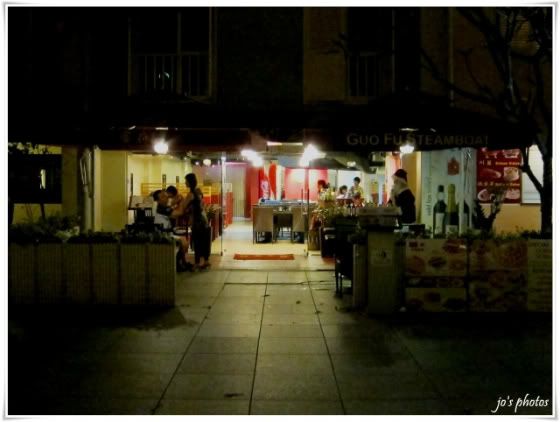 It was already March at that time! The reason why I put a choice of "was" and "is" in the sentence above is due to the fact that we returned to that place again in June and the Santa Claus was still there so I'm not sure if it is there still as you know, it's October now and very close to Christmas.
Who needs to watch comedy for laughs when in real life, you have crazy friends like gera and tiff to make me laugh? I was just gonna capture the beautiful night scene of Boat Quay when gera pretended to dive and tiffy followed suit.
That was the first night I was testing out the various functions of my canon S95. I was still a noob then and had a hard time trying to find the right mode to fit the dim lighting. In the end, I've to adjust the ISO on the auto mode and the night shots look grainy as usual.
You know how many girls and ladies have this very useful talent of taking self shots?
Yeah, we had to undergo many trials and errors on our own cameras before we got to the level of taking perfect self shots such that everyone's in the frame. It's the same for this new camera. We took quite a few shots to get us all into the frame.
I think this is the best?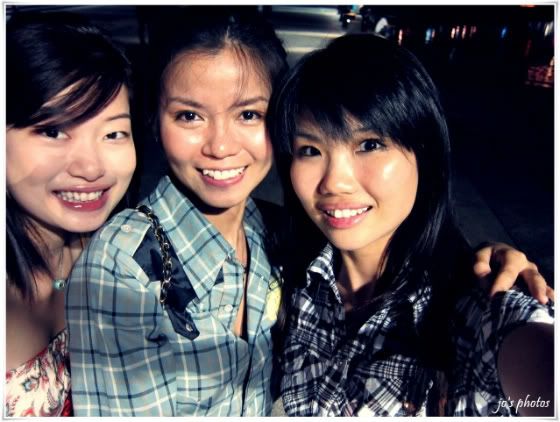 Next, we wanted to go shopping but all major shopping centres were closed by the time it was 12 midnight so where do we head to but
MUSTAFA
where we met up with zanne, jq and his friend!
I love that place! Despite catering mostly to the Indian residents, lots of locals, expatriates and tourists alike love the shopping experience there. In Mustafa, you won't have an inkling how late the night is as at 2am everyone seemed to be shopping as though it was only 9pm.
I bought 2 very classic DVDs there at only $6.90 each. One was War and Peace with cast like Audrey Hepburn, Henry Fonda and Mel Ferrer. The other was The Last Time I Saw Paris with Elizabeth Taylor and Van Johnson. I'm not too sure about the quality as I haven't watched them yet.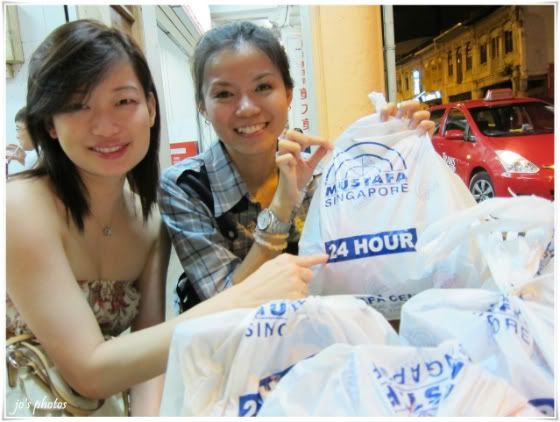 At 3am, the boys were hungry so we headed to Scissor-Cut Curry Rice for supper. What a mouthful of a name!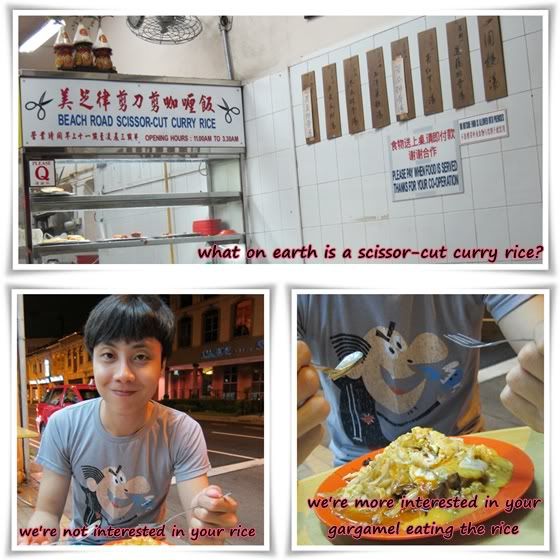 While the boy ate, the girls not only pinched food from them but also amused ourselves silly with this FatBooth iPhone application.
My fat looks transformation is quite credible eh?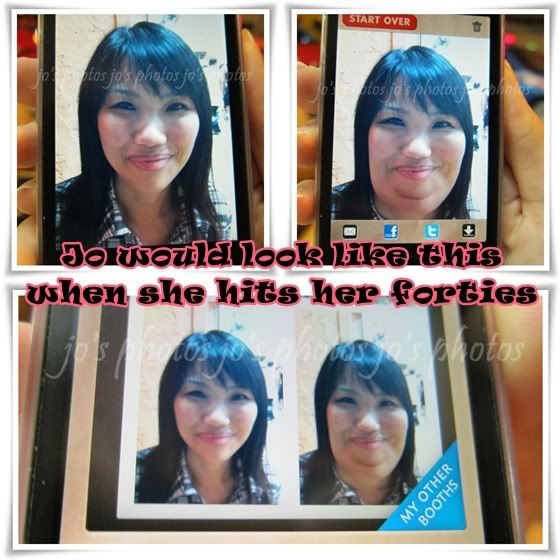 Tiff and gera's faces look a little outta shape.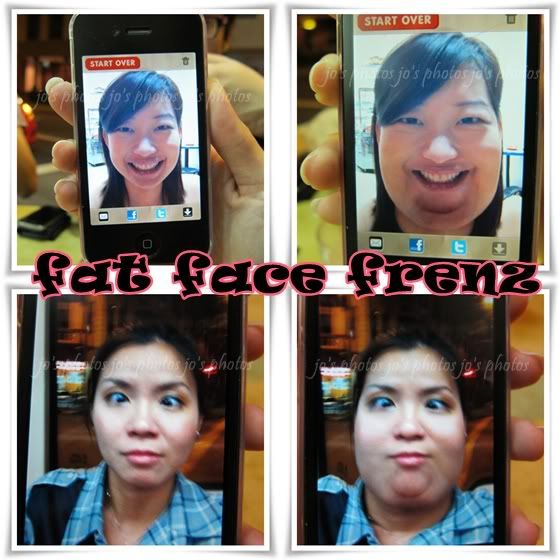 Zanne too and jq too. I guess it's the angle.
All of us laughed at jq's friend coz his fat transformation looked genuinely credible, like if we did not know him and know his thin self, we would really believe that his fat self exists. I'm not too sure if I'm making myself clear here.
At 5am, we decided to call it a day and headed back home with eyes wide opened.
I move back to my maiden home that time with only 6 sets of work clothes and outing clothes combined thinking that I was only going to stay for a week. I stayed for a month till the hubby came home from overseas and so I've to raid my sister's wardrobe for casual clothes.It's really funny coz I raided her wardrobe to find MY clothes inside so here's what I wore that night.
♥ Alano plaid shirt
♥ Alano wool shorts
♥ vintagey-looking crossbody sling bag from Far East Plaza.
How's that for looking retro and village-like to fit into the theme of no-lights-that-night outing?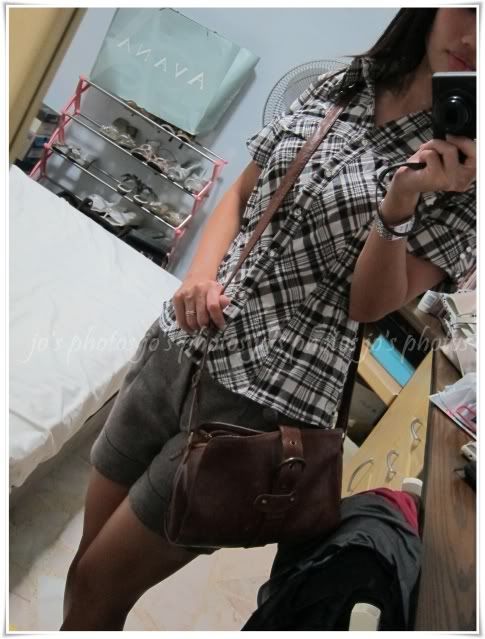 The shoes on the rack and the shoe boxes do not belong to me. My mother has conveniently converted part of my room to her shoe walk-in closet. How nice would it be if I had a daughter moving out so that I could convert her room into my walk-in closet too!