Back to updating backdated entries.
~~~
It is exactly 3 months to my birthday this year and here I am updating about my birthday happenings from last year. I think I should wish for "time" the next time I blow a candle or happen the catch the digital clockat 11:11.
My birthday meet ups with friends took place in the month of June as I was away in Brunei during the end of May.
For the past 10 years, I had been holding on to 2 hand phones and had been really loyal to Nokia. The second line was used solely for sms.
My sms line (Nokia 7250i) blanked out on me after I returned home from Brunei and could never be revived.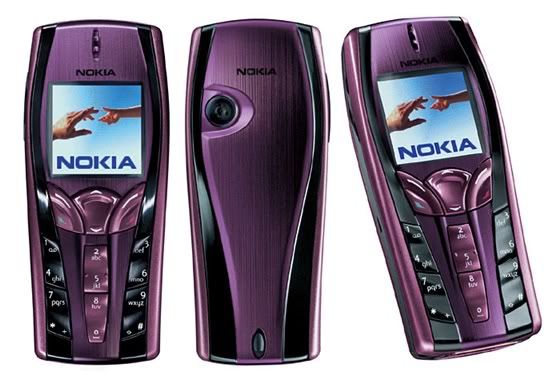 My 7250i had served me well the past 8 years and hence from one antique to another, I switched to Nokia 8850 which my eldest sis had carefully preserved for keepsake. That was the only spare hand phone in the whole house. Her words of reminder to take care of her beloved preserved antique phone was constantly at the back of my mind the whole time I was using the hand phone till I got my iPhone recently.
(YES! I'm no longer an iDiot!)
So anyway after I inserted the SIM card, I was expecting a flood of sms; I usually get lots of birthday wishes via sms. Sadly, there was not a single text at all.
(Damn you, Facebook!)
I was surprised beyond belief and my mean 2nd sister could actually send me this. lol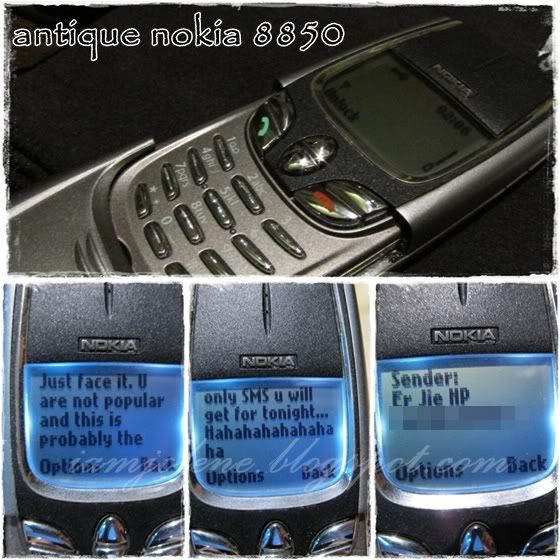 ~*Stepping into the office*~
I saw this on my office desk the first day I stepped back into the reality of work.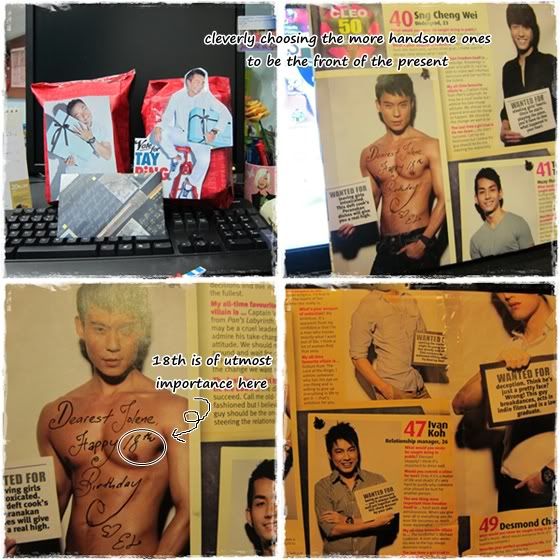 They were gifts wrapped with magazine paper from the lovely people in my department. They sure have a great sense of humour.
For my international readers, the guy all dressed in white hugging the Kate Spade gift box is a popular local actor and the magazine was taking a dig at some local politician. I won't divulge too much here or our local
GARMEN
may police my blog and strongly encourage me to remove the offensive material.
As for the shirtless guys from Cleo's most eligible bachelors, my department people probably felt I needed some young fresh "meat" for my eyes. To add some butter to the meat was the magical number 18.
What's under wraps? Little Skeleton Boy and Skeleton Girl from Corpse Bride!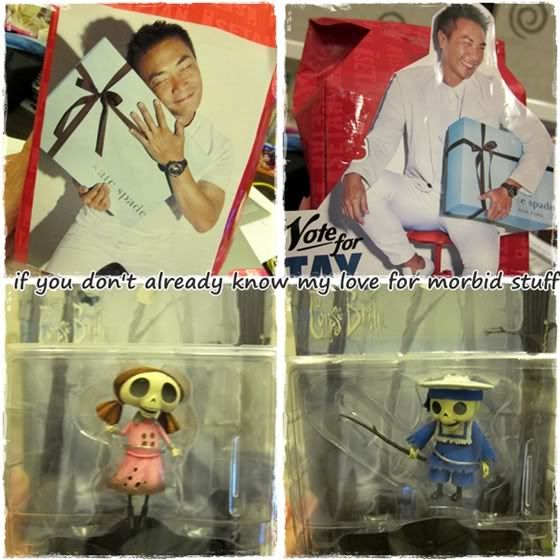 They were sitting on my television shelf overlooking my room and happily minding their own business when one fine day, I saw them facing the wall. I think my in-law's helper was so mortified at such grotesque sight that she could not clean the room when they were up there giggling at her.
My Chinese improved by leaps and bounds upon reading this comic. It is written in traditional Chinese and we do not learn traditional Chinese in our local schools. I struggled trying to make out some of the words but overall, I could understand about 90% of its contents and I really love the meaningful quotes by the side of the book at certain page intervals.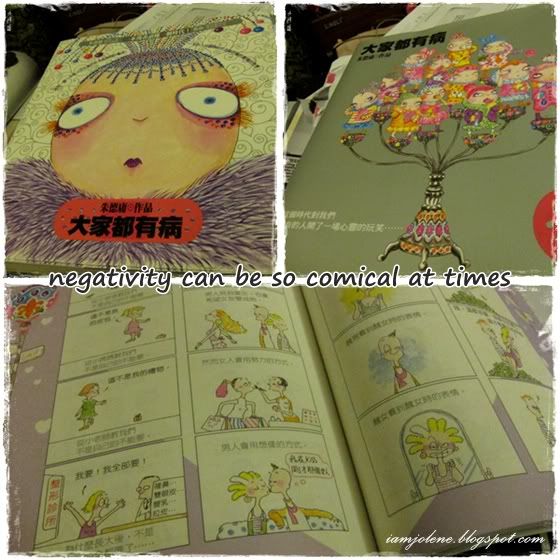 This book has been my travel companion for 2 trips. I love how negativity could be so comical. The contents in this book has allowed me to see the light behind every negative outcome and laugh at any bad situation.
Practical gifts from practical chocho.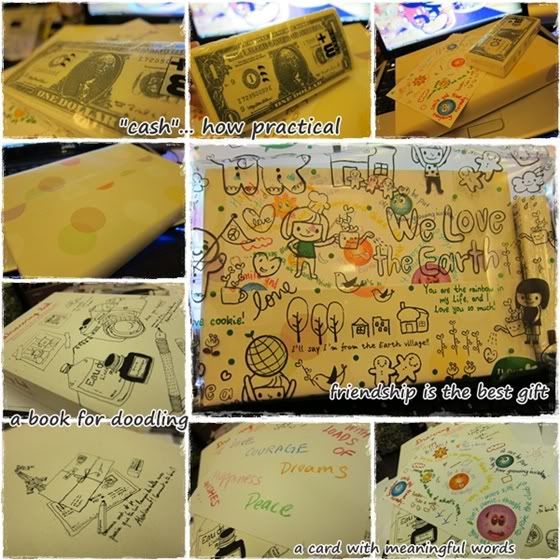 She could actually slam the tissue paper pack and say, "Nah, give you money."
As for the drawing book, she knew I was going to pursue my interest in anything art-related when time permitted and figured I needed a book for doodling. In fact, the drawing from
the post below
is done on her book.
Artistic gifts from artistic vivi.
I treasure every single handmade card from her and once again, I received more art-related presents. Apparently, the colour pencils were to be paired with chocho's drawing book.
Artistic vivi is also a very practical person. In order not to buy me a present which I might not use, she asked me what I wanted. I didn't know what I wanted at that time so I suggested she subsidised part of my online clothes shopping and so she did!
~*Made with Love*~
It seemed like I received lots of handmade stuff from good friends last year.
Other than hand-made cards, I also received a self-baked fondant cake from Karen which she delivered right to my doorstep. I actually wrote about this when I received the cake in this
entry
.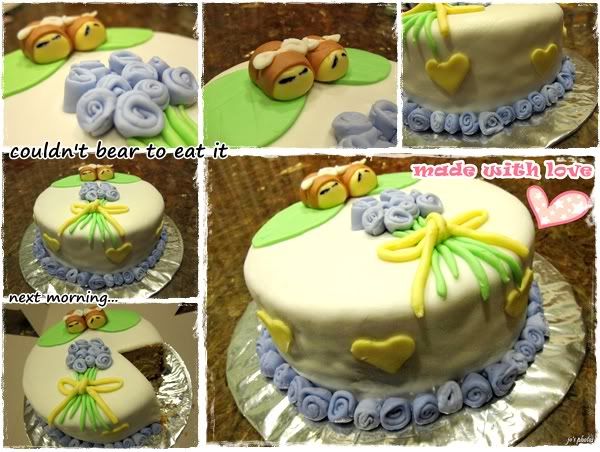 The cake was so pretty that I could not bear to cut it myself so I schemed for someone to do the job.
I wrote a note for my family members (in-laws) to help themselves with the cake. True enough my cake-lover brother-in-law started the ball rolling. The next morning when I opened the box, I saw a slice being cut. I could only bear to cut the cake then.
For the next 2 days, all the white parts were cut. Nobody dared to cut the flower bouquet and the bees until somebody started the ball rolling again (most likely the same brother-in-law) and I saw the flowers and bees progressively disappearing.
Oh yes, remember the
chicken rice incident
in Brunei? This was Karen's reply when I thanked her for the cake. The chicken rice incident is definitely going to be etched in many people's minds for a long time to come.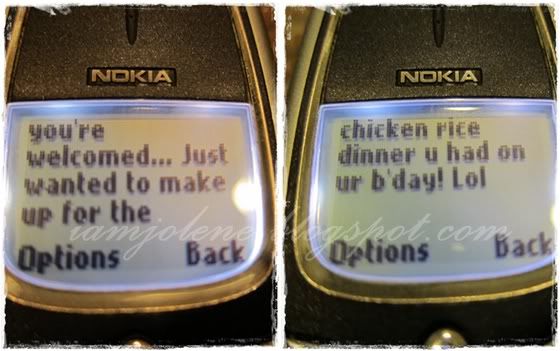 ~*Al Forno with the Babes and One Dude*~
On my offday, I met up with the babes for Italian dinner at Al Forno.
A cute dude joined us too. He's the very adorable and happy baby Leo.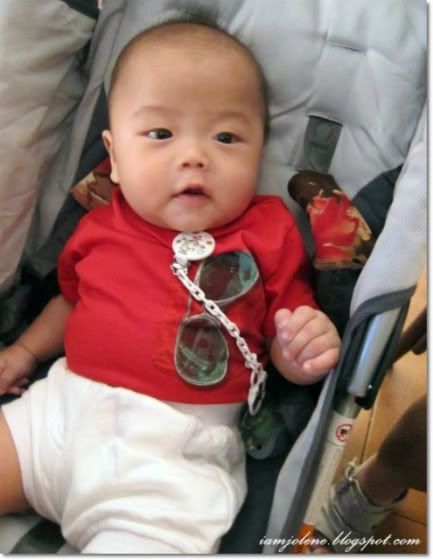 Actually there was another dude not pictured. JW was behind the camera in the group shot.
Here was what we ordered to share. The food was yum but we ordered a little too much especially since most of us were not exactly that hungry.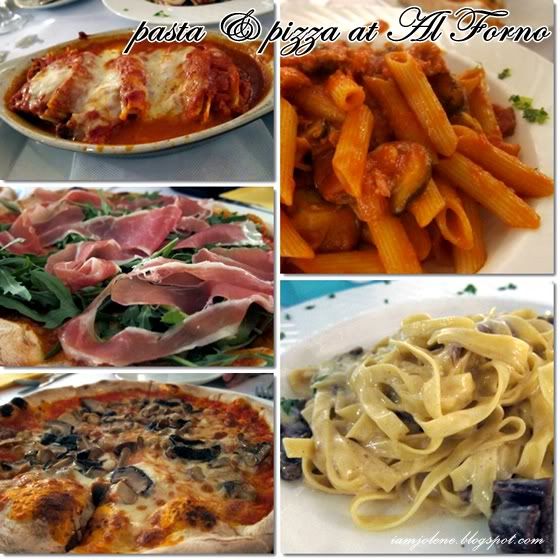 We didn't let good food go to waste though so we requested for the leftovers to be packed.
I have a love-hate relationship with Tiffany's little blue boxes and that exquisite white ribbons. I love them so much that I always cannot bear to untie the ribbons. However, the girls asked me to open my present and here's a peek -- Tiffanny earrings to match my existing Tiffany pendant in the same range. How thoughtful!
We ended the day at cuz sushi's house stuffing ourselves with loads and loads of cake.
Here's what I threw on in a hurry that day.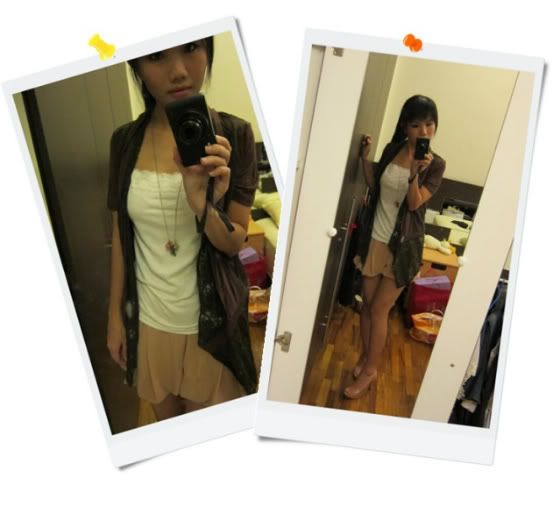 ~*Dinner and Supper with Dearest Bimbo Sisters*~
On my off day, I met up with my Bimbo sisters after a day of running errands for delicious soupy steamboat at 国府珍锅 (Guo Fu Steamboat). It seemed like we always end up there for comfort food.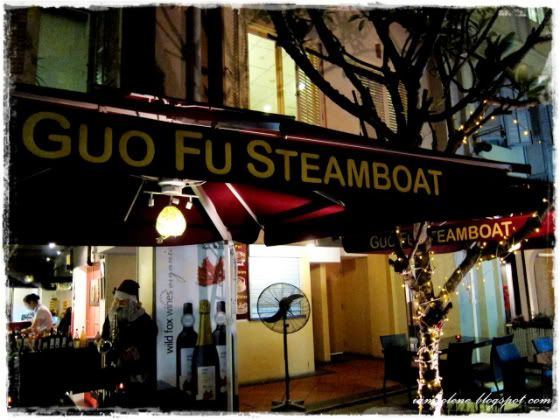 This santa has been mentioned before on my blog
in this post
. When we went to Guo Fu in March, we laughed at the Santa which was by the entrance. When we returned again in June, we could laugh no more coz by then, it wasn't really funny anymore to see jolly old santa playing the sax during that period of the year.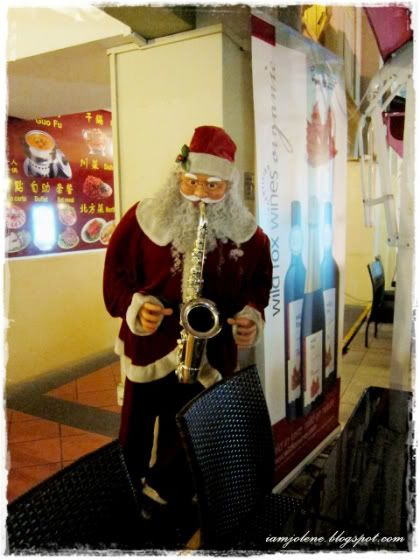 We had a feast fit for 4 hungry girls.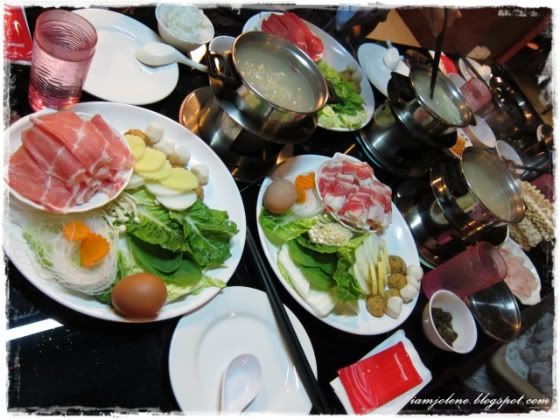 We ordered different variety of sliced meat so that we could share but I love mine the most. As I'm typing this, I've got craving for sliced meat in steamboat broth.
It wasn't supposed to be a birthday meet up but I received belated gifts from Tiff.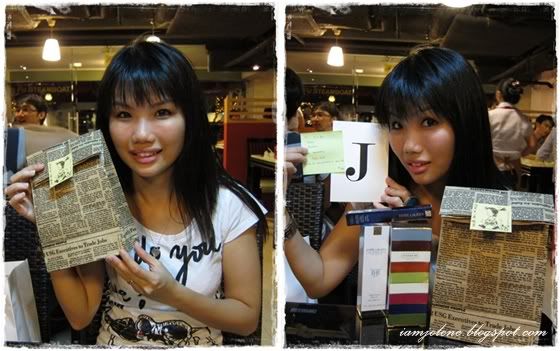 gera gave us each a humongous ring for fun and we spent the next few moments camwhoring with the rings.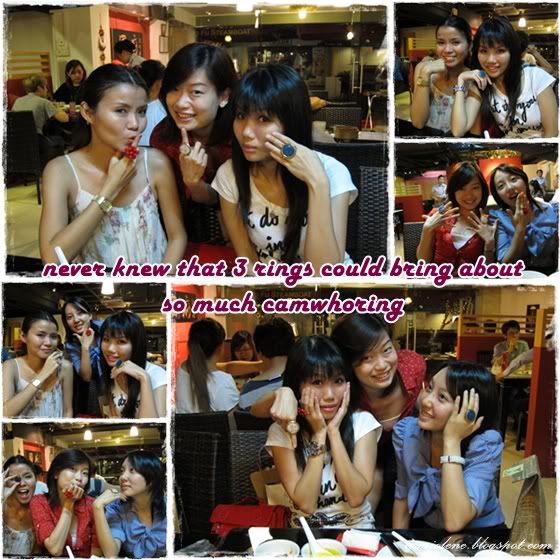 I forgot who came up with this idea of posing with the rings in the most annoying manner so there we were trying our best to be annoying.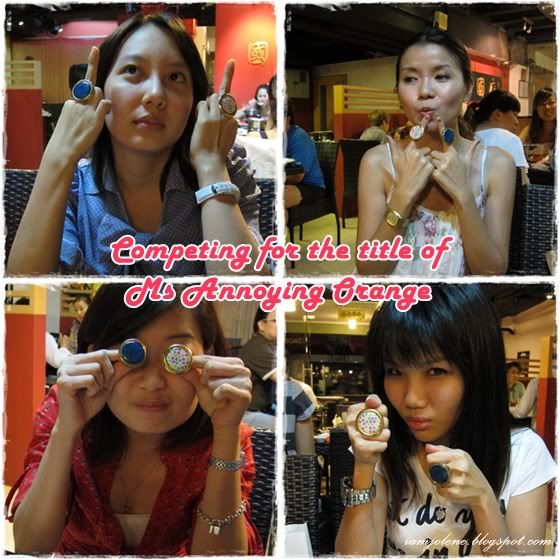 After dinner, we adjourned to TCC where Zanne met up with us for her dinner and our post dinner snacks.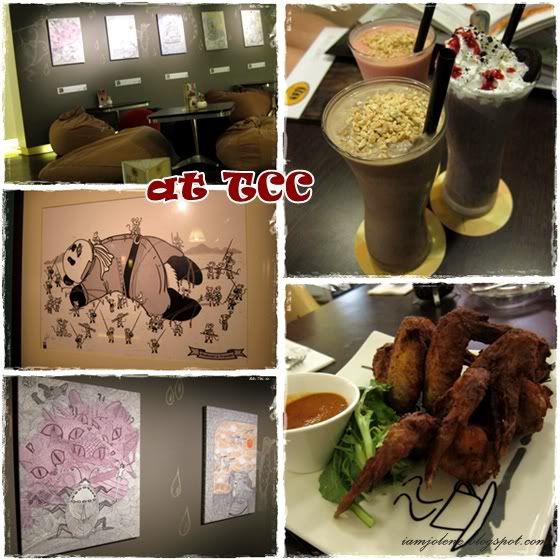 Tiff looked like she was dragging a sack of dead bodies.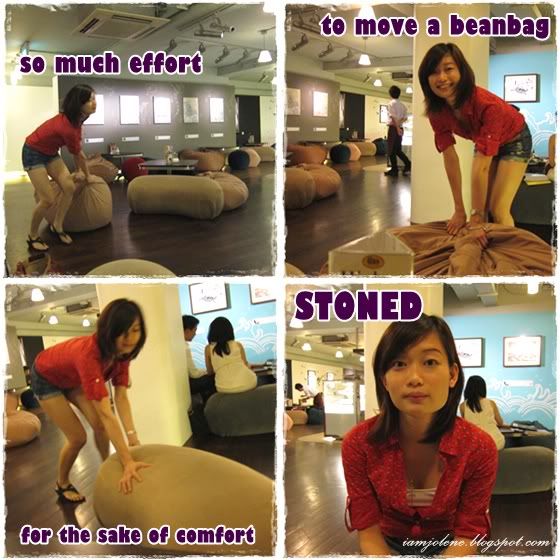 The bimbos decided to get me a cake just so that it could be considered a birthday meet up. There were lots of laughter and commotion when choosing the cake coz my very mean bimbo sisters made it a point to reveal my age in every single sentence to the staff behind the cake counter. It was so contrived, he found it so amusing.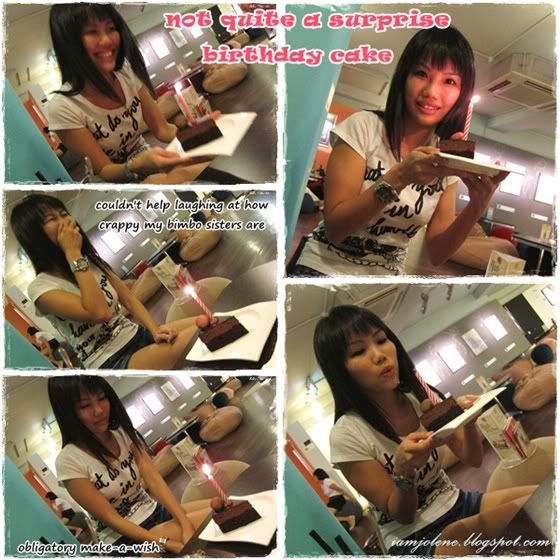 We spent the night laughing like crazy till the TCC staff chased us away. No actually, they didn't chase us away coz we were noisy. It was because they were closing.
Thereafter, we hung out by the Singapore River. I couldn't remember how it all started but we began to share personal encounters with ghosts and the supernatural in foreign hotels. I was greatly mortified to find out I was the only one who hadn't experienced anything of the supernatural realm when staying in hotels overseas.
Tiff and xtina had the most eerie experience ever. If I were them at that point of time, I would keep praying and not even dare to open my eyes. I really salute them for their courage.
We chatted till 2am. While the 4 bimbos happily shared a cab to go home together since they all lived nearby, they made sure they saw me into the cab (how kind of them) before hollering to me to be careful of ghosts.
-_-|||
Here's what I wore. I like to be clad in T-shirt and shorts or tanks and shorts on errand days.
I was looking at my folders through the years and I realised that I always had a birthday-week instead of a birthday-day to make sure that I accommodate the various groups of close friends. I also realised how there would be loads of clubbing and partying and eating of course, for every birthday week. 2011 was the only year where mad cap partying, grooving and drinking till morning with the people I love were out of the picture.
As we get older, birthdays isn't about wild partying and drinking. It feels so cozy just having meals with the people you love and catching up with one another.
Don't you think so?