Continued from
Volume 2
and
Volume 1
.
~*Day 5: Lazy Day*~
It was a lazy Sunday.
After checking out from The Empire Hotel, we had 鸡酒面线 (drunken chicken vermicelli) for lunch. The people at Brunei love this dish but for somebody who loves alcohol, I actually found the rice wine taste too much for my liking. I felt like I was drinking wine instead of eating vermicelli.
We did some grocery shopping and ended up with junk food.
Mamee is one of my favourite snacks and Van Houten Neapolitan always remind me of my favourite childhood chocolate. Mini chocolates have since been taken over by Cadbury and it's quite rare to find Van Houten Neapolitan in Singapore's supermarkets.
I was pretty amused by the words on the Mamee's packaging. Why the difference between the countries for sale and since when is Mamee ever healthy?
Damn, I feel like eating Mamee now.
For late dinner/supper, we went to Sing U Me.
I like how the interior of marble and wooden tables reminded me of Chinese eating houses from the olden times. The food was scrumptious! As usual Teh-C Special with wheatgrass for me and non wheatgrass for him.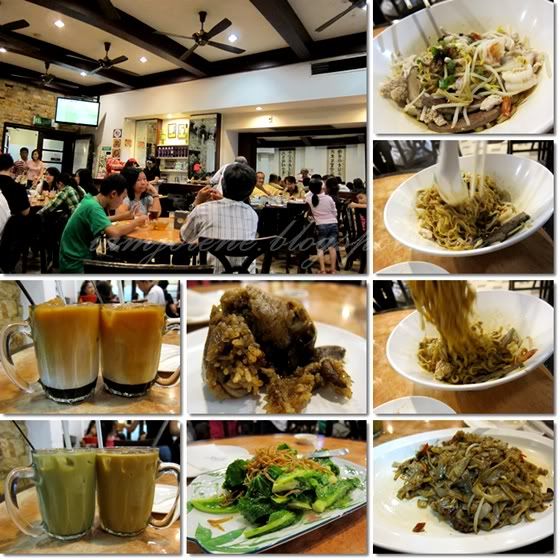 I absolutely enjoyed my time there savouring the food and watching people. There were many Chinese there and for a moment, I forgot that I was in Brunei.
~*Day 6: The most relaxed weekday for the boys*~
There was to be a farewell barbecue for one of kh's colleagues and so everyone was let off early. Kh's boss said he was going to treat us to Big Prawn Mee so the whole lot of us trooped over to...
Singapore Big Prawn House!
As Singaporeans, we were of course thrilled to sink our teeth into our local prawn mee, savour the succulent prawns and lap up the prawn broth. The prawns were deep fried and put into the soup -- definitely not our local style. The noodles and soup was good though but we felt a little cheated with the name. Anyway, we can't expect much too. For once, I decided to be unpredictable and ordered something other than Teh-C Special. No, that's coz they did not serve Teh-C Special at all.
Btw, to my American and Australian readers, whenever you go to a Chinese restaurant and order Singapore Noodles or Singapore Fried Rice, do not be fooled into thinking these are authentic Singapore dishes. They aren't at all. We do not have such dishes here at all. Our noodles and fried rice come in myriad ways of cooking and with different names to each dish.
In the evening, some of kh's colleagues prepared for the bbq.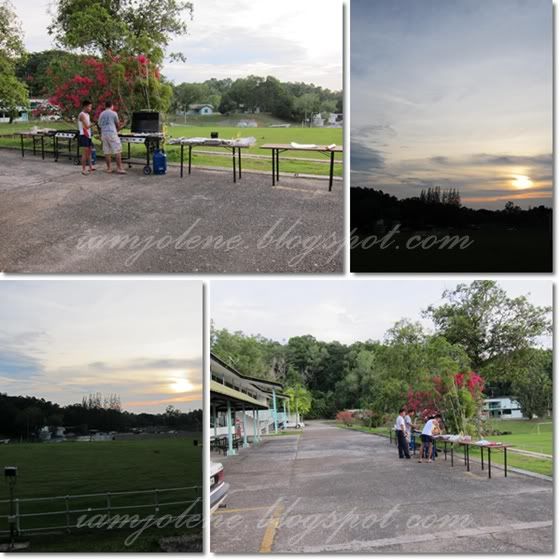 There are many photos which may be a little sensitive to be posted on my blog. I actually had to ask kh to QC the images that I've chosen to post here just to make sure everything is fine.
Playing with Hong Zhi's sister, Yi Jing, in the family area.
~*Day 7: Last Day in Brunei*~
On my last day here, kh brought me to Eden for a taste of Brunei's Kolo Mee.
As usual, the food in Brunei could never go wrong, except for the dinner at Seaworld Neptune. The noodles was springy in a QQ way; the dumpling and minced meat was good.
I like how the eateries in Brunei provide each table with tissue paper. For someone like me who often forget to bring my packet tissue out, this is a saviour.
For dinner, I had artery-clogging but absolutely lip-smacking fried bee hoon. I love my bee hoon a lot. It's very different from the fried bee hoon found in Singapore. kh's fried rice was overly salty but then again, Brunei's food is usually salty. As if the big plate of bee hoon and fried rice weren't enough, kh had to order more food in the form of 10 satays!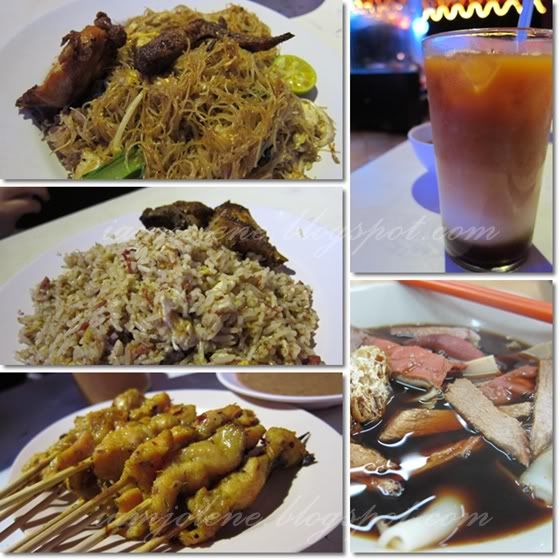 After that, we went to K and hubby's house to say my last goodbye to them. Leanne was still awake and we spent some time playing Lego. K allowed her to play a little past her bedtime since it was the last time she would see her FAVOURITE Aunty Jolene. The Kway Chup you see above at the bottom right picture was our supper with K and her hubby at 3am.
I insisted kh drove me to the golden mosque which we always passed by for a shot of it. I had been trying very hard to capture this golden mosque for days from the car and all the shots turned out blurry. This was the best shot.
Bye bye Brunei!
PS:
I'm backdating my post and this trip happened last May. However as I'm typing this now, the hubby is due for detachment there again. =(