We had such great fun playing games
last Christmas
that Karen decided to hold a games night at her place again one Saturday.
First. we met up in the east for some Japanese dinner at Tonkichi.
We ended up reliving our childhood days and comparing notes on all the cartoons we had watched back then and the toys we played with in the 80s and 90s.
There was even a point of time when you could hear us singing tunes like "Denver the last dinosaur", "Captain Planet. He's the hero. Gonna take pollution down to zero." and "Care Bears Stare" amidst many more tunes and jingles. I think it was more of Karen, Ethan and I singing while Regina and jw looked at us eyes wide with bewilderment.
Note: Karen and I were really saying "Care Bears stare" up there while I supposed Regina's thought bubble read "crazy girls".
After dinner, we were supposed to drop by Sushi's place to visit her and her cute little Leo (my distant nephew) but alas she wasn't at home so we headed straight to Karen's place for Games Night.
Before we started playing any game, Karen decided to serve us some creme brulee that she had made. Unfortunately, the bottle of gas refill she bought did not fit her chef's torch and she was not able to caramelize the sugar coating on top.
Quick-witted and highly daring Ethan improvised on the spot with the stove lighter aiming it onto the path of the gas. Check out the flame below! I was actually feeling scared for him. Even their dogs Louise and Emmie sat up and watched the whole scene intently.
Poor Ethan burnt off the hair on one of his fingers while he was at it and we decided we should not allow him to "torture" himself just for us to savour creme brulee. Thus, we shared that one caramelized creme brulee out of the many that Karen had made.
On to the games...
We played this really silly and crazy game called Pictureka. You could tell how crazy it is from the illustrations which reminded me deeply of the crazy stupid show Cow & Chicken which aired on Cartoon Network some ten years back.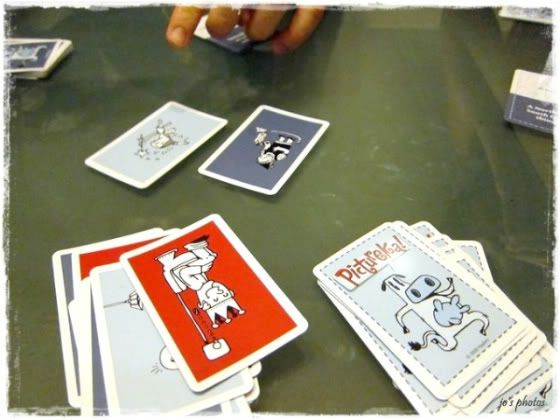 The ever
suaku
me had never played Cluedo before (yeah yeah I know, what happened to my childhood right) and so I was yearning to play it that night.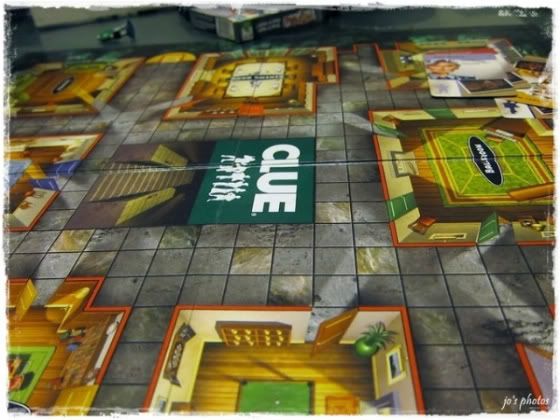 The final game we played was Monopoly.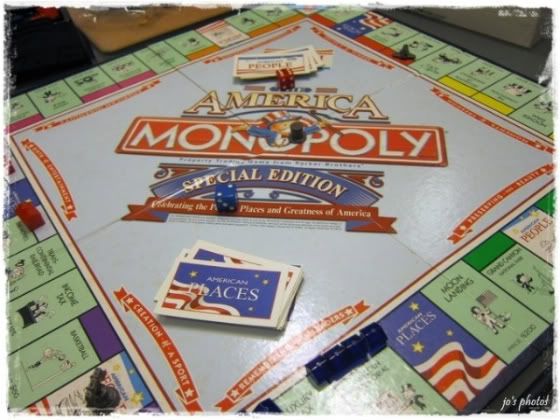 Regina was supposed to bring her Monopoly card version but it slipped off her mind and so we played the traditional old school board version which Regina and jw absolutely dislike since it was a pretty no-brainer-luck-and-chance kind of game.
Luck and chance it was. We finally decided to pair up to combine resources as the game was getting no where in circles. Based on the matching of colours, Regina and jw formed a team while Karen and I formed another. Thanks to jw's greed, he became the ultimate loser and dragged Regina down while Karen and I kept collecting wads of cash.
Top right picture shows Karen and my title deeds and cash while it is clearly evident that jw was the ultimate loser with $3 left.
While we were playing, Karen and Ethan played the good host by fattening us up with lots of snacks and quenching our thirst with tea and a delicious lychee wine from Switzerland.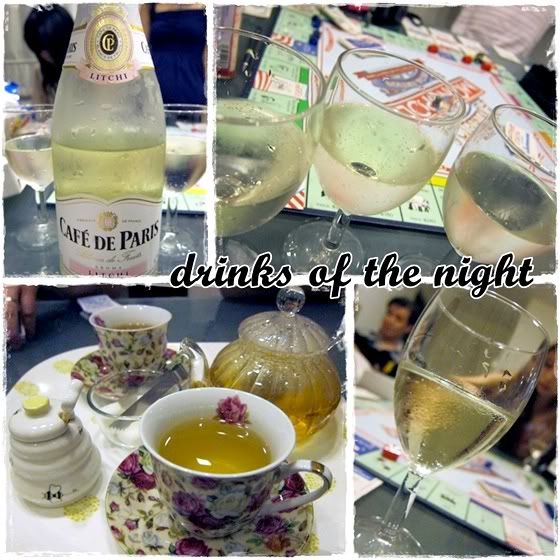 We played and chatted till about 5am before we called it a night. It seems like we never ever leave Karen's house before 5am.
Cheers to great friendship!