Sometime during the Chinese New Year period, Regina, Karen, Karen's sister Janice and I went to a curated fashion exhibition – Valentino, Retrospective: Past/Present/Future. Clara was supposed to go with us but she could not make it in the end and hence Janice took her place.
Held at the Resorts World Convention Centre, this exhibition boasts one hundred haute couture pieces from Valentino. These include works from early days of Valentino Garavani to contemporary designs by present Creative Directors Maria Grazia Chiuri and Pier Paolo Piccioli.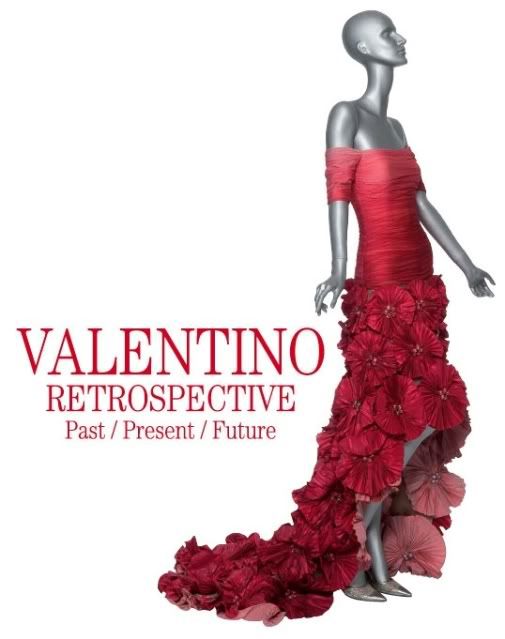 Valentino Garavani is a household name synonymous with dramatic, opulence and extravagance. He made his mark early with intricately detailed, luxurious gowns and tastefully body-conscious silhouettes. He also perfected his own shade of red when he came up with a line of brightly-hued red dresses. This was later coined by the fashion industry as "Valentino red", and became his signature colour.
The pictures you see in this post were taken from Regina, Karen and Janice. Thank you so much for the pictures! I was still using my pink bimbotic camera at that time which was fast failing on me after a few years of loyalty. Hence, whenever I go out with Regina or Karen, I would simply keep my camera and let their canon S90 do the job.
I would love to have snapped more pictures but here are some of the pieces which caught my eye.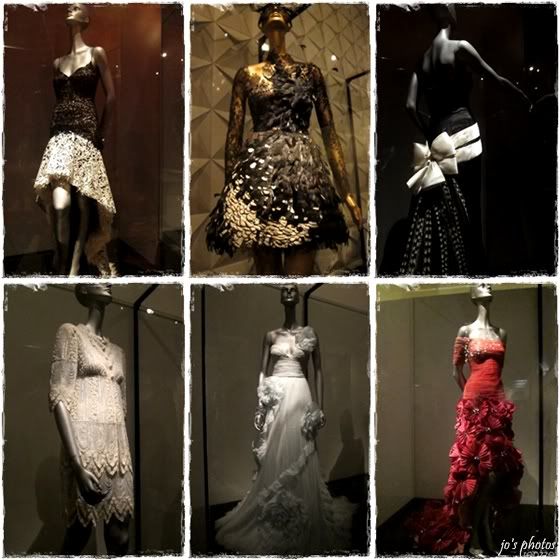 I really love the black and white combination (this explains my white and black wedding gown!) and I especially love the white bow at the back of this gown.
Also on exhibition were pieces worn by classic actresses like Elizabeth Taylor, Audrey Hepburn and celebrities of the present like Cate Blanchett, Julia Roberts, Jennifer Aniston, Lucy Liu and more. Valentino's most famous client would be Jacqueline Kennedy, wife of the 35th President of the United States, John F. Kennedy.
There were simply too many gowns which were such a visual feast. Here, I've included this youtube video of the exhibition where a lot more gowns have been featured.
Here are my two most favourite gowns. Do you see the similarities? These reminds me of dresses that Greek goddesses and beautiful nymphs would wear.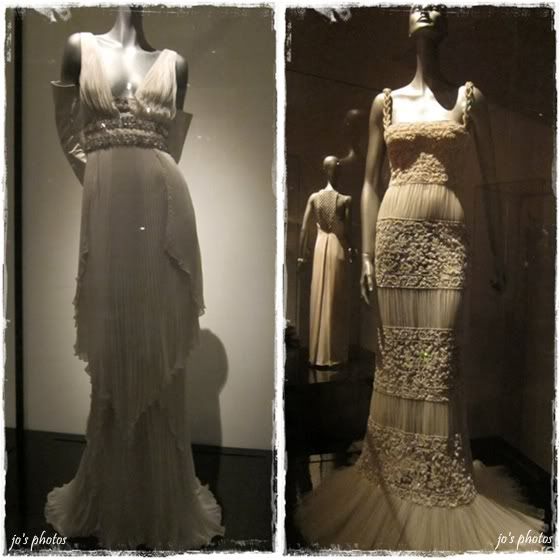 I love the picture of the 3 lovely ladies at the bottom of this collage. They looked really amused by the pixels forming a clear picture when seen from afar.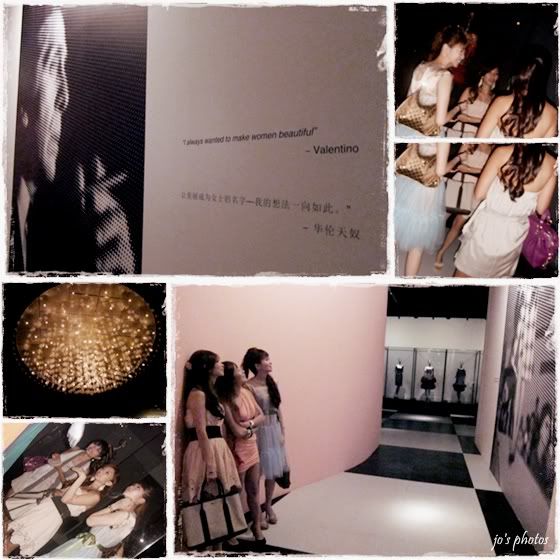 Learning more about Valentino from the milestone board.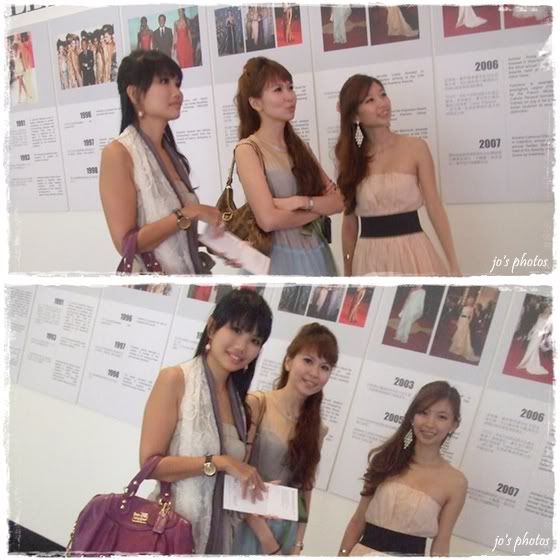 Being very
bimbotic
fashionable, we decided we should wear dresses to match the theme of the exhibition though it was rather spontaneous that we all wore varying shades of pastel colours. We only realised how colourful we looked when we took this photo. No wonder everywhere we walked outside of the exhibition, people turned to take a second look at us. Most of the people there were clad casually as they were there for Universal Studios and lounging about the island resort and we probably look like OTT aliens on the island.
After the exhibition, we went to Victoria's Secrets where we each bought something.
This is the first time Janice went out with Regina and me together and she was really so excited snapping so many photos.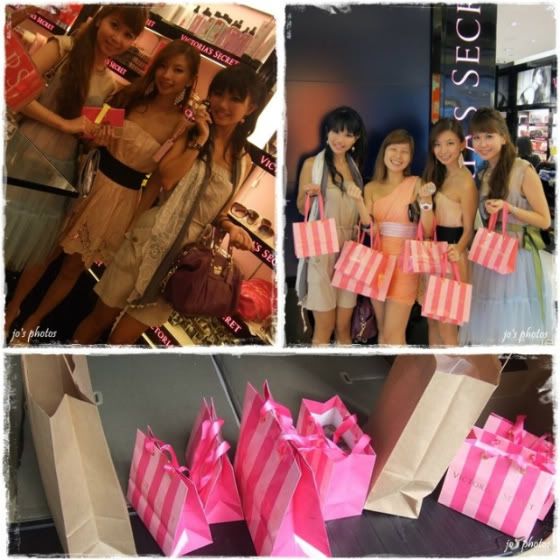 After that, we headed to Dustbunny Vintage where I spent a bomb on a few pieces of beautiful vintage dresses and one-off pieces. I guess we were truly inspired by the many beautiful and fashionable gowns we saw in the morning.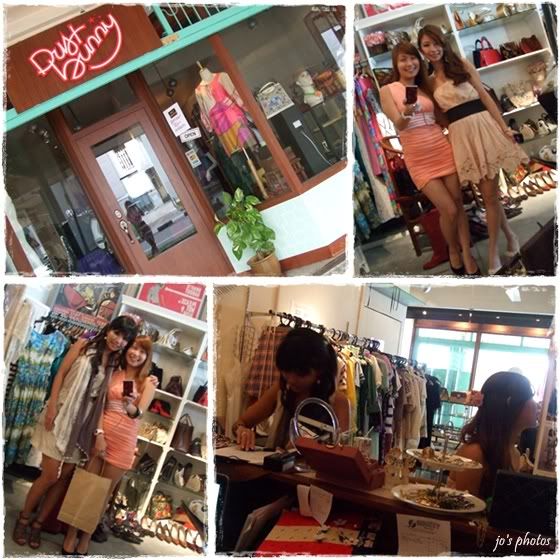 I like how Janice edited this photo. It reminds me of a section of ViVi magazine where the photos have got a vintage washed out tone.
After shopping, we finally settled for tea at Old Town White Coffee where Regina left us for a date with the hubby while Clara joined us.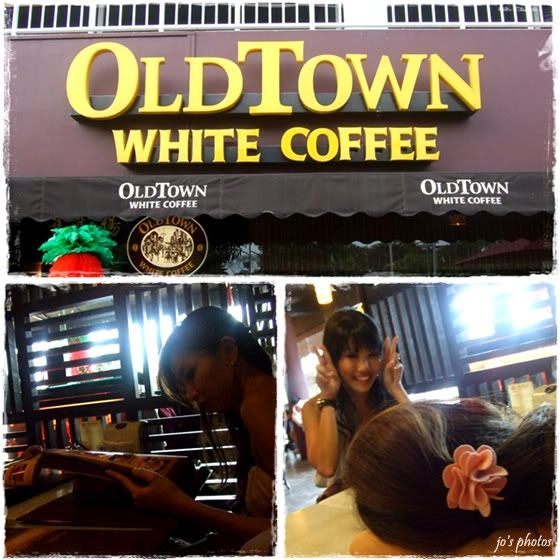 My final stop was a CNY home-cooked dinner with my family. I absolutely love my mum and dad's cooking. Yes, my dad can cook very well too. He learnt it from my grandmother and my mum. Now, I wonder if kh would be able to cook for the family next time too.
There was steamboat where the soup stock was pig's stomach soup. I really love my parents' pig's stomach soup and my mum's ngor hiang as well. She makes the best ngor hiang ever. It would always be dish which my relatives would wait for every reunion dinner.
A family portrait where we were all standing awkwardly. Maybe we should invest in a tripod... and an SLR probably. I'd wanted to snap a more proper one but my camera died after that.
Here's what I wore:
♥ Banana Republic silk & azlon tube dress
♥ No label scarf thrown on to add details to the simple dress
Accessories:
♥ Topshop ice cream earrings
♥ Fifi Lapin necklace (xmas gift from Regina)
Signing off in a bimbotic mode,
Jo