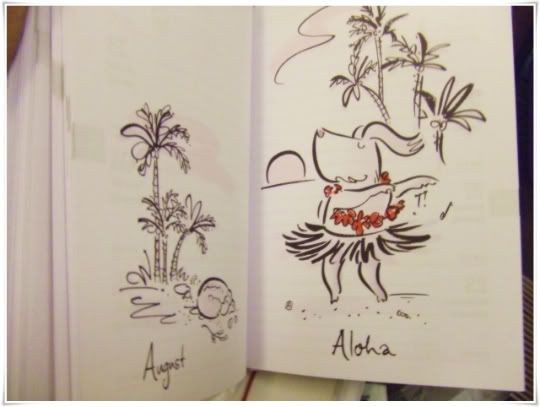 Here I am writing backdated stuff again!
~*~*~*~*~*~*~*~*~*~*~*~*~*~*~
~*Mum-in-law's birthday celebration at Marriott Cafe*~
It was my 2nd time at Marriott Cafe buffet. The 1st time was to celebrate my
mum's birthday
last year. This time it was to celebrate my mil's birthday.
The standard of Marriott Cafe's food seemed to have dropped. I did not eat much that day but felt so full.
The slipper lobster aka crayfish aka hay poh wasn't sweet and succulent like the prawns. I've always loved the taste of crayfish but not for this.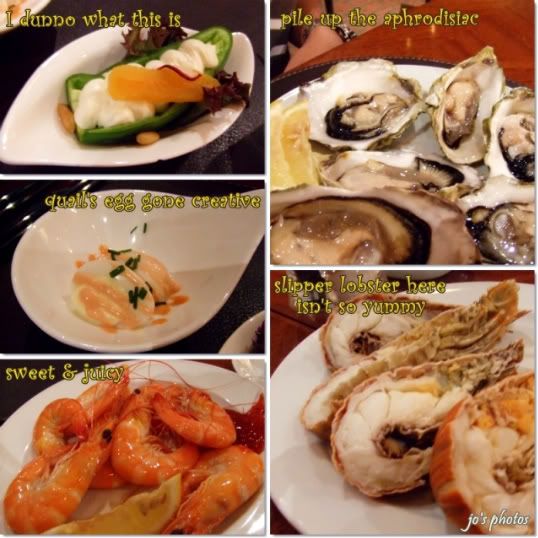 The desserts look a lot prettier than how they tasted or maybe because I was too full by then.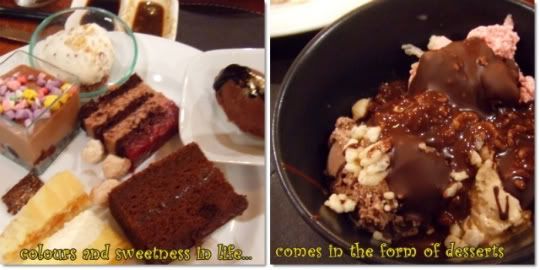 My mil is so cute. She's such a simple folk. Last year, kh and I bought a white gold necklace for her and she "scolded" us for wasting money. This year, she was relieved we did not spend money on presents but paid for dinner instead. When my youngest bil bought her a gift, he got a "scolding" from her saying that the best gift he could give her is not a present but to give her an ease of mind and not to make her worry too much about him. Poor boy!
A family photo with the very much empty table.
~*~*~*~*~*~*~*~*~*~*~*~*~*~*~
~*Just a typical day at KKH*~
Charmaine never fails to keep her spirits high in the hospital even when she's suffering in pain. She's always elated to have visitors as that means that she has a new play buddy besides mummy and kor kor.
That night, she kept squeezing the sides of my cheeks to hear me speak like Tweety Bird. She found it amusing to speak in that manner so I taught her how to do the same. Little did she know that I merely wanted to squeeze her cheeks back. LoLz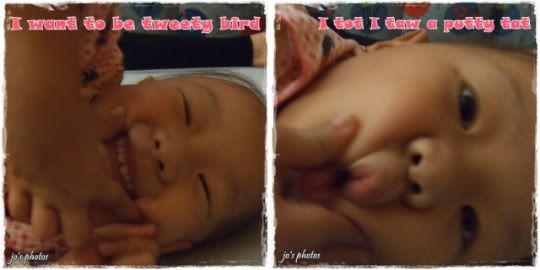 Charmaine's favourite playmate -- Jase kor kor.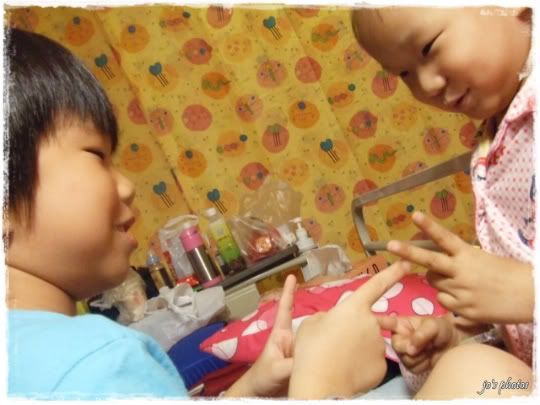 She asked me to take pictures of her making funny faces.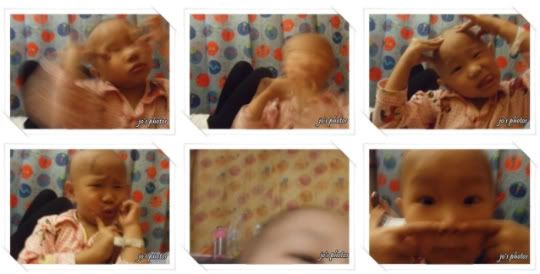 She took a lot of photos of me making funny faces too but trust me, you wouldn't wanna see them coz they looked more like ugly faces instead of funny faces or unglamorous shots like close up of my teeth, my nose, my eyes etc.
Here are the better ones.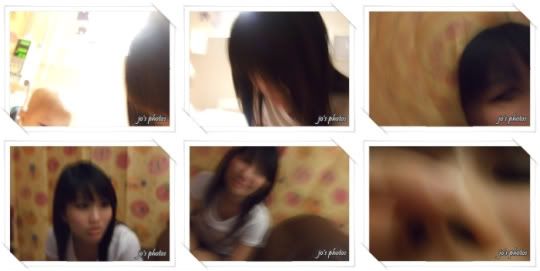 When the battery died, it did not stop her from getting me to use my hp to continue snapping.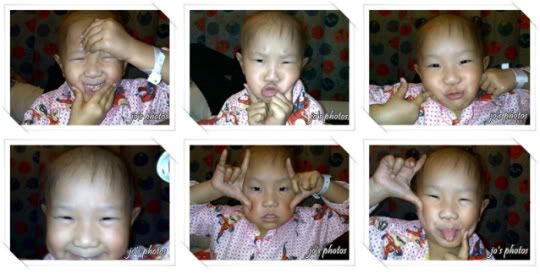 The most glamorous photo of me that night. Yeah, half the face is gone.
~*~*~*~*~*~*~*~*~*~*~*~*~*~*~
~*Aoba Soba*~
This is my bil's cat at her cutest. She looks like she's covering her face.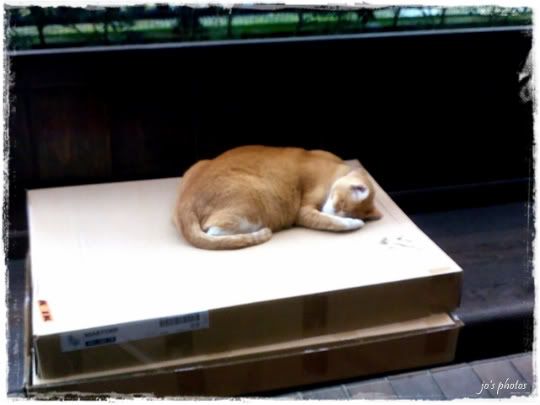 My bil's cat is quite unlike all the other stray cats. Stray cats love me; this cat doesn't. She does not run towards me when I call out to her, she does not rub herself against me and she does not like me to carress her. What a strange cat not to like all these. I feel more affinity towards stray cats than to her. The only time she loves me would be when she's hungry.
I just realised that introducing my bil's cat after the title isn't quite apt; her name isn't Aoba Soba. My bil calls her "Gabby" but to all other members of the family, she has a few variations of names ranging from "Meow Meow" to "Mao Mao" to "That stupid cat".
Anyway, I shall move on to the topic of soba which really isn't the topic of soba but ramen. Kh and I have cravings for ramen quite often and together with one of his like-minded good friend, they decided to try out the various ramen in Singapore to search for the best.
We've yet to go on our ramen hunt but thinking about the ramen hunt that evening made us crave for ramen so we popped by Aoba Soba in Takashimaya for some ramen fix.
It was so so. The broth wasn't the kind that I like but it was one of the better tasting ramen in that area. Why can't we find good ramen in Singapore?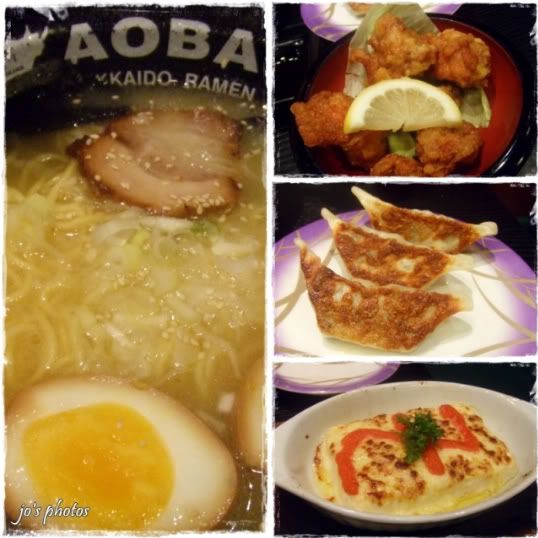 On a totally random note, this little lizard managed to survive the strong wind blowing against it.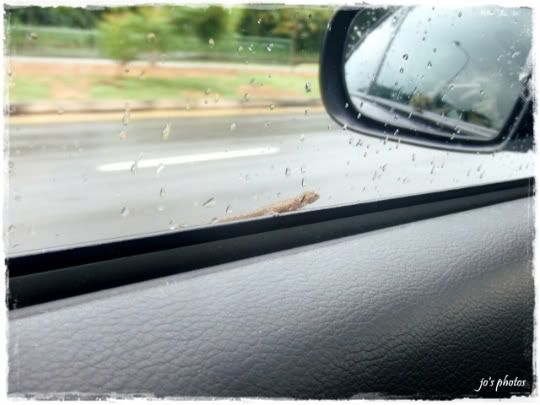 kh finds me disgusting to take pictures of lizards but I think they're lovely to look at. As long as they don't scare me in the middle of the night with their beady eyes staring straight at me, their lightning swift actions, and the twining of their bodies around objects I frequently touch.
~*~*~*~*~*~*~*~*~*~*~*~*~*~*~
~*Impromptu dinner with sis at Sukiya*~
On one of my off days, my eldest sister decided to treat me with all-you-can-eat Japanese steamboat buffet at Marina Square. The glutton could not refuse of course!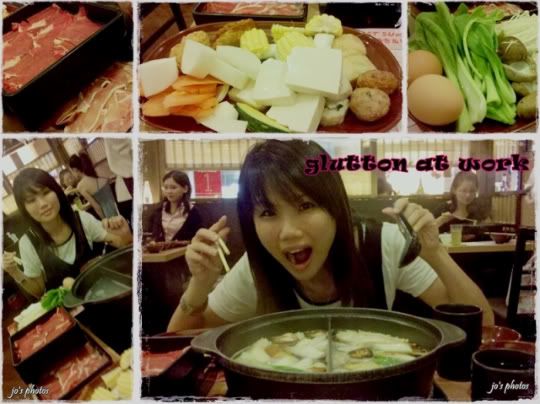 ~*~*~*~*~*~*~*~*~*~*~*~*~*~*~
~*Farewells*~
Charmaine was going back to NYC for another round of treatment so here we were at Changi Airport saying our last goodbyes.
After that at work, we held a mini farewell lunch for a colleague of mine who was leaving for greener pastures.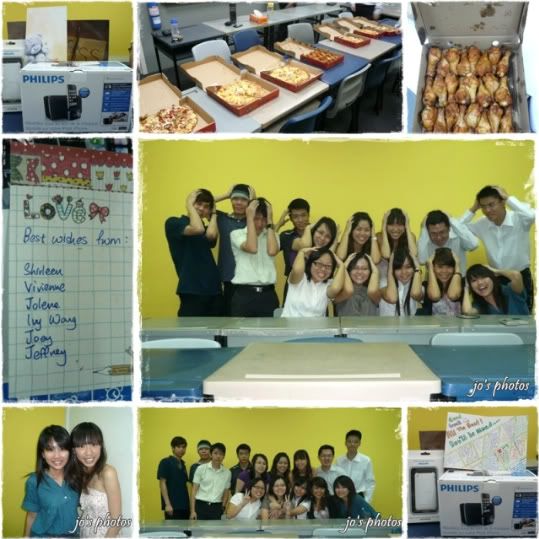 Even though we weren't/aren't close, we chat often when we carpooled together to the respective branches. She even gave me a wedding gift and card before my wedding. I was really quite surprised and touched at the same time when she came all the way from the other building to my desk to hand me the gift.
So here are some crazy shots of us doing the Jappy/Taiwanese 1,2,3 shots and getting all so confused by the ones shouting behind the camera and the flash.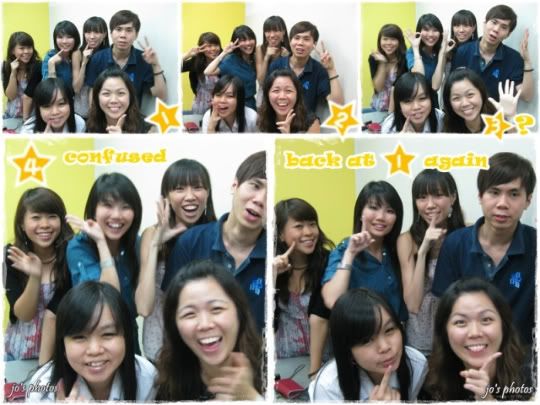 ~*~*~*~*~*~*~*~*~*~*~*~*~*~*~
~*A great Bak Kut Teh stall*~
Tiff and I found a great Bak Kut Teh stall around Balestier area quite by accident but I'm ashamed to say that I did not take note of its name.
We were craving for Bak Kut Teh and decided to head down to Founder Rou Gu Cha at Balestier (发起人肉骨茶餐馆). Alas the queue was so long. We were famished and did not want to wait. With that, we walked along the the row of shophouses to look for an alternative and chanced upon an almost empty eatery that served Bak Kut Teh.
Inside, we felt as if we were transported back to Shanghai in the 60s. It must be the music. I love it!
This place is sadly left in cold storage as Founder has built a brand name for itself with a wallpaper of photos of movie stars and celebrities from Singapore, Hong Kong, Taiwan having their food at Founder. It isn't that the food here is not comparable to Founder, it just lacks the branding. I told tiff I would try to promote it on my blog and she said good luck.
Yeah good luck. How silly I was not to notice the name!
I hope they continue to survive. If you're looking for supper places, do look out for this stall. It's within walking distance to Founder.
Do you like the Bak Kut Teh with peppery and saltish clear soup (Singaporean style) or the darker soya-sauce coloured soup with herbs and spices (Malasian style)? As you can see, here serves the peppery clear style.
~*~*~*~*~*~*~*~*~*~*~*~*~*~*~
~*Mummy's birthday celebration at Flamingo*~
For mum's birthday this year, she wanted a more simple affair as she wasn't exactly feeling well and did not want to travel to town and sit in cold air conditioned places.
Both my sisters had been to
Flamingo
separately and they raved about how good and affordable the food was. Hence, we decided to go there for some Thai food. I have to agree with my sisters that the food is cheap and good. The whole fish was especially lip-smacking. I love the soupy and spicy gravy.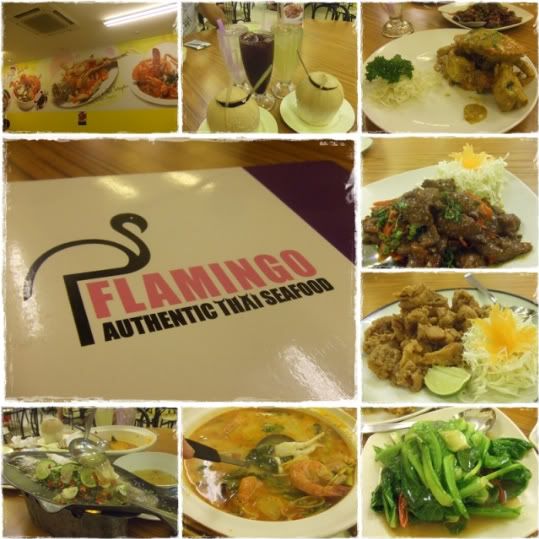 There aren't any photos of my family as my mum was sick and did not feel like taking photos. Mum is the queen. No mum means no other human photos.
~*~*~*~*~*~*~*~*~*~*~*~*~*~*~
~*"F4" at Brotzeit*~
The long-awaited meet up with the F4 finally arrived. Ems, shan and I were all so eager to meet up with wy as she hasn't been joining us for the past few meet ups.
We met up at Brotzeit at 313@Somerset. It is a German resaurant and you could see that the portions were huge.
Presents time!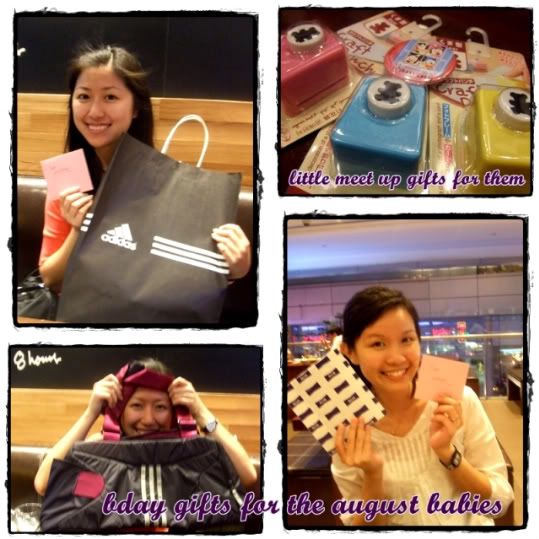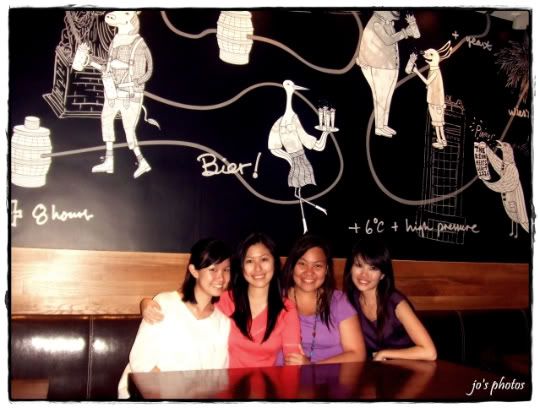 Wy now that I know you always read my blog no matter how bz you are, could you go organise another meet up soon? You organise, we are sure to make it on that date! Everything's your call, girl!
~*~*~*~*~*~*~*~*~*~*~*~*~*~*~
~*Girly stuff*~
Boys, you may click the x-button now coz I'm gonna talk about frivolous bimbotic stuff related to beauty and fashion.
My recent beauty hauls from SASA.
[From L-R: Dr Young BB Cream; Young Camouflage Tinted Spot Cream; faux lashes; Cyber Colors Instant Moisture Boost Sparkling Mask; Giovanni Magnetic Energizing Shampoo
On Dr Young BB Cream:
The BB cream and concealer are my daily essentials now. I like the fact that this BB cream from Korea is really a BB cream and not some tinted moisturiser that pretends to be a BB cream. Many beauty products are slapping the words "BB cream" all over their products whether or not they have healing and treating properties. I like how it made my complexion look dewy and radiantly fair for hours instead of having a white cast that oxidises by the end of the day. The cons? My face used to be darker than all other parts of my body (since it is the most exposed part). Now after a period of usage, my skin has lightened and my face is a shade lighter than the rest of my body which gives the illusion of having a face that is too heavily made up.
On Young camouflage tinted spot cream:

The concealer has healing properties so you could dab it on pimples but I did not like how it looked at the end of the day. Bits of it could gather and look like it wasn't blended well.
On Sasa's house brand faux lashes:
I've yet to use them.
After reading the words at the back of the bottle, exclaim "WAAAAAAAAHHHHH".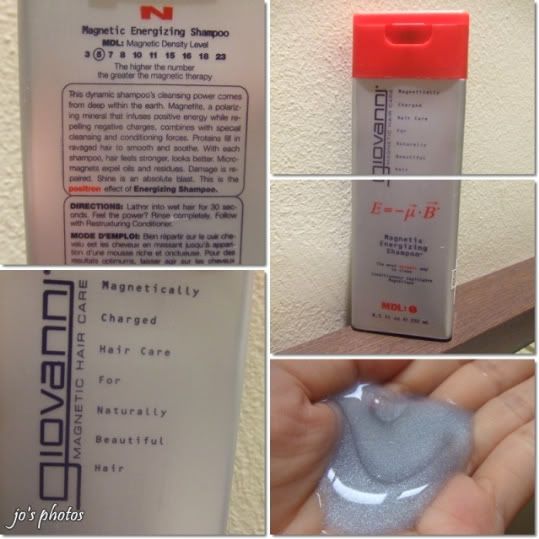 On Giovanni Magnetic Energizing Shampoo:

Seriously, this shampoo is good! I've since finished the bottle. I used it as a clarifying shampoo once every few days. You know that our normal shampoo coats our hair with lots of sulphates ( I think). Clarifying your hair every now and then to get these coatings out before conditioning it would help the goodness of the conditioner to penetrate your hair shaft more effectively, leaving you with hair that looks a lot healthier and shinier. The best part? It is free from sulphates and animal cruelty. Feel good physically and morally as you shampoo your hair!
Now read the words and go "Woooooooooh".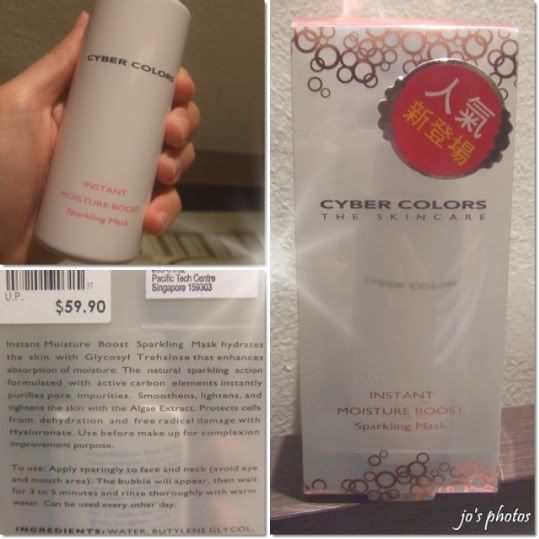 On Cyber Colors Instant Moisture Boost Sparkling Mask:

The SA told me that this is often out of stock and urged me to buy. Singapore had limited stock and it was out of stock in the whole of Hong Kong at that time. She tried on the back of my hand, I liked it, I bought it. Love the grape scent. What you do is you apply thinly all over your face and wait for bubbles to form. The bubbles would slowly disappear and according to the SA, it means that that part of the skin is absorbing the moisture. Parts with bubbles disappearing fast are parts which are drier. After that, wash your face as per normal and feel your skin go doink doink like SKII.
Beauty haul from Watson's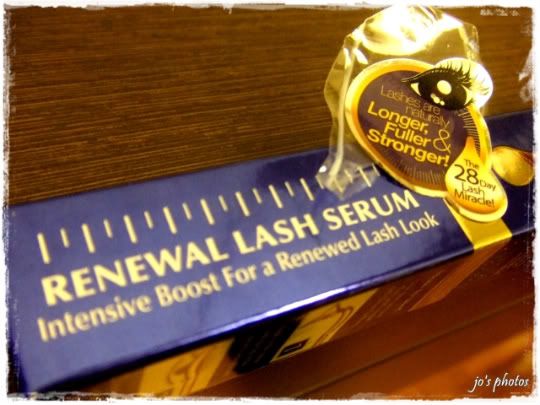 On the Loreal Renewal Lash Serum:
I'm too lazy and forgetful to use continuously for 28 days so I can't tell you if it works. Maybe those of you who have tried it could let me know?
Moving on from beauty products to hair...
I've always been quite proud of my naturally straight hair which might curl at the ends depending on the cut. My regular stylist could cut my hair such that you could see lots of hair on the ground but doesn't look too thin and sparse on the head. I often wonder how she does it. She could also layer my hair such that it still remains straight with no ugly dry ends sticking out. Many people often thought that my hair was rebonded. *smilez idiotically*
Then one day I went for a free treatment at Orchard. They commented that my hair was too thick and so I saw no harm in getting a hair cut then. I have a treatment package there since uni days and so a director's cut would be at 50% off. Getting my hair cut at $30 by a director, I felt that I was in safe hands. I like the director too. She's a really nice lady who is so hip and fashionable for someone her age.
I walked out of the salon feeling really happy.
This was taken on the day of the cut.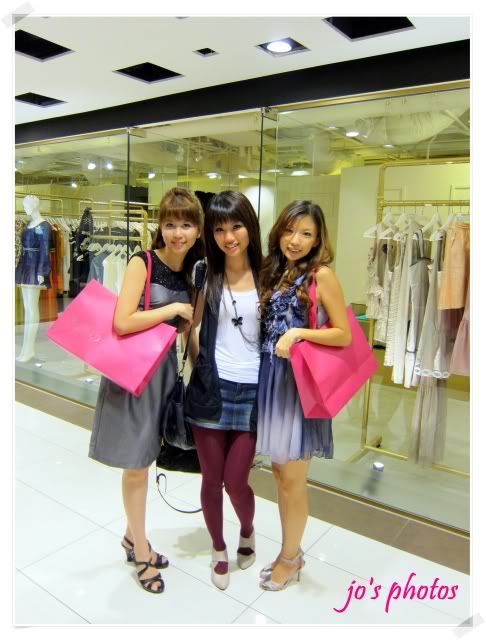 However, after a month of washing, it became really dry and ugly. The layered ends were horrendously sticking out. My friends who hadn't seen me for long, asked me what happened to my once healthy hair. One of them even commented that my hair looks like it was in 2 obvious layers.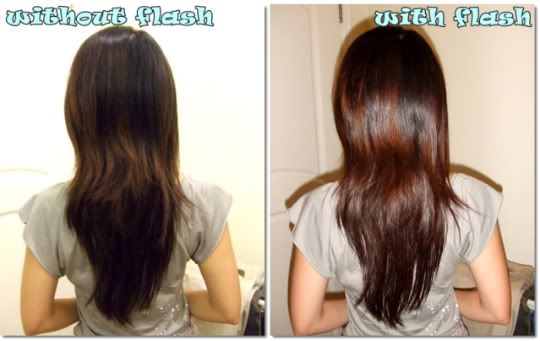 I hated my hair so much that I went for soft rebonding at my regular stylist. I was/am trying to keep my hair chemical free so that I could have a full head of black hair. I'm done with my blonde and brunette days of yesteryears! I wouldn't have gone for the rebond if not for her reassurance that I could still continue to curl tong my hair after that.
Here are the after photos of soft rebonding. I like how it looks naturally shiny and straight and not poker straight like the usual rebonding.
Moving on from hair to style...
While at the salon, I flipped the magazines there and realised that I'm in love with Burberry prorsum that season. I love the earthy tone and ruched skirt and I love how the model paired the outfit with shoes and socks.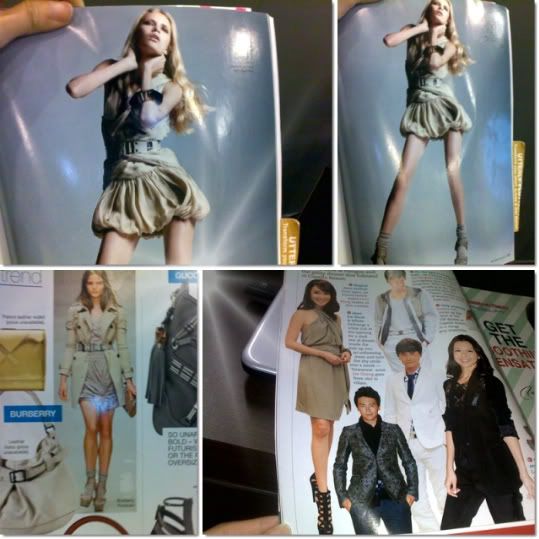 I also find Fann Wong getting more and more stylish while her hubby Christopher Lee looks more and more like a beggar. I love every single one of her outfit below!
Sporting gear hauls... For me to run stylishly in.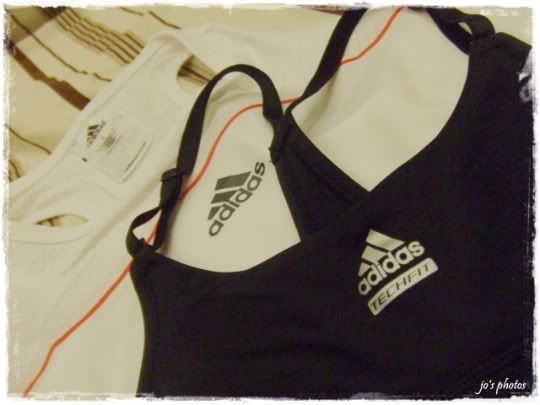 On yet another random note, I'm in love with this Hokkien song 家後 after hearing a guy sing in a Taiwanese singing competition. He was sharing his life story about his family, afterwhich he sobbed and sang the song without a missed pitch while his mum cried uncontrollably among the audience. It was really touching. I wrote the Chinese characters down while playing and pausing the video on youtube. I wanna learn from my mum and write down the romanised pronunciation. I'm just slow at learning songs.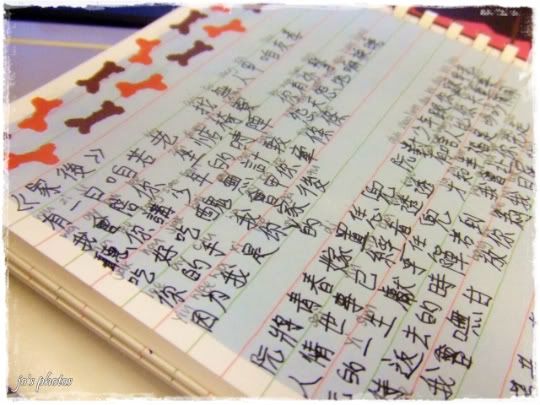 I'll end of this post with my feng shui hp charm "emitting its energy" under the sun.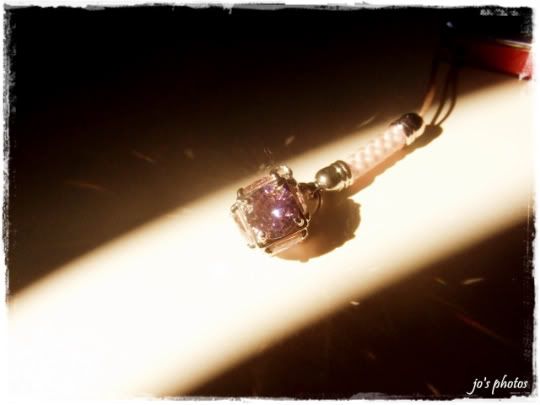 Look out for my next post where I would share with you about my visit to Singapore's last kampong. I never even knew we have a surviving kampong in our modern city!