Many Singaporeans lament about how boring our little island is. However, if you were to ditch technology, urbanisation and engineered landscape for a moment, you would soon find that there are lots of little surprises all over the island waiting to be unearthed.
One little surprise would be our very own last surviving
kampong
located on mainland Singapore. I used to think that in our highly modernised country, we could only see kampongs in
Pulau Ubin
. Never had I expected to be able to catch a glimpse of Kampong Lorong Buangkok before it lost its battle to modernisation.
Singaporean blogger
blisschic
of
timelessbeauty
did a rather informative and beautiful write up on this post of hers
here
. I don't wish to leech from her by copying and pasting information here from her post so do click on the link to find out more about the history of the kampong. I really love reading her beautifully crafted words and artistic photos. Her blog always gives me inspirations for interesting and photo-worthy places to check out in Singapore and I often find myself living vicariously through her words and pictures.
For more artistic photos of the kampong, click
here
.
Let us all transport back to the 60s...
The sky was overcast that day. By the time we alighted at the bus stop that led to the kampong, the drizzle had transformed into sheets of rain pelting down hard onto the ground.
We chatted at the bus stop while zanne tested out the DSLR which she borrowed from her friend.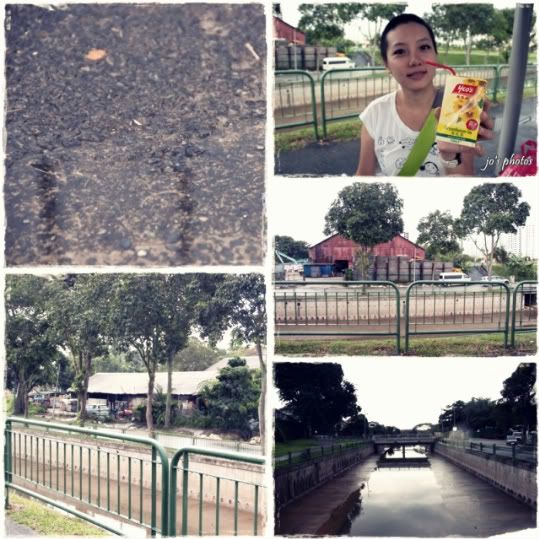 When the rain lightened, we made our way to the kampong.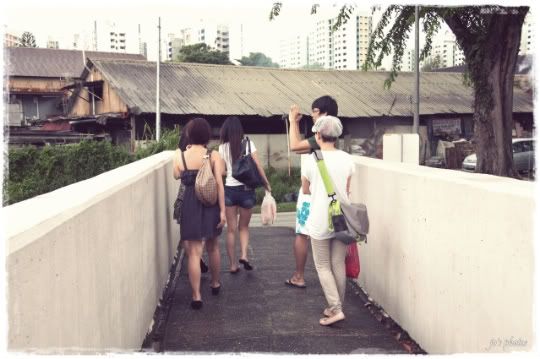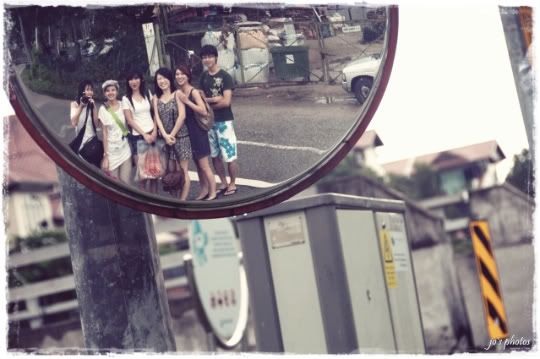 Finally we saw the sign that led to a land quite forgotten by the modern world.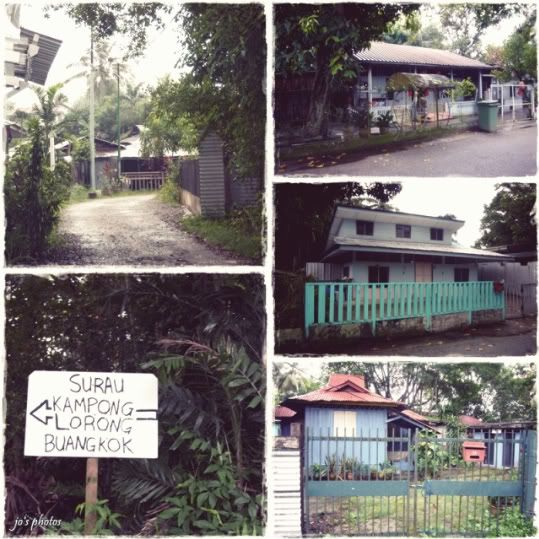 It started raining heavily once more and we could do nothing but seek shelter at 17A house's front porch.
The whole place looked really deserted with doors and windows closed as most of the residents were huddled indoors sheltered from the rain. It was a real pity as I was looking forward to making acquaintance with some of them. I only talked to a lady, probably around my age, who was chopping watermelons with her dad, asking her for the location of the olden swing. She told me that the swing belonged to one of the residents and is not a public property of the kampong. She also cautioned me about the dogs located there. We did not get to see the swing in the end. We spied a few sleepy dogs though.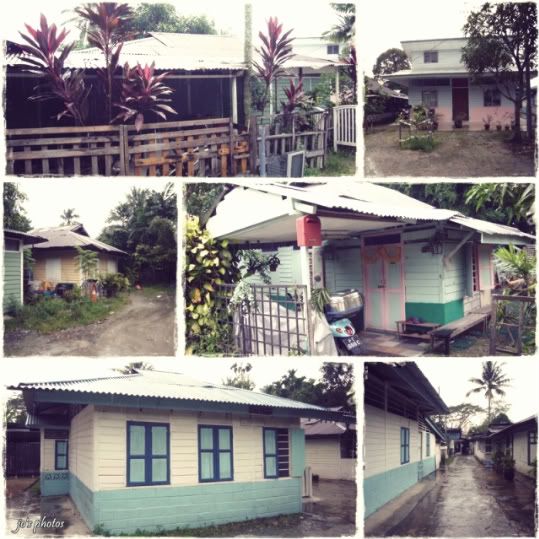 Evan and her friend was dressed according to the kampong theme. They looked like they belonged in that era.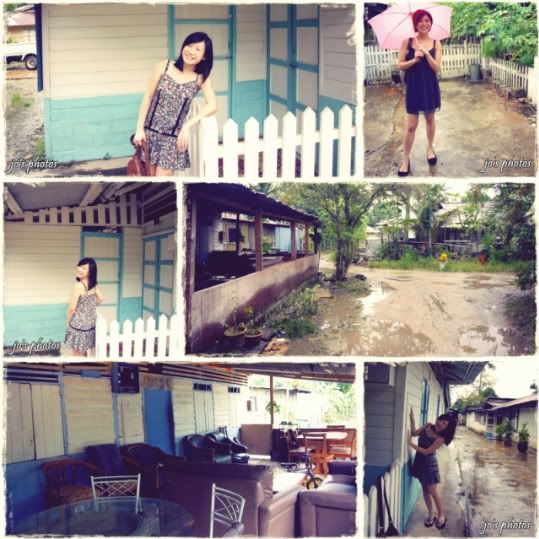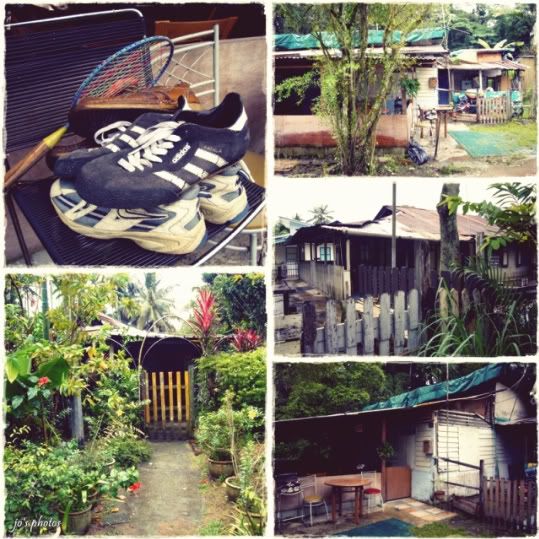 A forgotten ball in the rain reminiscent of this forgotten place in the heart of high-rise HDB flats and posh private estates.
Evidence of modernisation comes in the form of the government's warning to floods, a makeshift bicycle basket from Dynamo liquid detergent and an advertisement on the back of a taxi for a PI agency.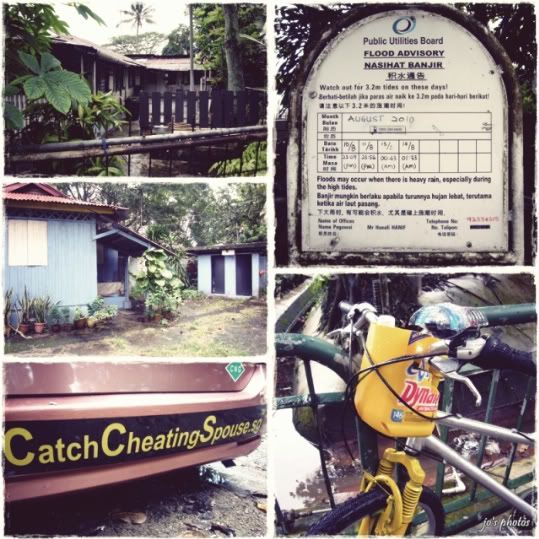 The kampong "kids"... I think the most kampong thing I did was to jump into a puddle of not-so-muddy rain water to wash the sand and grime off my slippers and feet.
The above photo denotes the end of our kampong exploration. I would love to go there once more when it isn't raining. Hopefully, I would be able to talk to some of the residents there and take a photo of the olden swing as well.
By the time we finished our exploration, the rain stopped. Evan and her friend headed for somewhere nearer their homes while the pri school gang hopped onto the bus that would lead us north.
It was jq's birthday that day and we bought snacks and a mini cake, intending to surprise him at the kampong. Alas, the rain thwarted our plans so we had to find another venue.
We made an impulsive decision to alight from the bus to go to Bottle Tree Park for a "picnic".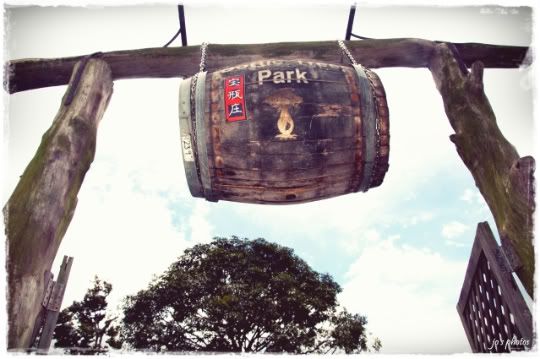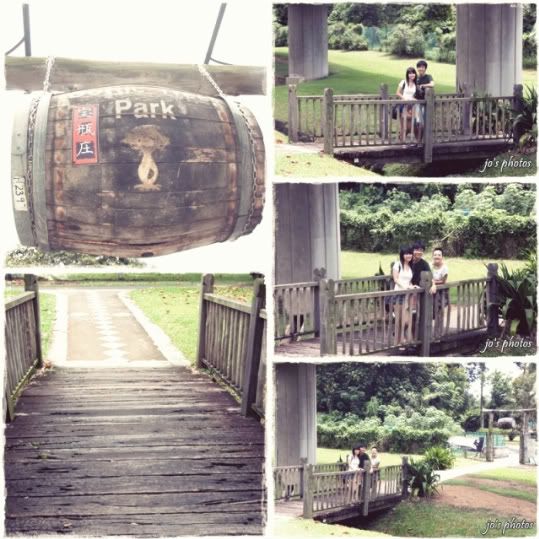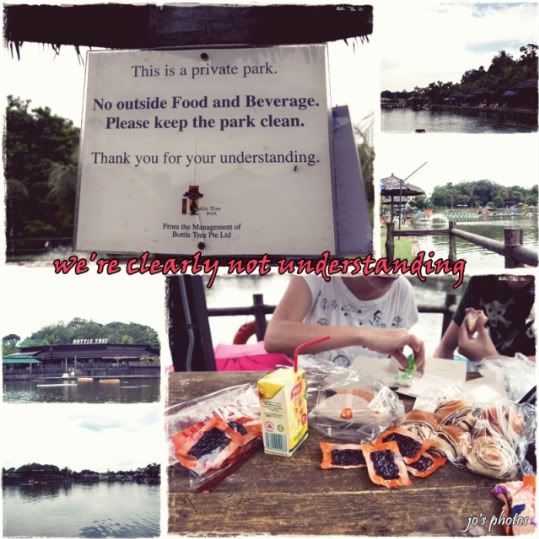 xtina tried to distract jq, zanne got ready behind the camera while I tried to prepare the cake to surprise him.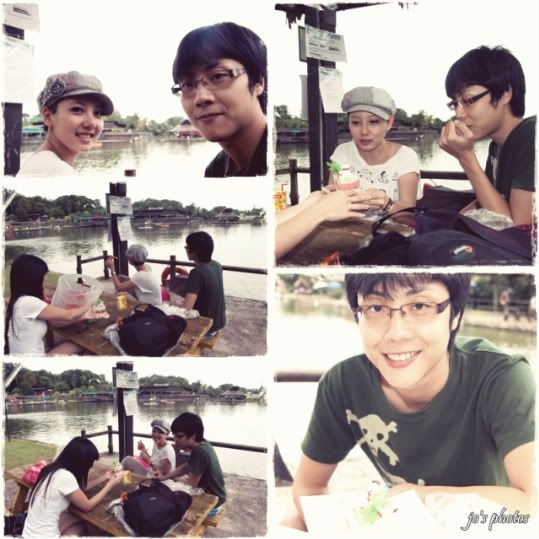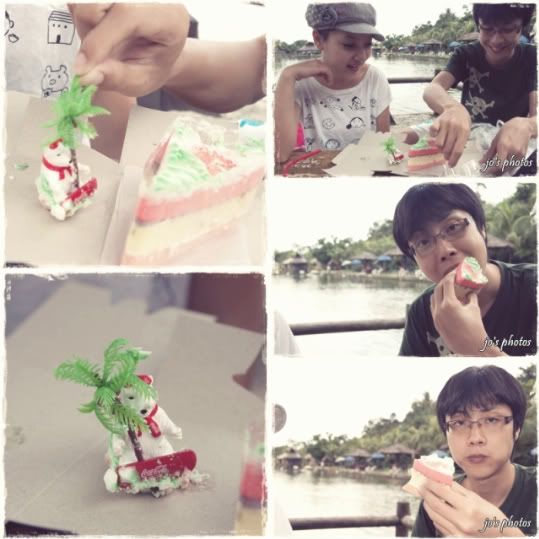 There was seriously something wrong with my face that day. All my friends were commenting that I looked quite ugly in all the photos that day. I myself thought that I looked quite ugly. At that time, kh was overseas. I sent to him some of the photos over MSN and he had to agree too. Is it my hair? My eyes? My face getting fatter? My features look squeezed into the middle of my face.
Here are some of the better ones. The rest are hidden in my folders never to be seen by anyone else except the attendees that day.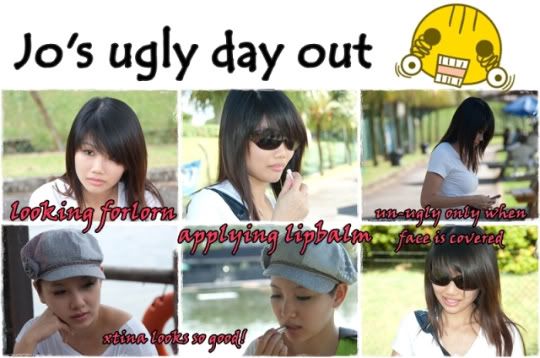 Zanne wanted all our individual photos so she took multiple shots of me since all my photos turned out ugly. We chronicled the above photos as:
1. Jo trying to look forlorn but ugly. Even xtina's candid shot achieved the beautiful forlorn look.
2. Jo tried very hard to look sexy applying lipbalm but xtina looked au naturel and once again beautiful.
3. Jo looks like jo only when her face is covered.
BTW, all of us agreed that xtina looked so much more beautiful
bald
and that she should continue keeping her hair that way.
I must say that I look the most normal in the self-taken shot below.
zanne looks so cool here.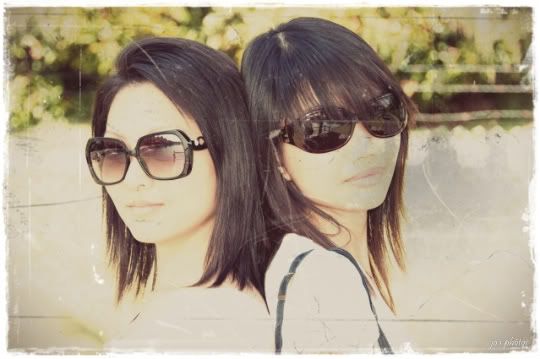 After that, we went to Wendy's to grab some drinks and little bites while waiting for gera and jq's friend to join us.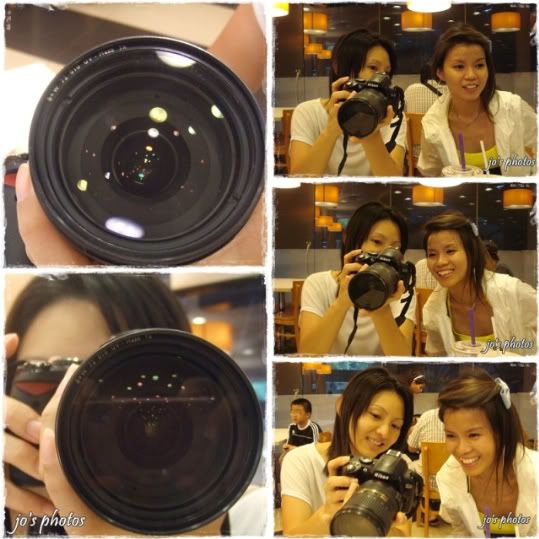 Gera was very amused at all my ugly shots.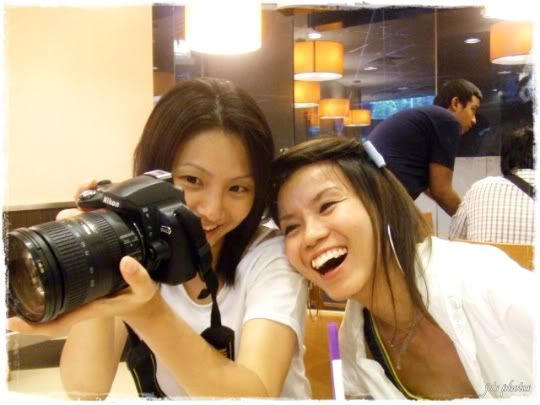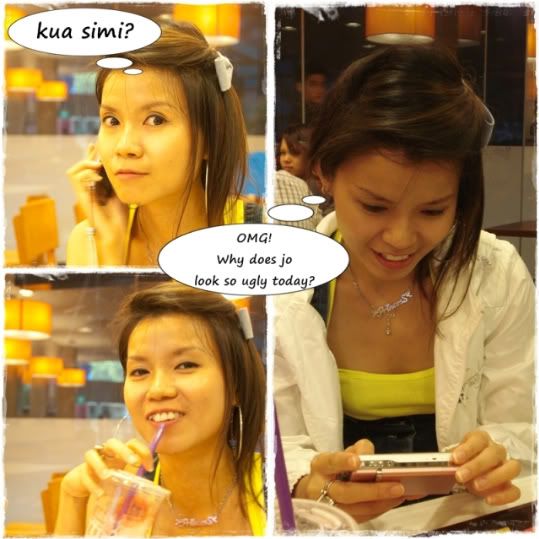 normal people do normal things
abnormal people do abnormal things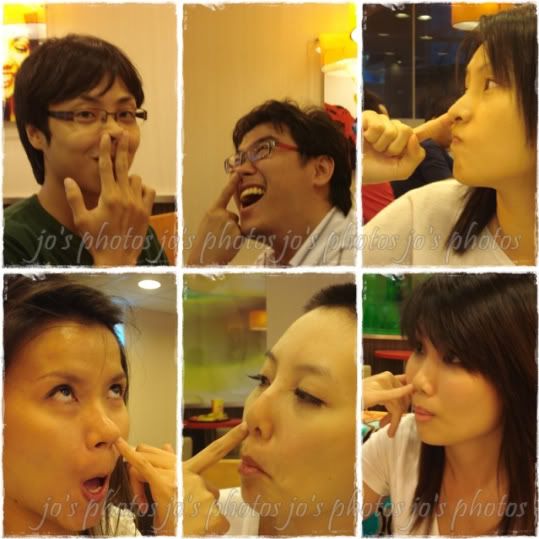 gera's "dig nose" imitation was the best!
From Kampong Lorong Buangkok to Bottle Tree Park to Wendy's, Zanne still could not get a good picture of me and she tucked the DSLR away for good.
Here's ending my post with lots of ugly-jo photos.