I know I mentioned that I may be on a short hiatus to get my balance back and then I went on posting about being sick, replying to comments and all. I've been bad that I've not kept to my words but in such instances, I'm sure my lovely friends and loyal readers wouldn't mind a single bit right?
The gastric flu helped me balance my life a little bit. It's ironic coz it was such a bitch causing me so much abdominal pain, vomiting and diarrhoea but like every mean bitch with hidden goodness, it had garnered me a 3-day mc to get complete rest at home. The sleep had certainly helped me regain much balance and being on MC, I started watching TV again.
As I mentioned before, the hubby is currently overseas and all the way from Australia, kh was just telling me that I've been so caught up at work that lately he doesn't even see me watching my usual CSI on AXN and FoxCrime anymore. He doesn't even see me unwinding at home and urged me to find something which I would like to do at home so that at least, I've got some indoor hobbies. He had to include an anti-climax after that by urging me to be like him and play WOW (World of Warcraft).
-_-
Oh yes, have I mentioned that my pink bimbotic camera died on me? It just wouldn't switch on anymore unless I plug the charger in. That's why my sister says electronic gadgets have lives of their own. It must have heard that I was determined in getting Canon S95 that it decided to commit suicide and die on me after serving me for 4-5 years.
Anyway, here's sharing some perk me ups when I was sick.
My colourful medicine certainly helped in colouring my life. I've since finished the entire course, something really rare as I tend to only finish antibiotics.
Words are powerful enough to heal too! Sweet little char was still so thoughtful and caring towards her godma when she herself was suffering in pain. It makes me feel so lousy thinking how a 5-year-old could fight better than I do.
Yet another booster, I received a registered package for my recent win in a giveaway by
RicAdeMus
in collaboration with
Pop Champagne
.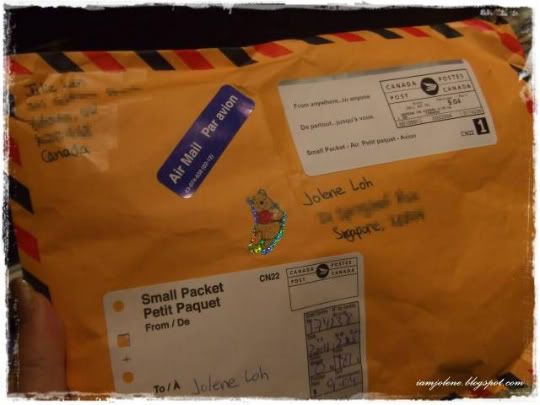 I haven't expected myself to win as I participated just for fun. Even though Rick used a "generator" (so elaborate that my bimbotic mind can't comprehend) to generate the names of winners, I'm very sure he must have liked me so much to let me win. LoLz kidding, Rick!
What was supposed to be a starfish pendant turned out to be a lot more.
Thank you Julie of Pop Champagne for stashing in so many other goodies. It was really a pleasant surprise and for a moment I was so energetic that I could even arrange the goodies for a phototaking session despite feeling so weak.
The starfish pendant up close. Lovely right?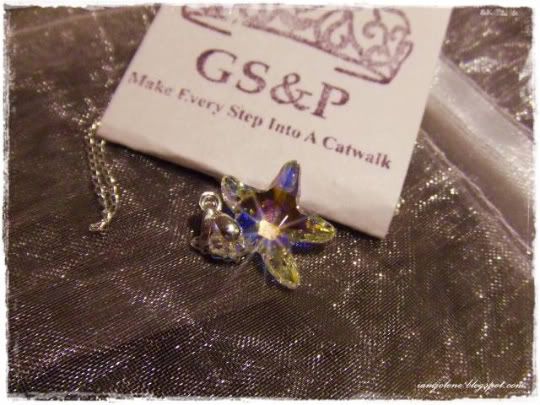 BTW, the envelope was torn and the postal service over at Canada side wrapped it up in plastic with a message of apology. I'm impressed.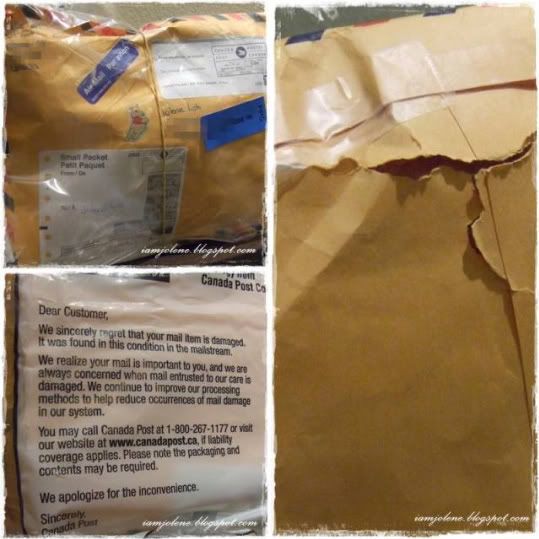 On a separate note...
My thoughts and prayers are with those in Japan affected by the earthquake and tsunami. I could feel tears brimming my eyes as I flipped the newspapers these 2 days. I've got a personal friend in Japan now. The tremour and prepared evacuation shook her but she's alright and I'm glad she's returning to Singapore soon. I hope my pen pal and all my other online Japanese friends and their loved ones are safe and sound too.
I will try to blog more often and get in pace with current events. Look out for my write up on the
ClubCouture
ambassadors photoshoot soon!