Ooh…. Please endure with me coz it'll be photo-blogging again…
*~*~*~*~*~*~*~*~*~*~*~*~*~*~*~*~*~*~*~*~*~*~*~*~*~*~*~*~*~*
Yesterday, we had a ball of a time.
As usual, it was busy at work. But colleagues decided that we should really make up for all the many less than half an hour lunches we had and went to pamper ourselves with a longer (Lv please close one eye hor… or both eyes also can.. heh) and more expensive (read: non-hawker, non-coffeeshop, non-foodcourt) lunch. We were all quite hungry for affordable Japanese food and so flocked down to Fiesta for their set meal promotion.
Food... Glorious food!!!

Us & Food... Look at all of them smiling so unwillingly, mentally cursing me for insisting on taking a picture of us with the food when we are all dying of famine.

Now for photos of my 3 wonderful colleagues-frenz… We took silly pictures on a few occasions, but there would definitely be the co.'s name or logo somewhere in the background so I wasn't able to post them up. This time MUST post….
Em & HS

Em & Me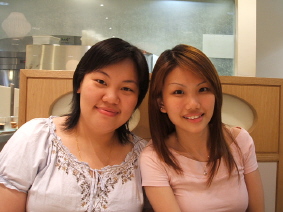 Em & Wy

Machiam Em's the star who everybody wanna take photo with.
Now, us us us…
Wy & Hs

Wy & Me

Me & Hs

Did I get all of us? It's a rule that everybody must pose with everybody.
And finally the 4 of us.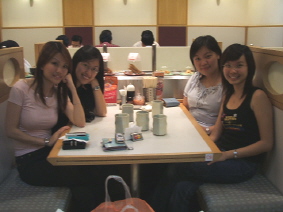 It has been so difficult (difficult coz of me… sorry gal, I'm always so busy…) arranging a meet up with one of my good pals, Charlene that we were quite pleasantly surprised to bump into each other during lunch. I think we have not seen each other for almost 1 year. It was such a coincidence that I thought I must whip up my cam to take a picture of us.

Then for dinner, a bunch of JC mates decided to meet up at Menotti's to celebrate
Teoks
Birthday. So now he is a 23-year-old boy… Ahem man. That man was actually an hour late for his own birthday and "blamed" it on
Tam
but Tam had a balloon to make up for it.
Teoks the birthday boy with the funny balloon that threatened to shoot itself up the ceiling any minute.

Our dinner took ages to arrive so besides catching up with each other, what have we left to do but to shoot.
Party of 8.

My Italian dinner tasted like bak chor mee. I did not take any photo of it coz yeah… it doesn't look very appetizing but I was hungry and gobbled it up anyway.
So with not very appetizing dinner, we decided to shoot again while waiting for our very appetizing dessert to arrive. Alas, no photos of the dessert. The one which I shared with cousin Pauline was too coffee-ish. I think the rest of them had mouth-watering desserts. Anyway that place is well known for their desserts.
If I'm not wrong, this is the 1st time cuz decided to show her face for any JC gathering. Ta1 ke3 zhen1 shang3 lian3.

6 of us.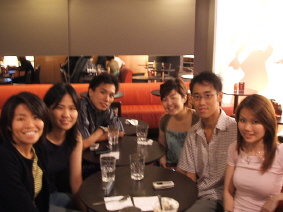 Tam, Wq, me. I love the background.

The ladies...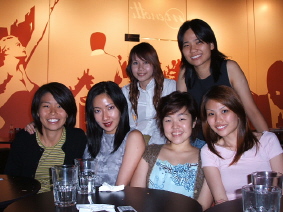 And the boys... men men men... I made the same mistake.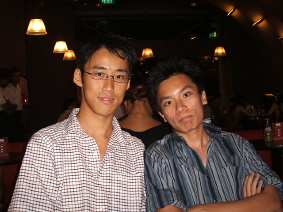 And then the cake (ice-cream) came… and teoks was forced to make a wish.
Birthday wish: To be surrounded by gals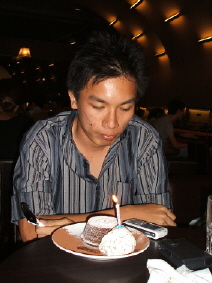 He got his wish and was so smug about it.

Wishes do come true… except that some a**h*** had to be in the picture to spoil it. (Disclaimer: WQ is not an a**h***.)

Cake attack!!!

The attack got more vigorous.

Once again, the narcissist in me got a kick outta taking photo with everybody…
Tam & me

Me & Teoks

Future bitchy lawyer and me.
Future as in lawyer. Present tense for bitchy. Haha... After not seeing her for 3 years, I seriously think she changed alot. I can really see the bitchy lawyer in her who would bring people from fame to shame. And after not seeing for 3 years, the first thing she said to me was "I saw you in the condo ad!" Huh?! What condo ad? Huh?How come I dunno? How much was I paid? Huh?! Lawyers ah… they can just say anything for what they say will become the truth, the whole truth and nothing but the truth.
You go gal!!!

Another future lawyer & me.

Me &
Reg

The waiter who took this picture exclaimed, "Wooh! This is like watching a Hong Kong Movie."

J. and T. agreed that it looked like some advertisement for a new HK drama serial and started getting busy drafting out the convoluted plot. "So the 2 at the top left are the lead actor and actress who have a very hard time in the show… The dad and mum seated in the middle have a very weird relationship… they dislike each other… and the 2 gals flanked at both sides are their daughters… they may be evil, they may be good… dunno yet… rough plot mah… then the one on the top right is the bitchy mistress who tries to wreck the whole family. "And I'm the little servant girl!" exclaimed Tammy.
Ok that wasn't exactly what they said but that was what I could remember. Bravo for on the spot creativity.
And so you see, we had a ball of a time.
[Read more of the day's happening at
J.
and
T.
.]