I love Saturday date nights with the hubby!
Kh would usually pick me up from work. Thereafter, we would have a meal together and update each other about the week (because you see even though we see each other at night, I would be on my side of the table engrossed in all my laptop stuff or marking worksheets and he would be on his side of the table engrossed in his WoW or Dota). Sometimes we would shop around in town or catch the latest movie like any typical date nights.
While arranging and editing the photos in my folder, I realised that for two whole month of Saturdays, we practically had international dinner.
~
Japanese
We had Japanese food at Ootoya Japanese Restaurant 大戶屋 (Suntec).
I'm in love with Japanese Tofu salad coz it's healthy and delicious.
Our mains
It was his first time dining at Ootoya. My past two visits were with my gal friends at the Orchard Central branch and everyone loves the food there. Hence, I often raved about the food to him. Unfortunately, the branch at Suntec did not have as many items on the menu as the Orchard Central one but fortunately kh isn't the fussy sort.
~
Indian
We had a friend from America dropping by for a visit and so together with another friend, the four of us headed to
Samy's Curry
at Dempsey Road for some Indian cuisine.
It was our first time there and we almost did not know how to proceed with the ordering of food.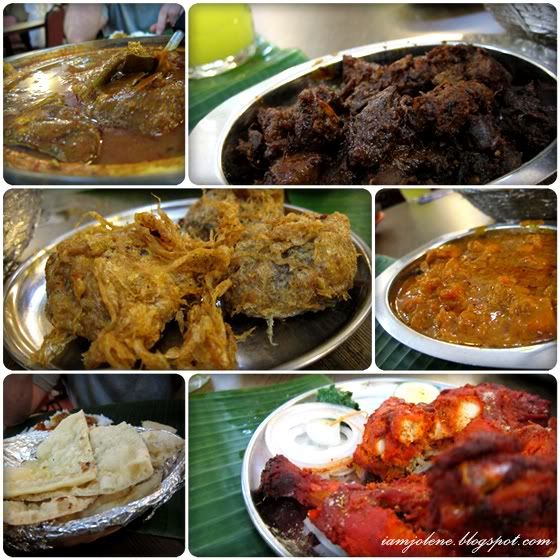 We ate and perspired profusely since the place wasn't air-conditioned and the food was really spicy. I hope our American friend stomached the food well.
~
Korean
A mouth-watering herbal soup smell would never fail to emanate from this eatery and linger around the vicinity whenever we walked past it in Takashimaya Shopping Centre.
There would always be a long queue during dinner time and since kh and I are forever hungry, we do not really like queuing outside an eatery if we aren't sure if the food is good.
That night, there wasn't any queue since it was already a quarter past nine when we strolled past it. We took this golden opportunity to try out the Korean food at Crystal Jade Ginseng Chicken BBQ.
While composing this post, I googled this place and realised that it is ranked quite highly on
hungrygowhere.com
for having pretty good Korean food at decent prices.
As usual, kh never ever learns his lesson and often points at his whim to whatever he feels like eating on the menu. Hence, we ended up having a 4-seater table full of food and the usual stares from people sitting around us. We finished almost everything except for a whole fish which we asked to take home and some chicken meat shreds from the soup.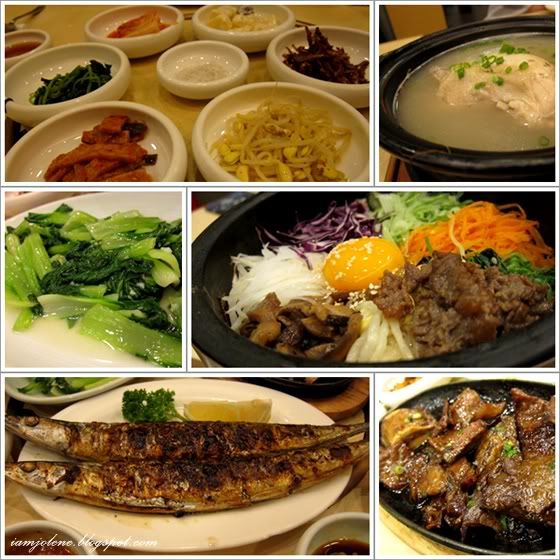 Perspective shots:
kh took the pictures below on purpose to try to deceive everyone that I single-handedly wiped up all the food on the table.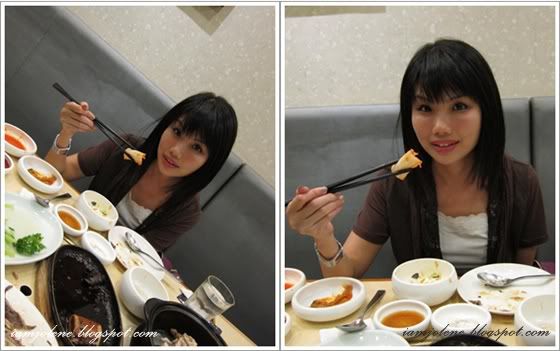 Super huge Ginseng-- the only tell-tale sign of the origin of the eatery's name perhaps?
~
Japanese
We had late night dinner or supper rather, at
Shokudo Japanese Coffee House
(Cathay Cineleisure) before our midnight movie.
Since it is a coffee house, the food is more of those Japanese-Italian fusion kind of pastas and pizzas which I do not quite fancy. It is decent enough though and I would give it brownie points for having macha on their menu. I would never fail to order my macha drink at any place which serves it.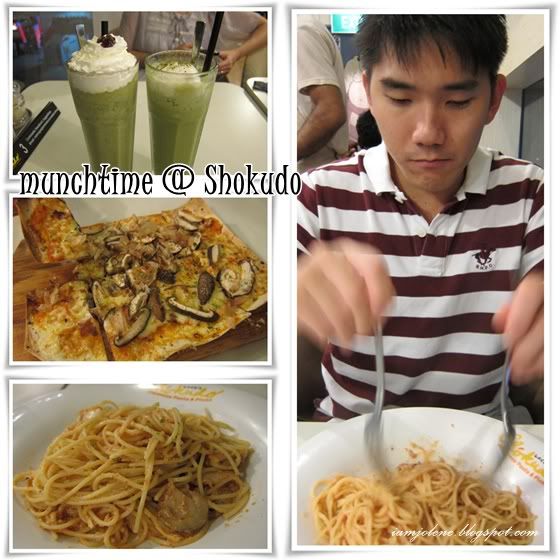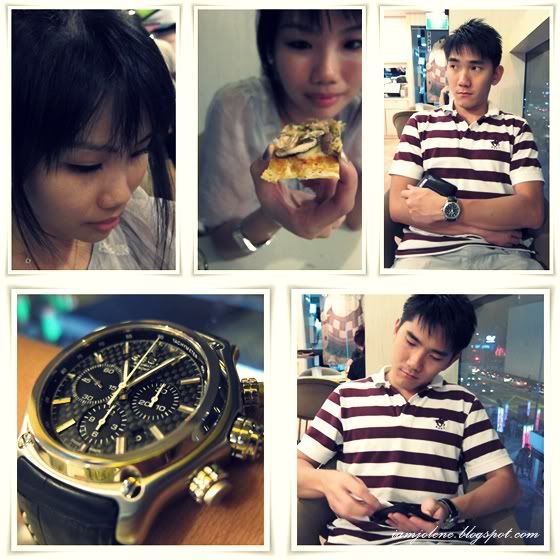 ~
English
I have rather fond childhood memories at
Jack's Place
as it was the place my parents usually brought us for celebrations some 20 over years ago.
As the years passed, more branches sprang up all across the country and soon one could find Jack's Place at upscale shopping malls. We dined at the Marina Square branch that night.
Some fireworks display preview from Marina Bay Floating Platform in preparation for National Day then. You do know that this is another backdate entry right?
~
Italian
Saizeriya
(サイゼリヤ) is a Japanese chain of Italian family-style restaurants.
Kh's Japanese buddy introduced him to this eatery at Liang Court and kh had always wanted to take me there.
"The place is damn cheap for Italian food and you being such a pig, can eat all you want without burning a hole in my pocket."
Thank you hubby. -_-|||
As you can see, the place boast a no-frills decor. Taking orders is advanced though with computerised system.
I was taken aback by the prices on the menu. Almost everything was less than $10. Main dishes like pastas and pizzas cost about $6.
Our starters consisted of smoked salmon and cheese-baked scallops. We had wanted the oven baked escargots which were out of stock. It is no wonder why for the dish costs only $5+. I heard that everyone goes there for the affordable escargots.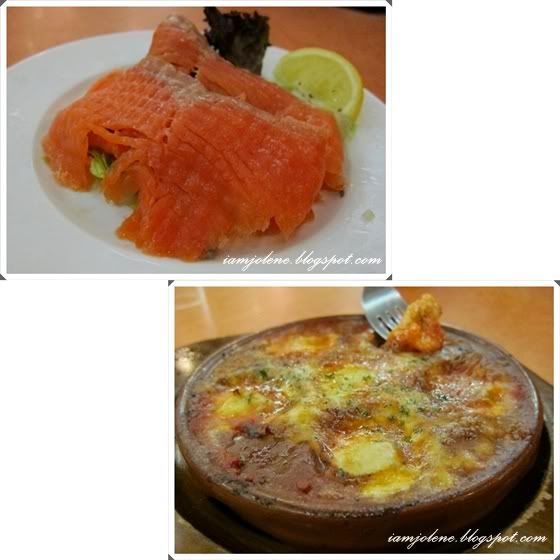 The soups needed more improvement though I'm not really complaining. If I remember correctly, they cost $2++.
Kh ordered the best seller ("Ren Qi" No.1) doria with meat sauce-- a creamy white baked rice topped with a special recipe of meat sauce. It isn't exactly fantastic but for the price of $4--5, I would say it wasn't too bad at all.
I felt like having medium rare ribeye steak after seeing that it cost a mere $12! The steak arrived almost medium instead of medium rare. I can't expect the best from that price and hence I devoured my steak like a glutton.
Lastly for desserts, kh ordered tiramisu and I had truffle ice cream which I found extremely delectable.
We would definitely be back here again for affordable Italian cuisine.
~