Doesn't this picture look so familiar? You have probably seen it
here
. I know I said it many times that I would try to catch up on my backdated posts. I'm actually 9 months late in blogging about my hubby's birthday last July.
I treated kh to dinner at
Forlino
. It was our first time at an Italian fine dining restaurant and it was a lovely experience.
After browsing through the menu, kh and I decided to opt for Chef Mario Classics Set Menu.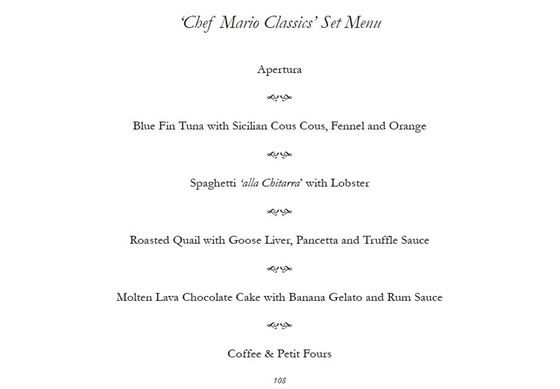 "Mario Caramella, Chef Patron, who hails from Milano, Italy, brings to Forlino over 30 years of culinary experience as head of several award-winning Italian restaurants in Asia, where he has honed his signature style of cuisine marrying classical Italian flavours and ingredients with contemporary presentation and cooking techniques. Expressed through his signature dishes such as Spaghetti 'alla Chitarra' with Lobster, Roasted Quail with Goose Liver, Pancetta and Truffle Sauce and Boston Lobster with Sicilian Eggplant 'Caponata', Chef Mario's approach to quality Modern Italian cuisine is marked by culinary integrity and honesty as well as a lifelong passion for bringing the timeless appeal of his homeland's cooking to the world." -- forlino.com
Apertura
This cheese and ham combi wasn't on the set menu. It was an appetizer recommended by the waiter.
Blue Fin Tuna with Sicilian Cous Cous, Fennel and Orange
Two thumbs up for this!
Spaghetti 'alla Chitarra' with Lobster
The spaghetti somehow tasted a little Asian. I love my Asian and Chinese noodles but I wasn't quite expecting such Asian taste so it caught me by surprise. Of course the lobster was sweet and succulent and that's more important right?
Roasted Quail with Goose Liver, Pancetta and Truffle Sauce
I'm not particularly fond of quails as I find quail meat too tender for my liking. I always love to chew my food more. If you don't already know, I'm a fan of foie gras. I sin a great deal by having goose liver at the top of my list of favourite foods.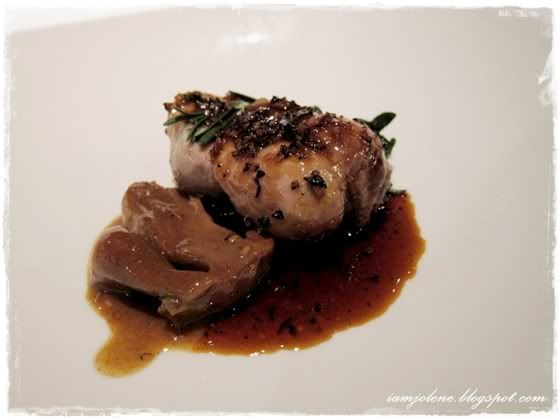 Before our dessert arrived, the affably cute waiter presented kh with a birthday cake and wished him "happy 21st birthday".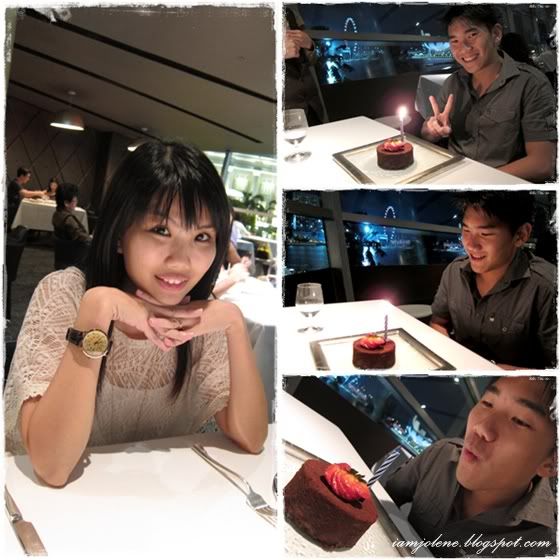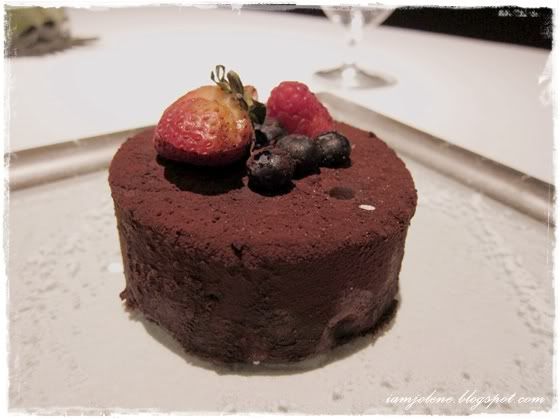 Molten Lava Chocolate Cake with Banana Gelato and Rum Sauce
Chocolate and banana... chocolate and alcohol... These combinations could never go wrong. However, I would have enjoyed the dessert a lot more if not for the fact that kh's complimentary chocolate birthday cake was served before it. It was indeed too much chocolate at one go.
I forgot to snap a picture of the coffee and Petit Fours which were on the set menu.
After dinner, we strolled along Esplanade Drive to soak in the beautiful night scenery.
Singapore's many icons all in one picture -- Singapore Flyer, Marina Bay Sands, Merlion Park.
Esplanade Theatres on the Bay and the many hotels in the background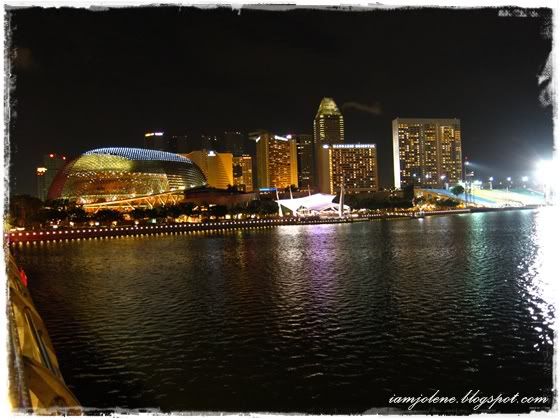 There was some art on display at the Esplanade foyer. I'm not sure about the symbolic representation but it sure looked like something related to impalement.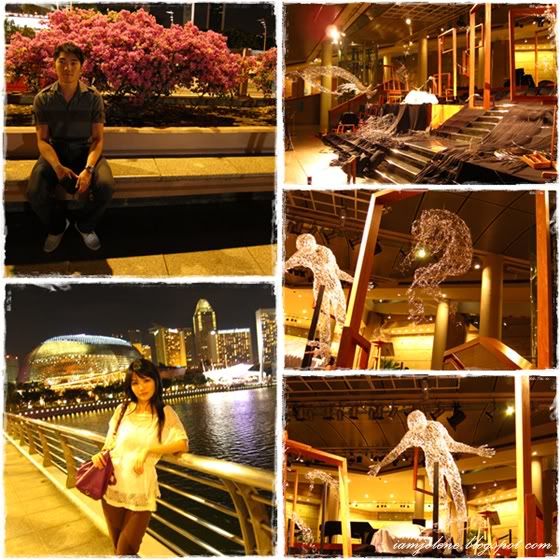 ~~~
On kh's actual birthday, we had family dinner at Paradise Inn.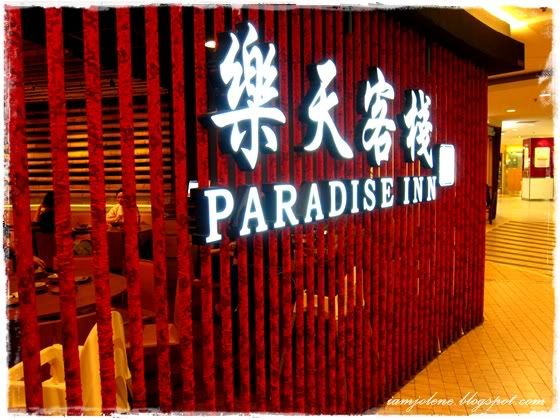 Pardon kh's kiam-pa's face.
Food spread for 7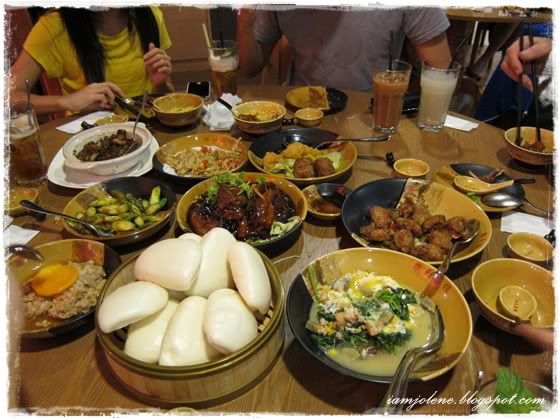 I really love dishes from Chinese restaurants.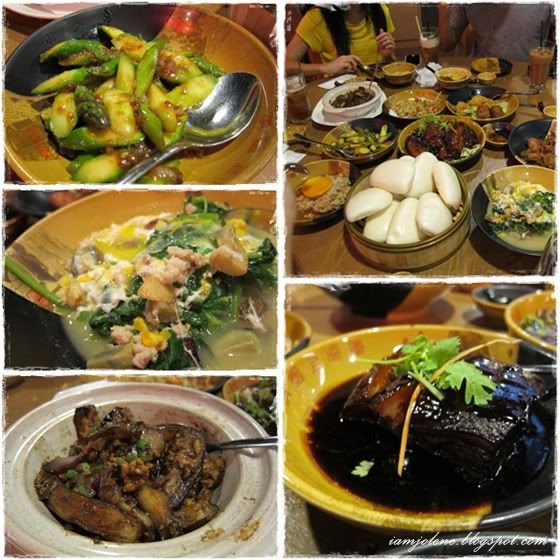 Back at home, we had a mini cake cutting.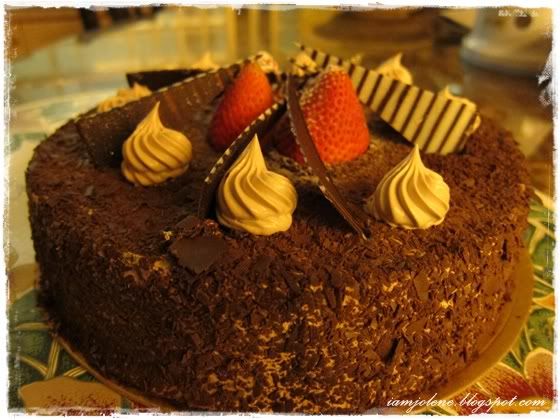 Judging from the number of big and small candles given, the staff at the cake shop obviously thought the birthday person was very old.
I will end off this post with the 30-year-old BOY who still loves acting young.