Back to updating backdated entries.
~~~
In July last year, my paternal aunt from Taiwan returned to Singapore once more for a visit and this time she was here for a much longer period of time. My ah ma (paternal grandma) was also recuperating fast after being discharged from the hospital and hence my family organised an impromptu dinner gathering one Sunday evening at
Flamingo Authentic Thai Seafood Restaurant
.
The one we went to was located at Jalan Kayu. I think the restaurant has since shifted to 3 Changi North Street. It was my first time there but both my sister's repeated visits. I must say this is one of the best Thai food I've ever had in Singapore. Everyone including my ah ma's domestic helper agreed as well. And the best thing is that everything is halal so our Muslim friends can visit this place too!
Here was what we ordered and even though I loved all the dishes, my favourite was the fish. The soup was clear yet it packed a tangy spicy punch that left me salivating for more. When the fish was stripped to the bone, my sister and I lapped up all the soup.
My ah ma is getting quite forgetful and she often thinks all of us "kids" (her grandchildren) are still schooling. She has even forgotten that I'm married and wonders who kh is each time she sees him. She would remember upon reminding her but would soon forget yet again. Sometimes she even forgets who I am and I would always beam with joy whenever she suddenly recalls and calls my name. =)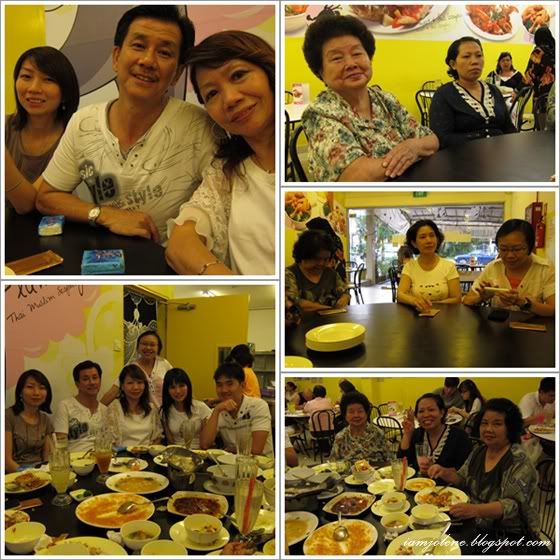 It is our great fortune that we have found such a good domestic helper to look after ah ma. She is a genuinely caring person and she likes ah ma a lot. She is also a great cook! I love her rice snacks that she made during the Chinese New Year.
My close friends and those who know me long enough would know that my parents are really very hip and happening. More hip and happening than their three daughters combined, in fact. I would always remember that new year's eve night when I was 17 or 18 years old and my JC friends stayed over at my place. My parents were still not back way after the stroke of midnight and they commented that my parents were more happening than us teenagers. lol
My parents love singing and dancing a lot and would always hang out at their favourite community centre. Actually it was my mum who loved singing and dancing and my dad accompanied her and slowly their love for singing and dancing grew together. They could sing and break out into a dance in the middle of a song.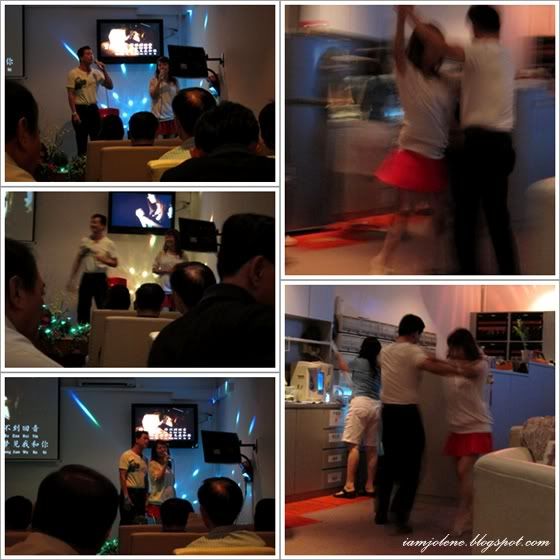 That evening, my mother suggested we drop by the CC for a while to see what she and my dad usually do there. My 2nd sister, kh and I were a little reluctant at first coz we are not the hokkien KTV kinda people and we hate loud blaring music. However, my oldest sister influenced us to drop by for a while telling us that the uncles and aunties over there are all super hospitable.
How true it was! Even though I hated the whole blaring Hokkien and old fashioned Chinese music atmosphere, I felt really welcomed at that place. The uncles and aunties were indeed very congenial and hospitable. They offered us delicious bbq chicken wings, rounds of snacks and even wine.
We got acquainted with
JJ Lin's
mum too. Oh I didn't mention that my mum and his mum are friends right? She's such a nice and friendly auntie too!
My mum introduced her as:
"This is JJ's mum."
So my reply went:
"Hello 林俊杰的妈妈,你好!"
For the rest of the night, we feasted nonstop till we were tired of the loud music and excused ourselves. I was really glad that I made the decision to drop by my parents favourite haunt that night even though I was hesitant initially. It helped me understand more about what my parents usually do outside and I got to know genuinely nice uncles and aunties.
I recorded a video of my parents dancing and for my FB friends, you can view it here.
~~~
PS:
I will get back to replying all your comments soon. I'm currently immersed in the middle of some project, as well as helping friends with some project too. Life is busy but I'm enjoying every minute of it!