Back to updating backdated entries.
~~~
I was in Brunei during my godson Jase's birthday in May last year and I promised to bring him out to shop for his present when I got back.
After visiting my god daughter Charmaine at the hospital, kh and I brought Jase to the nearby Toys R Us. Before he bade Cyn mommy goodbye, she gently warned him not to choose an expensive toy.
Like an inspector, Jase went around with his hands behind his back and started "inspecting" the toys on the shelves. He took such a long time shortlisting various toys by listing all the pros and cons of each.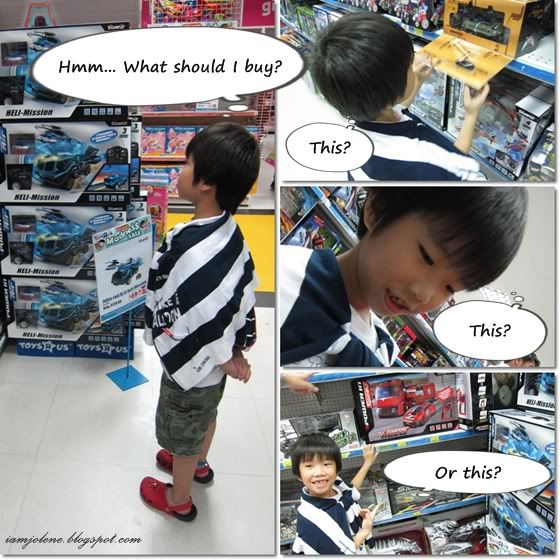 Godpa kh kept teasing Jase. Each time Jase was indecisive, kh would say, "Jase, let me show you what's the world's best toy." Afterwhich, kh would fish out a toy that was totally out of a 7-year-old kid's radar. Kh even rolled out a hula hoop telling Jase that's the world's best toy. To which Jase slapped his forehead, flashed his cheeky smile and exclaimed, "That's the world's worst toy ever!"
=D
After a series of teasing, kh decided to show Jase what he felt was his world's best toy -- Gundam models!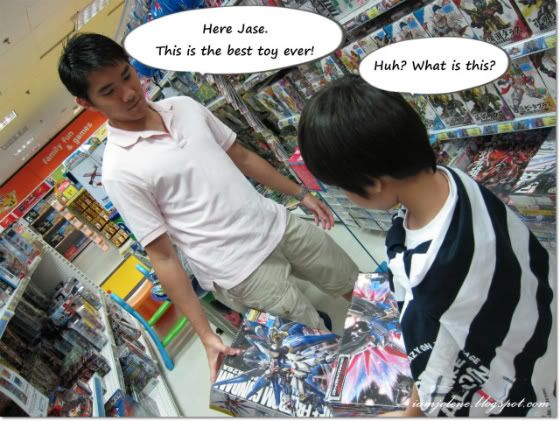 Of course, Jase didn't appreciate Gundam but that didn't stop kh from buying a box (or was it two) for himself.
Bearing Cyn mommy's words in mind, Jase asked for the prices of all the toys he had shortlisted before pushing the more expensive toys in his list out. He finally chose a spy toy which comprised of a metal detector set that would really beep. He spent the next few days annoying the hell out of his grandparents with the beeping device and we almost regretted buying that for him. lol
Look who's so happy!
While Jase fell asleep and could only play with his toy the next morning, my big boy kh immediately set about fixing his Gundam that very night.
The final result!
"Leave a comment or I'll shoot!"