On sunny island Singapore where it is summer all year round, who would even know when the summer season is?
I definitely do!
The air-conditioner in my room had been spoilt for about a week and it so happened that Singapore was experiencing one of the hottest week ever during that time.
I felt as if I was experiencing the heat in this Hong Kong movie -- Hot Summer Days.
Before the technicians came, I tried to get out of my house as much as possible to escape from the burning inferno. [Read disclaimer at the end of this post]
Dressing for a hot and humid summer is a little tricky especially when you do not want to look like you're a sloppy mess even though you feel like one. However, the heat and humidity during summer does not mean that you have to throw sophistication and trendiness out the window.
When temperatures soar and humidity rises, how do you keep your dressing casual chic yet stay cool at the same time?
Just remember some cool and chic rules:
1) shorts
2) summer dresses
3) breezy loose fit outfits
4) the right colours and fabrics
1) Shorts, shorts and more shorts
Shorts keep you cool and comfortable and if you've got a toned and shapely legs, flaunt them. Don't keep them hiding from the sun in jeans and maxi dresses.
Denim shorts should be a wardrobe staple for everyone. They are casual and could take you to beach in the day yet chic enough to hit the clubs when night falls.
Besides denim shorts, high waist flare shorts are a great alternative that can be dressed up with a nice top.
I don't know about you but such high waisted jappy shorts make my legs look stumpy. I should remove the "toned and shapely" phrase up there.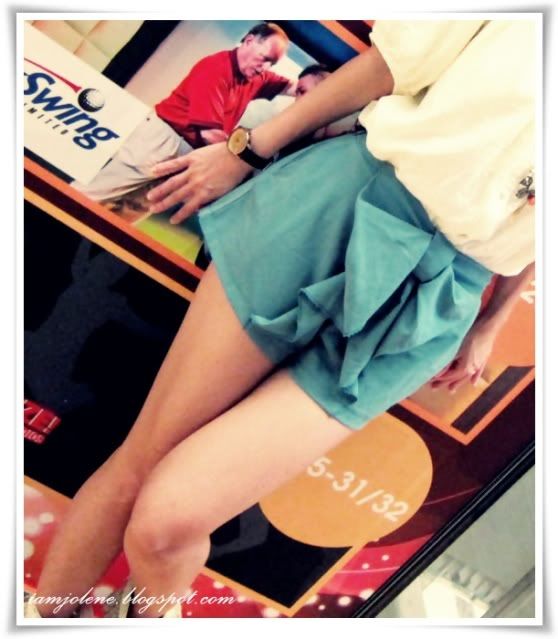 Nice legs or not, shorts are definitely a summer staple for trendy dressing coz who cares about how stumpy your legs are when you are cool?
2) Summer dresses
When people think of summer, flowery summer dresses immediately pop into mind.
Summer dresses are a great way to dressing trendy at picnics, barbecues, and even fancy restaurants. The right summer dress will look great in a variety of different locations which can take you through the day and into the night.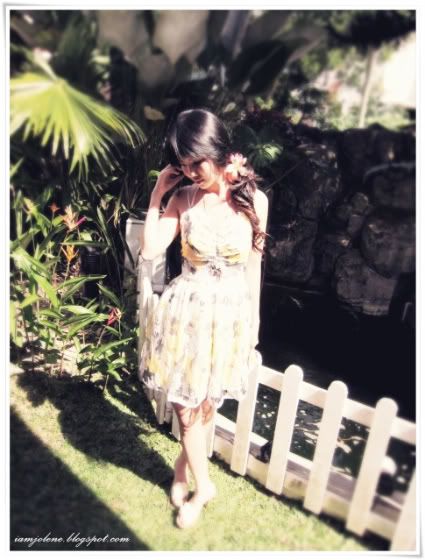 I'm not really a dress kinda gal. I usually save the dresses for special occasions like celebrations, dinners and clubs but ClubCouture
alex silk chiffon dress in yellow
looks so whimsical and dreamy on
this page
that I couldn't help getting one for myself.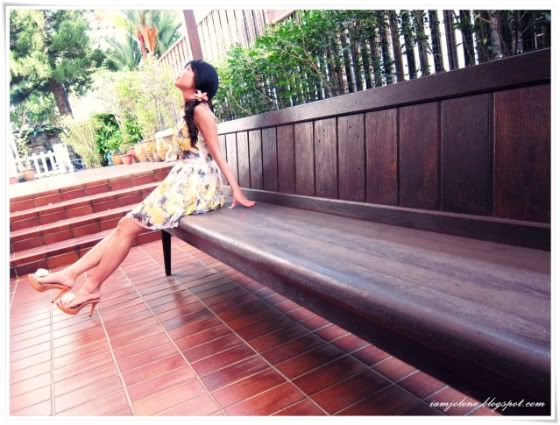 The complete look:
♥ Clubcouture
alex silk chiffon dress in yellow
♥ Spinel cork shoes with detachable flowers from another Spinel shoes
♥ Sheer Romance huge flower clip
If you're interested in the alex silk chiffon dress in yellow, you could click the picture below and purchase. ClubCouture offers all my readers a 15% discount storewide so remember, to key in the discount code JOLENE2011 (all in capz) during check out to enjoy the discount.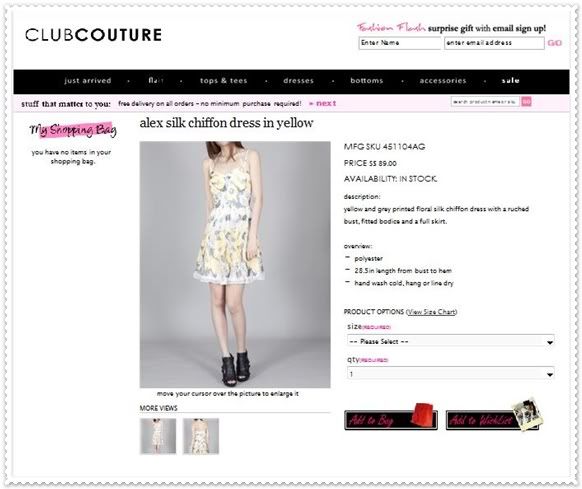 3) White as a summer colour, cotton as a summer fabric
White clothes allow you to keep yourself cool. Furthermore, it is less likely that you would be spotted with circular sweat spots under your pits on whites as opposed to coloured tops. Now, that certainly ups your chic factor, doesn't it?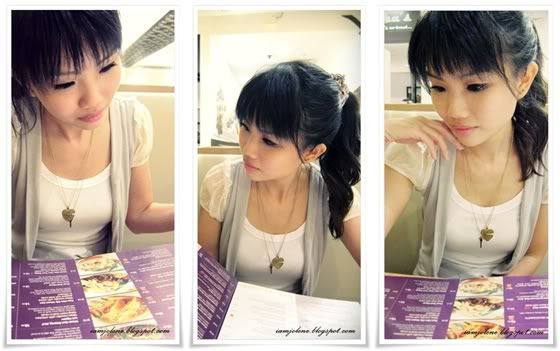 I'm wearing a white cotton M)Phosis top with sheer puffed sleeves which was a gift from my cuz sushi. This detail certainly makes the top more elegant as compared to a regular white tee. I had ClubCouture
sleeveless draped vest
on for added chicness for chilling indoors in the cool air con comfort. The vest is made of a slinky and smooth cotton so it isn't warm when worn outdoors at all. Besides. you could remove the outer layer if it gets too hot.
Layering is not only for the colder seasons. It is in fact the key to formal summer occasions... coz you never know when someone would invite you to a club for a drink.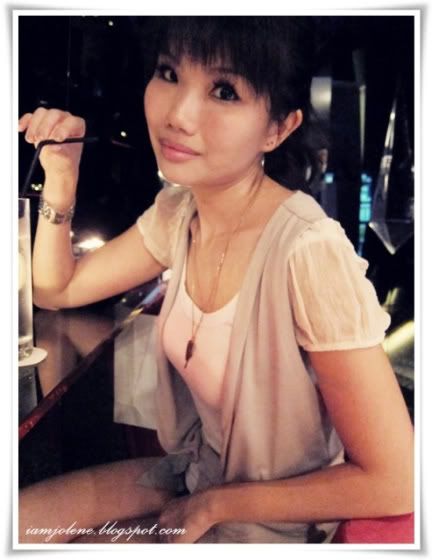 The complete look:
♥ M)Phosis white top
♥ Clubcouture
sleeveless draped vest
♥ Coax denim shorts
♥ DMK grey mesh shoes
♥ Titus bracelet watch
♥ Fayfey heart tag and key necklace
If you're interested in the sleeveless draped vest, you could click the picture below and purchase. Remember to key in the discount code JOLENE2011 (all in capz) during check out to enjoy a 15% discount.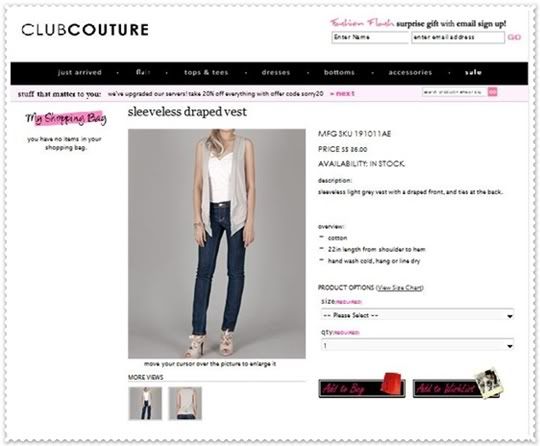 4) Breezy outfits
The last thing you want during summer is to have clothes sticking to your sweaty skin. It not only feels uncomfortable but looks unsightly too. Imagine looking at someone's outfit only to find patches of sweat stains... totally unglam!
Common sense as it sounds, loose woven shirt fabrics keep the air flowing about the body for a cooling effect. It also greatly minimizes any stench transferred onto clothes too.
For my god daughter, Charmaine's birthday celebrations over the weekend, we went to Universal Studios yet again. The weather was sweltering but I felt really dry and clean in a breezy
regina crochet blouse
from ClubCouture and a loose fit bubble hem shorts.
That's me with my godson Jase.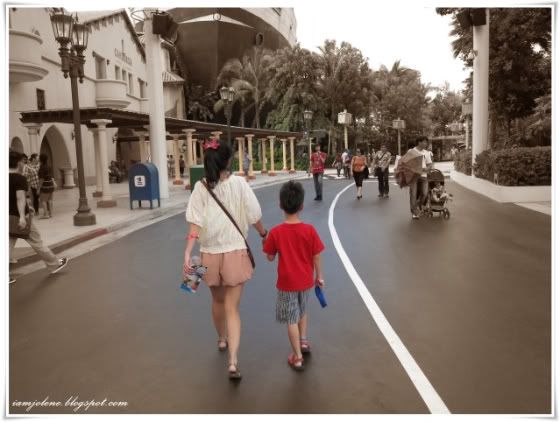 Pardon the phoenix on my face. My good friend cyn mommy, charmaine and I all had a phoenix each on our faces that day.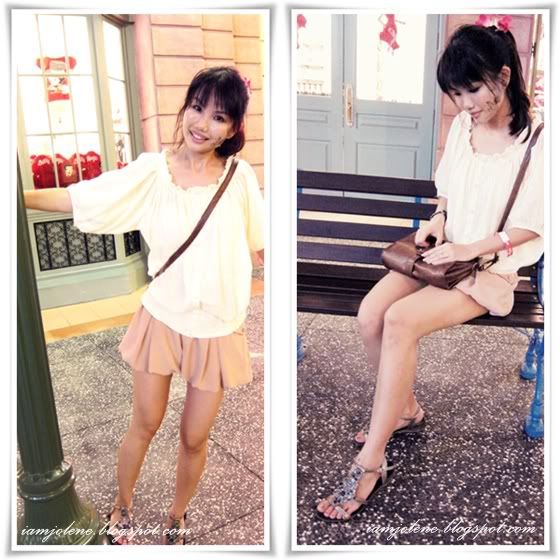 The complete look:
♥ ClubCouture
regina crochet blouse
♥ No label dusty pink bubble hem shorts
♥ Pretty Fit embellished hooked on sandals
♥ No label faux leather vintage sling bag
On another occasion, I wore the same blouse in an off shoulder manner and tucked into my high waisted shorts on a night out in town. I also wore a yellow stringed bikini inside which recreates an entirely different look.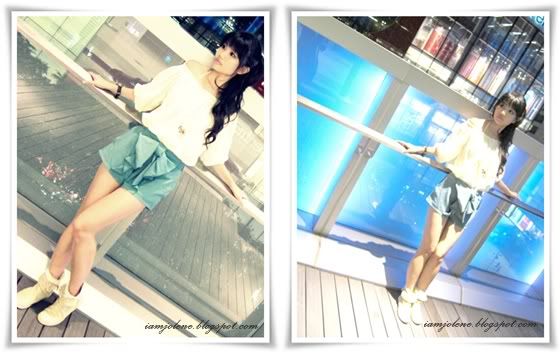 Don't forget to accessorize! I got this necklace with ribbon, rose, penny and beads charm from ClubCouture.
It stands out against the cream coloured top.
The complete look:
♥ ClubCouture
regina crochet blouse
♥ ClubCouture
summer long necklace
♥ No label turquoise big bow shorts
♥ No label crochet lace booties
If you're interested in my regina crochet blouse and summer long necklace, you could click on the pictures below and purchase. Once again remember, to key in the discount code JOLENE2011 (all in capz) during check out to enjoy a 15% discount.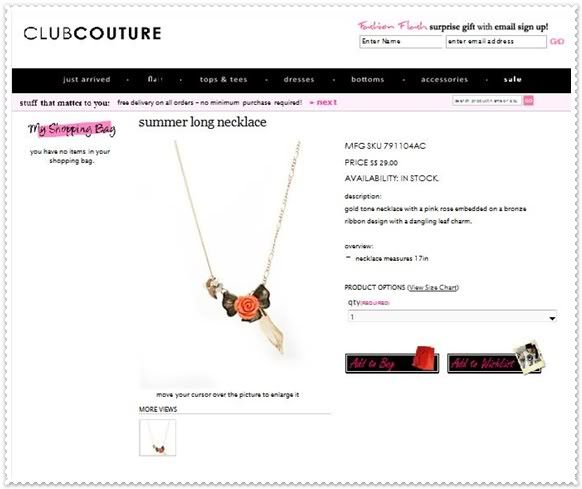 These are some of the guidelines which worked for me and I hope that this sharing has helped you to learn how to keep cool while dressing up.
For more summer inspiration, you can check out ClubCouture's latest collection --
She dreams of the country
as well as their
lookbook
.
As mentioned, all my readers will get a
15% discount
as long as you key in
JOLENE2011
(all in capz) during check out. Also, ClubCouture offers free shipping for all orders with no minimum purchase required. Get shopping this summer now!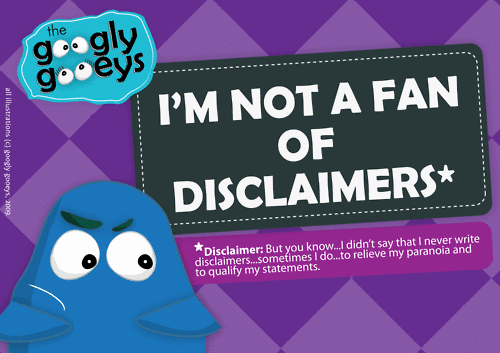 [picture credit: googlygooeys]
Disclaimer:
I must emphasize that I'm not one of those spoilt brats who cannot live without cool air-conditioning comfort. In fact, back in my parents' home, I often opened the windows wide and enjoy the natural breeze that fanned in. It is only after moving in with my hubby that we switch on the air con in our room for almost the whole day whenever we are at home. The windows of our room are closed at all times due to nasty roaches, crickets and other creepy crawlies and flyee flawies bursting in. In the day, our room is like an oven and by night the heat continues to linger. Hence, you could imagine how thankful I was when the technicians finally came to fix the air con.