Continuing from
Spring Summer Trends Part I
, the next fashion trend touches on denim. As seen from the various ViVi magazine spread in my previous post, denim attire in all sorts, whether it comes in the form of jeans, capri, dress, skirt, shorts or jumpers is a spring summer trend.
[Aside: I never knew that. I'm basically a denim shorts person in a land that experiences summer all year round.
Besides my boring old denim shorts, I decided to inch out of my comfort zone in experimenting with the denim trend. I wore my
katie jumper in dark
out for facial appointment, run some errands and meet my sister for dinner last Sunday. I paired it with my
cute
and cl
ass
y (do you get the hidden joke?) Abercrombie Tee. I have the intention to pair the jumper with tube or bandeau one fine day when my abs are visible enough.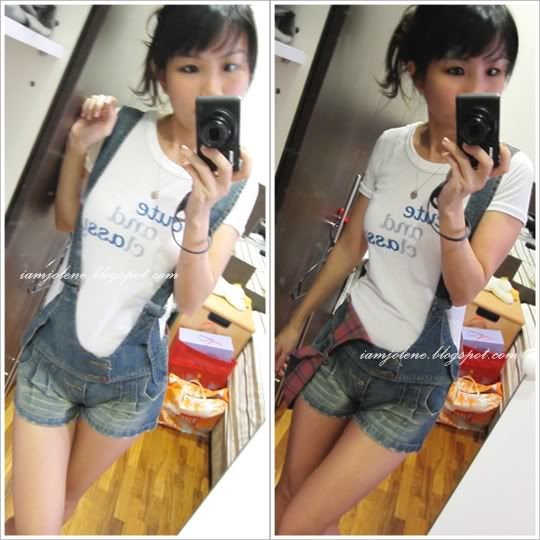 The outfit invited lots of comments from everyone I interacted with that day. On any normal days, people don't usually comment so much about my dressing coz I'm not really too adventurous in dressing up when it comes to normal outings.
One thing about jumpers would be that the strap constantly falls from my slight sloping shoulders. For this katie jumper, there would be times when I purposely left it hanging as I thought the red tartan design adds a dash of colour to the casual white and blue. Pop of colour is also synonymous to spring trends. The hanging strap kinda make me look sloppy and laid-back but I prefer to think I'm laid-back. The hubby however prefers to think that it's kinky.
-_-
So why don't you go creative with the denim trend in a totally-different-from-your-usual-manner this spring and share your look with me by leaving your link? I love to gain some inspirations from you too.

After having takeway McDonalds dinner with my
sis
at home, we decided to check out the reservoir nearby and also to test my month-old canon S95 for outdoor and low-light shots.
The authorities spruced up the land around the reservoir a few months back and we were surprised at the number of people and dogs of all shapes and sizes there. The place used to be frequented only by anglers and people who want to catch sight of crocodiles, which I highly suspect were giant monitor lizards roaming in the shallow waters of Singapore. Fast forward to now, it has become a family hang out place.
I tried out the continuous shots mode and combined them in an anigif. It's no good when my sis has such shakey hands but I must say her photography skills improved that day. *LoL*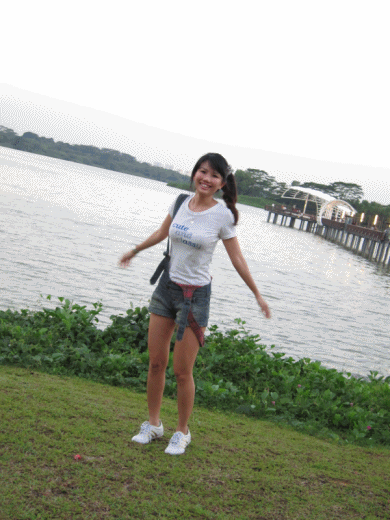 The beautiful sunset hues of pink and purple in the sky were captured almost true to colour.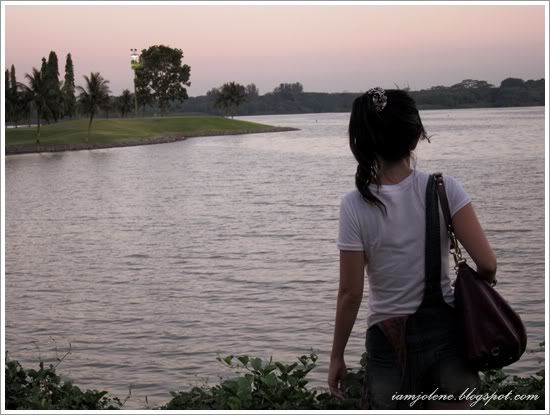 My sis thinks I should take a shot with flowers to show that it's spring so I found a pathetic morning glory on the ground for this shot.
Soon the sun disppeared below the horizon. My old bimbotic pink fujifilm that died on me certainly would not be able to capture in such low lights as compared to my canon S95.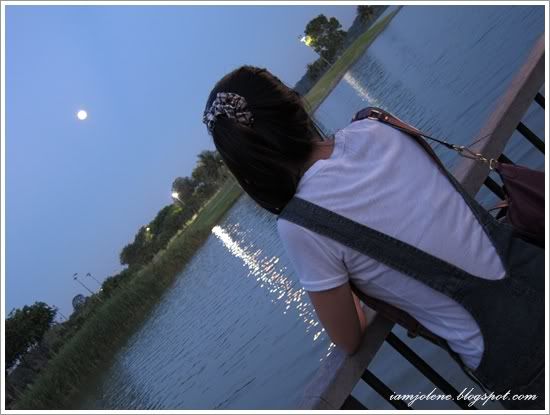 Just a few seconds apart...
Over this side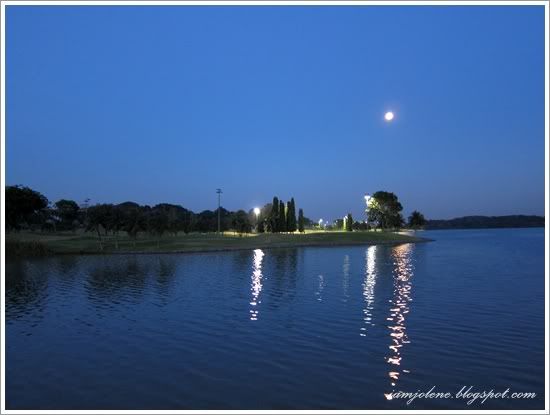 Over that side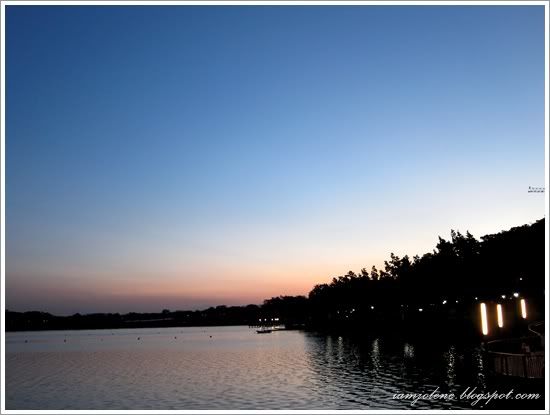 Here are some continuous mode test shots of the beautiful fountain put together by anigif. I think I've to figure out which scene mode to use coz these look a little blurry especially after compressing them to mak the gif.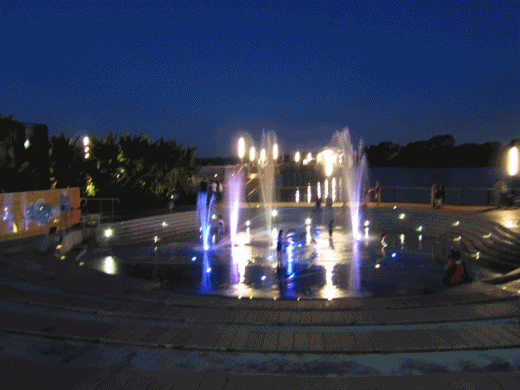 Do kids in other countries play with water fountain in this way or is is a Singapore culture?
I'm impressed by this low light, noiseless shot. My pink bimbotic fujifilm would have produced lots of noise or else then I've to up the exposure.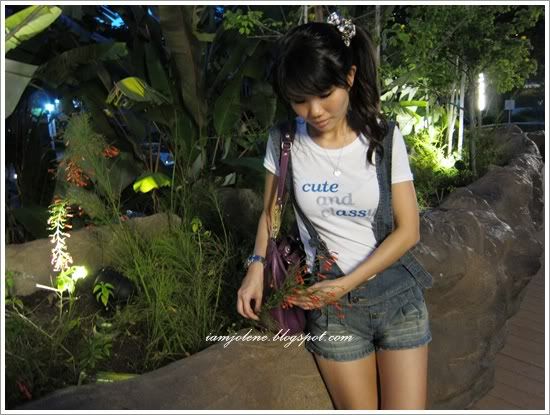 Spring summer outfits worn in these two posts are from ClubCouture unless otherwise stated.
ClubCouture
is currently having a promotion of
free shipping worldwide
. Double YAY for my international blogger friends. If any of you are of the same built as me and interested in the same items, you can always look at how the clothes fit on me as a gauge.
Don't forget that exclusively for my friends and readers,
enter the code JOLENE2011
all in capz to enjoy
15% discount
when you check out your items.
Remember the
photoshoot
you saw a few posts back? Those with FB a/c, you can view more photos of the my dear friend regina, the other ambassadors and yours truly of course at
ClubCouture's 2011 Fashion Ambassadors
album.
I'm thrilled to know that they've stocked up on the
monochrome silk dress
I wore during the shoot which was out of stock back then.
Cyrstal Luvz
, you asked me before on this dress right? You can click the link. Now, I'm wondering if I should get it too. It's something that is not my style but even kh agrees that it's nice.

Due to this ClubCouture album being posted to my FB wall as well as my blog link under each of my photo, I'm quite sure many of my co-workers have stumbled onto my blog since they, including my bosses, are on my FB friend list.

Well, I know some people may think that I'm so foolish to have so many co-workers on my friend list not blocked from my wall. However
as mentioned before
and for those of you who have been following me for at least a year, you would have known that I
deliberated for a long time
to decide whether to close down my blog, move away or to continue blogging ever since it has become uncovered by so many strangers and 3rd degree friends alike throughout the years.

I've since decided on the 3rd choice as I realised that blogging has become a huge part of me and I've made many cherished friends from forums and all over the world. Moreover, I've got nothing to hide. Whatever that I dare display and write on FB and my blog are things which I don't mind people knowing, except for maybe my students. When my students start stumbling on my blog, I think I would have to reconsider again. Recently my 14-year-old students started stalking me on FB even though my settings were private. I think FB had some problem and apparently, they could see my general info and friend list and started clicking on all my friends one by one. It doesn't help that my hubby's profile is super public and the damage had been done even though I unchecked and checked all the settings over again to double confirm.

If you happen to know me and have read up till this point, instead of reading me silently, why don't you break the silence and drop me a note of hi? It might be a lot easier when we talk face to face knowing that you know rather than to pretend you are not reading me.