To celebrate our 1st year wedding anniversary, the hubby and I had a staycation right here at home at Sentosa Hard Rock Hotel. I was unable to clear my mountain of work to take leave for a vacation so a short 3-day staycation it was!
Sentosa was chosen for the bimbotic reason of answering people that I went "overseas" for our celebration as techinically Sentosa is not on mainland Singapore.
Of course that wasn't the reason. Kh was asking me to choose between Marina Bay Sands and one of the hotels at Sentosa. I was thinking that we could hang out by the beach or check out other attractions at Sentosa. Should we choose the former, we could only hang out in town no matter how enticing the
roof top infinity pool
was.
~*Day 1*~
After my work that evening, we zipped off to Hard Rock Hotel. There weren't many people but it took a while to get us checked in.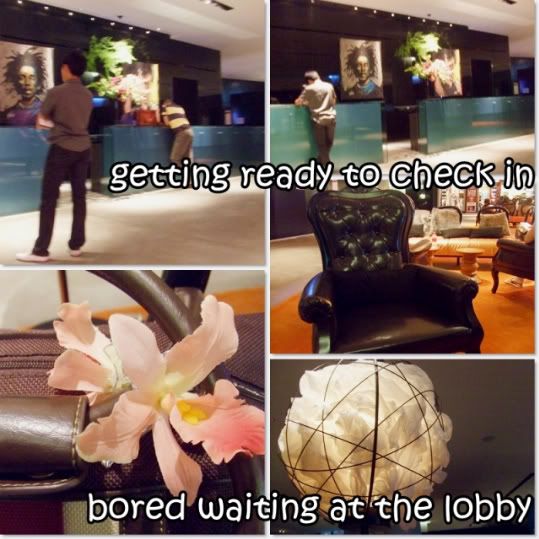 The lobby still looked like it was undergoing renovations. Part of the walls and floors were grey concrete in July. When I went back again in September this year, they've erected a bar and the lobby looked more spruced up by then.
The observing of the changing colours of lights made waiting more tolerable.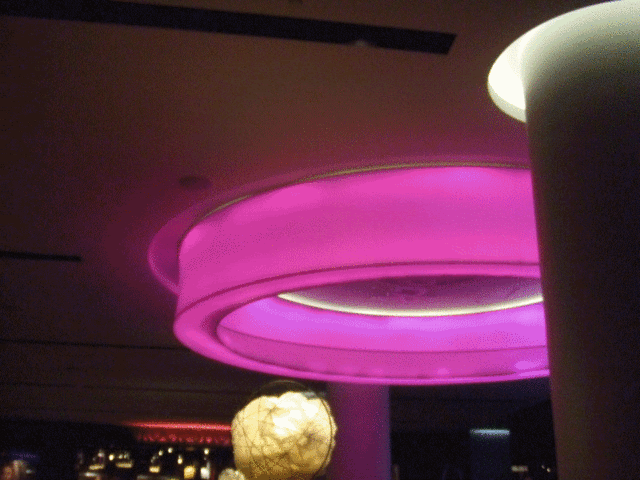 We finally got our keys!
I loved our room! It had a boutique hotel feel to it and I absolutely love how purple reigned here.
The hubby switched on the tv and scrolled through a list of restaurants --categorized according to fine dining, family, casual etc-- for our anniversary dinner.
In the meantime, the overly excited wife started snapping photos of everything in the room and letting out shrieks of delight every now and then.
"Wah deardear! Look at the fridge! So futurisic.""Oh! Look at the bedroom slippers, so cuuuuteeeee!""Whoa! The inside of the lamp very nice leh!""I like the motifs on the wood."
You get the drift.
The bathroom reminds me of a rock star trailer with the rows of light bulbs bordering the mirror. I liked how the lights illuminated the room on the other side of the glass panel as well.
Never once did I fiddle around with the safe deposit box while snapping photos as keeping our valuables was always kh's job.
While I was still snapping away like nobody's business, it was kh's turn to exclaim. He pretended to open the safe and yelled out.
I was ecstatic yet puzzled at the same time, wondering in my heart if my silly tailtail had informed the hotel that it was our wedding anniversary and that the hotel was really that thoughtful as to prepare something special or that the silly boy had something up his sleeves again. When I saw the little bue box with beautiful white ribbon, I immediately knew it was from him and I guessed that it was the choker which I was eyeing
the other time
.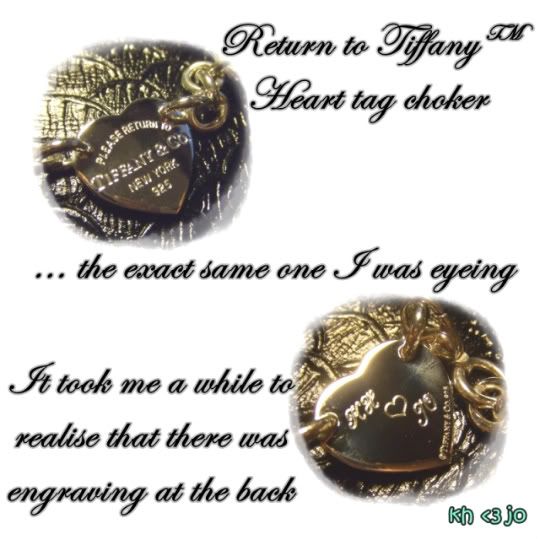 It was a pleasant surprise as I thought he would not have gotten any present since he had already said that the Ferragamo bag was a combined birthday and anni present. I didn't get anything for my silly tailtail but I guess putting up with his constant keyboard bashing of WOW (Warcraft for those who dunno) and his other annoying traits sort of balanced it up. ;P
After that, we changed into more presentable outfits as I told kh we had to dress up for our dinner date just to make us feel like it's an important occasion. Haha... Turned out that we seemed to be overdressed in the sea of beach-goers, Universal Studios patrons and temporary denizens of the island.
It was CROWDED everywhere. Every restaurant had 30 minutes to an hour's wait list time. We then realised that it was the weekend of the World Cup Finals and there was an event at Resorts World Sentosa (RWS) which would screen the live telecast of the finals on huge projector screens with rounds of booze and madcap partying the following day. What a bad timing for us to be there! Many families and friends had made use of this event to hold a staycation at RWS hotels too.
Palio, an Italian restaurant, was the only one without a wait list time. However, there was only outdoor seating available. Not being able to withstand the hunger, we decided to dine there.
The food was not bad. I love the bread, the oil that went with it, the soups, the appetizer but the mains were so so. I almost could not finish my steak. As usual, kh thought I was being too picky. My camera battery died on me and so I'd to use my lousy nokia camera to snap the food with flash (urgh!).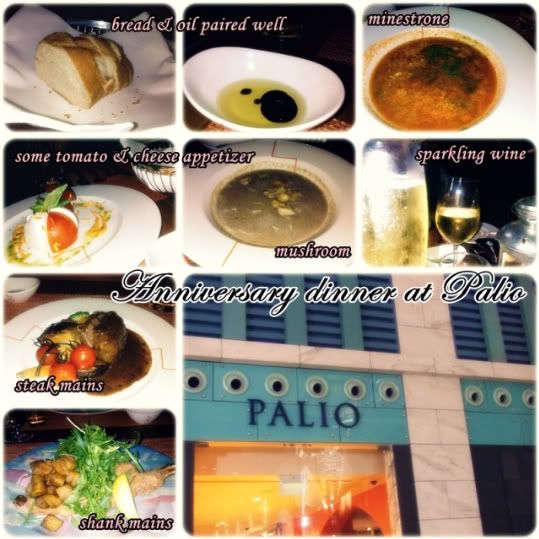 Some shots of us...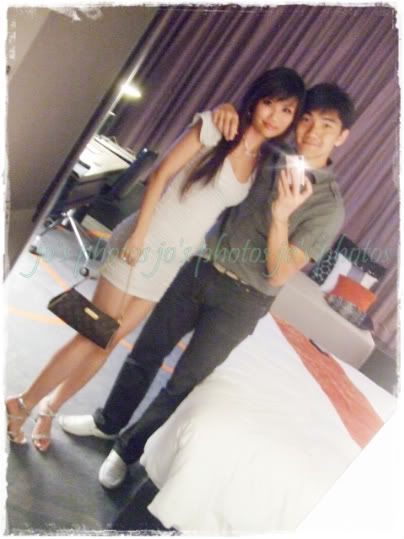 This wasn't meant to be an outfit photo but this is the only full length solo pic of me.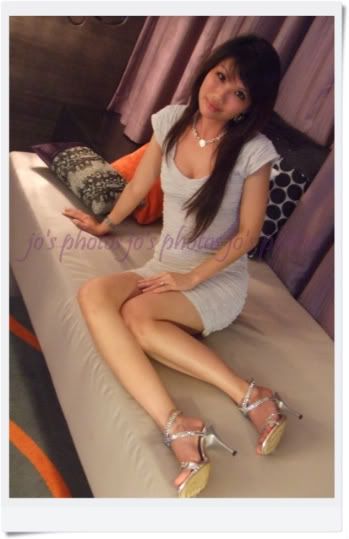 Dress:
River Island
Accesories:
earrings from Green Petals
necklace from Tiffany & Co
shoes from Anna Nucci
~*Day 2 *~
Rise and shine! I was up by brunch time but the lazy tailtail wanna snooze more. I amused myself by annoying him till he woke up.
We didn't get a room that faced a good view. Lots of parts of Sentosa was undergoing a facelift which explains the multitude of cranes seen. The pool view would be good but I reckon they were all snapped up by the "World Cup People".
We had to take this dazzling bling bling lift. I like the bling but I swear that I would be momentarily blinded each time I stepped in.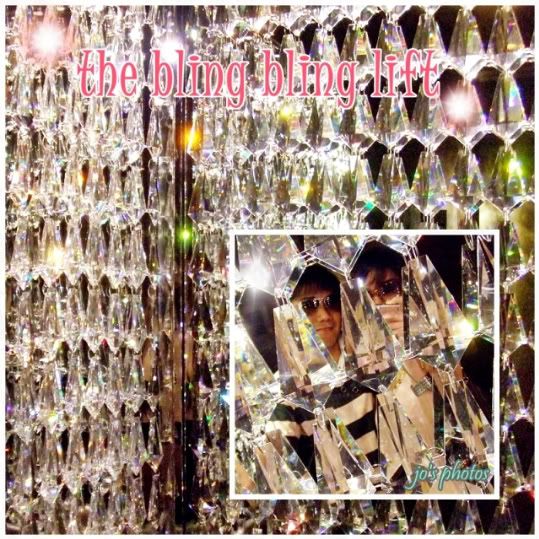 What was supposed to be brunch and lazy lounging by the pool turned out to be an almost 2-hour lunch for us at Fiesta buffet. They had quite an extensive selection of food. I love their little sandwiches.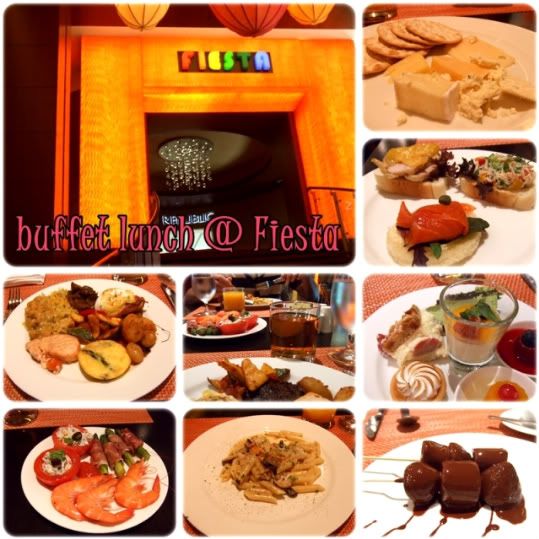 Me thinks the hubby looks like those HK triad gang member whenever he puts on his aviators and acts in a certain manner. Am I the only who one thinks so?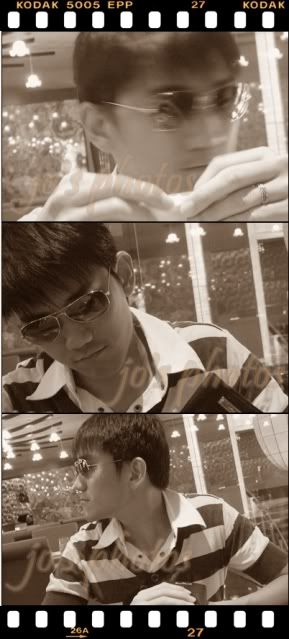 After lunch, it was time for some lounging by the pool.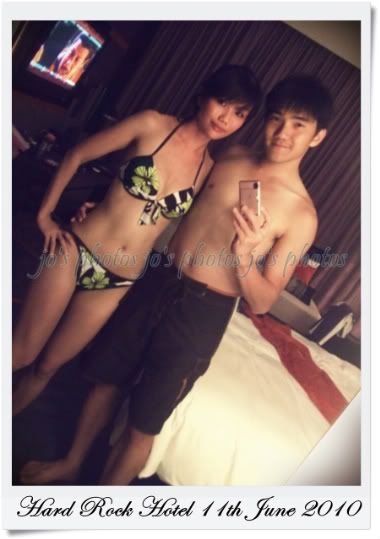 Erm... actually this was taken
after
the lounging at the pool but heck, I needed a photo for the above sentence. Haha... remember this "fat photo" from
this post
? And I made a mistake in the date. It's supposed to be July. I'm not quite sure what got into my head.
The pool at Hard Rock Hotel consist of the normal pool with a lap length side and a simulated beach side, what they call a sand pool. How ingenious is that? Kh and I had initially wanted to head out to one of the beaches on Sentosa but with this pool, we could enjoy the sun, sand and "sea" in close comfort of our room without having to shower at some beach toilets.
I don't know if anyone understands my description about the pool but this video would probably help. Scroll to 6:51 for the pool shots.
The beach side was filled with people of all ages, sizes and nationalities. It was also filled with loads of screaming kids since it was a Sunday. Hence, we adjourned to the pool side where there were significantly lesser people and more people of our age, or so it seemed.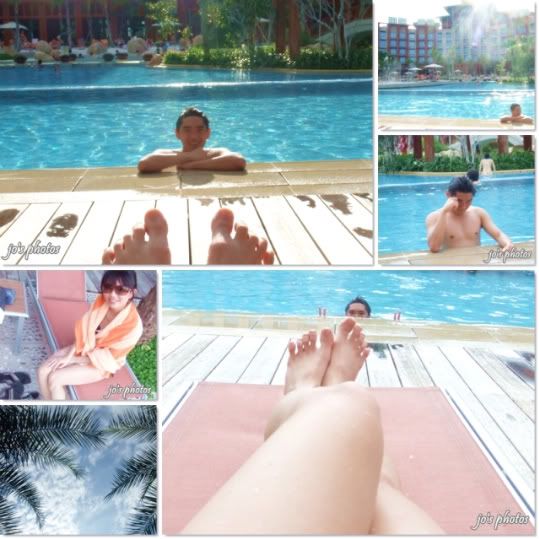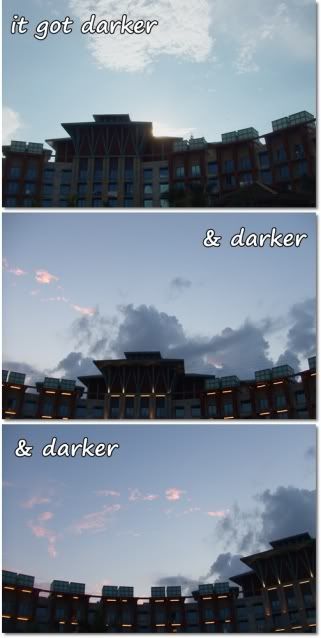 The numbers on the scale
Left:
Before stuffing my face silly with buffet at about 12pm
Right:
After a whole afternoon and evening of lazing by and in the pool at about 8pm.
Wow! Lazing by and in the pool could actually lose weight by the grams! I dunno what the weight was immediately after eating! I'm a 43kg on normal days. That's how much food weighs!
I'm never obsessed with my weight and numbers (aside: only with fats and flabs) but having a weighing scale with blue illuminated screen made weighing oneself really addictive. Now if only they came with a body fat content ratio, I would see 90% of fat on my flabby arms and tummy (they've recently migrated to the cheeks too). I'm really terrified at how my arms and tummy fats are increasing at an exponential rate.
After showering, we decided to walk around RWS. There are many stores and lots to explore. There is even a Victoria Secrets store, the first ever in Asia.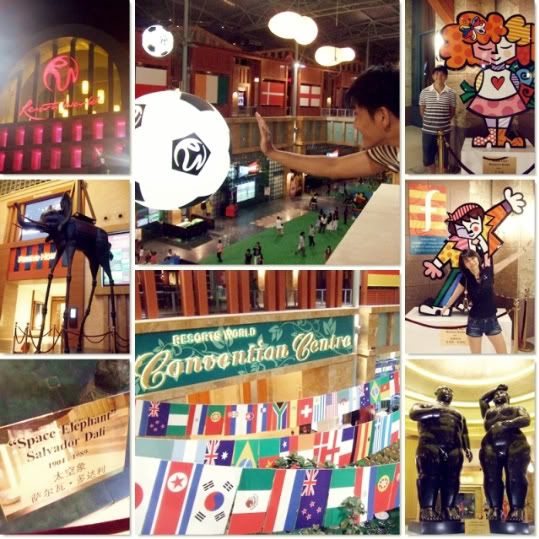 Blah dinner at Ruyi, a chinese fast food restaurant under the Tung Lok group.
I was hungry and craving for fried rice so I ordered it. I was exepecting the warm fragrant fried rice a la zi char style. However, the rice was too hard and I could not finish my food. The seaweed soup was not as tasty as how seaweed soup should be. I was expecting Tung Lok to whip up better dishes even at wallet-friendly fast food prices.
They've got a really cheesy write up on their placemat about how ruyi the little cloud came about. Click to enlarge.
Have you seen Ruyi today?
Outfit of the day: Top from Armani Exchange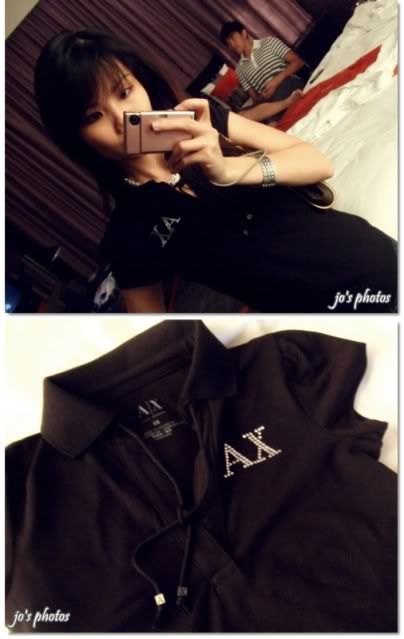 This has since become my FAVOURITE casual tee. Love the fit, love the comfort of the material and love the little tie closure instead of the usual buttons on polo tees.
We spent the night watching the World Cup finals in the comfort of the bed rather than to squeeze with the crowd at the large screen area at RWS.
For one of the rare times, husband and wife were not on the same side. Hubby supported Netherlands while wifey supported Spain which I thought played quite fairly and well I must say.
When Spain won, I jumped up and down the bed till I pulled a muscle but the pain was nothing compared to the joy of seeing kh's expression when Netherlands lost... Go Spain!
~*Day 3*~
We had to check out in the afternoon but I called to ask for an extension and so we headed to the pool once more. This time by the simulated beach side of the pool. We were the only few at the beach since it was a Monday. All the families with screaming kids had since gone home. Or else then, they slept in after the World Cup Finals.
I loved how soft and fine the sand felt. It doesn't really stick onto the skin too and it feels really clean. I really hate the icky feeling of wet sand in between my toes but the sand here seems to slide off easily.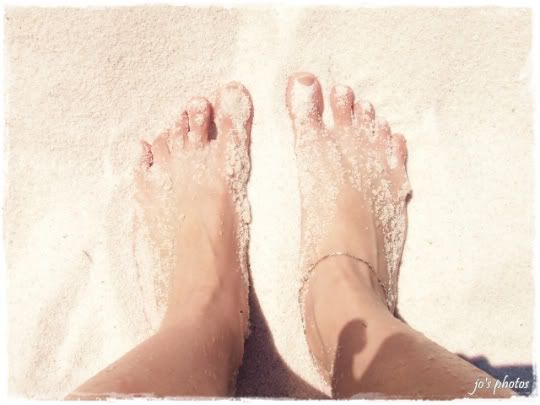 As I was stepping around in the sand, I thought of cyn and the kids and how we could bring them here in future to play with sand. The kids missed playing with sand.
It's a lot cleaner with lesser people, towels are available and the public shower rooms are definitely cleaner than those at the beach.
We did end up here in the end for Charmaine's birthday outing that same month which I would blog about when I get down to it.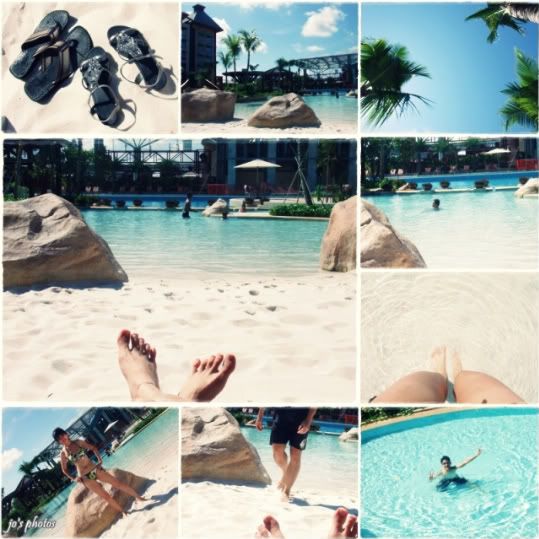 We were famished and decided to check out what's available at the pool bar. We ordered some cocktail but kh drank it up before I could say snap.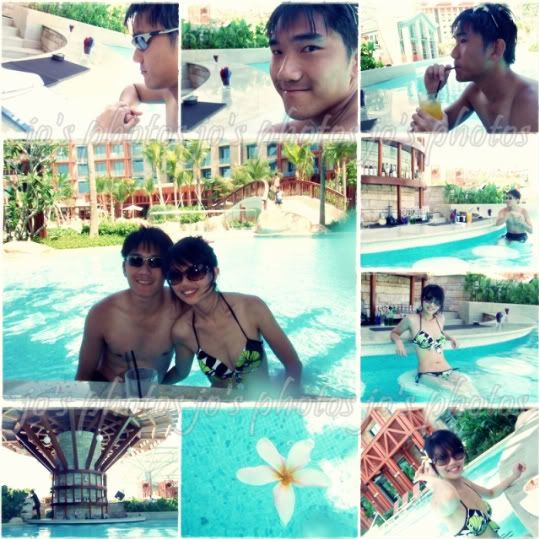 As for the food, it was absolutely gratifying to eat hot cheesy marcaroni and fries with the accompanying delicious dip. Pretty good for a pool bar.
shower rooms for the men and the women indicated by "M" and "W".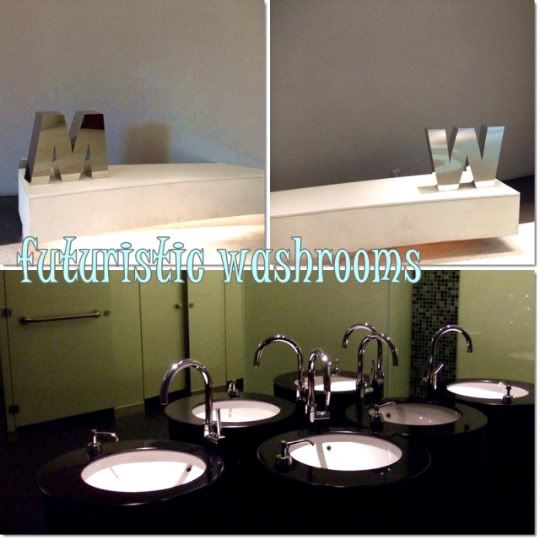 For dinner, we headed to Vivocity and ate at Japanese Gourmet Town. It houses 3 restaurants under one roof. There is Botejyu from Osaka, Yoshimi from Hokkaido, and Ajisen from Kyushu - central, north, and south of Japan.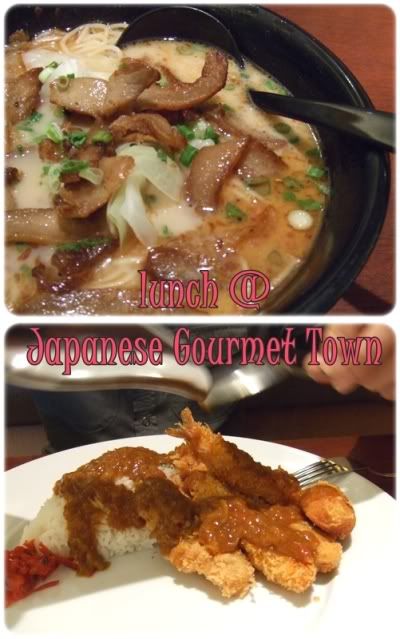 The food wasn't too bad. I had Ajisen ramen coz even though it is considered one of the cheaper ramen alternative in Singapore, I feel it could never go wrong. Kh ordered the curry tempura rice. After that, we headed for a movie and as I'm typing this, I can't remember what we watched. It's unnerving when you want to try to recall something but can't. I asked kh, I checked my old ticket stubs but there isn't any clue.
It was home sweet home after that and the gruelling realization of having to work the next day. Talking about work, I've to settle some urgent work stuff via sms and calls even as I was sipping my ramen. This sort of annoyed kh as he wondered why I had to reply to those work sms and calls while on leave. =(
Here's what I did with the layer of construction works dust which coated the car at Hard Rock Hotel carpark in reply to the engraving on the back of the pendant: