Back to updating backdated entries yet again.
~~~
In November last year, I went to Phuket with my oldest friend, Tiffy --one of my bestest bff ever-- for her birthday celebration. It was a rather impromptu decision as we only booked the tickets the day before we flew off and booked the accommodation in the night a few hours before the flight via latestay.com.
Bangkok was intially on the agenda. However due to the flood situation last year, Tiff and I decided to switch destination and put Bangkok on hold then.
~*Day 1: Our Hassle-free Getaway*~
It was my first time taking budget airline from Singapore. Air Asia didn't give us much problem as how I often hear my friends complaining about other budget airlines.
Complimentary food was not provided on budget airlines and so we had to eat our fill at the airport before boarding. The reason why I was posing with the evian mineral water was because we could not help but remember that "evian" is "naive" spelt backwards.
After a little more than an hour, we landed at Phuket!
As 2 girls travelling alone, we were often approached by many people/ touts/ friendly locals/ tourists. We usually ignored their presence and continued walking on. Watching the movie
Taken
could have served as a reminder to any young lady travelling without a guy in the group not to be too trusting towards strangers.
We were glad to have trusted our instincts to pick the right person ( a taxi-driver) who led us to a booth at the airport. Our hassle-free travel started right from here all thanks to this cute and friendly tour agent, San.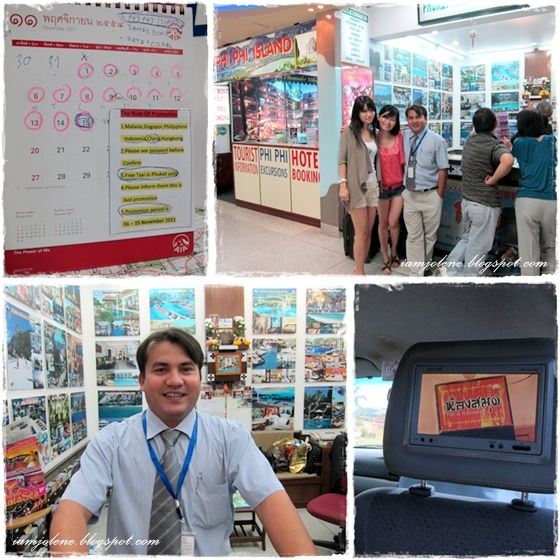 What a lot of privilege we had as Singaporeans travelling during that period of time! The price for the whole package which also include taxi services for a whole day of exploring was simply too good to be true. And when anything is too good to be true, it is better to be wary. San explained to us that the enticing package was to attract tourists to Phuket as many people were avoiding Thailand totally due to the flood situation in Bangkok back then.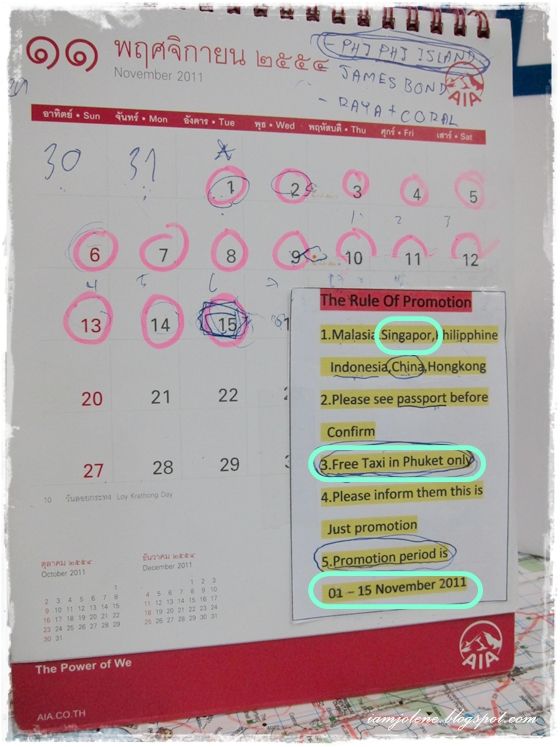 When we questioned San on how we could trust his company with the taxi and shuttle van services throughout our trip should we pay upfront, he pushed a name card to us and informed us that we could call his CEO. He added, "My mother would pick up the phone. Coz she is the CEO. And then after that, she would scold me for lying."
We were really glad to have met San as before that, we hadn't planned how to get to our hotel. The same taxi driver who led us to the booth took us to our hotel, IndoChine.
~*Day 1: Our Room at IndoChine-- Ocean Studio*~
Via latestay.com, we managed to book Gaya Studio for our stay except for the first night. We were given a cheaper room --Ocean Studio but we were thrilled that the room was not too bad at all.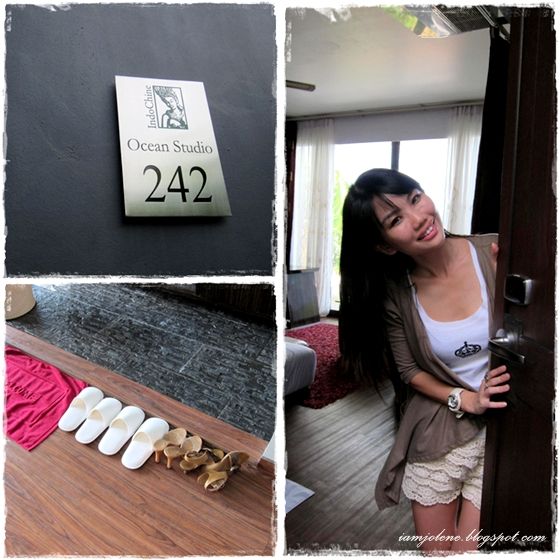 A thick maroon curtain separated the huge open-concept bathroom with the rest of the room. This is obviously a couple's room.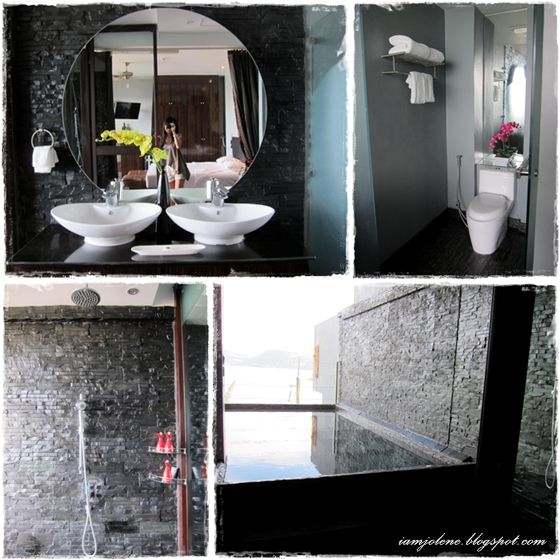 Brown and white decor always gives me a rustic resort feel.
We even had a patio overlooking Patong Beach and the hilly terrains opposite.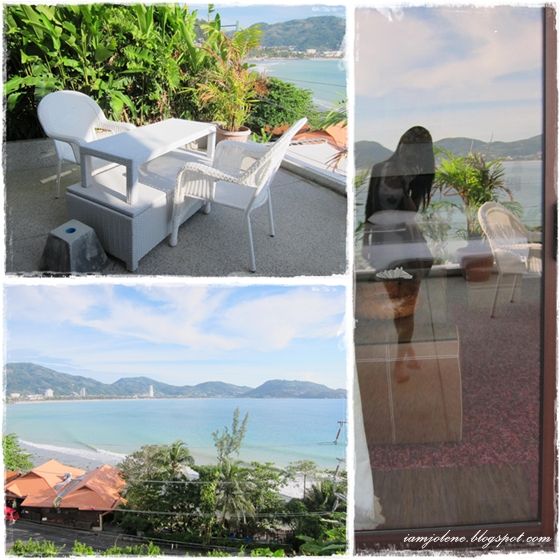 A nice couch to lounge in with a good book...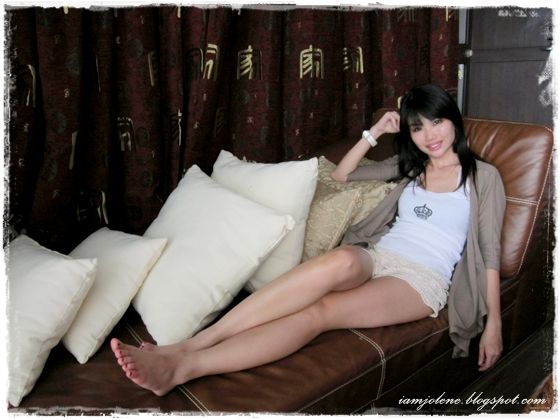 ... or to snap photos with your gal friend.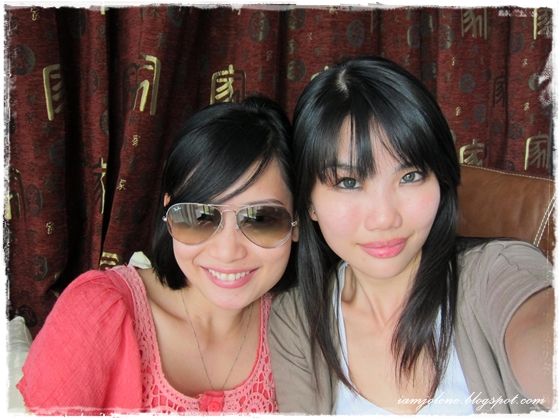 Tiffy was really thrilled at the view of the cheaper room.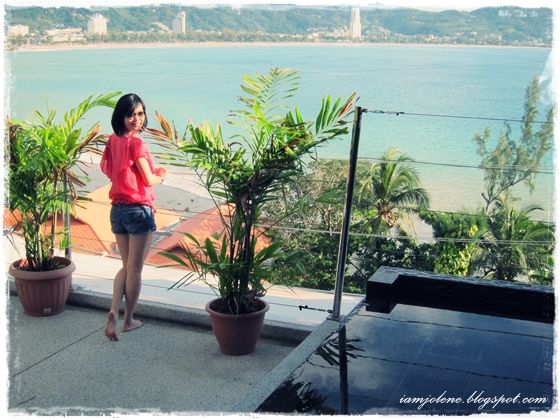 We were not too sure how clean the water was as it was not supposed to be a Jacuzzi. By the way, do you know that this bathroom is out in the open overlooking the same view as the picture above? There was no curtain to upkeep our modesty so we showered in the night while praying and hoping that nobody from the hilly terrains opposite our room had a mega zoom (x160) binoculars to spy on us. I suspect the designer for this hotel lives in one of those houses on the hill.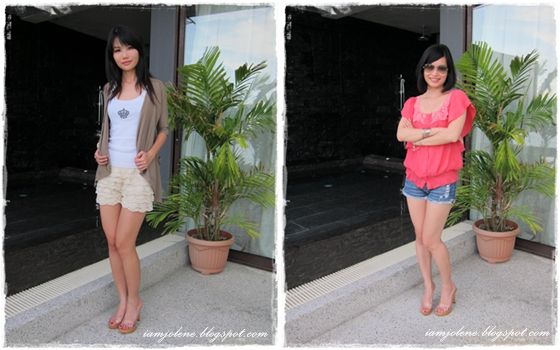 Outfit of the day:
♥ No label waterfall cardigan
♥ ClubCouture
Signature Tank in White
♥ FleurFaerie
Tiered Layer Crochet Shorts
♥ Spinel cork shoes
~*Day 1: Exploring the Streets of Patong*~
Tiff and I were both getting famished and headed out to explore the streets of
Patong
for our first Thai dinner.
Our first dinner at Phuket was at Champion Seafood.
Tiff wasn't/isn't? exactly very fond of kids (only well-behaved and cute ones) but she was so smitten by this little boy and his older sister. I think it started when the little boy smiled at her.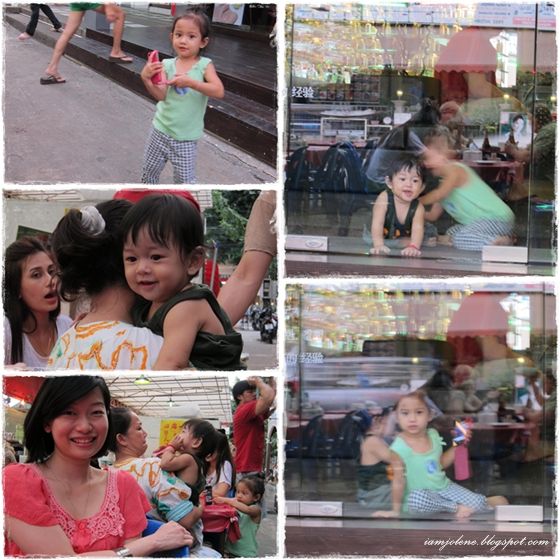 We waited from daylight to nightfall for our food and it was not hard to see why. There seemed to be only one cook, one cashier and one wait staff. Fortunately, we had our favourite Thai iced tea and endless topics to chat about while waiting for our food.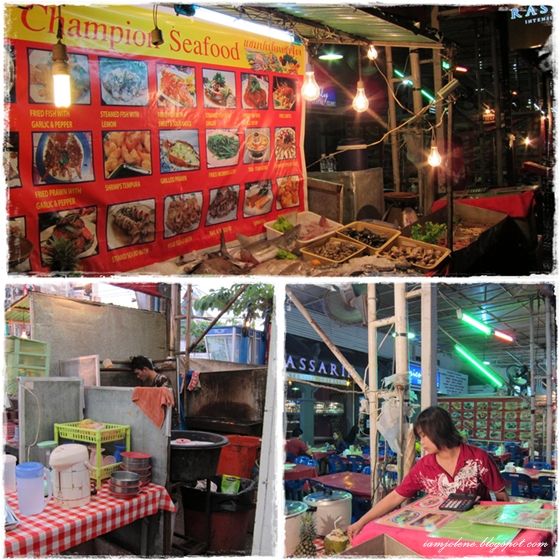 Tiff and I love Tom Yum soup and Thai iced tea in general and would never fail to order Tom Yam Goong and Thai iced tea at least once a day. Tom Yum soup in Thailand seldom went wrong, the battered prawn was great with the Thai chilli sauce, the sliced pork was so-so and the refreshing asparagus served as the only healthy dish in the meal which is something very important to me. I simply need to have some greens in every meal. And yes, we finished all the food. If you don't already know, Tiff and I could eat a lot.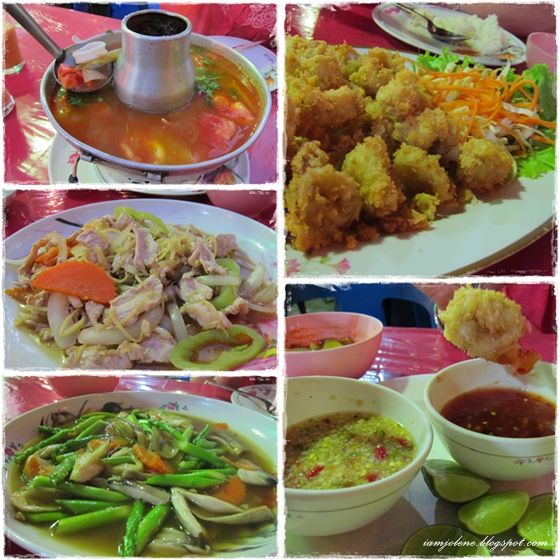 Our first Thai iced tea for the trip!
~*Day 1: Nightlife at Patong and Soi Bangla*~
When night fell, the streets went abuzz with colourful lights with music blaring from every little pub. Tiff made a joke about Tiger Inn as shown below. She wondered aloud if it meant Thai Girl Inn.
"Prostitution in Thailand is illegal but tolerated as is the case with Patong Beach, especially on Bangla Road."
-- Wikipedia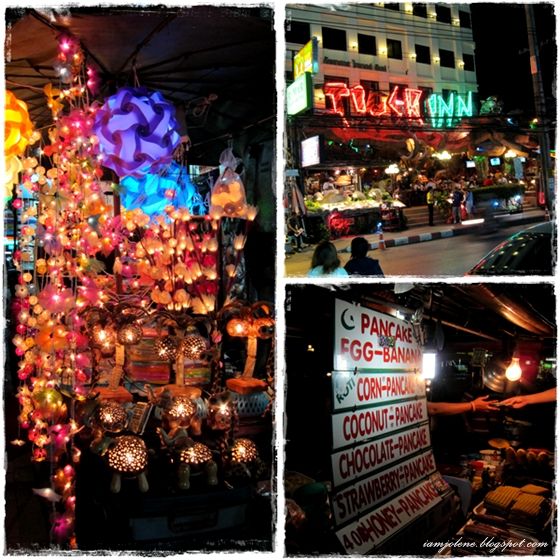 Our very first foray into Bangla Road opened our eyes to the many wonders of nightlife at Phuket. From then onward, we headed there every single night just to be immersed in the crowd of decadence and engaged in people-watching.
"Soi Bangla awakens when the sun sets. That's when Patong's liveliest party zone becomes closed to traffic and ready for action! Famous for its raunchy nightlife, Bangla goes all out to entertain with girls, beers and music that increases in volume as the moon rises."
-- Phuket.com
In the photo below, Tiff wanted a solo shot on the road of Bangla but kept getting photo bombed by other tourists.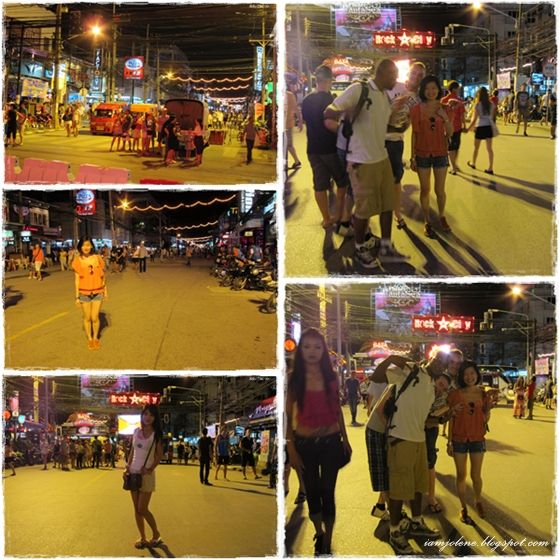 Tiff and Jo's first foray along Bangla Road!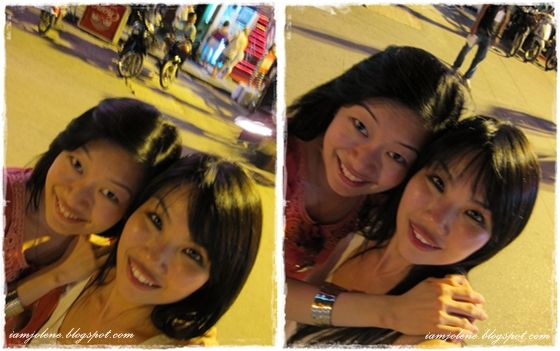 Some sights in Bangla...
I thought this building was really tacky. It either looked like it was still undergoing construction or it was closed down. Any of you have any clue about this building?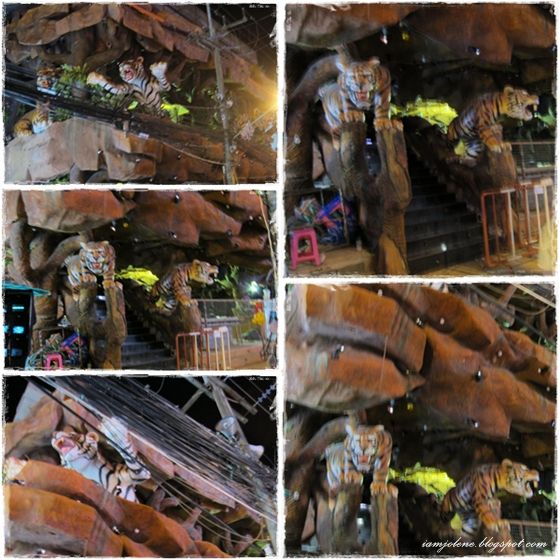 Snapping a picture with a transvestite required at least 100 baht. I had wanted to snap a picture with the PRETTY transvestite whom I had been eyeing for quite a while but a PRETTY unfortunate-looking one with broken and blackened teeth accosted us. We were too polite to decline a picture with her and also too polite to tell the person helping us to snap that his photography skill sux.
When in Rome, do as the Romans do.
Ronald MacDonald certainly applied this in Thailand.
Besides Bangla Road, we also hung out at Jungceylon shopping mall at night as there weren't many things to do at night in Phuket but to hang out in places of decadence. Jungceylon is clean though we espied some streetwalkers soliciting outside the mall.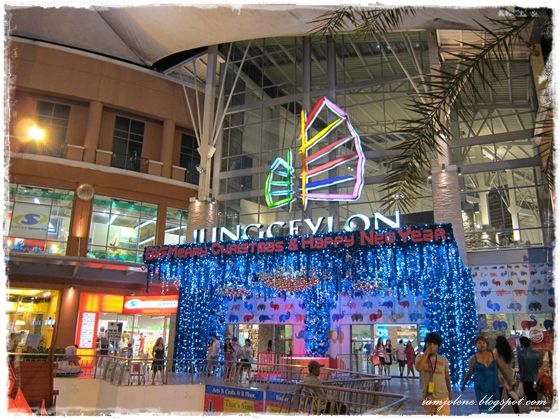 Instead of taking a cab or tuk tuk back to our hotel, Tiff and I decided to be random and walked. Not armed with a map, we just took the path where our hearts told us to. We nearly took a wrong turn but managed to ask for directions from a very good-looking Asian who was working on framing a painting at his shop. I told Tiff we had to walk home again the next night and get his number or something coz he really looked like a very cute Japanese idol. lol.
When we managed to find this road, we knew that all we had to do was to follow the road and it would eventually lead us back to our hotel. There was no pedestrian walkway along the road and we had to keep very close to the sides while constantly looking out for dangers in the form of traffic or humans. There were stretches of dark portions and no traffic so we really had to be very sharp in looking out for human dangers. We were honked at many times but mostly from tuk tuk signalling for us to hop on.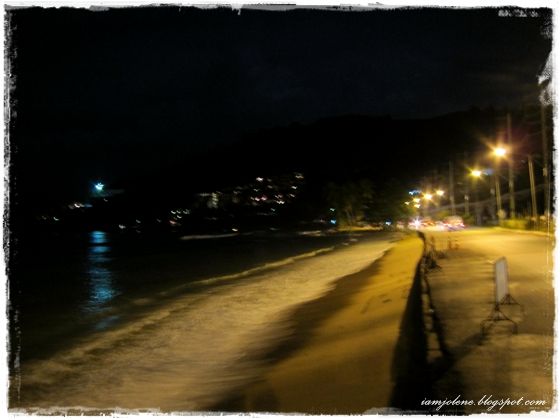 You could see that the beach had not fully recovered from the 2004 Boxing Day Tsunami. There was Tiff observing a minute of silence for those who perished in the tsunami.
The crashing of the waves against the shore with certain intervals of ebb and flow was a little threatening and we did not dare venture onto the beach at night as the water could reach right up to the concrete at times.
Not knowing how long and how far we had walked but knowing that we were approaching our hotel soon, Tiff and I decided to get some happy drinks from a restaurant pub along the way. Boy, were we really refreshed after the drinks.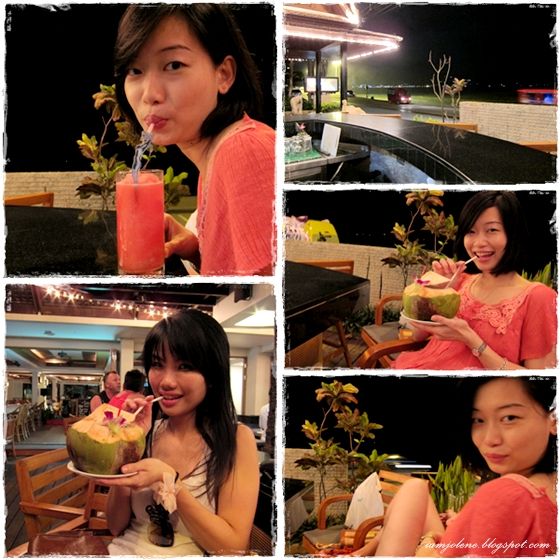 The only customers then were those sitting at the bar counter.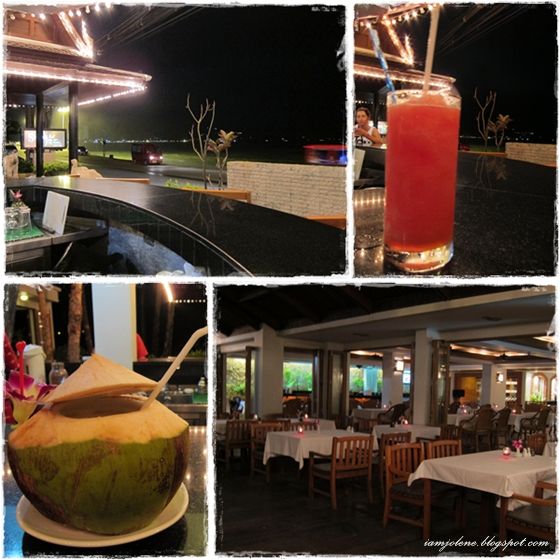 After much sweat and grime, we finally saw the very comforting name of our hotel!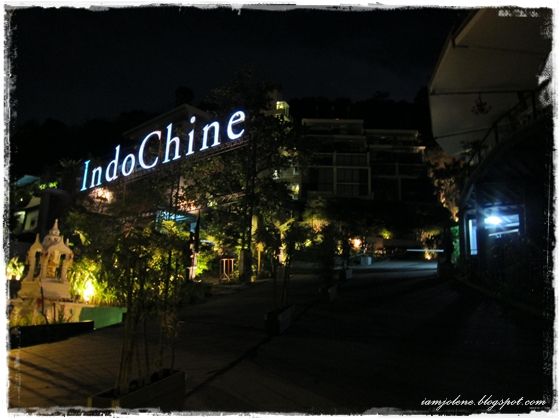 At the stroke of midnight (13 November), I presented Tiff with her birthday card and gift. (The cute snake drawing wasn't drawn by me. It was a recycled envelope from my group of gal pals.)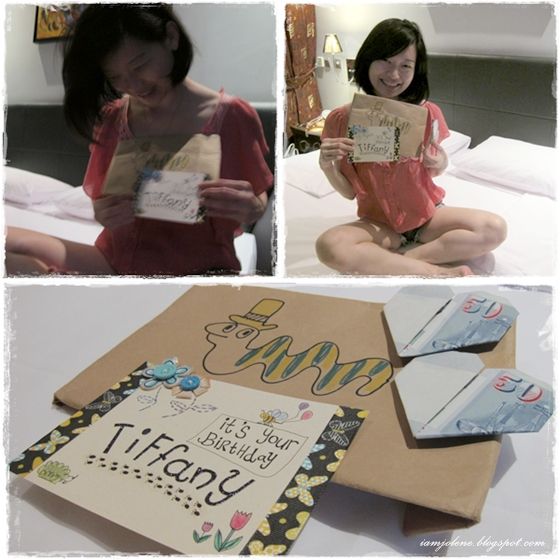 Volume 2 would mainly be about our "adventures" at Phi Phi Island and I hope to craft the post soon. I am still in the midst of editing photos for Day 3. I've been too busy feeling pain and watching lots of TV as an
excuse to laze in bed due to pain
. Pardon me if I don't reply to your comments or visit your blogs as frequently as I have been doing all my Internet stuff through my phone which kinda limits my surfing. Continue to keep those lovely comments coming in though coz I simply love reading them!