Hi boils and ghouls,
As seen from my
previous post
, I'm still in an emo rut though I'm trying my very best to normalize myself and not dwell in more negativism.
Some of you might know that it is a tradition for my bimbo sisters and me to celebrate Halloween together annually, opening the invitation to our own groups of friends to join us as well.
I enjoy myself every single Halloween and I dare say that my bimbo sisters and I enjoy the whole make up process a lot more than the partying itself.
This year, our theme was The Girls with the Dragon Tattoo. I was an emo kia aka emo kid involved in some slashing and slitting.
Here is my before photo just as I left my house on halloween Saturday to prepare for the next round of make up at Bimbo Xtina's house and my after photo at the club. It was the first time I wore a wig for halloween all thanx to my ex colleague for lending me her fabulous short hair wig.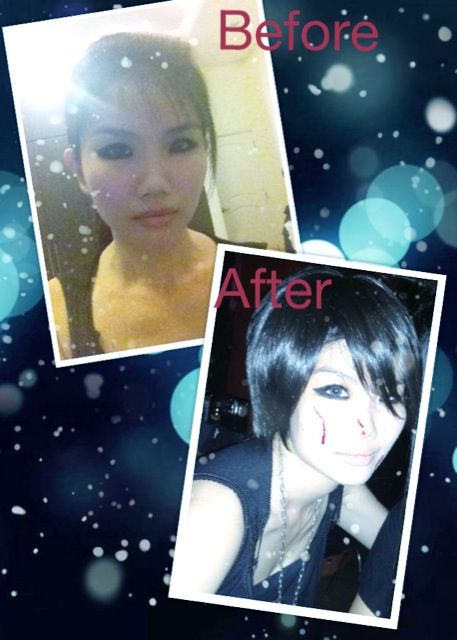 Bimbo Jo was so emo that day that she contemplated telling the rest of her bimbo sisters that she would very much like to stay at home and slit her wrist. Alas, she knew that since Bimbo Tiff had pulled out due to last minute work commitment, she could not afford to abandon her beloved bimbos at the eleventh hour. Besides, Bimbo Jo was the make up artist aka the wound specialist.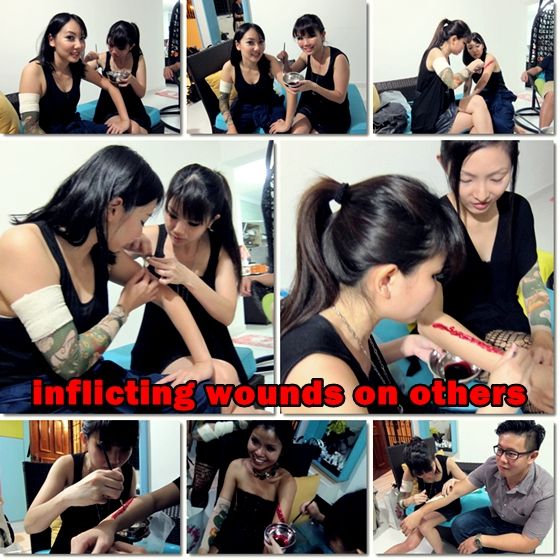 Xtina's hubby, Lester had been such a great help to us. Before we trooped over to her place, he prepared the dough for our wounds beforehand. He also helped us to do various tasks while our hands were dirty. Such a sweet hubby.
Here is Xtina's beloved hubby taking a break on his cocoon swing and watching Supernatural on TV.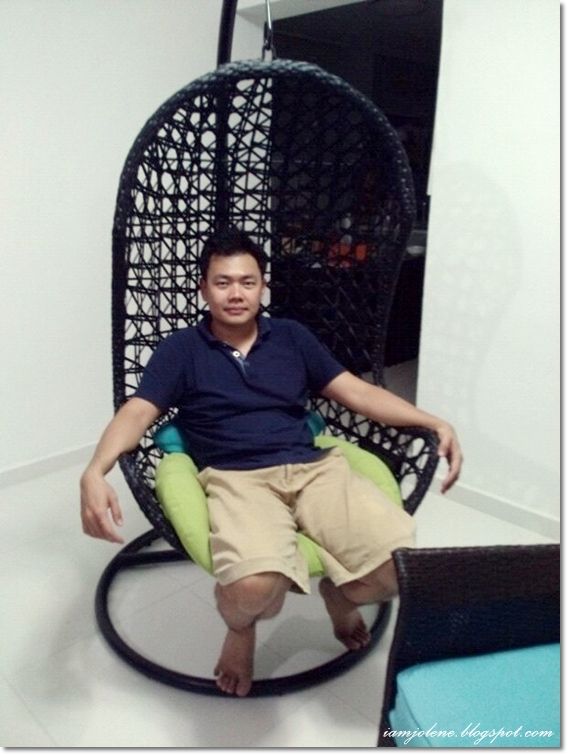 The home-made blood I made beforehand looked just like blood but when painted over the dough, the red became bubble-gum red. Bimbo Zanne said it looked like she had long lips on her forearm.
Bimbo Xtina used the hair dryer to blow the wetness away for my next step of creating depth to the wound. She looked sooooo sweet here and not at all like how garang she should be in her jumpsuit attire.
My tummy problem was acting up and I was in quite intense pain so I asked for a mug of cereal. Thanx to Lester again for "being so useful" around the house. In the meantime, Xtina helped me with my wound.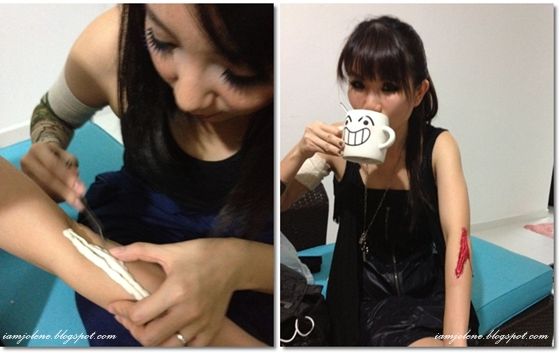 Our scars! You could see the difference between mine and theirs. Mine was just with the fake blood painted on while Zanne and Xtina's wounds had undergone my depth creation process with old eye shadows.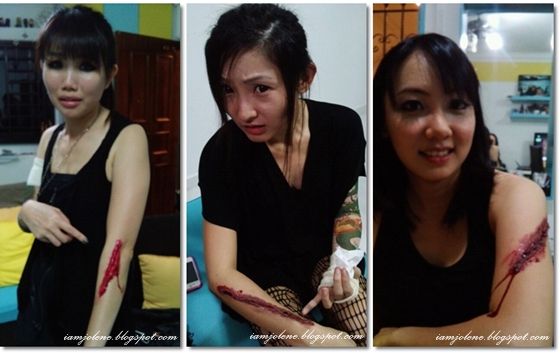 Funny moment:
When I was done with the cereal drink and partial drying of my wound, I asked if Zanne or Xtina could help me with the depth creation of my wound. (Our make-up artist Bimbo Gera had not arrived at that time.)
Zanne had no confidence and muttered, "I failed art in school.
Xtina claimed she was not confident to help me paint as her work might not be up to my standards. In the end, I prepared all the eye shadows and tissue paper in front of me as I lifted my left forearm and shaded my wound with a cotton bud using my right hand.
Please tell me it wasn't too bad after all.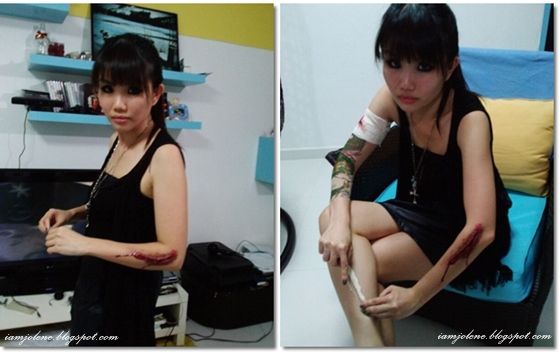 Soon, Bimbo Gera arrived with her boyfriend and another friend whom we were also acquainted with.
Gera's bf, Clement had a creepy alien bursting out from his abdomen.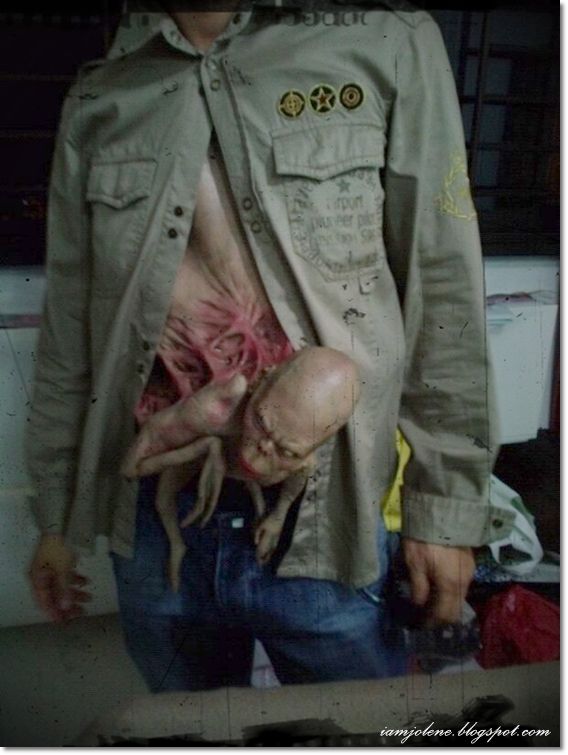 Look at the sweet couples helping their other halves with the make up process.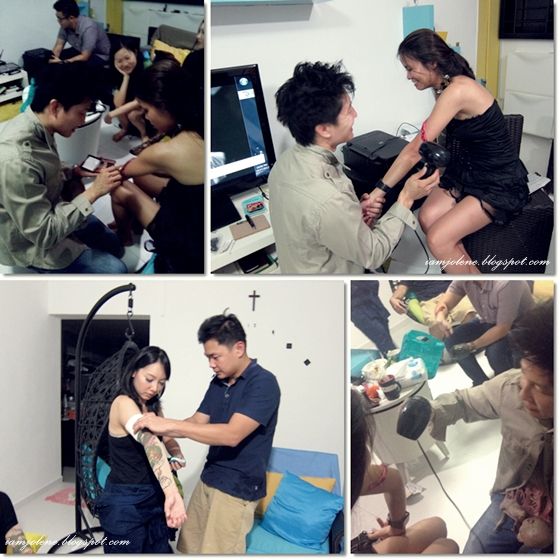 No, this was not part of the sweet couple. We told Zep that he had to be made up in order to join us for halloween so I helped him with his "bubble gum" creation. He did not want to undergo the depth creation process and hence his wound looked just like a huge piece of bubble gum.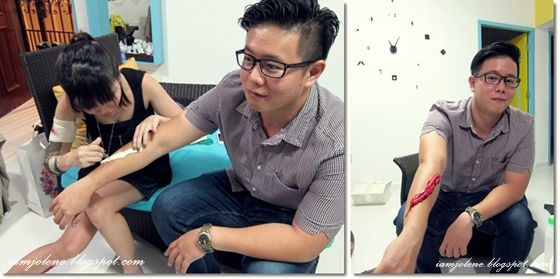 I had been waiting for Gera to help me put on my wig as I was totally clueless. Everyone said I looked very cute with my hair tied like that and requested for me to do a cutesy pose. After that, the hair was pinned down and covered with a hair net.
The birth of Emo Kia!
I liked that my hair was all over my face. However, I had to paint blood onto my face and so had to sweep the fringe aside.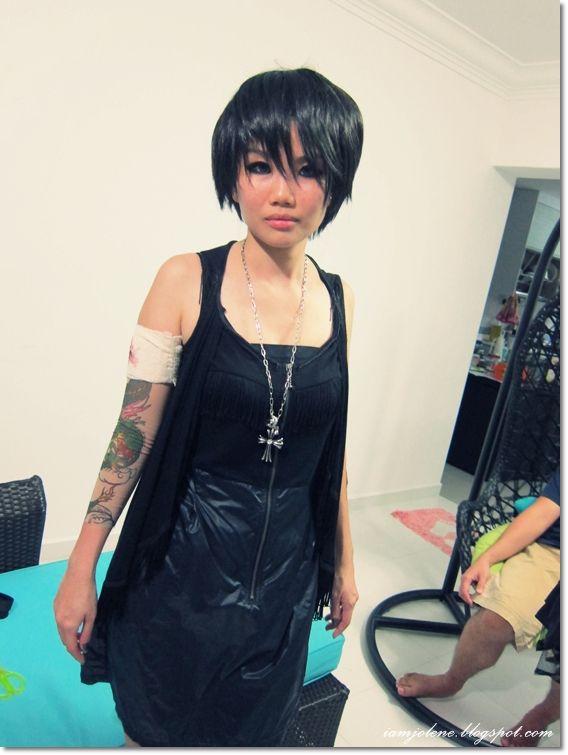 Gera decided to uglify herself by drawing on devil's eyebrows.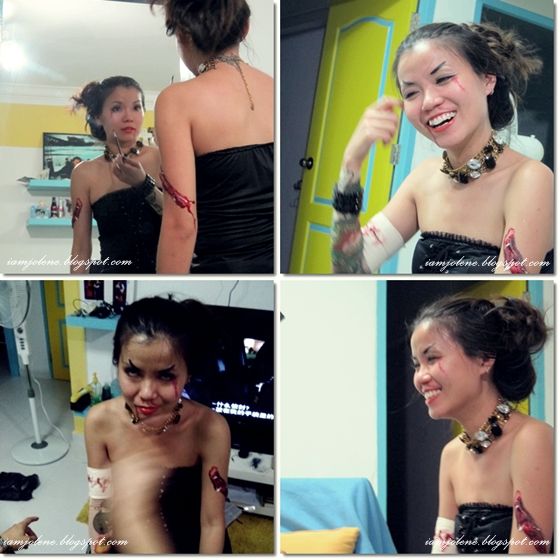 Don't mess with me!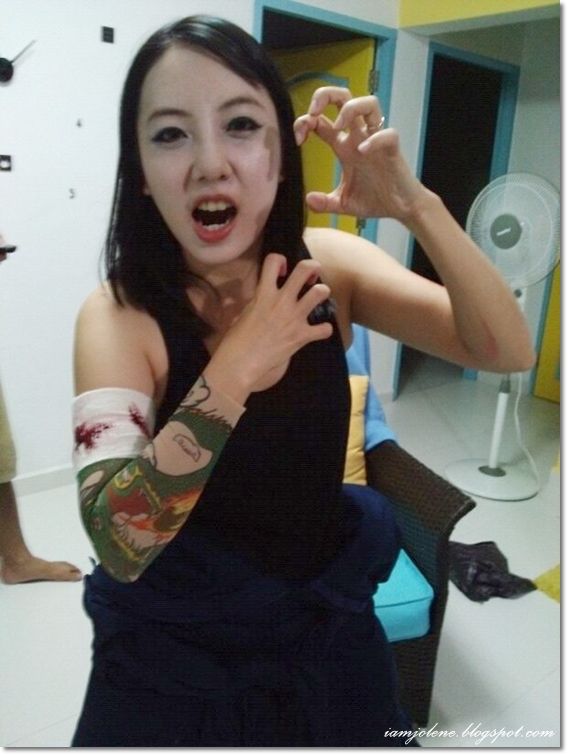 A super random photo with no focal point.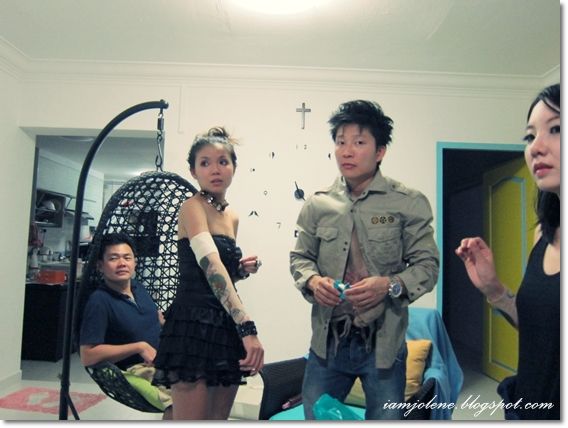 We did some finishing touches before we readied ourselves to head out.
Presenting the girls with the dragon tattoo! Bei was unable to join us for partying but she had so much fun watching the make up process and snapping photos.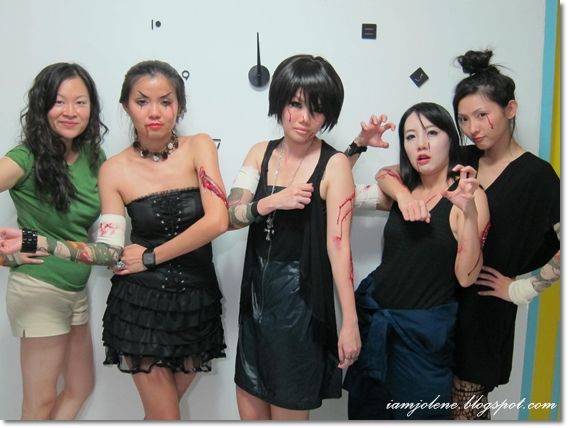 The witching hour... we were all ready to head out! We wonder if anybody else heads out so late for halloween.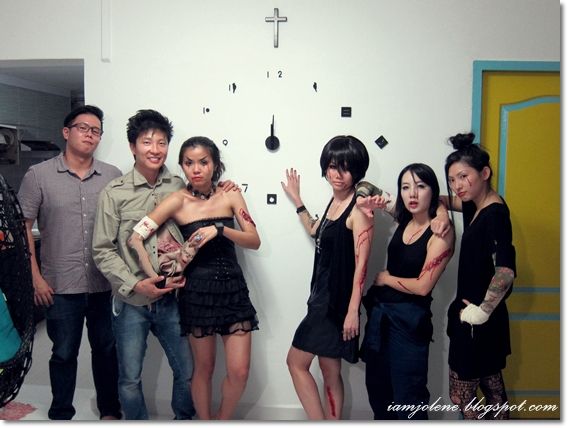 There was a long queue but fortunately, we were able to get into Zouk as Clement was able to bring us in separately.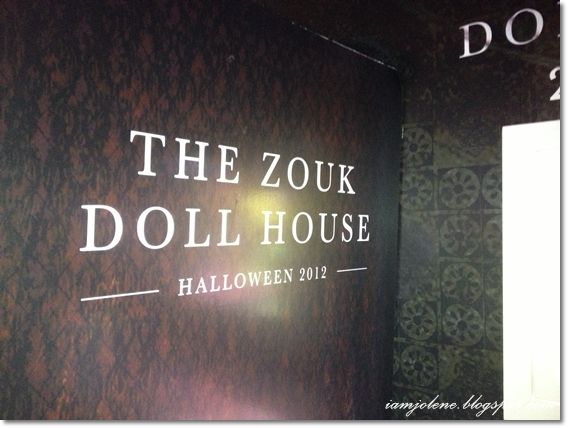 The theme was doll house. I hate scary dolls and I hate that my camera died on me after this shot! All shots after this was taken with my iPhone. Actually some shots of the make up process were taken by Bei and Xtina's mobile phones. The photo quality looked quite good but I do not know what phones they use.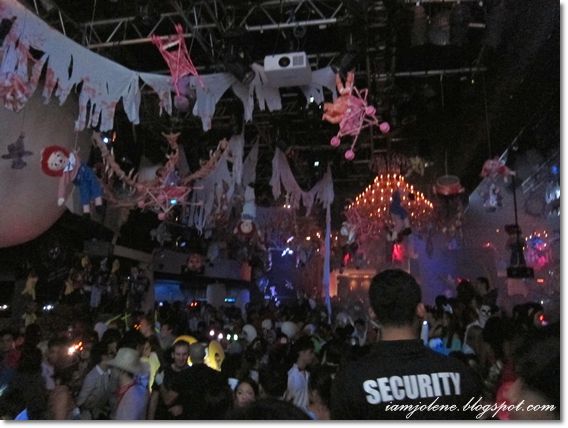 The bimbos minus Tiff. Sorry, I meant the girls with dragon tattoos. Hey, where were our dragons?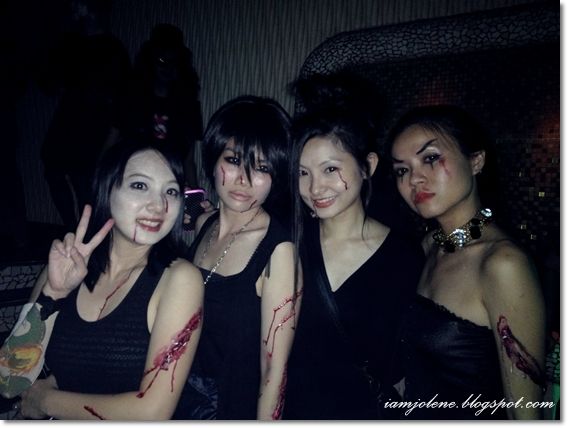 Gera looked every bit the fierce dragon girl.
Zanne looked like a vampire with her red eyes.
Xtina had maggots on the wound (courtesy of her lovely hubby's work).
Jo was just plain emo kia.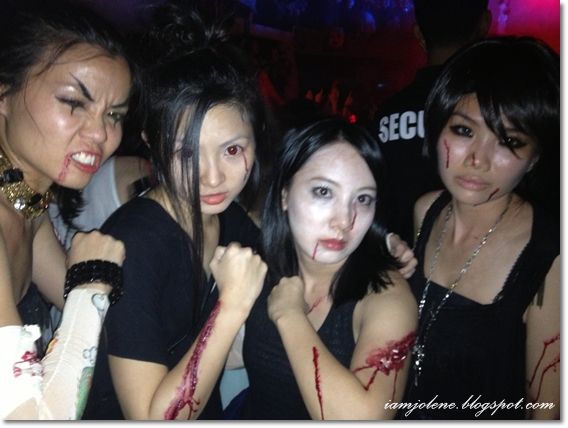 We helped Clement yank the alien out from his body and he died an unfortunate death.
There were creepy broken dolls in those compartments.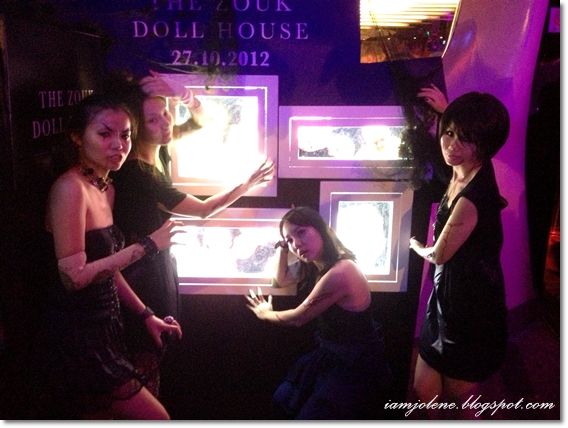 Gera was heartbroken that Clement died and decided to follow his soul out of Zouk. The music was really bad at Zouk that night; we could barely groove to the beat. We bade the lost souls goodbye and continued our party at Wine Bar. Zep a freelance photographer was our unofficial photographer that night and he "scoffed" at my iPhone but I must say that for iPhone, the photos turned out not too badly. Could it be Zep's skills as well?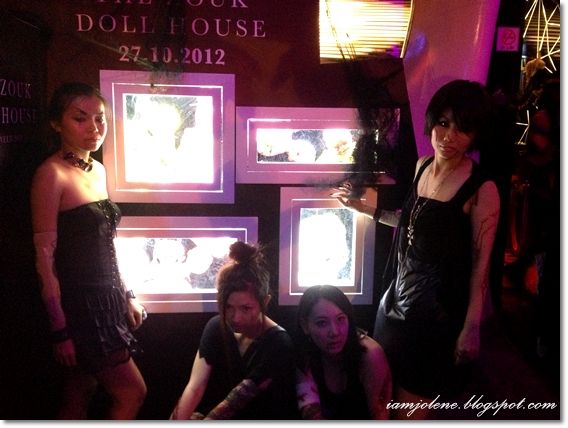 Garang Xtina and Emojo... Emo Jo.
"Please smile for the camera."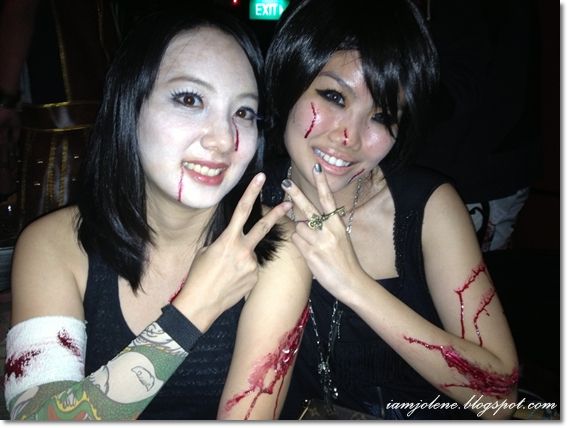 Emo Kia and Zanne the Vamp... actually I do not know what her fake id was that day but she looked just like a vampire. Gotta love her red contacts!
Don't forget our dragon tattoos!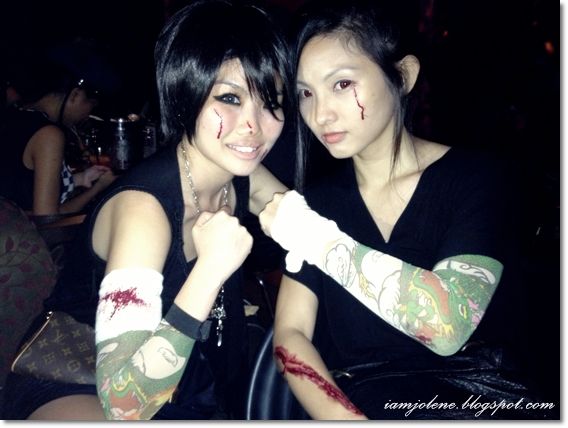 While Emojo was outside of the club emo-ing alone, a mother and daughter pair kept eyeing me. The area outside Zouk was an inappropriate area to have a decent mother and daughter pair milling around. I thought I was in their way so I often moved aside but they were always a few steps away. Finally, the mother took out her iPad and asked if her daughter could have a picture taken with me. There were so many people in costume outside so I did not quite understand why the little girl wanted a picture with me. She probably liked my wounds. After snapping on her iPad, I passed my phone to the lady to snap a picture for my own collection as well.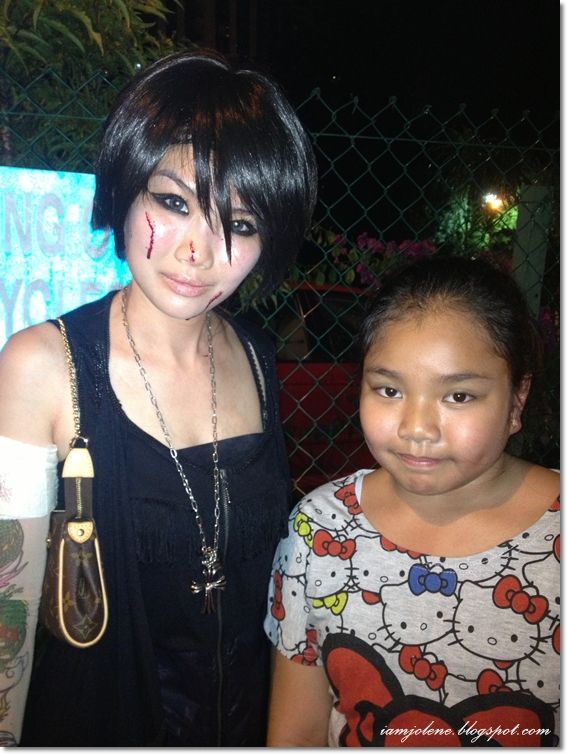 I guess my condition and mood was so affected that I did not quite enjoy this year's halloween. The rest of them also decided to call it a day as the music really sucked. There we were outside Zouk before we headed back.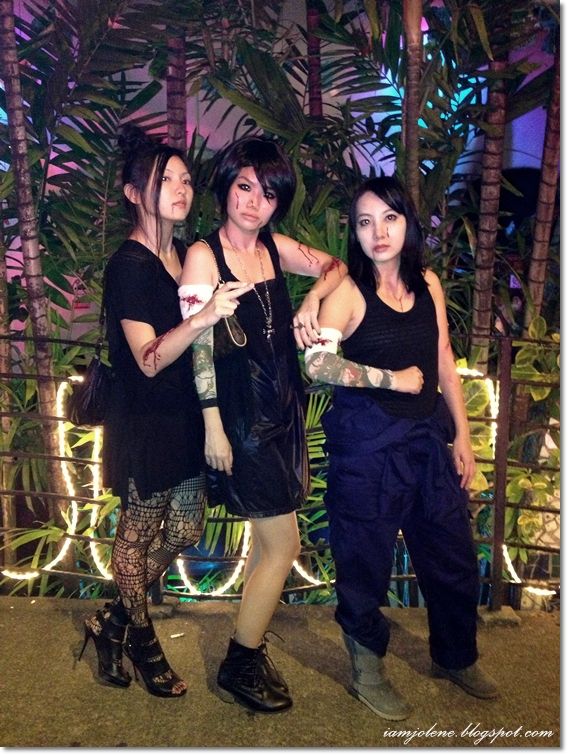 Away from the Zouk crowd and outside Grand Copthorne Waterfront Hotel.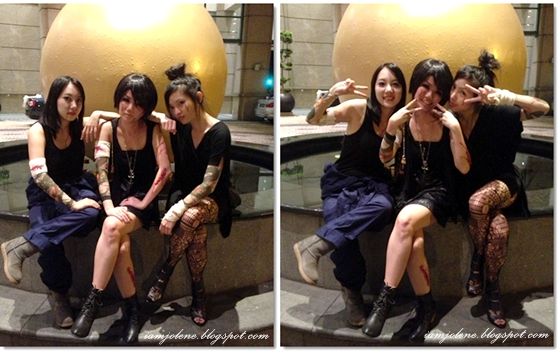 How could we forget our lovely Zep photographer for the night? I was just wondering, do photographers usually dread being in front of the camera?
Joke for the night on repeat just to annoy Zep:
Zep, did you like put on 10kg since we last saw you?
Full length shot of Zanne and her eyeballing-on-the-bus stockings.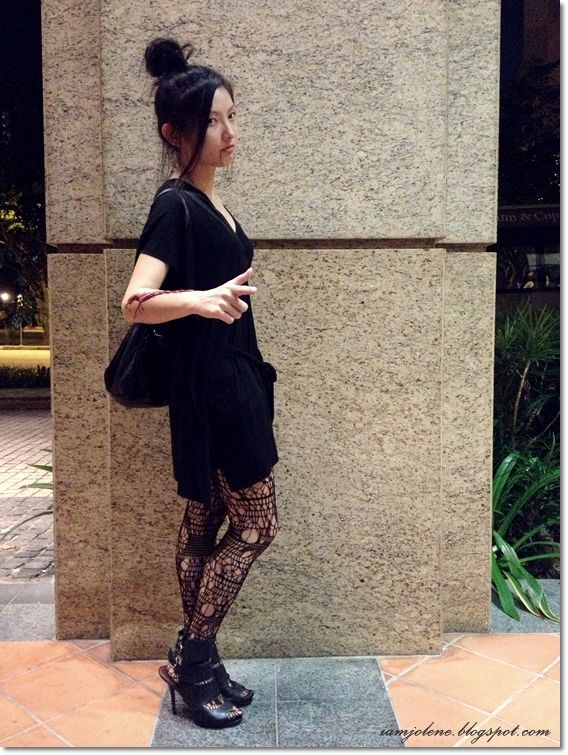 Xtina and her very garang contractor jumpsuit tied at the waist.
I could do an outfit shot with this photo:
♥
Max Mara black fringed dress
♥
Black boots from Bangkok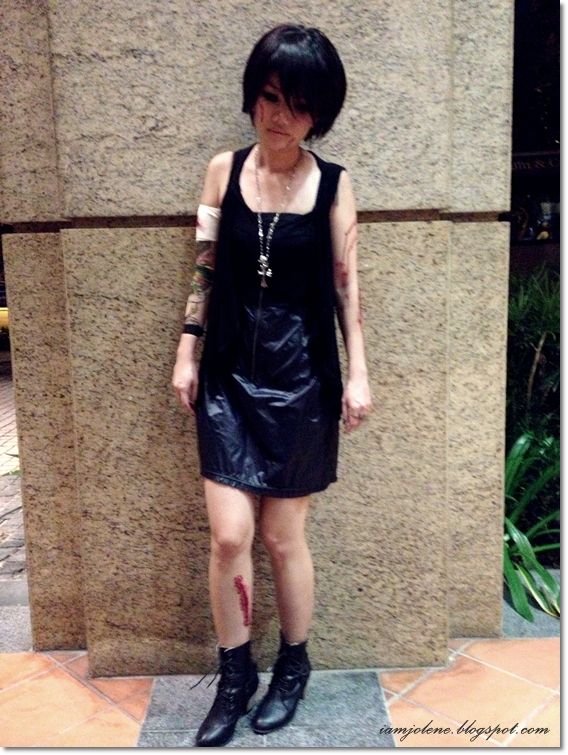 We had to go back to Xtina's house to get my stuff and at her void deck, we came across a sweet and gentle little kitty. The flashed version of the kitty's eyes reminded me of the eyes of the people in Bonnie Tyler's
Total Eclipse of the Heart MV
.
Cam-whoring shots before I removed my wig... Hey it is not every day that I have short hair so just lemme cam whore.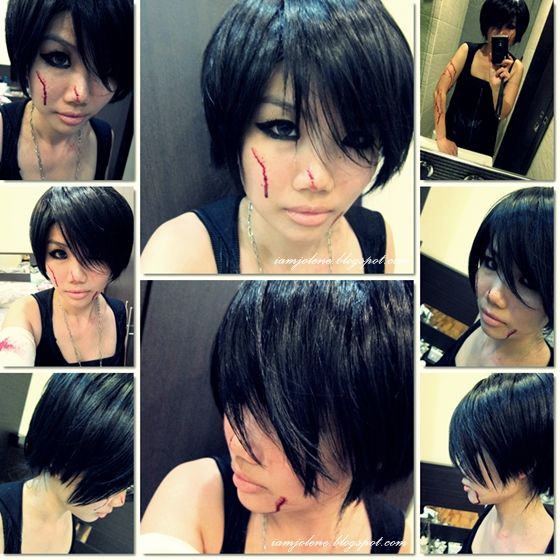 The emojo phase reigns on... way after Halloween.