Back to updating backdated entries yet again.
~~~
In the month of May last year, evan and I took our last train ride on the KTM from the Tanjong Pagar railway station before this nostalgic piece of Singapore gets gazetted as a national monument.
I've written a little about Singapore's railway history in
this post
back when we were exploring the stations and parts of the railway tracks when the trains were still in service.
This post features our last train ride on the KTM from Singapore where we made a half-day trip to Malaysia, Johor Bahru.
Even though nostalgia has to be seen and experienced and not read about, I hope my words add more colour to these pictures.
~~~
I awoke to a beautiful sunlit sky with fluffy pink cotton candy clouds,
accompanied by my brother-in-law's notti cat who saw me to the gate like a loyal servant, only to sit down and lick itself without looking at me once when I stopped walking.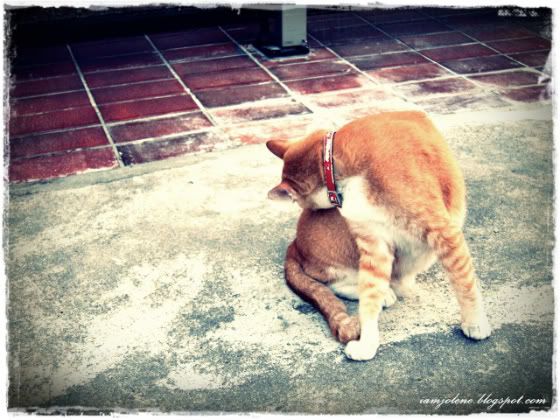 Finally evan and I reached the Tanjong Pagar Railway station and bought our tickets.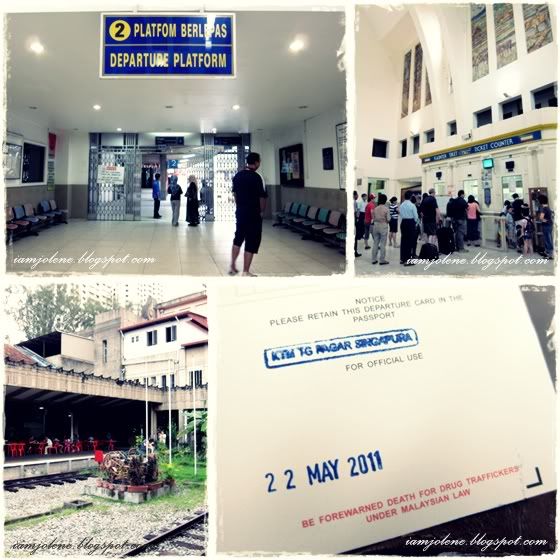 The station was really crowded as everyone was scrambling to take their last train ride for the next few weekends till the station officially closed.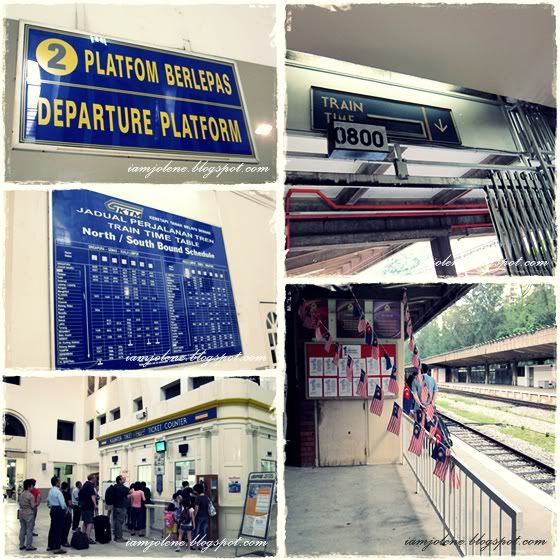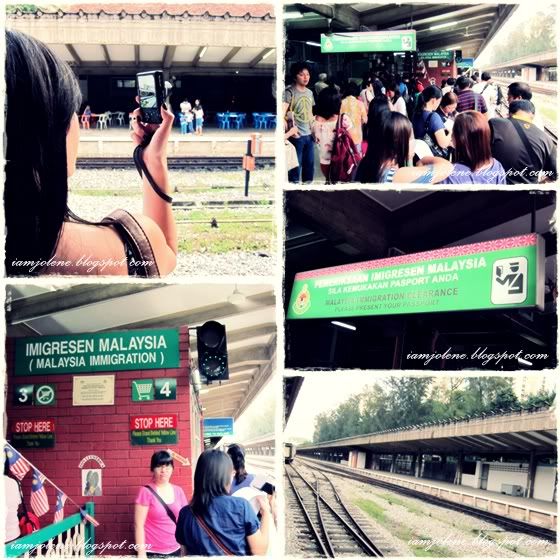 We decided to dress up to the theme of retro in order to imbibe the "blast from the past" nostalgia.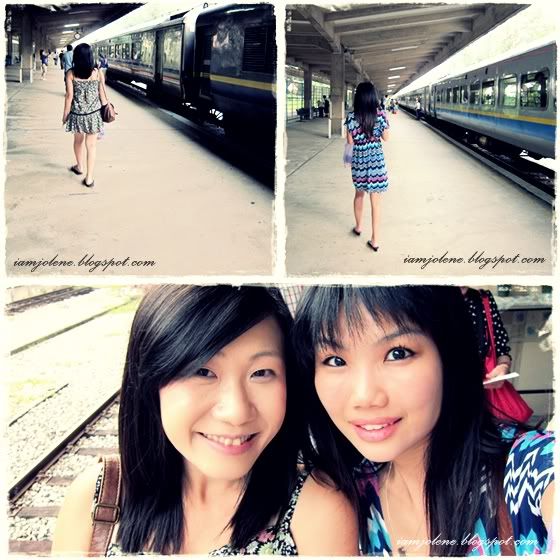 To curb our hunger, we bought ourselves curry puffs to munch on the train.
Taking in all the sights in and outside the train, I had wanted to snap a picture of my old school but it went by in a flash before I could say snap.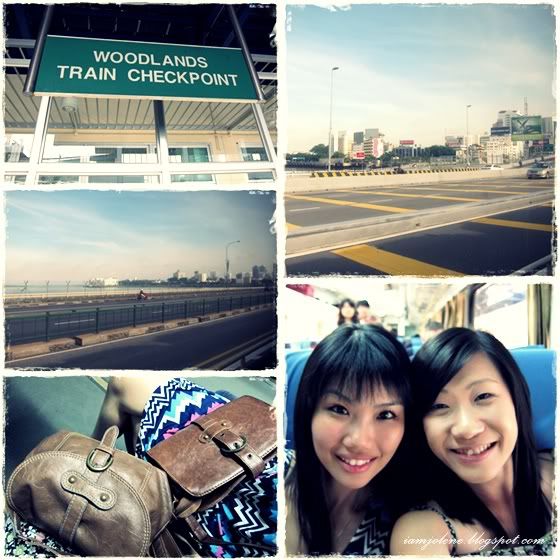 We finally reached JB and since most of the shops were closed, we headed to Old Town for some caffeine fix.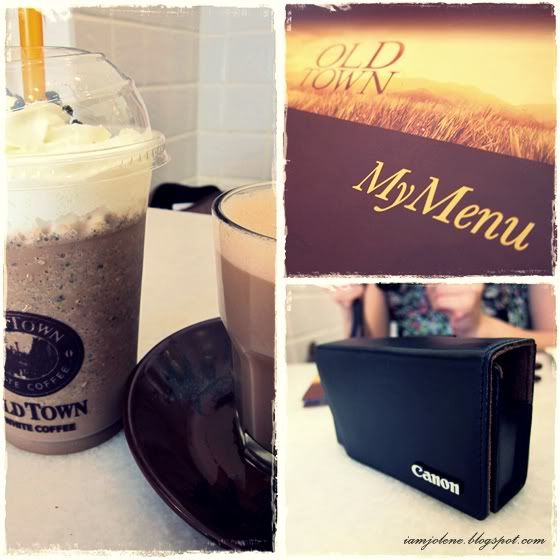 We walked and shopped around when the shops started to open. We wandered around till it was time for lunch and decided to have ramen at this place.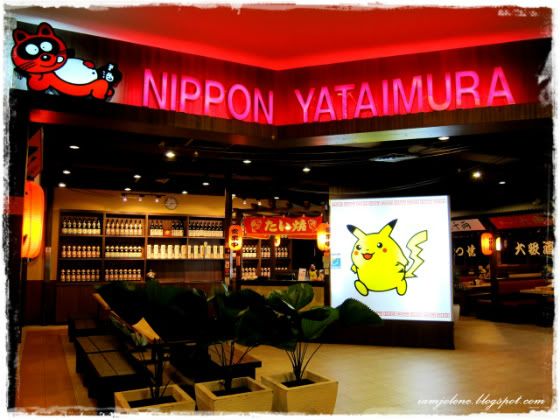 It was a huge mistake as the ramen was bland and tasted like instant noodles. No in fact, I love instant noodles way better than this. The toufu was fine.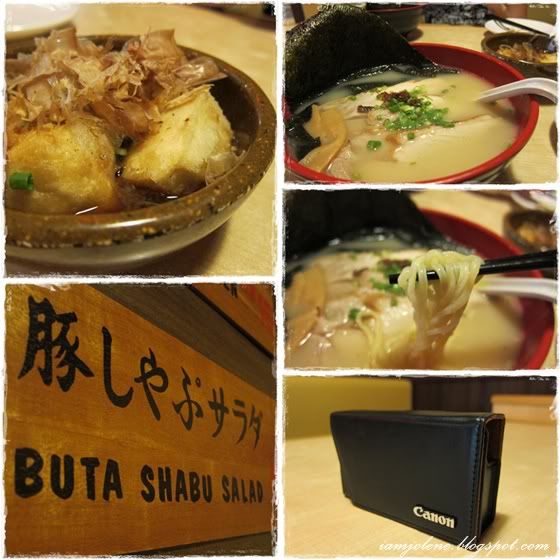 Evan got an S95 after seeing how good mine was so there we were toying with our pretty new s95 back then.
After that, we shopped again. We initially planned to walk about till we could catch the evening train back to Singapore. However, the mall was a pretty boring place and so we took a bus home in the afternoon.
evan had never been to this side of Singapore and got so excited snapping the scenes at Marsiling MRT station. She was also thrilled taking the LRT from Choa Chu Kang and was amazed at the automatic blurring of windows as the LRT passed by the HDB flats.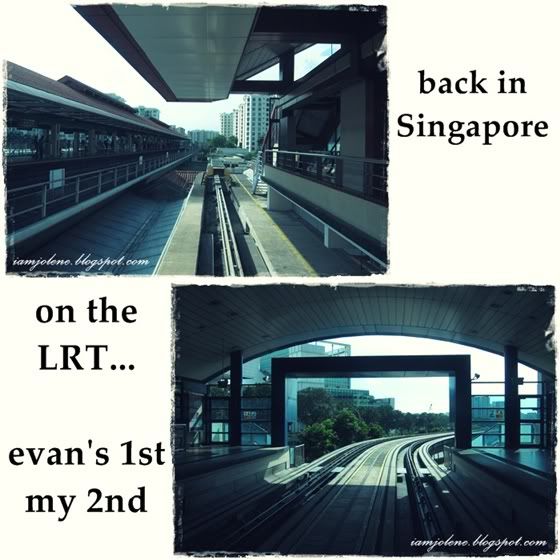 We decided to check out the last level crossing and also talk to the attendant there.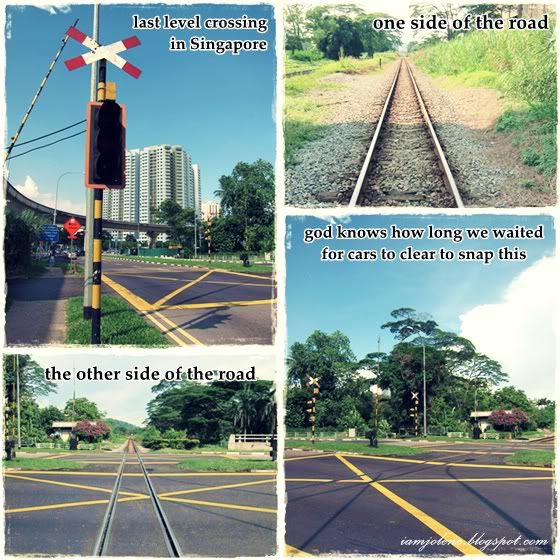 Alas the person in the hut at the level crossing was engaged in a conversation with a photo enthusiast. We stood by a little while to listen and join in the conversation when appropriate.
We were told by the photo enthusiast who translated a part of their conversation in Malay to us that it was best not to post any pictures of the hut till the trains discontinued service as he did not want any trouble with any authorities.
In my mind I thought: "That's great. My blog posts are always backdated anyway."
After some exchanges with the friendly attendant and photo enthusiast, we decided to head to Bukit Timah Station to watch the handing over of key token.
Many people thronged the quaint little station, awaiting the crucial moment of handing the key.
The huge key was put into the pouch to be handed over to the train master while the train passed.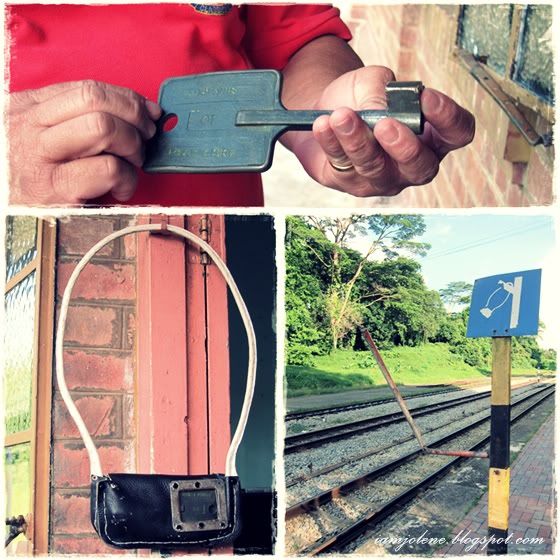 I positioned myself for a few minutes at a great spot to snap the passing of key and smirked to myself for having found such a good spot. However as soon as the train roared and rumbled past the station, the girl you see on the right side of every picture below, stepped to her left in limbo, blocked my view and I missed capturing the crucial shot where the train driver whipped the key off the station master's hand. I looked at her DLSR and surrendered.
Girl in grey and red, if you happen to be reading this, I would appreciate if you could send me some pictures from your DLSR. =P
The photo of the fiery sunset below has not been edited. It was the camera angle. It was actually a lot brighter when we made our way for some gratifying local mee pok noodles.
After that we caught a double-decker bus back to an MRT station. It was the first time I took a double decker bus in years.
It was quite an experience and evan and I were only glad to have caught our very last train ride on the KTM as adults. Let's just hope that with this heritage gone, the future generation would still know what trains are instead of terming our MRT as trains.