Some blabbers and sleepy state talk
I've been meaning to get this post up since I got home but I was settling so many impromptu stuff with my in laws that I've only managed to just settle down to blog with my eyelids half opened.
My domestic helper is flying back to her hometown tomorrow, no actually in a few hour's time but heck my "tomorrow" only starts when I wake up. I dunno if any of you even know what I'm blabbering about.
I've really grown quite fond of my domestic helper. She's really quite cute and I started to talk to her a lot recently. She's also very honest and I could safely let her clean my room and NOTHING would be stolen, quite unlike the many previous domestic helpers whom my in laws employed over the years.
So I'm sending her to the airport tomorrow as both my in laws could not make it and that would mark the start of my 1st errand to run for tomorrow. I've got 4 errands and meet ups in total tomorrow that would take me from morning till night. Have I already mentioned that the time now is SGT5.52am?
November has been a month of randomness and a whole lot of excitement which started right up from Halloween at the end of October to the wedding of 2 very good friends and being their bridesmaids, to the random last minute fun in Phuket with the bff and to all other randomness in life. I'm actually exhausted by all these random fun in life and how I CRAVE for a mundane life now! Like really C.R.A.V.E. and M.U.N.D.A.N.E in capz.
Our new look
It was such a fun filled day today with cyn mommy and godson jase and there's simply too much to write about the entire outing. I will do the entire post another day. I entrusted my camera to Jase who took loads and loads of artistic shots and inane videos so you can expect a post chock-full of photos that do not make sense.
Meanwhile, here are some before and after pictures of cyn mommy and me as requested.
Before... black hair was becoming boring and fringe too was untidy.
Before... Actually cyn already looked kinda pretty even with inches of natural regrowth hair at the scalp.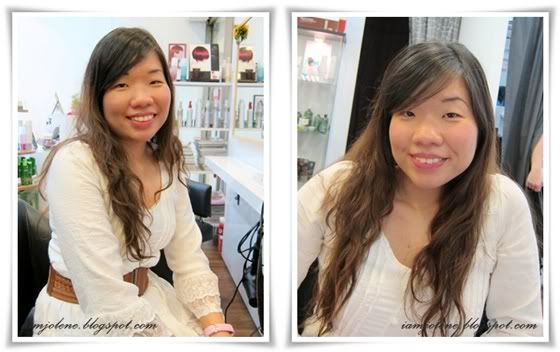 I only dyed and cut my bangs... Not much of a great transformation much to the chagrin/ relief [Circle correct answer] of many.
After...
This colour I chose would fade to an ash tone after 2 weeks. It was evident on the stylist's hair and I opted for it coz of the after-fade colour effect. Let's hope it works the same for my hair!
I love how the stylist managed to cut the bangs and wispy sides which I want! I absolutely love it that I kept tying up my hair. Jase loves it too! He was actually quite horrified initially after the hair wash.

He shook his head and said gravely, "Godma Jolene, you look too Americany!"

Yeah, new vocab from him!

Then after my hair was blown straight, he squealed, "Look like straight hair Japanese girl! I like."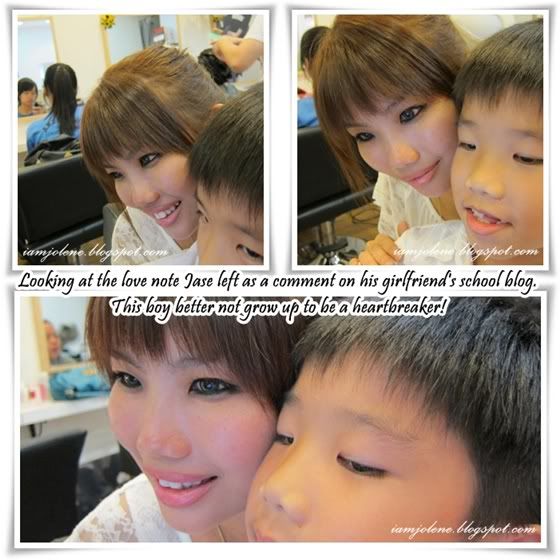 This boy seriously better not become a smooth talker and heartbreaker next time.
After... Pretty mommy and godma with our new hair! Mommy also cut bangs coz her hair was flattening out.