Last updated on 10th February
The first reason for the jolly season…
Christmas came early this year when I gave myself a long wallet. Yipee!
It took me 2 months to decide to splurge on/ "invest" in a branded one.
I fell in love with this classic prada one ever since I felt the soft velvety lambskin in my hands.
When I saw it in my dream, I knew it was a sign.
Only that in my dream, it was the brown one and it felt as buttery as foie gras.
It sometimes amazes me how my 5 senses are so sharp in dreams.
The almost-a-decade-old wallet has since been tucked away neatly in my drawer. I can't bear to throw it away even though it had been an embarrassment to me for quite some time.
What embarrassment you ask?
Whenever I took out a broken wallet, people around me would go "tsk" and begged me to change a new one.
Whenever I met up with long lost friends, they would exclaim in surprise that I was still using the same old wallet.
Whenever I paid for my purchases, the cashiers would never fail to eye my wallet and at me then at my wallet again, giving a condescending look.
Hence, I told kh I was gonna get the prada one and did the math for him telling him about the investment per year.
"But but… If you buy a $30 wallet and divide by the years, you'll save even more!"
he quipped.
That silly tailtail does not believe in spending on luxury goods whereas he would not even bat an eyelid to splurge on food and entertainment.
Now you see why all the labels I own are paid for by myself?
The second reason for the jolly season…
Pretty Christmas nails!
Gera did it for me. They're fake tips. I told her I love the purple and black combi with ribbons and blings and she came up with this design.
I do think they're really pretty but I felt handicapped with them.
I felt like I had claws instead of nails and I can't even do daily things like buttoning my clothes, washing myself and pushing the flush button.
When I tried to pick up my vitamin C on the table, I made so much clickety cluck noises that my dad asked what the problem with my fingers was.
My mum and kh called them "monster claws" and my students thought they were disgusting. However, the bulk of people who met me gave their compliments.
Pretty pretty… but I don't think I'll ever do it again. It isn't very practical.
~*~*~*~*~*~*~*~*~*~*~*~*~*~*~
Christmas party at work
On the 23rd, we were to report to work sporting retro get up. Most of the ladies looked so "agogo" with huge hair bands and psychedelic print dresses while the guys simply looked casual with shirts untucked.
It was work as per normal, monthly co meeting and then dinner in the evening.
I threw on a green dress which I've worn only once during cny 2 years back, placed an obiang yellow hair band over my head, wore yellow plastic hoop earrings to match and cursed that I didn't have a gaudy yellow bauble bead necklace.
I felt transported to the 60s and was glad that I could dress to the theme without much effort.
However, I knew I overdid the retro do when I took a cab and the uncle asked:
"你去 party huh?"
Dinner was held at a club nearby. The dark wooden railings and floor boards coupled with the rocky surroundings of the pool certainly gave a pseudo resort feel. We spent the next few seconds deceiving ourselves that we were away from Singapore. My colleagues and I pretended to be in BALI as we walked across the wooden corridor… haha…
While waiting for dinner to start, a bunch of bored curriculum dept colleagues decided to go take some pictures of the "resort". We begged the person at the turnstile of the pool entrance to let us in for 10 minutes for photo-taking.
Time to head back indoors…
The food wasn't too good. The soup was bland and so was the spaghetti sauce. The mussel tasted odd, the prawn was blah and the pie tasted bitter and sourish.
In short, the food sux.
The turkey was fine tho.
After dinner, we had some scavenger hunt game.
Bitchy colleague frantically trying to draw polka dots cos we did not have any item with polka dots.
Next was the Limbo Rock game.
Our group emerged winner. Bitchy colleague was indeed a smooth operator when it comes to going under the rod at waist level.
Next, the lame drinking game commenced.
Our group did very well in this. We were so proud of our female colleague representative who is almost 40 years of age and could drink as much and as fast as the guys.
The next game was even lamer than the drinking game that I refused to take any photos. It was a stripping game for the males.
We ended off the night with a mambo dance to the tune of Mercy by Duffy.
The 4 groups combined
The northerners went home via mrt and had a whale of a time chatting to and making fun of the high bitchy colleague.
~*~*~*~*~*~*~*~*~*~*~*~*~*~*~
Christmas Party
Christmas day was spent at byng and wl's house.
It was a potluck lunch, tea and dinner affair.
Kh and I brought otah and curry puffs. Funny jeff brought shriveled hotdogs and that became the joke of that afternoon.
The hosts also prepared some other dishes and I love their beer vodka fruit cocktail very much. A refreshing drink!
Playing wii sports.
I really sucked at wii sports but it was fun.
I love the Win, Lose or Draw segment. It was really fun and we laughed our hearts out at all the funny drawings and guesses.
Our team was winning initially. Then along came "Barney" and spoilt the day.
Who on earth can draw Barney during Win, Lose or Draw, you tell me?
Byng really did her best at drawing a "Barney" tho. Kudos to her.
The winning team
Thanx to wl for coming up with the words. wl had a thick stack of cards and we managed to finish drawing everything. We were even hoping for more.
Actually the presents you see above weren't the prizes for the winning team. wl tricked them and after taking photos, he whipped out more presents for the losing team and said they were actually meant as door gifts to be given when we arrived but it slipped their minds.
How thoughtful of the couple!
The losing team's forfeit was to finish up the curry puffs coz kh and I bought too much.
Everybody was blaming us (actually only kh.. haha..) for buying too many.
I really could not shove any more food into my mouth so I passed my half eaten curry puff to him. Then when it was time to exchange gift, everyone was ready except kh who was still eating.
I happily asked:
Kh answered so pathetically and everyone laughed coz I've forgotten that I've given my curry puff to him.
Flor took a pic of us and the curry puff.
wl tried to snatch the curry puff's main focus.
Time for gift exchange.
It was a unique gift exchange idea coz we had to go through 3 rounds of exchanging before the gift in our hands was considered ours. Suspense, anticipation and laughter filled the air.
Us with our final presents
Kh almost snagged the mini mahjong set but was taken away during the 3rd round. He was really very twee.
I got a webcam.
What's xmas without a shot with everyone and the xmas tree?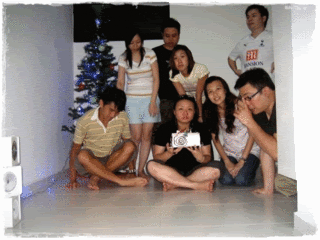 Sweetness to end it all
The hua chi
Late in the night, some of us played wii again while the rest played mahjong.
It was a lovely Christmas.
Thank you to byng and wl for being such great hosts!
Random
Mum's present
My sisters have been using a lot of my leftover scrap paper to make envelops during the festive season.
I did not have much paper left to make a proper envelop for mum. The silver paper strips were scrap remains from my last cardmaking. My da jie managed to make use of these curly wurly strips of paper to "wrap" mum's present from us and she wanted me to take a photo of it.
Dirty joke on my bubble tea cover some time back.
Kh absolutely can't stand his bro's cat sleeping on his shoes. However, I think she's cute.
New year's eve to be continued...