Photo blogging probably.. juz gotta wait for cousins to send me the pics coz my cam's batt diedED on me halfway. Silly me didn't charge it for a long time.
A drawing to make up for the absence of photos. I know the colour sux, the glass is not proportionate.. I'm no artist and I'm making use of whatever I have on my table to do it.

Now for some photos from my camera.
This is the nicest photo I have of the bride and the 2 cute little angels. Gotta wait for the ones in cousins' cameras.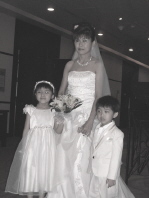 Me and Junie jie jie


Everyone in the entire family think I look like my cousin who is 7 years older than me. My sisters think we look like photocopies of each other. Even my aunts could address us wrongly at times. The groom's side relatives also thought we looked alike. I don't think we look that similar… probably more of resemblance la. As what she says… she sees herself in me and she feels that I'm just like a younger sister whom she never had.
Allan and me

This is one cousin who was soooooooooooooooo naughty when he was young that I quite avoided him… but he would always come and fan2 me so I had no choice but to play with him. Haha now at 22 (we are still 22 coz our birthdays haven't passed), he's so much less irritating. In fact I think I'm the irritating one now. I dunno if you read my blog but can you please send me the photos from yours and your bro's cam soon??? Thanx!!