I'm seriously considering selling away my current Fujifilm F450.
Not because I have an aversion to Joanne Peh or because it is bad, but simply because I cant get the pink FX7 outta my mind.
Just look at how chio it is. Both cam and Ayumi of course.


They have red ones in Japan which is also quite chio

It has been my dream digital camera ever since it surfaced in Japan... chio colours, big screen and all... that was until I saw its price… $900++!!!
The price was too steep. At that time, I was more sensible than I was now and decided not to "invest" so much in a camera.
Moreover, I think God has also decided that I should not get my pink FX7 as the pink ones were all sold out during the SITEX exhibition. It was a gentle warning not to spend so much on irrational wants. Thus leaving me with 2 more choices… Canon Ixus 30/ 40 and Fujifilm F450.
Fujifilm F450 I chose. If you have
read my entry last November
, you would know that it looks better, has more functions, additional goodies were thrown in on top of the usual ones, and most importantly the manager won me over with sincerity… unlike the stinking canon people.
So anyone wanna buy my cam? It looks like this.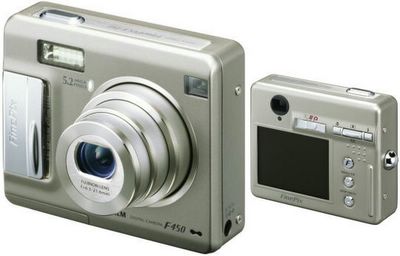 You should get it if you are an absolute diehard fan of Joanne Peh.
And now, I'm gonna beautify my blog with more chio pictures of Lumix FX7