As I have mentioned on
this post
a few days back, my two very courageous sisters shaved their head for charity over the weekend. The donation drive would be till the end of September so you could donate to the Children's Cancer Foundation through my sisters till then.
With their permission, I would share their pictures here on my blog for those who are not on my Facebook.
My eldest sis,
Jasmine
and her
Hair for Hope shavee page
.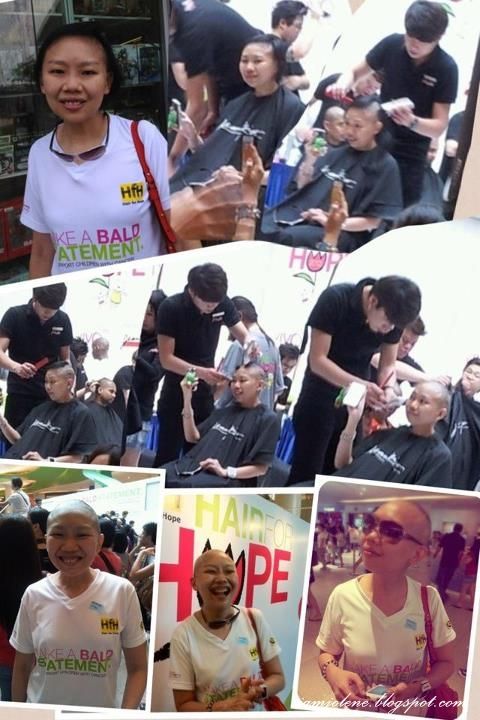 My second sis,
Joanne
and her
Hair for Hope shavee page
.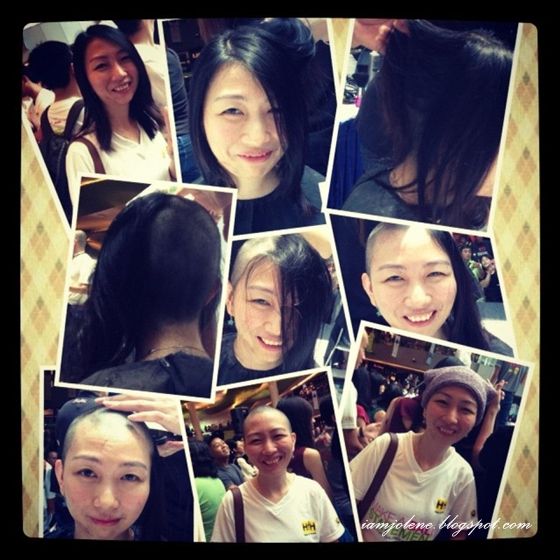 As I'm married, I don't stay with my family but when I went back home 2 days ago, I saw my 2nd sister and touched her head. Lol... She has an egg head. I haven't seen my eldest sister though. I wanna touch her head too.
For my Singaporean readers, some of us are confused about whether the shaven locks in the HFH event would be donated to charity for wig-making. I have the misconception that the hair isn't donated after supporting my good friend 2 years ago and seeing the hair on the floor being swept away at the event.
For those of you who share the same sentiments as me that the hair should be recycled, you might want to know that you could tell the people there that you intend to donate your hair and they would cut and shave it in another way (probably tie your hair in a neat bundle such that it doesn't tangle) and also provide a bag for you. Additionally, you may want to head over to
Jason's blog
for more information on how to donate your hair in Singapore. (Thank you Jason for the information on my comment page on the previous post!)
I'm not sure if I would ever have the guts to go
botak
. I could do other things for charity like donating, volunteering, cutting my hair short and donating the locks etc but I would really need some time to consider shaving my head. Hence, I'm always in awe for ladies who shave their heads for a good cause. On the other hand, I often see beautiful botaks in the form of ladies with very sharp features looking so gorgeous that the bimbotic side of me feel that if my features are sharp and beautiful enough, I would not hesitate to go botak at all. Yeah, excuses eh?
~~~
If you haven't already known, I'm hosting a giveaway. There would be 3 sets of prizes to be given out. Scroll down or click
here
to participate in my giveaway.