Updated as of: 1 October 2012
GIVEAWAY IS CLOSED!
Thank you for your participation.
~~~
Extension of Giveaway till 30th September
As mentioned in
this post
, I have decided to extend the deadline for this giveaway as I'm really too tied up with many issues on hand. I hope all of you existing participants would understand.
~~~
I would like to thank all my dearest readers (old and new alike) and followers for taking the time to linger around this little virtual nook of mine and leaving me some heartfelt comments every now and then.
I feel like I have made the right choice in opening up myself on the internet realm and enjoying the warmth in the blogging world. It is great to connect with people from all over the world and I'm glad to have forged so many firm friendships with you readers.
As mentioned before, I would be hosting my
100 Followers Giveaway
. This giveaway is open INTERNATIONALLY to bloggers and non-bloggers alike!
I have
3 different sets of gifts
for you to choose from --CUTE, CHARMING and CLASSY-- and hence there would be a total of
THREE different winners
. I apologise to my male readers as the gifts are catered to the fairer sex. Nonetheless, you are still welcome to take part if you want to win them for your significant other, your favourite sister or that cute girl who sits across your desk.
~* Gift Set 1: CUTE *~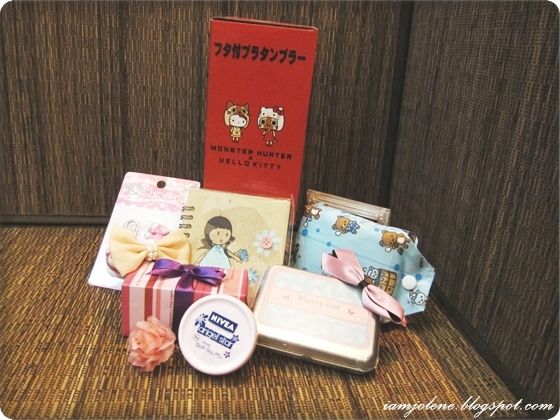 1. Monster Hunter and Hello Kitty Thermal Mug
Who could resist the cuteness of the cat with no mouth? This is such a cute tumbler to drink from. There is also a slide closure to prevent spillage.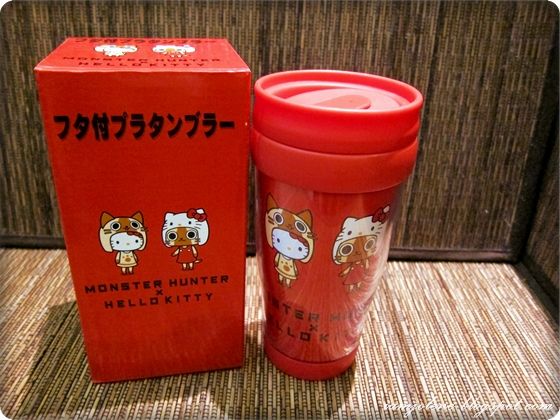 2. Rilakkuma (リラックマ) Compact Recycle Tote Bag
People who know me well enough would know how much I am into saving our Earth and conserving resources. I hope to motivate my readers to put environmental protection into action in your daily lives. Let's not take any more plastic bags from retailers to put our shopping purchases. Instead, slip this compact Rilakkuma tote bag into your bag and unfold it whenever you need to use an extra bag. Look cute and save the environment! It's a win-win situation.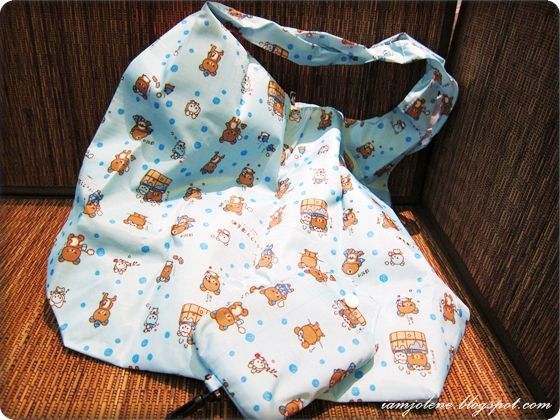 3. Girl Notebook (printed on recycled material)
Need I say more about saving the environment?
4. My Melody Lock and Key
Original from Sanrio, this My Melody lock and key is just too adorable to resist. I have to throw this into the Cute bundle even though I very much love to keep it for myself.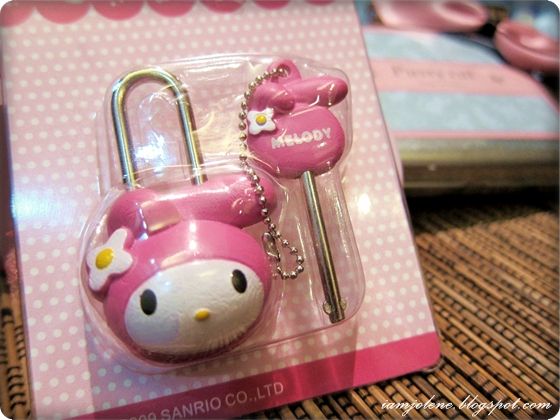 5. Nivea Angel Star Body Soft Souffle
Nivea Angel Star Body Soft Soufflé is described as having a light yoghurt cream texture and it smells deliciously of raspberries. Now, how cute is that?
6. Pussy Cat DIY Rubber Stamps
I have one of these for myself too coz I really love cats. I bought a few boxes and have since given them to my cat-lover friends. I hope whoever wins this is a cat lover too.
Check out how animated the silhouette of the cats could look upon stamping. Whenever I show the photos depicting the outcome of the stamping, most of the cat-lover bunch would go "Awwwwww... so cute..."
This is a DIY stamp kit and you have to paste the rubber parts to the foam blocks provided. Refer to the pictures which I've sieved out from the Internet.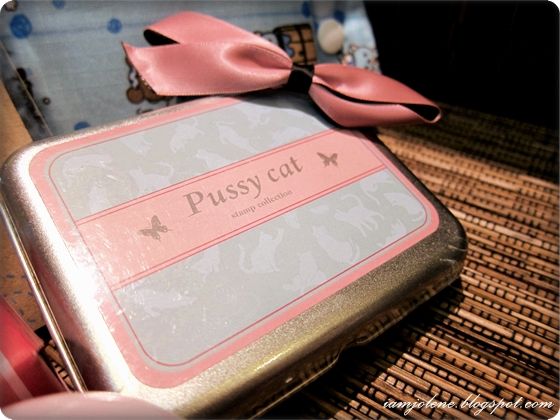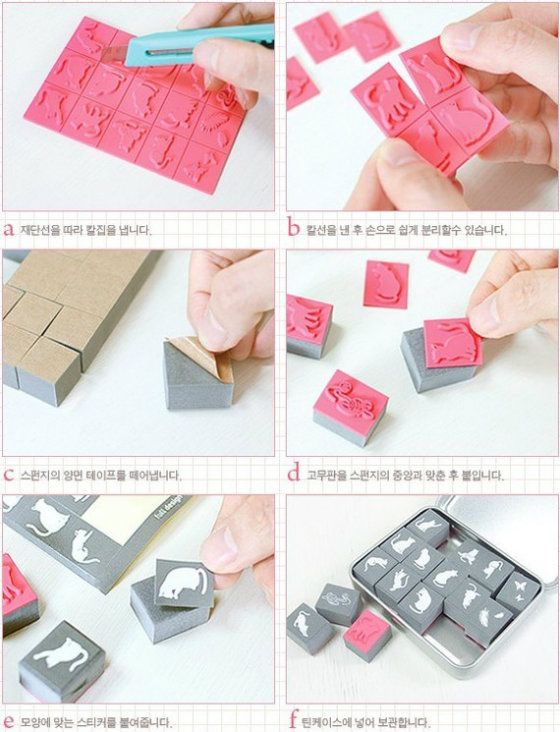 [Image taken from the internet]
[Image taken from the internet]
7. Rainbow e-Candle
This e-Candle works on battery and radiates rainbow colours. I did not snap an actual photograph of this e-Candle. From the main CUTE photograph of the gift bundle, you would see it as the little present wrapped with a purple ribbon. If you remember me gushing about the lovely wrapping from
this post
, I got this from Little Little Gifts as part of my presents haul for friends and I haven't unwrapped this. For more description of the e-Candle, click
here
.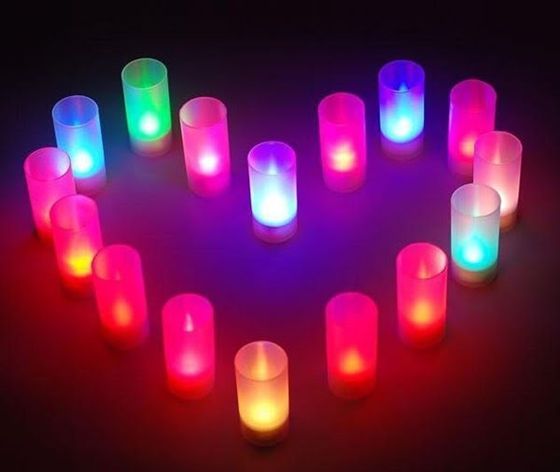 [Image taken from the internet]
8. Peach Pink Bow with Pearls Hair Clip
9. Satin Contrasting Two-Tone Hair Clip in Pink
10. Korean Pink Dawn Like A Rose Ring
This bundle of sweet pink themed hair clips and ring is from
fleurfaerie
.
Exude a sweet girlish charm with this
pink bow lined with pearls
in the middle alligator hair clip. Change your style with the French barrette clip is lovingly hand-made with a
contrasting two-tone rose pink and black
. Complete your dressing with the
Korean style oversized pink rose ring
made of fabric and gauze which exudes an ethereal feel. The ring would suit any finger as it is adjustable. I can imagine a really cute girlish look styled from these accessories.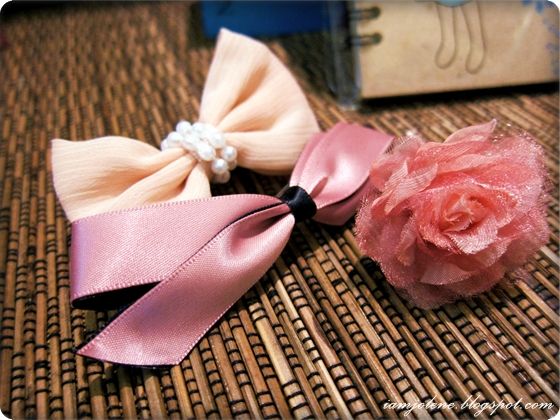 ~* Gift Set 2: CHARMING *~
1. The Puffy Pony
Jazz up your simple pony tail with this hair tool. Now, that's what I call a chic and charming hairdo.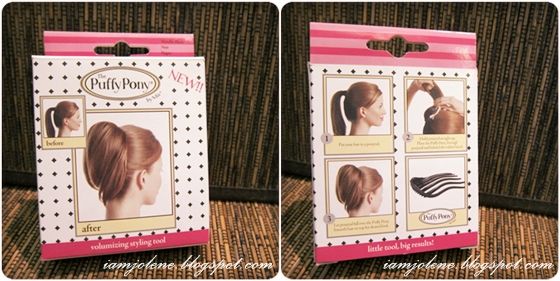 2. Liese Bubble Hair Dye in Ash Brown
I've used this colour before and I love the immediate effect of the colour on my hair. I also like how it is so easy to DIY dye my hair with this bubble hair dye. I bought another box as I wanted to share my favourite hair colour with my readers.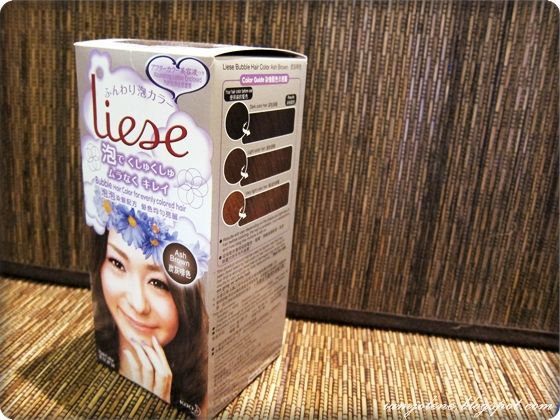 As seen from the picture collage below, the colour appears as a dark shade of brown (top right) but under the light, it is exactly the kind of brown which I like.
3. Love Always Magnetic Closure Organizer
A charming lady should never be disorganized. Organize your life with this Love Always organizer. I like how the dates aren't filled in for the calendar portion so that you could do so yourself. Don't you dread those organizers which are limited by the years and you can't really find a use for them once that year has past? Lined pages for note-taking are included.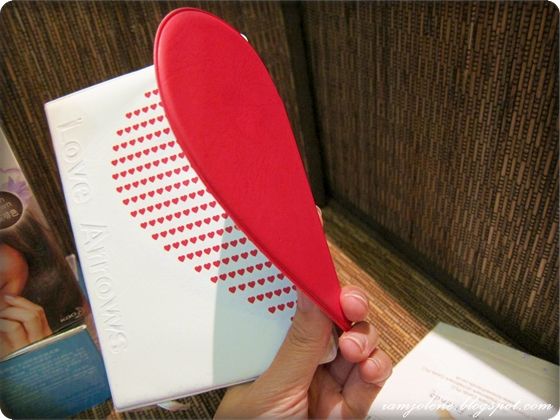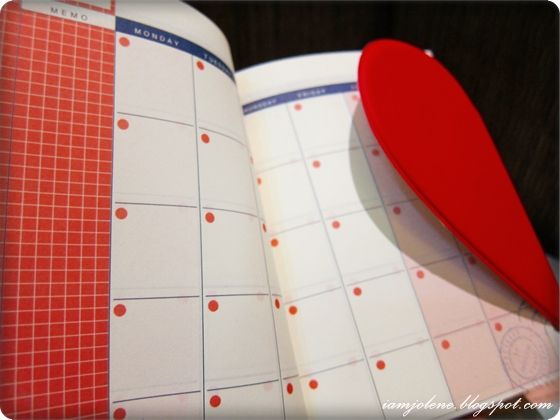 4. Xotic Fake Lashes
The glitters lining the lashes allows you to skip the step of applying eye shadow. What a charm!
5. Majolica Majorca Jeweling Eyes
Allow your eyes to sparkle like jewels with this palette. This series of colours look absolutely princessy. I love the colours and glitters a lot.
6. Fairy DIY Rubber Stamps
Don't these little fairies look absolutely divine? They remind me so much of Tinklebell. Like the Pussy Cat stamps, I also kept a set of Fairy stamps for myself. This is a DIY stamp kit and you have to paste the rubber parts to the foam blocks provided. Refer to the pictures which I've sieved out from the Internet.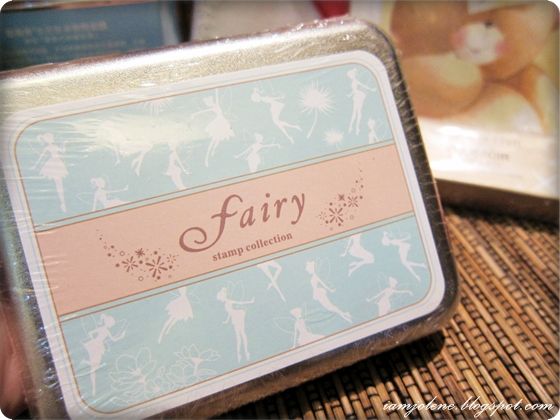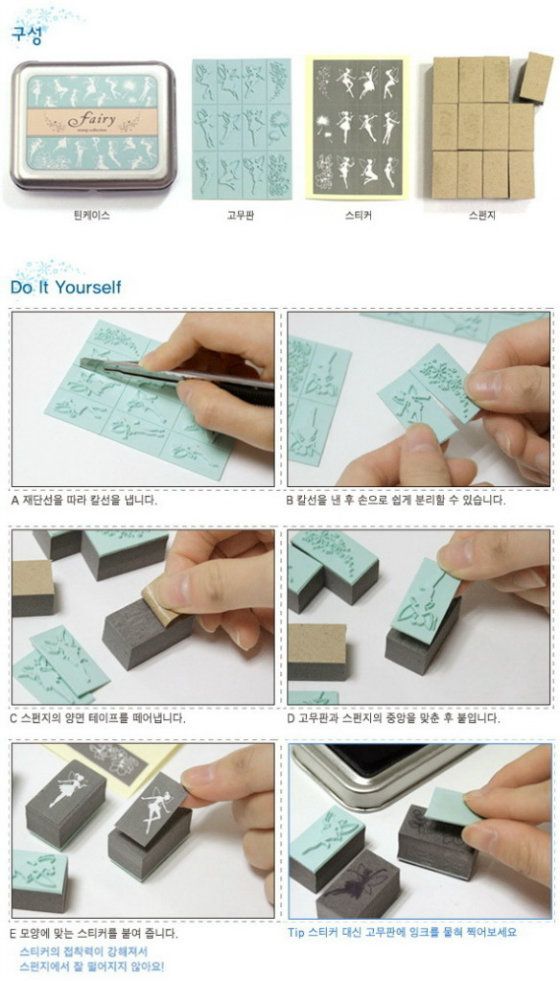 [Image taken from the internet]
[Image taken from the internet]
7. The Body Shop Nail Buffer
A charming lady never leaves the house with her nails undone. Even if your nails are bare from polish, buff them up for an instant sheen.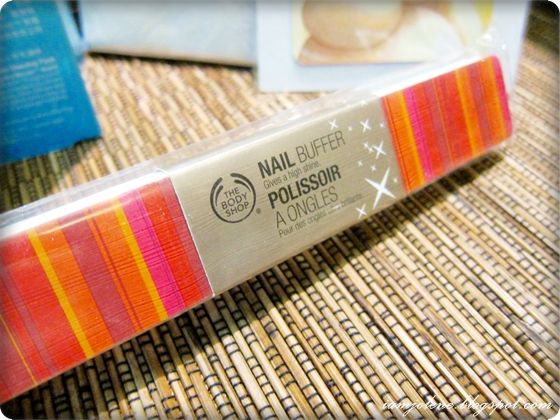 8. Forever Friends Magnet
A charming lady never forgets her friends. Give this to that gal pal of yours and thank her for being such a fabulous friend.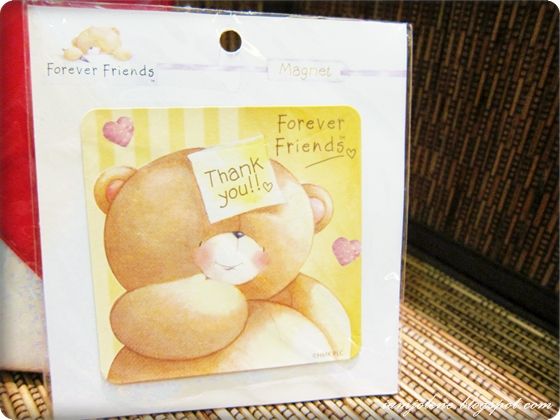 9. Korean Style Pearls and Ribbon Necklace
10. Pearl and Ribbon Hair Clip in Sweet Pink
What could be more feminine than pearls and ribbons? Bring out the sweet girlish charm in you with these pearl-themed
necklace
and
hair clip
. Once again, these charming items are brought to you by
fleurfaerie
.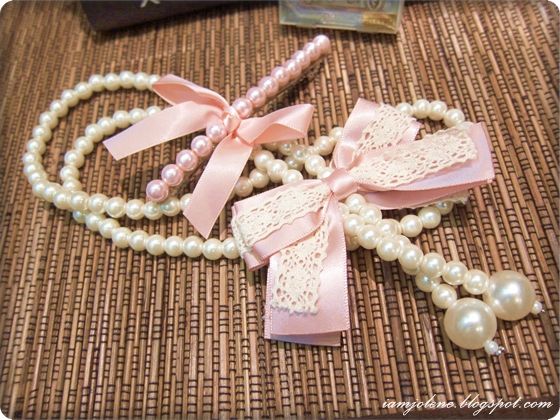 ~* Gift Set 3: CLASSY *~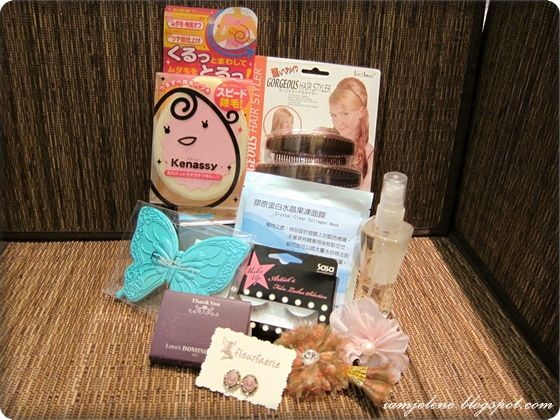 1. Kenassy Hair Removal Puff
Unsightly hair on arms and legs is definitely a no-no for classy ladies. Be classy with this hair removal puff. I have come across a few Japanese magazines featuring this egg shaped puff quite a few times and decided to include this in the classy gift set. Highly advertised by Japanese models for smoother skin and finer regrowth.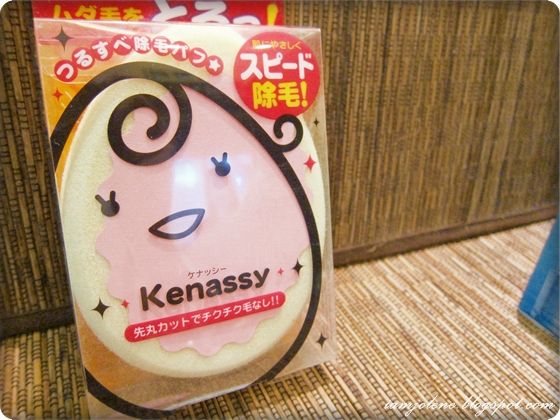 2. Gorgeous Hair Styler
This set of two self gripping leave-in volumizing hair inserts give you instant volume which creates a very classy look.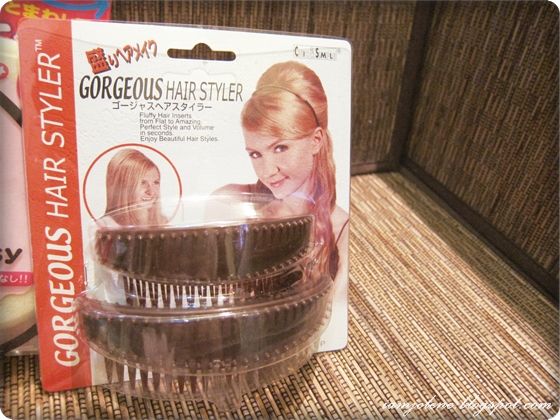 3. Franc Franc Butterfly Mirror
This mirror was given to me by my good friend. I love anything butterfly and Tiffany blue so it adds up to how much I love this mirror. However, I have two existing mirrors in my room and I figured I should not add another one. Now, I wonder who is the lucky one to win this mirror.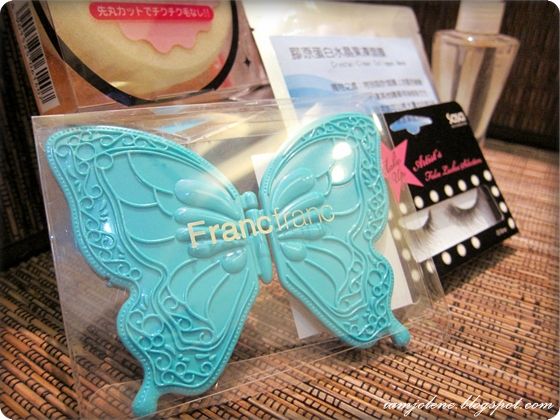 4. Crystal-Clear Collagen Mask
I purchase a set of Crystal-Clear collagen masks from my facial salon and I really love what it does to my skin. This giveaway is for one mask with an estimated price of SGD$20 per mask. It comes with a separate upper and lower portion such that you could align the mask to fit your face more snugly. Put on the mask and lie down for about 15-20 minutes. Take note that as this is a collagen mask and is a little heavy; lying down helps the goodness sink into your skin more effectively. You wouldn't want to be in an upright position and allowing gravity to work by pulling your skin down right? Also, do not leave mask on for longer than 20 minutes of reverse osmosis would take place. This isn't a wet mask and you needn't wash your face after using. Be awed by how smooth, bouncy and moisturized your skin feels with just one application.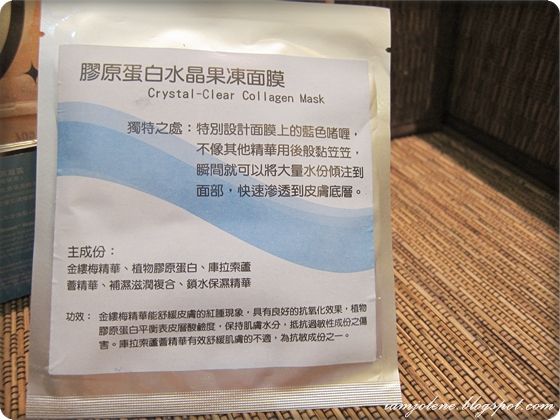 5. P.S I Love You Fragrance Mist
Don't you just love the handwriting font of this range of fragrance from Bath and Body Works? I know I do. This scent is described as musky rose with transition to sandalwood blend. I personally feel that the scent is a little masculine due to the musk and wood scent but musk and wood is always associated with classy right?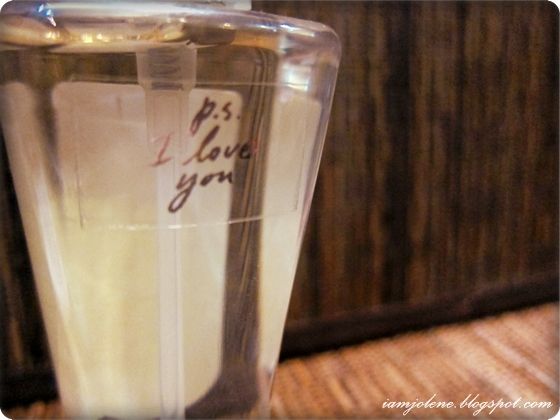 6. Sasa False Lashes
The effect of these lashes is a naturally lush look and nothing too dramatic. Definitely very classy and elegant.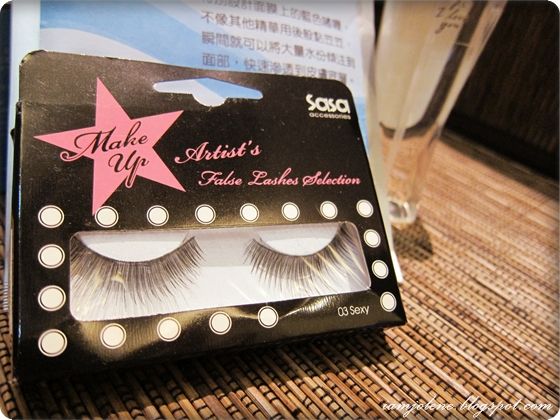 7. Love's Domino Effect Playing Cards
This was given as a wedding favour and I like the swirls motif against the elegant purple box. This is not a deck of poker cards and instructions are stated on the box. Instead of playing strip poker, exhibit a new level of class while playing dominoes.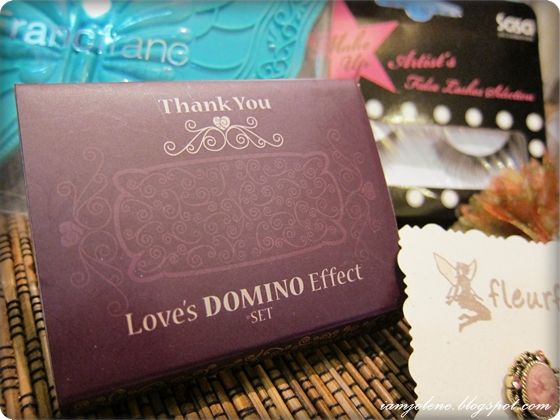 8. Vintage Pink Shell Cameo Earrings
9. Silk Chiffon Flower Hair Tie
10. Vintage Flower Hair Clip
Fleurfaerie presents a set of classy and vintage-like accessories.
The pair of
pink shell cameo earrings
set in vintage roped gold frame and pink gems hails from Korea.
The
elastic band hair tie
is made up of two flowers, one on each side. Made of silk chiffon, the sheer and floaty fabric creates an ethereal feel with a single pearl buried in the heart of each flower.
In muted tones of pink and green with a touch of gold, the
flower hair clip
radiates a vintage charm.
Together, these accessories complement the whole classy look
~*~*~*~*~*~*~*~*~*~*~*~*~*~*~*~*~*~*~*~*~*~*~*~*~*~*~*~*~*~*~*~*~
How to Enter
Minimum requirement
To enter, you need to follow Jo's Jumbled Jardinière (http://iamjolene.blogspot.com) publicly via Goggle Friend Connect (GFC)
State your GFC profile name and that you would wish to enter. (+1 point)
Let me know which is your preferred gift set (Cute, Charming, Classy)
Collecting additional points
Whether or not you are a blogger, you can maximise your chances of winning by collecting additional points.
Follow Jo's Jumbled Jardinière via bloglovin at http://www.bloglovin.com/en/blog/2471374/jos-jumbled-jardiniere (+ 1 point)
Place a link of this 100 Followers Giveaway on the side bar of your home page. (+1 point)
Blog about this 100 Followers Giveaway on your blog (+ 2 point)
Like FleurFaerie's facebook page at http://www.facebook.com/fleurfaerie (+1 point)
Follow me on Pinterest http://pinterest.com/iamjolene/ (+1 point)
Tell me why you enjoy reading my blog (+ 3 points)
In total, the maximum points you could collect is 10 (inclusive of the minimum requirement point).
The more points you collect, the better the chances of winning. To ensure that you bank in those additional points, please let me know which are the ones you have done and:
For 1), state your bloglovin ID.
For 2) and 3), provide links if necessary.
For 4), provide me with your Facebook profile name.
For 5), provide me with your Pinterst profile name.
For 6), tell me in the comments section.
Giveaway ends
31 August 2012 at 12:01 AM SGT
30 September 2012 at 12:01 AM SGT
30 September 2012 at 23:59 PM SGT (Sunday night)
A winner will be chosen by Random.org which I would announce on my blog after all the collating has been done.
Please leave me your name and e-mail address so that I could contact you should you win. Also, if you do not have a blogger ID, leave me your name in the comments section instead of "Anonymous".
Winners will have 72 hours to reply to my email before another winner is selected.
Using My Pictures
To use my pictures for your blog posts and side bar, I have enabled all pictures to be publicly available on my photobucket giveaway album at this
direct link
.
All the best!