This is a scheduled post.
Back to updating backdated entries yet again.
We always had such fun playing games at Karen's place that she organized a pot luck dinner and games night at her place
yet again
. It sure seems like Karen's house is synonymous to a game station!
We made new friends and caught up with the old. Everyone brought lots of delicious food like pies, tarts, skinny pizzas, home made tortillas, and more! Kh and I brought fried Taiwanese skewer snacks.
Karen baked some lovely cupcakes with hand made fondant.
I've yet to savour her cupcakes again coz whenever I bring cakes back from her home, my brother-in-law would have finished them up the next morning.
This time, we played a new game -- Gift Trap. How I hated that game. Lol... I didn't understand how to play it at first and lost big time coz I'm one who hate to guess.
While playing, we kept feasting on various snacks. When Karen brought out the treat she bought from Japan, I squealed like a 4-year-old high on glucose. I just had to snap a photo of this packet of Care Bears sweets.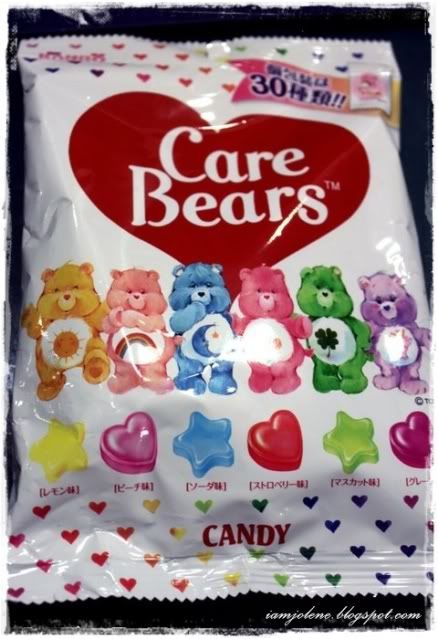 Ok, if you're not a huge fan of Care Bears in the 80s and 90s, you would never ever understand my immense joy when I saw this. These Care Bears pictured here are the traditional ones!
The purple bear on the far right is called Share Bear and I have that soft toy when I was about 4 years old. I love the ice cream sundae on her tummy. The new Share Bear has two lollipops on its tummy instead. I say it's laziness on the manufacturer's part coz the ice cream sundae embroidery on the tummy was really exquisite. I should go snap a picture of the toy which is in my parents' place coz I'm quite sure not a single one of you reading this would know what I'm talking about, except maybe for my sisters.
The current Funshine Bear, Cheer Bear, Bedtime Bear, Love-a-lot Bear and Good Luck Bear (fr left to right) also don't look quite like their original selves anymore. Damn, some were even taken off the shelves and being replaced by some gaudy bears. How I hate the new Care Bears. They are a complete joke!
Right, I've ranted enough about the new Care Bears. Back to the topic...
I forgot what other games we played but we had such great fun.
Other than being entertained by games, we were constantly being entertained by Louis, Emmie. Like most dinner at Karen's place, the night ended really late with the last of us leaving at 5am.
Here's what I wore that night: