WARNING: Long long, picture-ful post. Go get your drinks and popcorn while waiting for the pictures to load. You could even savour your main dish in front of your PC.
I'm a lot worse than what I mentioned in
Unfolding November's Folder
. I'm actually updating backdated entries at a rate of more than a month interval.
So, were you naughty or nice last december? I think I was pretty nice. Sorry, did I say I was pretty nice? Ah, I made a Freudian Slip. I meant to say it was a pretty nice December.
~*~*~*~*~*~*~*~*~*~*~*~*~*~*~
~*Dinner at Strictly Pancakes*~
It was a meet up of in between. We had wanted to gather for bei's birthday but she was not in town. We kept postponing the meeting till it was nearing xtina's birthday and decided to do a meet up of in between at
Strictly Pancakes
.
I heard of the long waiting time during weekend brunch. Fortunately for us, we met on a weekday night and almost had the whole restaurant to ourselves.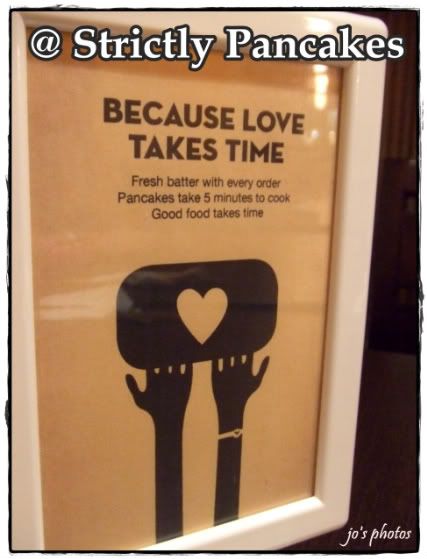 As its name suggests, Strictly Pancakes is a restaurant that serves pancakes at all times of the day and their menu includes both sweet and savoury pancakes.
We shared our main course of fluffy savoury pancakes.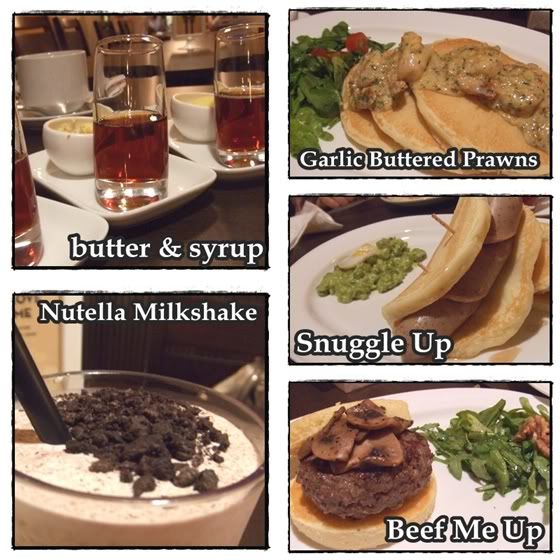 I chose the Garlic Buttered Prawns.
Anyway do you know that whenever we had cook out sessions at friends' place during our younger days, I would cook butter garlic prawn? That was my so-called signature dish. I still can't get the consistency of the buttercream sauce right but those who tried gave the thumbs up in the taste department.
Snuggle Up consisted of hotdogs wrapped in fluffy pancakes while Beef Me Up resembled a thick hamburger topped with mushrooms. The former wasn't too bad but the latter didn't quite satisfy our palate. It has something to do with the meat.
The syrup made everything better. A little slab of butter was included to which we tried to spread generously on the pancakes.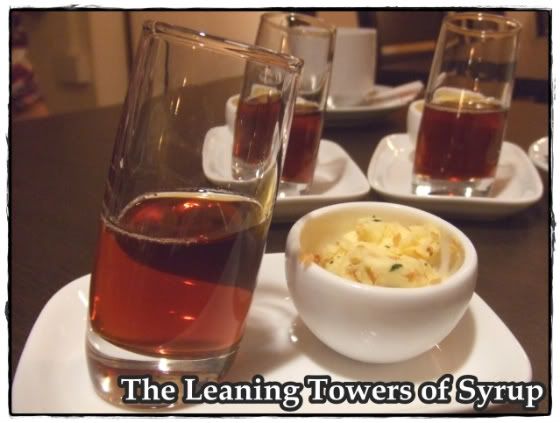 Bei got a book of meaningful quotes as belated gift. I absolutely adore the bicycle illustration and basically the whole book jacket.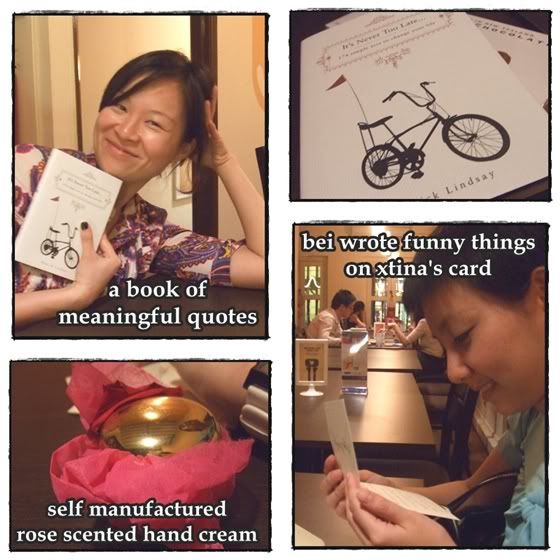 Xtina got a jar of bei's self-made rose scented handcream named "Cleopetra's Seduction" and a complimentary hand massage, exactly
the same treatment
as what I got for my birthday from bei. I hope xtina was able to seduce her fiance that night as what bei claimed of her hand cream.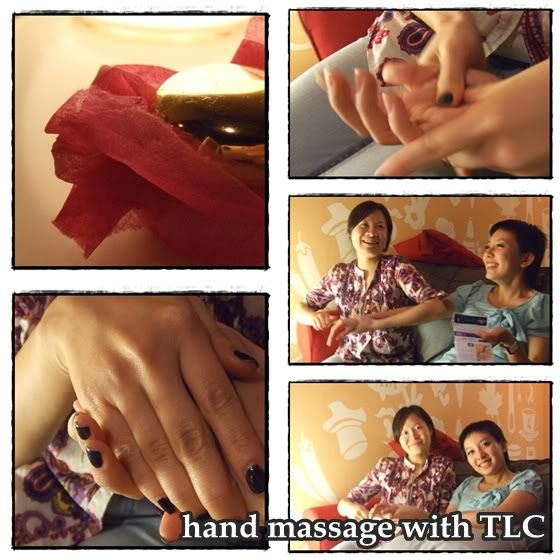 xtina made a scrapbook in which she put together the whole process of her taking part in Hair for Hope.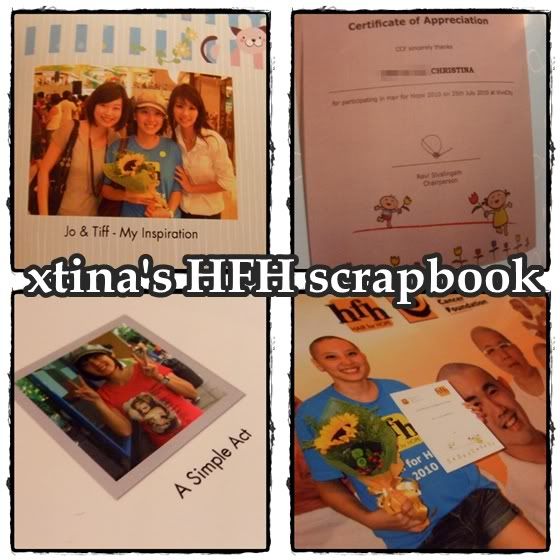 Bei and xtina are always not in Singapore. Can we pweety pwease meet up more often?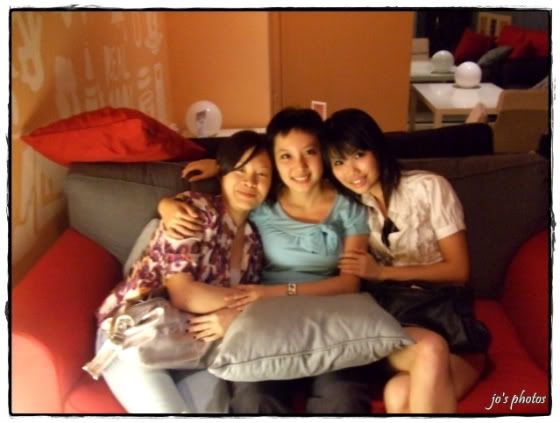 ~*~*~*~*~*~*~*~*~*~*~*~*~*~*~
~*Dinner at Coffee Club*~
Random Saturay night dinner at Coffee Club with the hubby
The mains and soup, made even more unappetising with my nokia camera, weren't good at all. Caesar salad could never go wrong.
~*~*~*~*~*~*~*~*~*~*~*~*~*~*~
~*Reg's Birthday Lunch at Nanbantei*~
It was a coincidence that reg's birthday was
1) on my off day and
2) when Karen and her hubz were on leave/off
and so we were all able to meet up on a weekday afternoon to have lunch at Nanbantei.
Nanbantei is one of reg and jw's favourite restaurant. It was my first time there even though I would always walk past that place whenever I go for my facial and IPL appointment. I must say that I love the food too! You see the grilled cod fish up there at the bottom left corner? That's my absolute favourite! I culd eat a whole cod fish myself if I was feeling selfish. All their yakitori were good except for the chicken balls (not photographed) which was f***ing big for chicken balls. We couldn't finish such big balls of course. The garlic rice (not photographed) was good too.
When we were almost done with dinner. Jw excused himself and reappeared with a chocolate cake and reg's favourite flower -- Eustomas.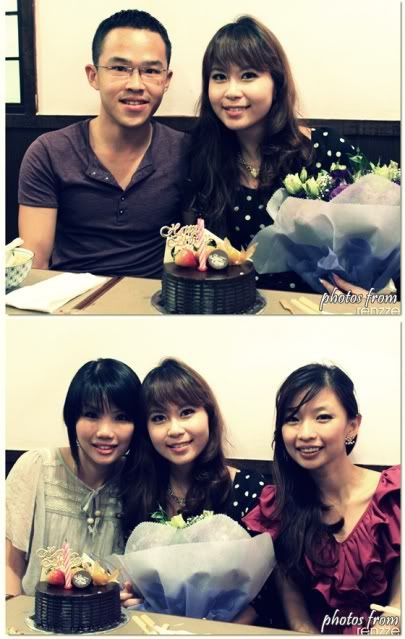 After that, we headed downstairs to Old Town Coffee for iced coffee and chocolate as well as to let reg unravel her bag of assorted gifts. Whatever that we got for her, I got almost everything for myself too! I hate buying gifts for friends that way. Haha... I'm such a sucker for everything I buy for friends.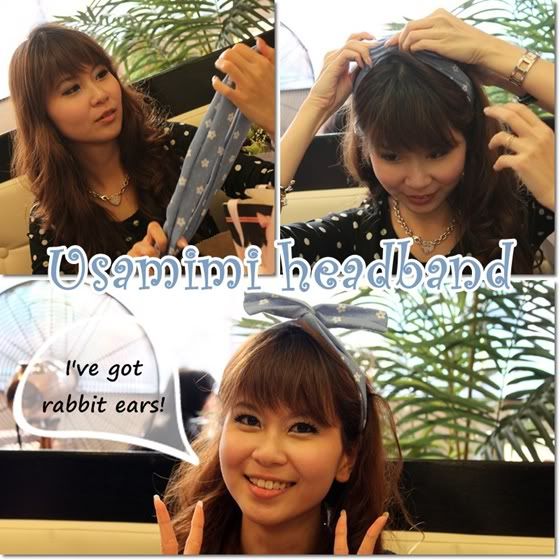 Karen and her hubz had to leave after that, leaving with reg, jw and I to catch Tangled (aka Rapunzel). Rapunzel, Flynn, Pascal the chamelon and Maximus the horse are all so cute! I love that cartoon!
After the movie, we parted ways for reg and jw got a dinner date while I had a dinner and xmas phototaking date with evan.
I'm glad to have been able to spend time with the people who mattered and I'm sure reg enjoyed her bday spent with people who mattered too!
~*~*~*~*~*~*~*~*~*~*~*~*~*~*~
~*Orchard Road Xmas Light Ups with Evan*~
I met up with evan at
Hot Tomato
(do you wonder about its name?) for dinner. It was crowded, food was so so, service was fine. Well I would give them some credit for service as one of the waitress allowed us to shift to the huge couch seat when we requested even though there were only 2 of us.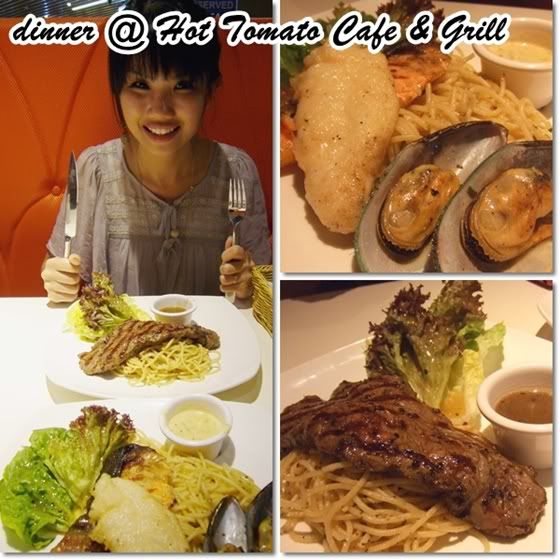 After filling our growling bellies, we embarked on our xmas light ups walk and snap.
It was blue around Somerset area.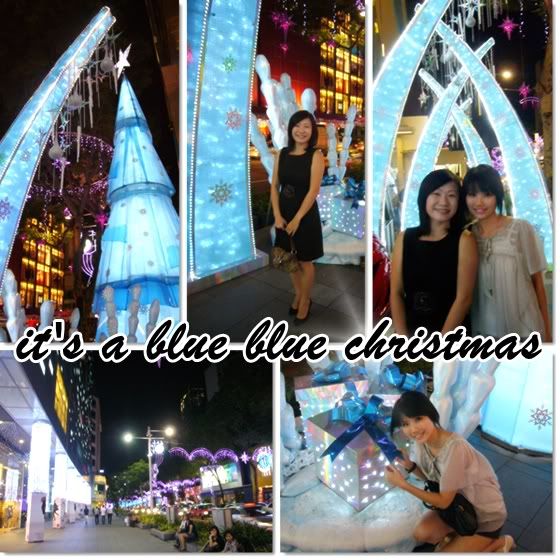 It slowly became purple towards Orchard.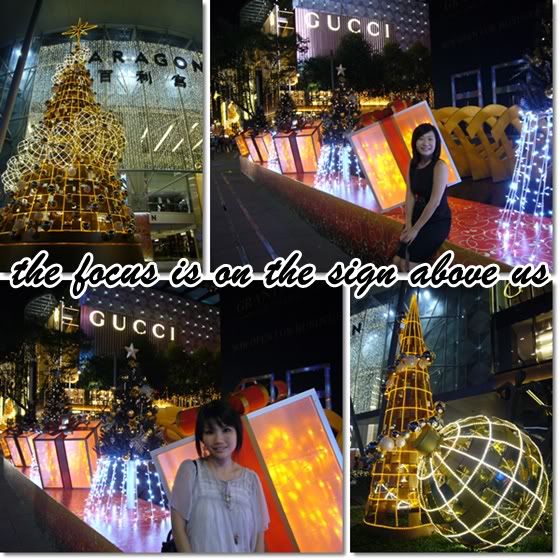 Next, we treaded onto the yellow zone.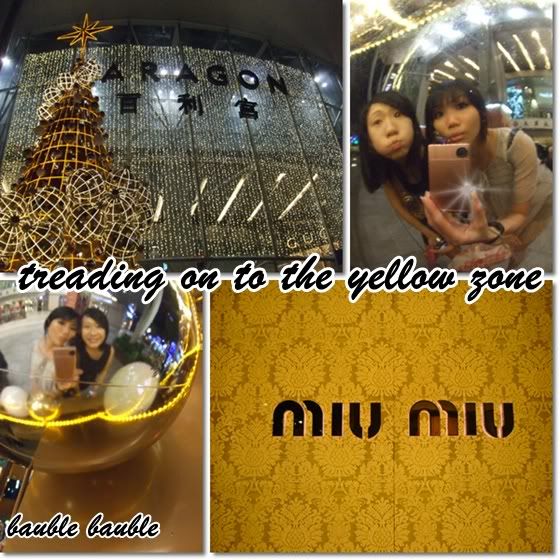 We simply had to do our signature bauble shots every year!
I feel the compelling need to explain why I always smile an idiotic ear-to-ear smile in such bauble shots. I was trying to replicate the Chip & Dale feel in the classic Disney short film, Pluto's Christmas Tree which was one of my favourite cartoons when I was young. Fast forward to 2:39 to see that look.
A whole collage dedicating to miu miu.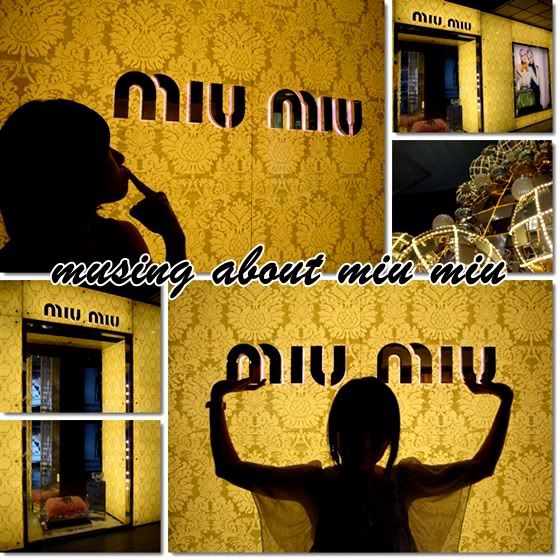 Then, it was a mish mash of colours.
I always love to look at TANGS window display. Once they had real models as "mannequin" for Triumph... yeah that lingerie brand. Wouldn't you guys love to be there?
Our last stop was ion where we sat on the bench outside and chatted till we had to catch the last train and last bus and continued our chat on the phone.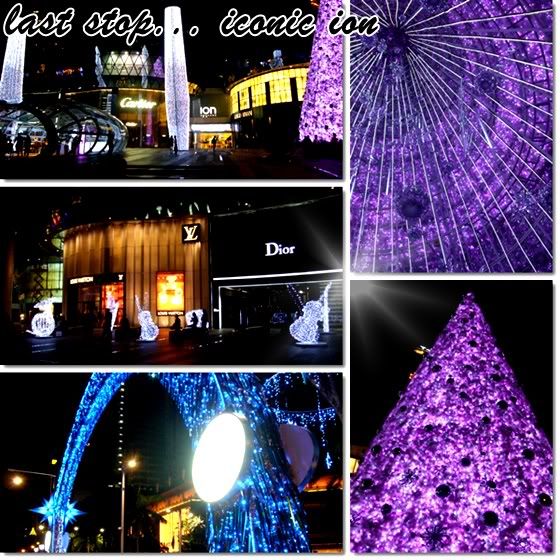 ion is one of the newer malls in Orchard which houses many designer labels under one roof. Check out the brands behind the musical instruments!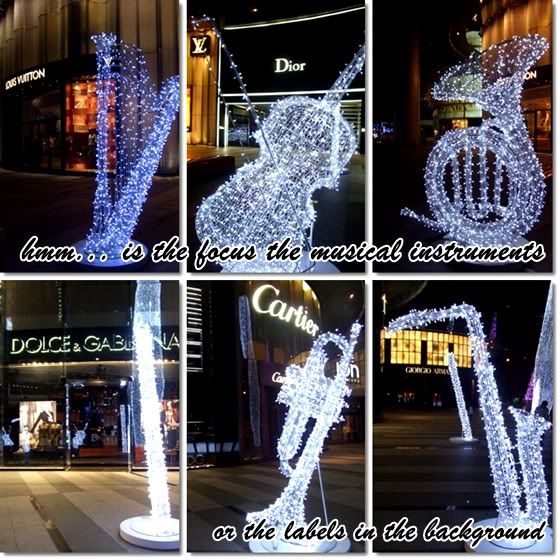 I wasn't supposed to do this as I ran the risk of being electrocuted but do I look as if I cared?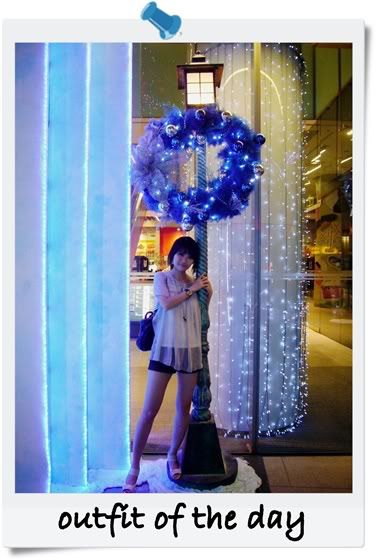 Outfit of the day:
♥ Alano butterfly sleeves top with inner lace spag
♥ Alano shorts
♥ Green Petals bird and rose necklace
♥ Chinese zodiac watch
♥ Ferragamo bag
♥ Americaya shoes
I promise Part II will not come in more than a month later. I'm waiting for some xmas party photos from my colleague. Those photos are saved in my company's folder which requires some time for her to locate. Part II will be all about Christmas Christmas and Christmas. I'm half a year late and I sure hope I don't give anyone the Christmas blues.
To all my blogger friends with comment form embedded under your post,
If you don't see my love notes to you, it's not coz I dislike you or something. I'm still not able to comment on your posts using my blogger/google profile. I hope blogger fixes this problem soon. However, I would still be able to comment if you've enabled Anonymous settings or have some chatbox somewhere. I always reply to comments left on my blog (just that it takes a long time at times) so remember to click and check back!



Updated on 18 June 1:13am:




Ignore the above!

Bibi

the genius suggested trying a different browser and Modzilla Firefox does the job! All along I was waiting for blogger to rectify the problem to no avail. Those who also experience the same problem, try using a different browser. Hope it solves your problem too. Cheers! I'm gonna unleash all my verbal constipation on your blogs in time to come.