A while back, I received a registered package from the lovely people at ClubCouture.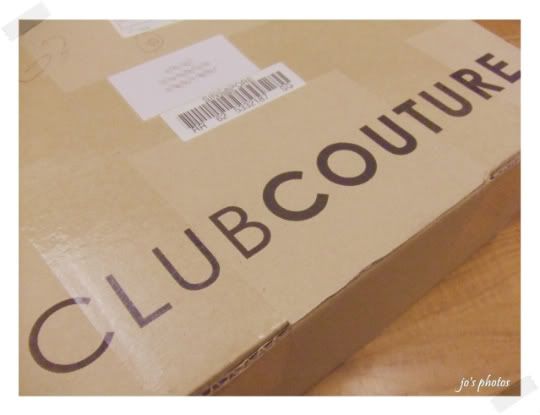 ClubCouture
is an online fashion label that offers contemporary ladies wear in a wide range of fashionable and chic apparel. Unlike blogshops which are sprouting like mushrooms every other minute here on our sunny island Singapore, ClubCouture is a local company which has gone international with the US, UK and Australia under its belt.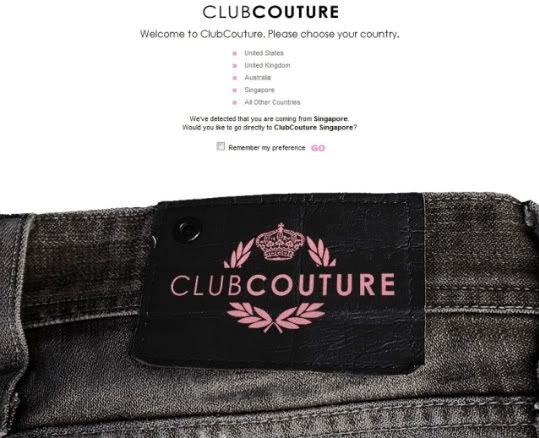 What I like about ClubCouture is their range of clothes. Upon browsing their user-friendly site, you would be greeted with an ensemble of elegant evening dresses, sophisticated work attire, dainty dresses, funky streetwear right up to the basic tanks and bottoms. They have really chic accessories too! Whatever your style is, I'm sure you would find something you like at ClubCouture.
I was rather impressed with their packaging. Firstly, the clothes came in a box with the brand name printed on it which I felt was very professional. (For the environmentally-friendly me, I could reuse the sturdy box to store my knick knacks.) Each of the dresses were individually wrapped with tracing paper and additional apparels are packed neatly and separately.
What's in my package?
My choices of 2 lovely dresses -- the monochrome toga and the audrey layered dress kindly sponsored by the lovely people at ClubCouture. Aren't they simply gorgeous?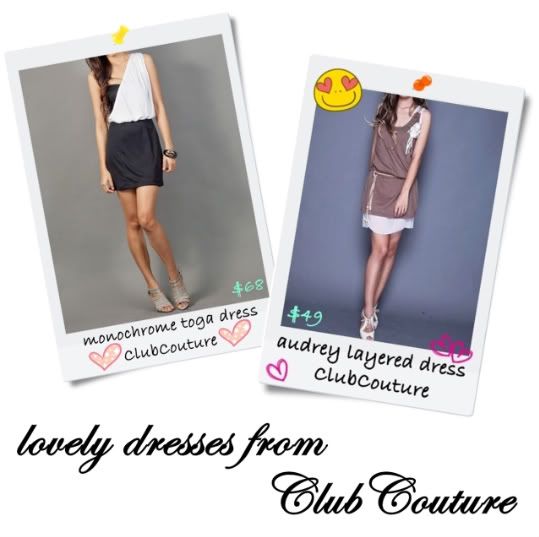 The
audrey layered dress
is a soft layered dress in earthy tones which comes with a floral brooch and a braided belt. I really love the layered look so I'm pretty much in love with this dress.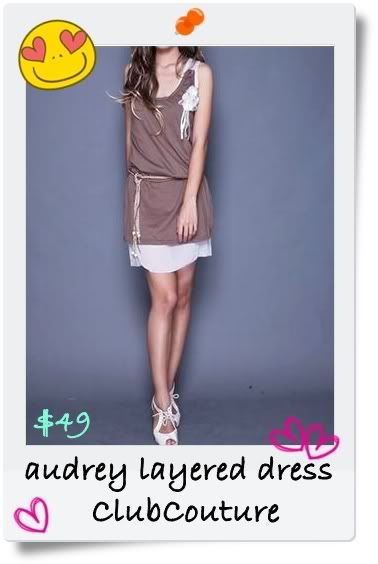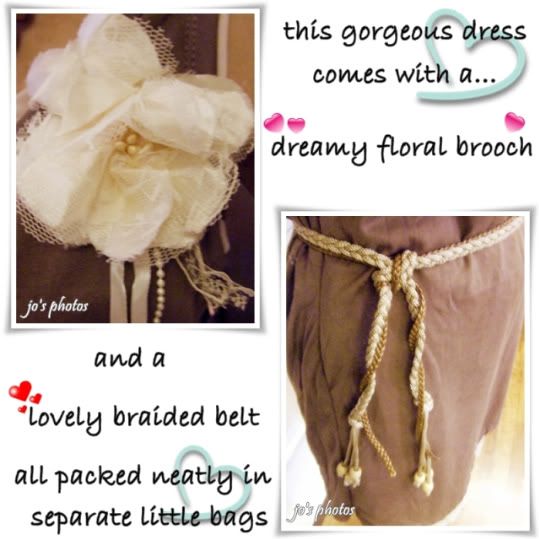 The brooch with its netted and tulle-like layers gives a whimsical feel while the twisted rope design belt consists of 2 separate belts which you could wear in any way you like. I twisted both of them together after the knot as you can see from the picture above. No fraying at the ends of the belt! Me likey!
I recently wore this dress to Char's solemnization earlier this month. (I will write more about it in the November updates.)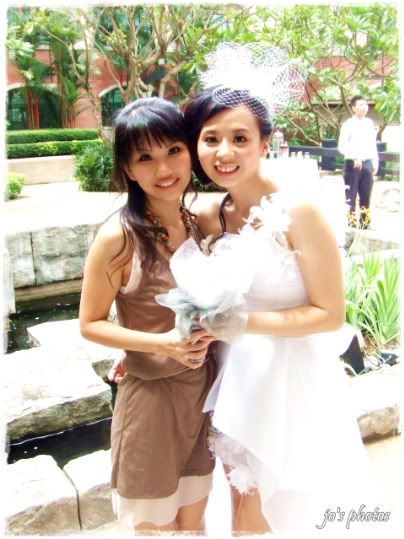 The
audrey layered dress
is still available on their site! So if you like this dress, click on the link to purchase it.
Have I already mentioned that their stocks for popular items run out quite quickly?
To ensure exclusivity, ClubCouture manufactures their clothes in limited numbers. The good of this would be to put your mind at ease of not spotting someone else in the same outfit as you. However, the bad of this would be that THE STOCKS RUN OUT QUITE QUICKLY. Hence, if you spy something you like at ClubCouture, make sure you place your orders swiftly for your sizes may be snapped up in a flash, just like the tunas at Japanese fish auction markets.
I had initially wanted this sexy black number in the form of the
pleated one shoulder dress
.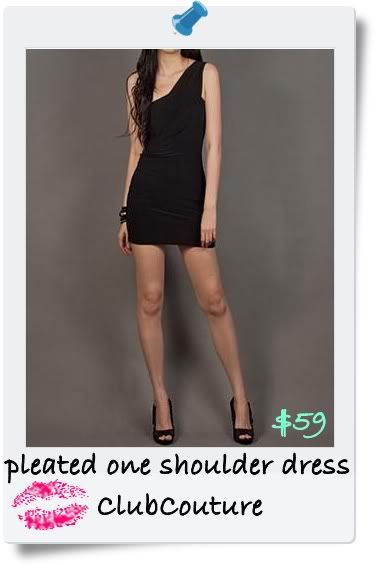 This classy little fitted number features a one shoulder neckline with pleated detailing at the shoulder and a hidden side zip. Made from 50% cotton and 50% polyester, the dress would stretch to fit.
There were so many dresses at ClubCouture which I absolutely adore and took some time in narrowing down my choices. When I had finally decided on the pleated one shoulder dress, I realised to my disappointment that my procrastination had led to all the size S being out of stock. Sizes M and L are still available though.
I chose the
monochrome toga dress
in the end. This lovely dress is already sold out on their site!
This outfit consists of a fitted strapless black dress and a removable white pullover. The inner black tube dress features a sweetheart neckline and a hidden side zip. Similar to the dress above, it is made from 50% cotton and 50% polyester and would stretch to fit. The white pullover features a ruched shoulder.
I haven't worn it out yet as the white pullover looks a little poofy on my smaller frame. I will alter it and update on it as soon as I wear it out the next time so you could see how it looks like. =)
While I sometimes encounter clothes with many loose threads, clothes that don't turn out as depicted in the photos or clothes with not so good quality fabric or stitching on other blogshops, I had no problem with the clothes from ClubCouture at all. Their clothes came almost exactly as depicted on their site and their workmanship is excellent!
Those of you who have been here long enough would know that whenever I do write-ups or reviews, my opinions are always honest and I would only recommend good stuff to my friends and readers alike. =)
Now, I've got a good news for everyone.
All my blog readers are entitled to a 15% storewide discount
. Just key in the discount code
JOLENE15
(all in capz) to enjoy this offer.
ClubCouture has launched their autumn and winter wear. Despite our tropical weather, I really love chic capes, parkas and aviator jackets, don't you love them too? I absolutely adore the trenchcoat with a twist above.
Excuse me now while I continue my online shopping voyeur at
ClubCouture
.