The late night shopping madness and crazy sale at Suntec burnt a hole in my pocket. However I was happy to have it burnt. =)
My xmas present for myself… PINK Panasonic Lumix FX8!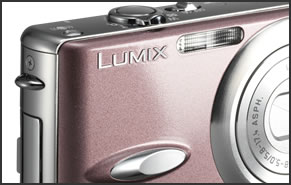 I've never gotten myself a present that expensive. Yes, it may seem like a splurge or an impulse buy but I've thought of it for over a year and
I still can't shake this camera off my mind
. Back then it was still FX7.
I have never own a single walkman, discman, md player, mp3 player etc etc before. My 1st electronic toy was my fujifilm F450 digital camera and I was not exactly thrilled owning it. It was more of a
hurried decision
made on the last day of the SITEX exhibition when all the pink FX7 have been sold out.
Ok I'm merely giving myself valid excuse but I feel that I should really pamper myself at times. I know I would be truly happy with this camera. Feelings of longing that linger for one year is definitely not an impulse buy.
Another new toy…
An Oakley dartboard shades in berry red. This is my xmas present from kh but considering that we are both buying Oakleys for each other, it would be burning a hole in my pocket too.
I absolutely love my new toy. Was wavering between this Oakley ($314 full priced… Oakley doesn't participate in SALE) and a Dior one ($346 which is already 50% off during the sale! *coughs* Imagine that at full price, it is even more expensive than my cam). Apparently it is a "Diorlywood" sunglasses with the chic yet ah lian Dior logo at the side made of Swarovski crystal.
This is how the Diorlywood looks like. Colour would b closer to the 2nd pic.
I think I've made the right decision to go for the quality and not the brand.
I am a contented poor girl this month.