I thought that I would be more current on my updates here. I was just about to blog about my mum's birthday (which falls on the end of August) as well as the usual double celebration of my dad and my eldest sis's birthdays (which happened last week) when I realised that I've yet to write about last year's celebrations!
So as usual, I am forever doing a throwback on my blog though you have to give me some credit. I've improved significantly as this post would also contain celebrations in the family within this and last month.

~*Father's Day Celebration at Plum Village 2012*~
It seems like I was right on time blogging about
Mother's Day 2012
last year. When I was searching for the photos in my folders, I realised that I have already crafted a post on it last year. For Father's Day dinner, we went to
Plum Village (梅村酒家
) for authentic Hakka food.
My dad is a Hokkien and my mum is a Teochew but when it comes to Chinese food, whether it is Hokkien, Teochew, Cantonese, Hakka etc, they are all almost the the same-- delicious.
I love good old Chinese food. Authentic or traditional Chinese cuisines may not exactly fall in the category of being photo-worthy but they are just so delicious.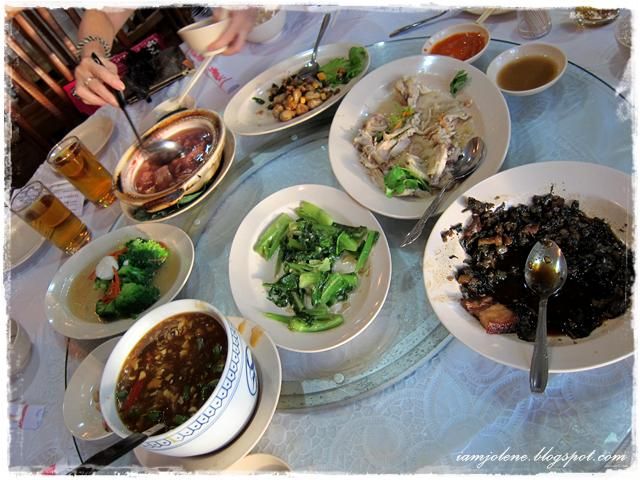 The setting sun rays were streaming in and hence the shadows cast upon the food.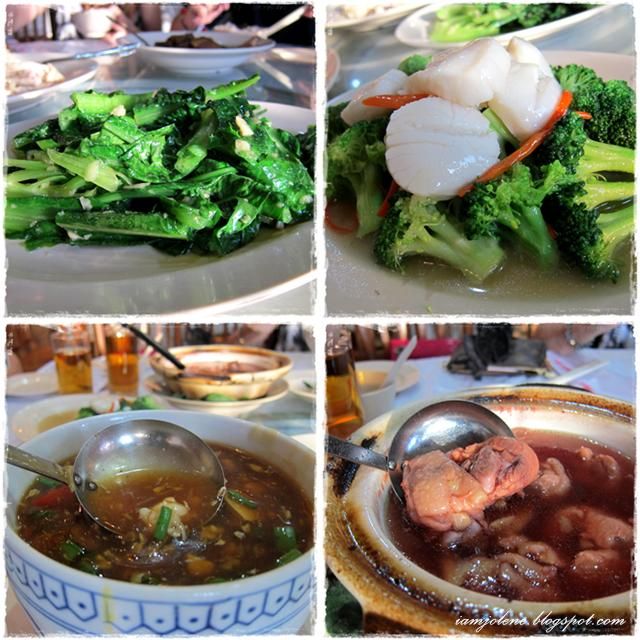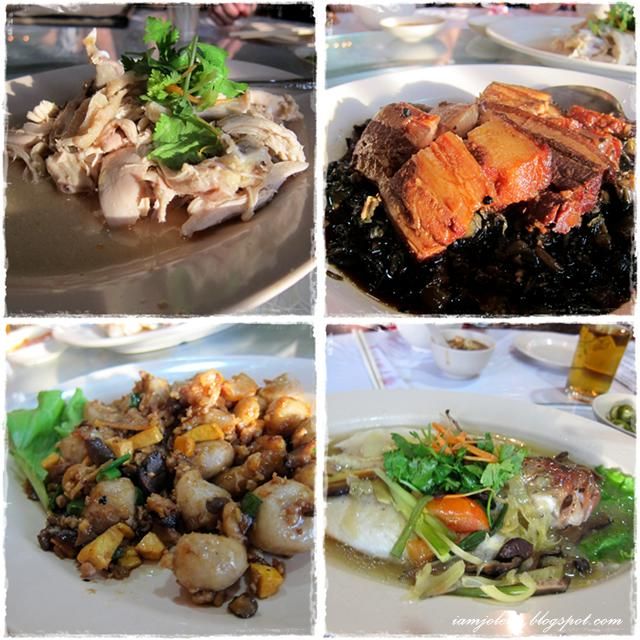 The interior decor exudes a homely feel.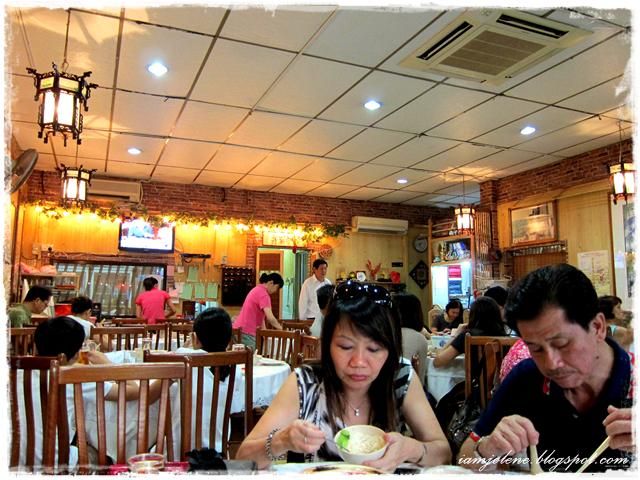 We were trying to have an individual shots...
but my dear hubby kept getting into my way.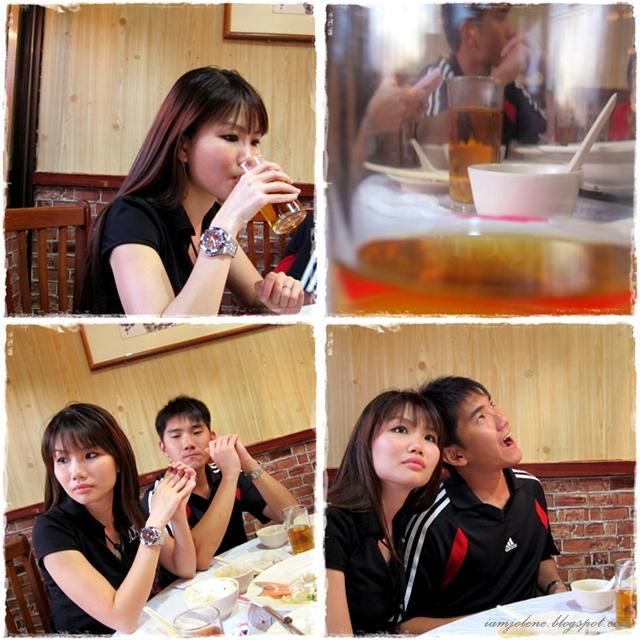 After the satisfying Hakka meal, we proceeded for Western desserts at Udders which was just a few streets down.
Udders would usually be teeming with youngsters and it is quite difficult to get a table. We were glad that we managed to snag to a table of six quite easily. These were the chairs that we sat on.
We were right next to the blackboard and decided to leave our mark there. As usual, the artist of the family was tasked to come up with something creative. No, actually this photo is here just because I felt that finally, my sis captured a candid shot which I actually like.
My mother must have hijacked all the markers!
We started doodling.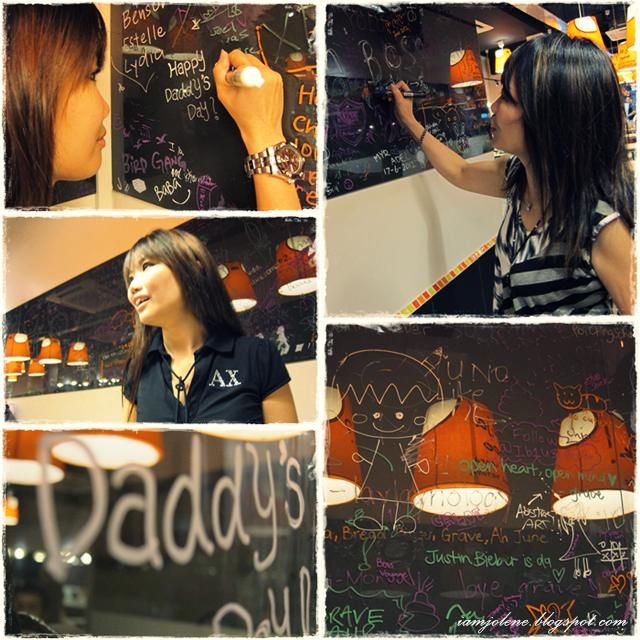 Top: The famous Beatles crossing Abbey Road scene.
Bottom: Leaving our mark. I like how my eldest sis (Jas) was in the picture too (see reflection).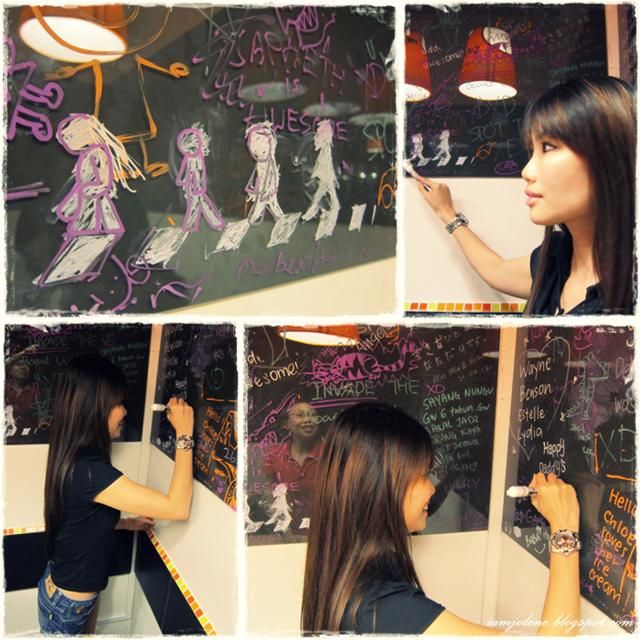 Mum wrote this which translates to "Father Happy". She missed out a Chinese character and had actually wanted to write "Happy Father's Day".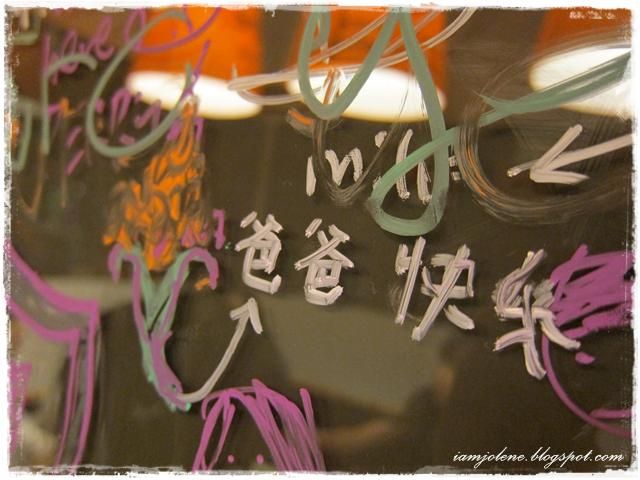 This is the final product depicting us in our Chinese zodiac animals.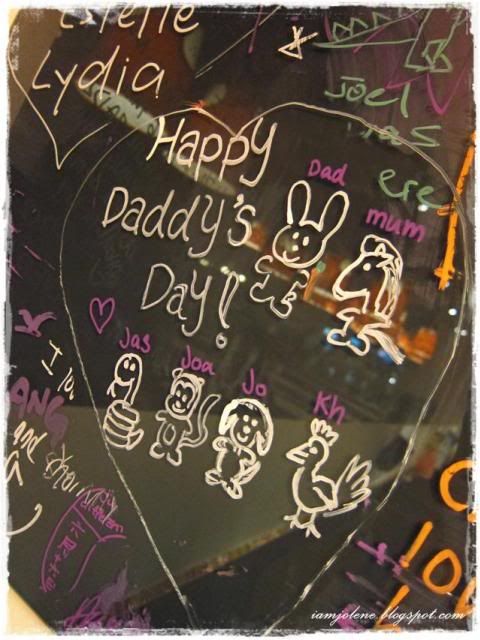 We had a mixture of ice cream like rum and raisins, lychee martini, some fruit sorbet, some D24 or mao shan wang durian, tiramisu and I don't know what else I've missed out.
I forgot who noticed that the chocolate sauce drizzled in a shape that resembled a bear's paw.
Before and after.
The other chairs outside were a lot more creative and the bottom right pic shows my dad acting shocked at how fast we finished the ice cream.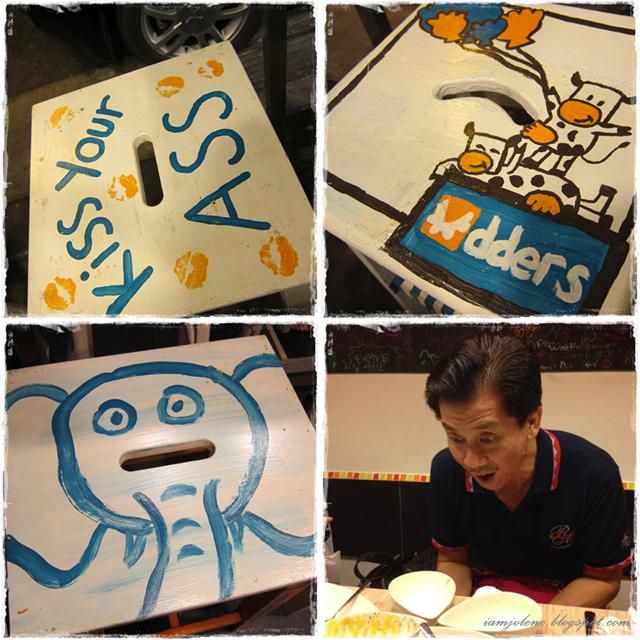 Happy Father's Day!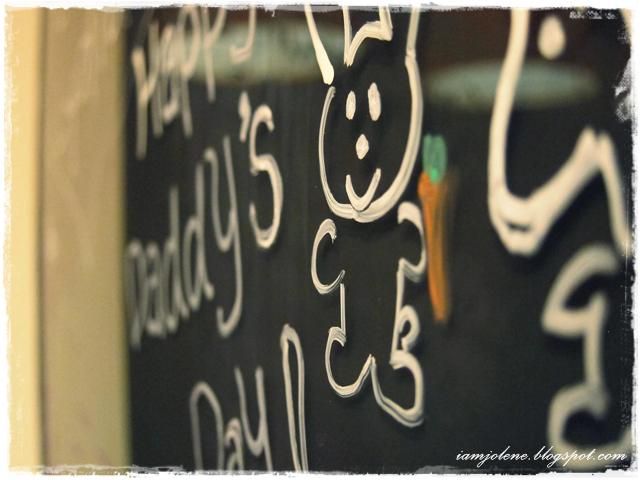 [All photos in this section were taken using Canon S95.]

~*Mum's Birthday at King Pot 2012*~
For mum's birthday last year, we had dinner at
King Pot
.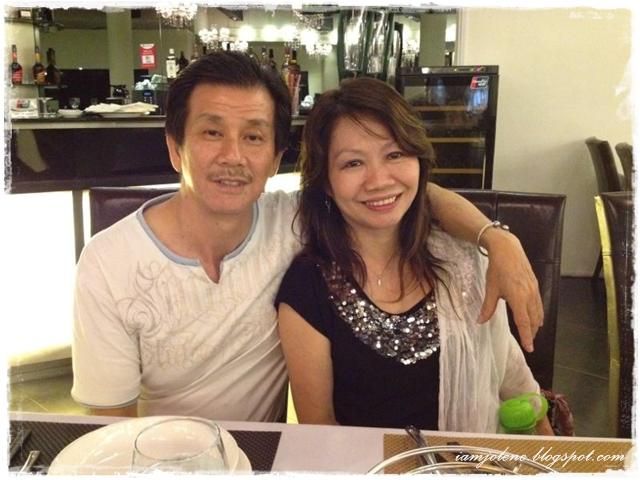 King Pot is pretty expensive for steamboat/hotpot style of dining and without my 2nd sis's (Joa) Groupon vouchers, we would not think of dining here. However, I'm glad we did for there was such a wide variety of Western and Asian soup bases, ultra fresh ingredients and tangy sauces. We really enjoyed the meal.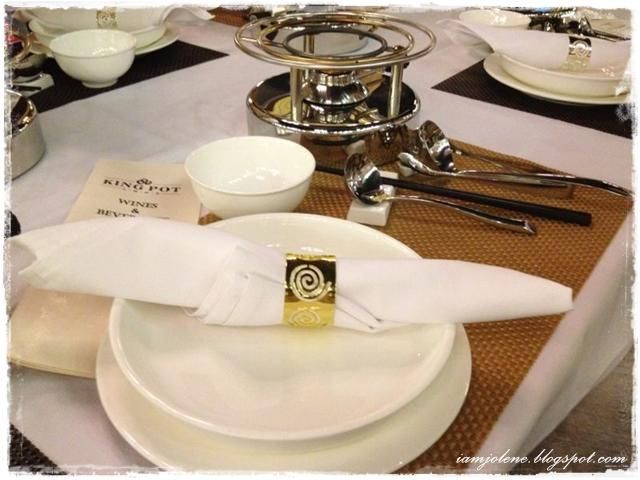 It was a weekday and other than our family, there were only 2 other tables occupied. The decor resembled those of fine-dining restaurants and I love the black and crystal theme. It certainly distinguished itself from the usual smokey, noisy and affordable steamboat/hotpot places.
We felt as though we had booked the whole restaurant for our private family dinner. Hahaha... Service was impeccable!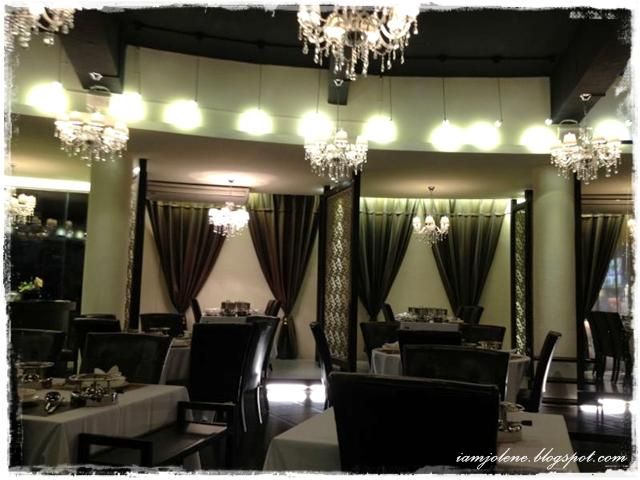 We ordered a variety of soup bases so that we could get a taste of everyone's soup.
The freshest ingredients you could get from a hotpot place. It is evident from the photos how fresh the ingredients! On a separate note, one of the seafood had a really pungent ocean smell when cooked in the soup. The whole soup was marred by the smelly seafood stench and none of us could stomach the taste of the soup after that. We feedbacked to the staff who agreed about the strong smell and immediately changed the soup for us. He also presented us with a fresh dish of seafood as a form of compensation.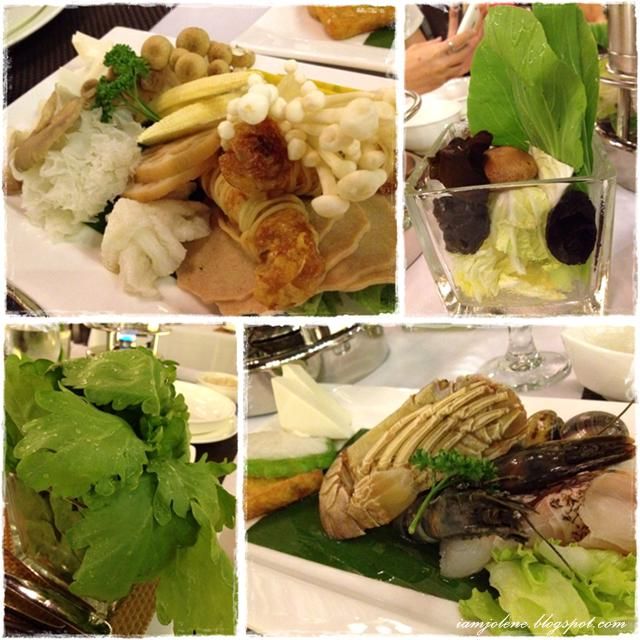 I simply love the accompanying sauces, especially when I dipped my beef slices in them. Yummy!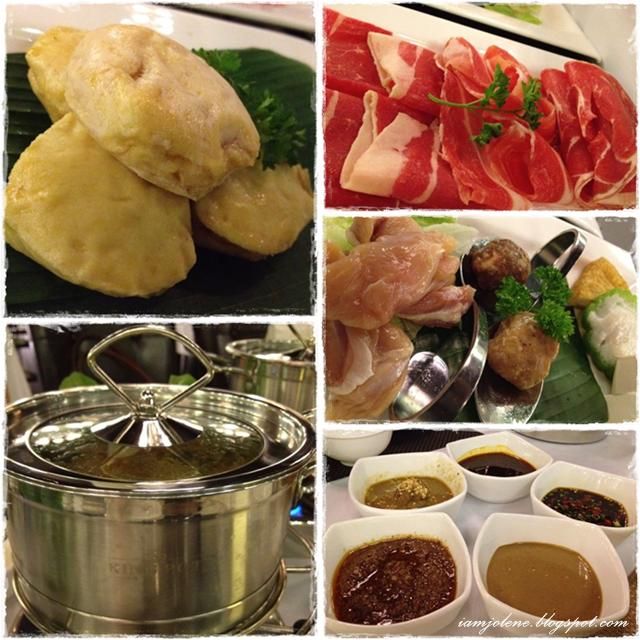 Although the main dishes were good, the coffee and dessert was blah.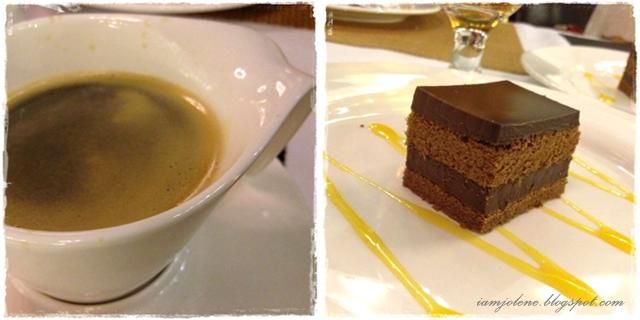 After dinner, it was time to make full use of the empty premises and take pictures.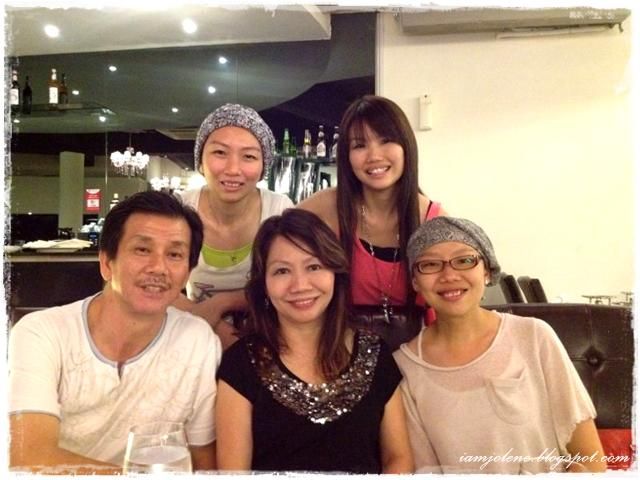 And then my mum said, "I want one with all my girls."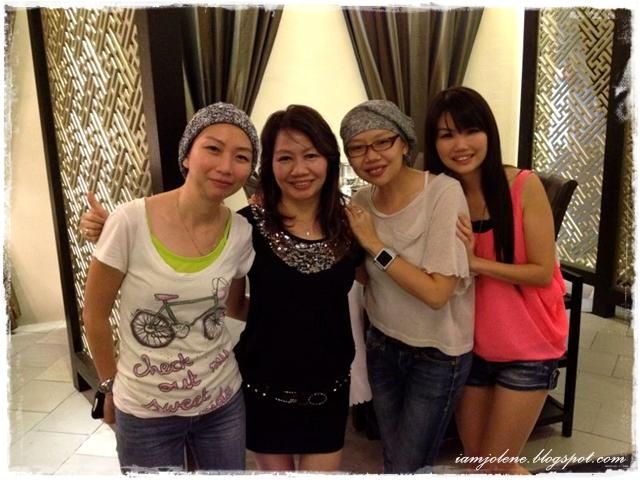 For those of you who remember reading
my post
last July. My 2 sisters went to shave their heads for charity and hence they were in their beanies.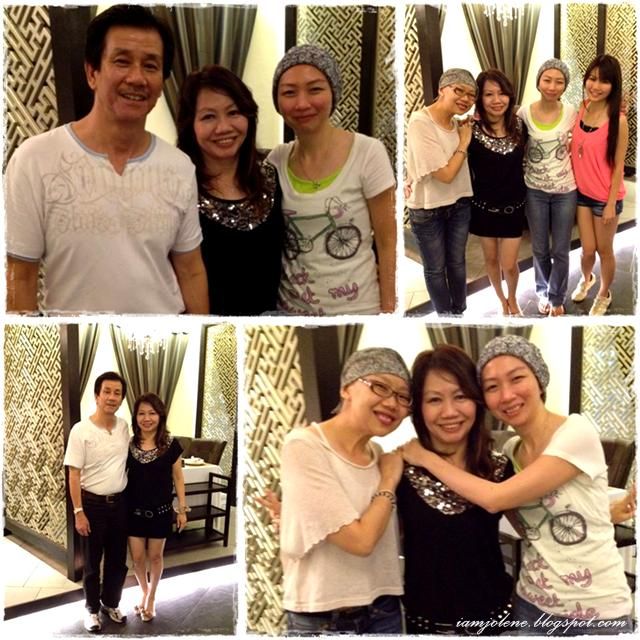 And then next she asked, "Where is my son?"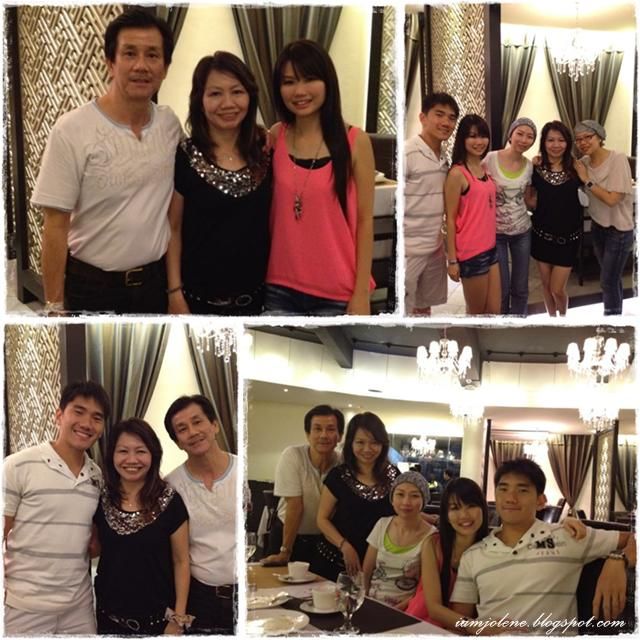 And that makes 6.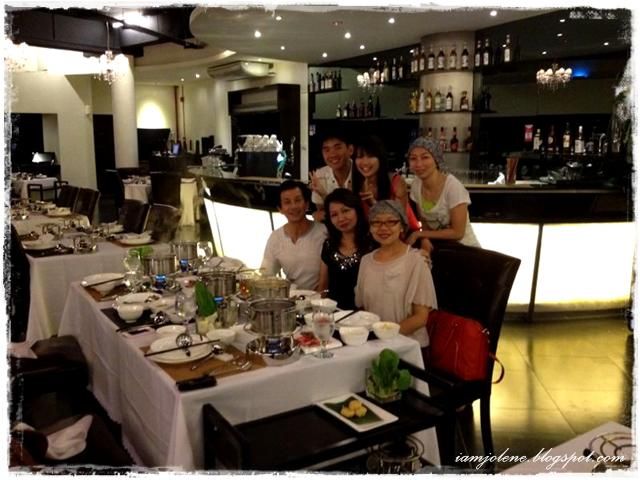 [All photos in this section were taken using iPhone 4s.]

~*Dad and Sis's Birthday at Cafe Biz 2012*~
My dad and my eldest sis's (Jas) birthdays would always be celebrated together since it is just 2 days apart.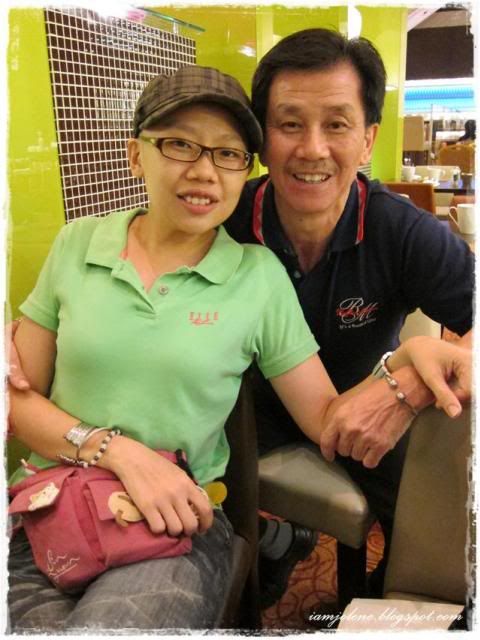 My dad is a great fan of oysters. Our family had been having Asian cuisine for the past few celebrations and it had been a long time since we had international buffet with oysters. My dad usually asks for simple and affordable meals whenever I asked him for cravings/suggestions on what he wants to eat. Hence when he suggested oysters this time round, I was determined to make it happen. I suggested Cafe Biz since I was there just
a few months back
with the F4 gang and I was quite sure there were oysters on the menu. Besides, Cafe Biz is one of the more affordable buffet around with great food and Jas agreed on that too.
It was such a great disappointment that there wasn't any oysters at all! When I asked one waiter why oysters were removed from the buffet menu, he could not answer me. When I asked another, he said oysters are raw food and there would be contamination. To which I pointed out in puzzlement that there were other raw food on the buffet table too and he replied that oysters have higher tendency of being contaminated. Finally, I spoke to the manager. He said that it was a Peranakan theme that evening and the big (whatever) fish on the buffet table replaced the oysters. I asked if the oysters would be back when the Peranakan theme ceased and he gave a negative reply. BIG QUESTION MARK!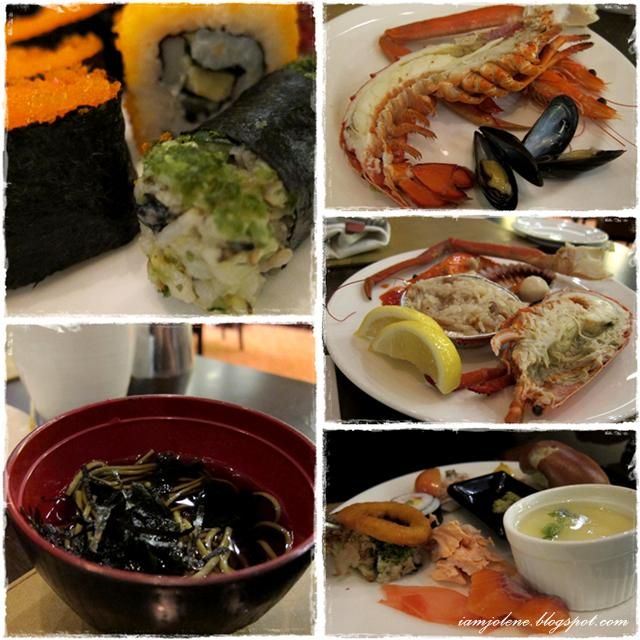 My dad was dismayed that there wasn't oysters but he remained cheery and told me not to ask the manager difficult questions anymore. The food standard had dropped since my last visit and Jas agreed too. I don't think I would visit Cafe Biz in a long time.
The desserts were a mixture of Peranakan and Western.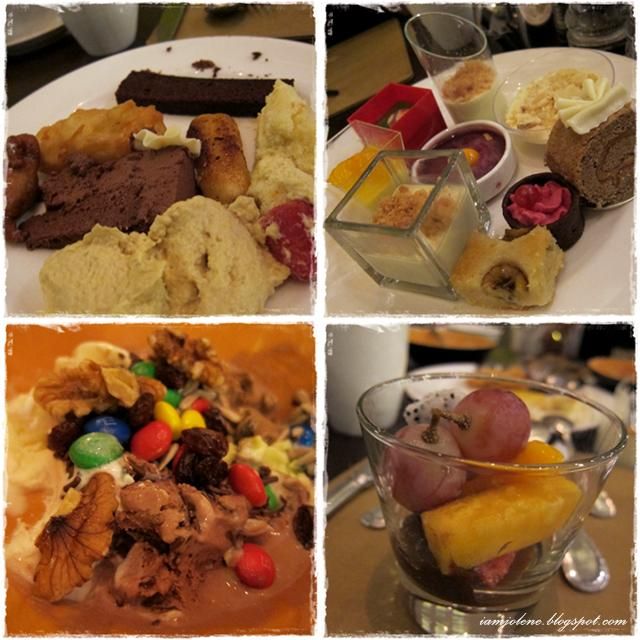 The Singapore F1 finals would usually fall on my dad's birthday. And as much as he wanted to watch the race, he still enjoyed the time spent with us.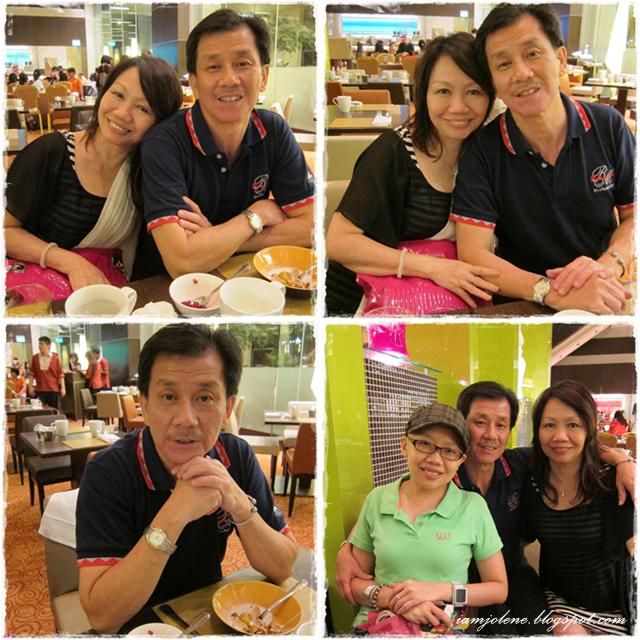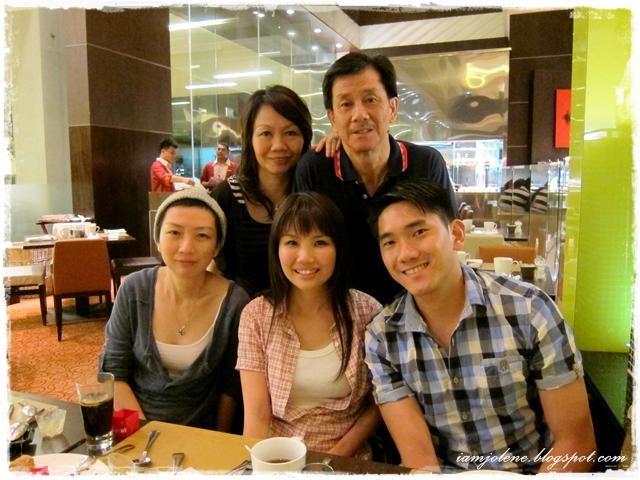 [All photos in this section were taken using Canon S95.]

~*Mum's Birthday at Morton's The Steakhouse 2013*~
Mum's birthday celebration at Morton's marked our family's most extravagant meal ever. My parents are not to type who appreciate steak (they eat their steak well done!!!) and to them, a normal less-than-ten-bucks steak at hawker centres could be just as delicious. So why "waste" money on Morton's steak? Well, we children felt that if we did not take them out to enjoy real steak, they would never ever venture to try it on their own.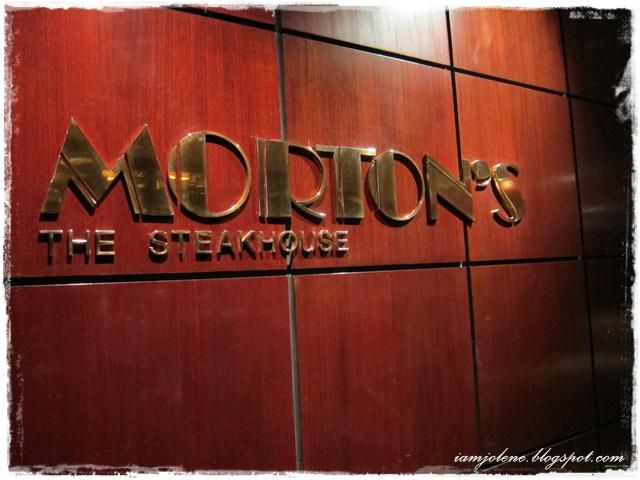 The table menu was personalized! My mum was so surprised that she kept a few copies of the menu.
It was a pity that the whole restaurant was very dark and the photos appear grainy when I upped the brightness level. Our table had party confetti as it was a "birthday table". On another note, I was perplexed by the table centrepiece.
In case you could not make out what it was from the previous picture, it was a pig. Pig and Morton's seemed weird.
The only heart among the confetti.
The lovely couple.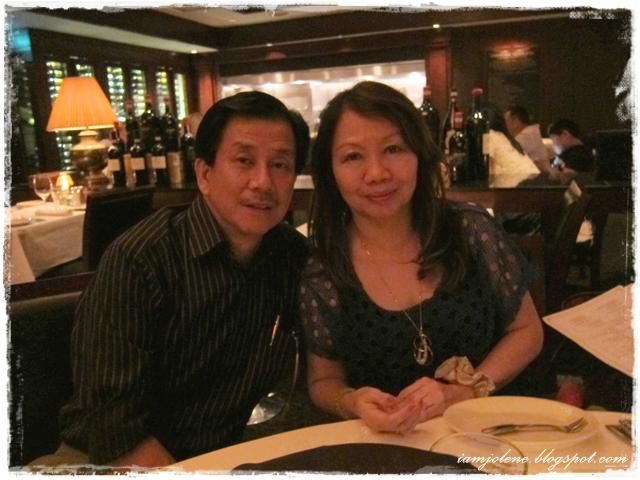 Ben was so sweet to get flowers for my mum.
Even though the menu was single-sided and all that was available was already there, we took a long time to decide what we wanted as my parents kept on exclaiming about the prices and trying to choose the cheapest items.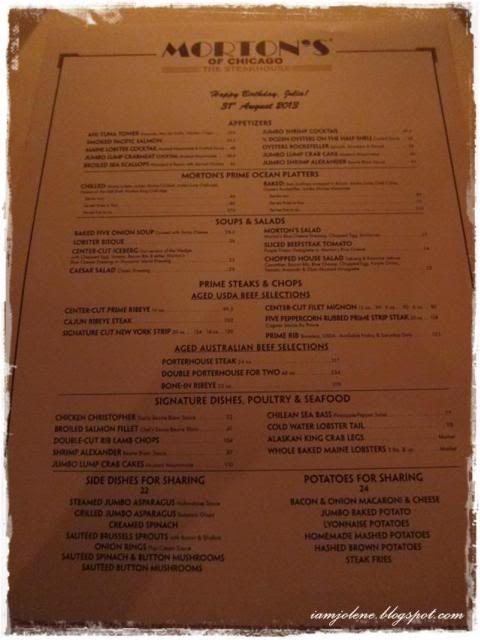 Top: Fluffy bread, little dessert in a box that my mum gave us.
Bottom: Morton's Prime Ocean Platter in Baked, Morton's Prime Ocean Platter in Chilled. Such expensive starters but so super fresh and succulent and good. It was really cute how we portioned everything such that 7 of us got to try every item on the platter.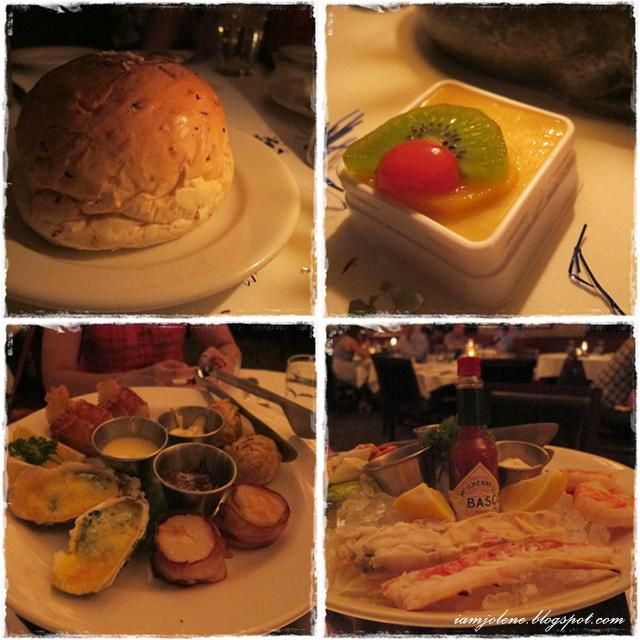 After the platters were cleared, we had Lobster Bisque and Baked Five Onion Soup crusted with Swiss cheese. It was the first time my parents ever had lobster bisque and onion soup with crust. Morton's mains do not come with side dishes so we ordered Bacon and Onion Macaroni and Cheese, Grilled Jumbo Asparagus, and Jumbo Potato to share.
Morton's allows sharing of food quite unlike most
atas
restaurant. Joa, Kh and I had two Center-cut Filet Mignon in medium rare. My parents shared the Signature Cut New York Strip in medium (they had actually wanted well-done to medium well-done). Jas and Ben shared the Porterhouse steak. All of us got to taste everything as we cut out portions for one another. All of us felt that the Porterhouse steak was the best.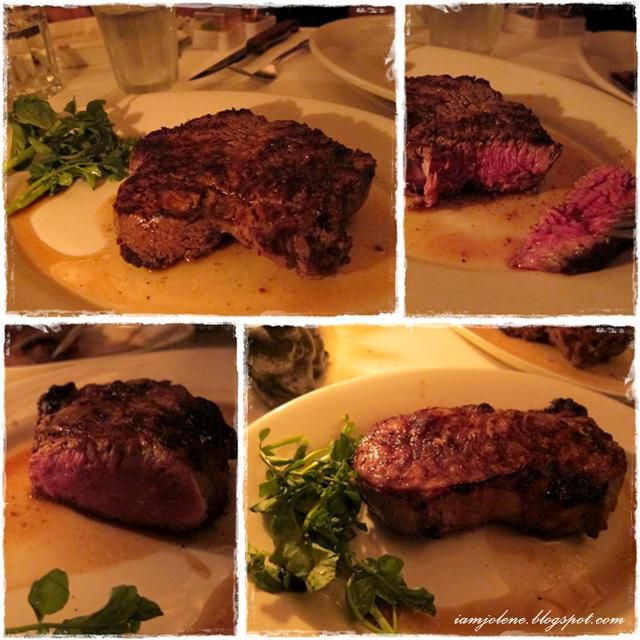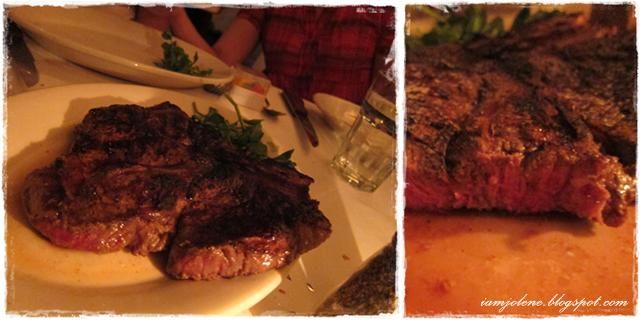 The desserts on the tray were for display. When we finished our meal, the waitress showed us the platter instead of a dessert menu and explained each dessert.
Top: Morton's Hot Chocolate Cake, Lava cake oozing out chocolatey goodness.
Bottom: Complimentary Souffle in Grand Marnier flavour as the birthday "cake", Crème brûlée.
This was the ubiquitous family photo all over Facebook that evening since both my sisters, my mum and I all had this shot in our phones and camera. Even Morton's had this shot as seen in the next picture.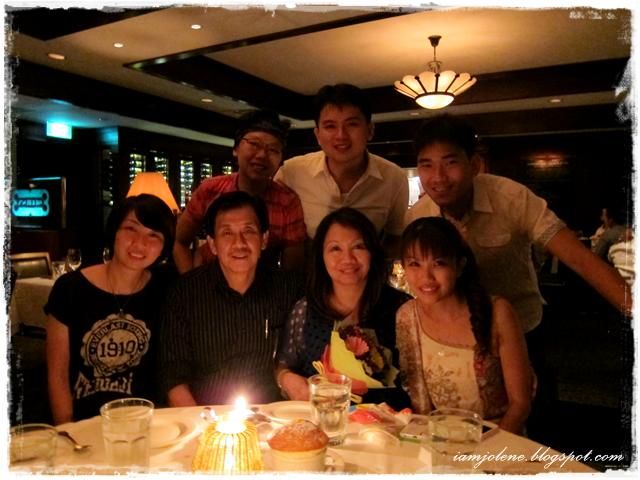 My mum had a pleasant surprise from Morton's in the form of a hand-made card. She was surprised at how quickly they could print the photo.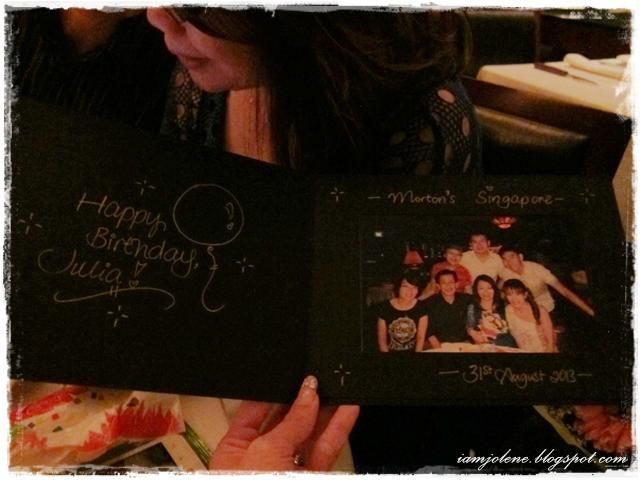 The bill totaled to about $915 which like every family celebration, was to be shared among all the
si gin nah
. Even though $915 could buy a lot more useful items than to spend it on just one meal, we all strongly feel that it is perfectly fine to splurge once in a blue moon, especially on our parents.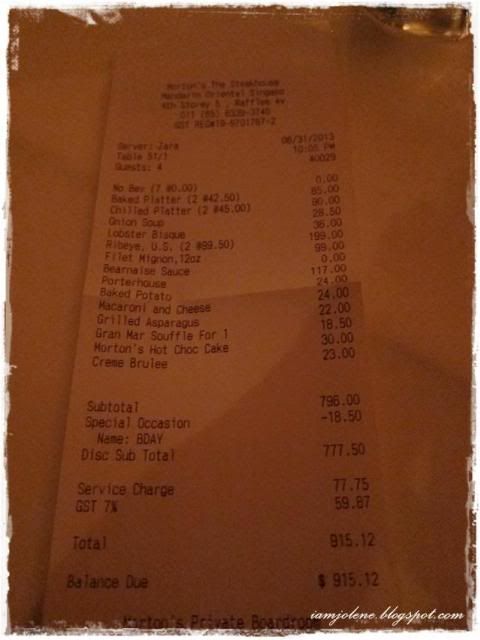 It was so dim in the restaurant and outside that it was difficult to get good shots without the flash. I ended up with a series of unflashed and flashed shots in my camera.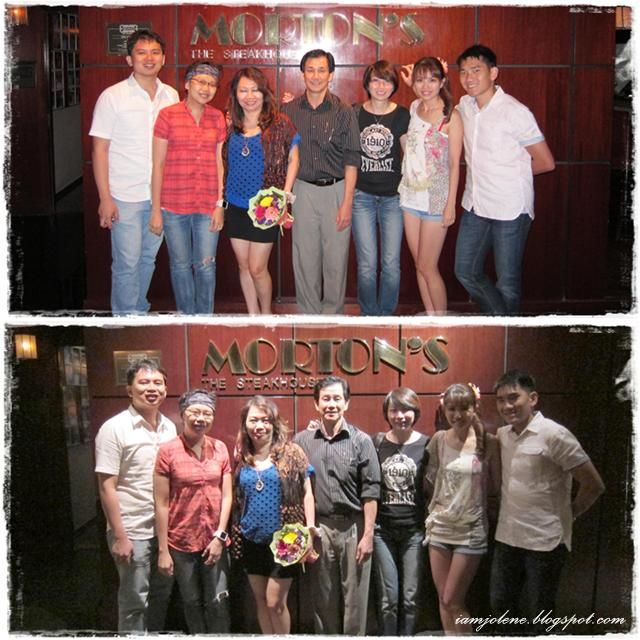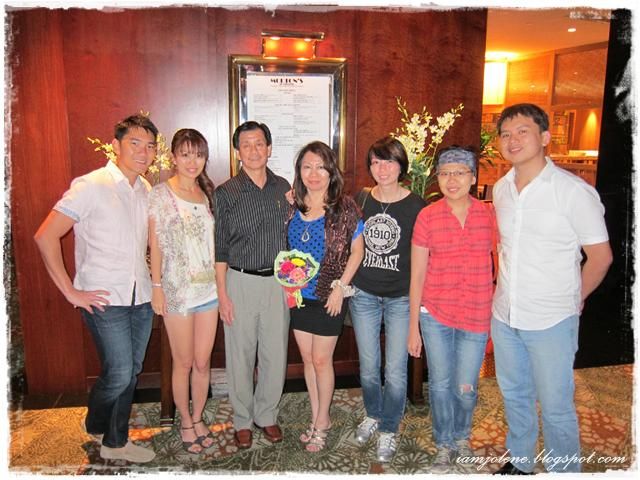 After dinner, Jas, Ben, Kh and I checked out the
Singapore Night Festival
which is a "nocturnal extravaganza of spectacular aerial performances, music, dance and installation artworks at the heart of Bras Basah.Bugis precinct, Singapore's arts and heritage district".
Light show at the Singapore Art Museum (SAM).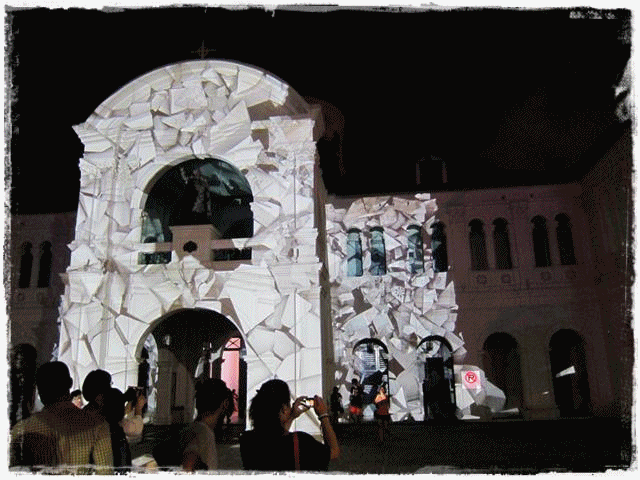 There was an Absolut Vodka exhibition at the National Museum of Singapore.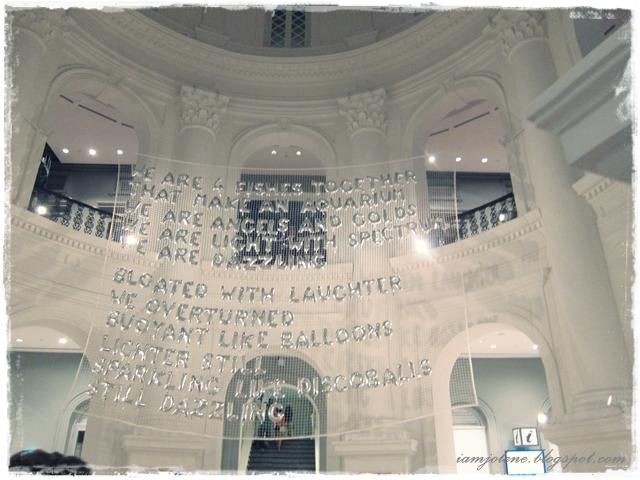 Jas is a huge fan of Absolut Vodka bottles. Whoever who comes home from overseas would buy the latest Absolut Vodka from the duty-free shop at the airport to add to the collection. I always told her she is a sucker just like Absolut. Absolut really knows how to make customers part with their dough with all their unique bottles and limited editions. Jas really knows how to make me part with my dough and not return me the money.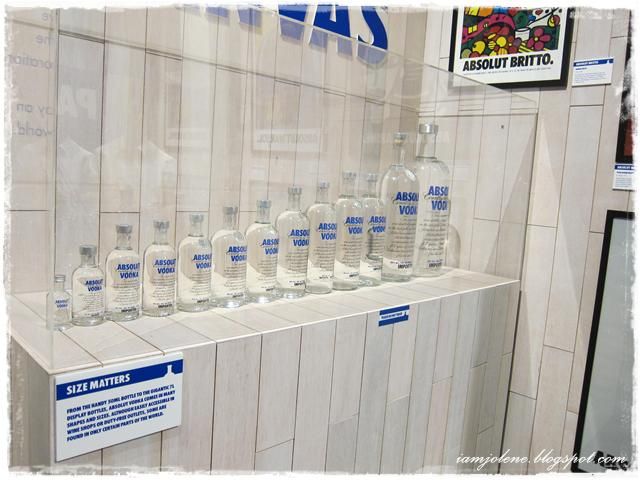 Jas's collection of Absolut is placed on the headboard of my bed in my family's home. When I moved out of my family home, it was just one row of bottles. Recently, I saw that the whole headboard was cluttered with bottles. My mum beseeched us not to buy anymore as my the headboard would collapse soon. Hahaha...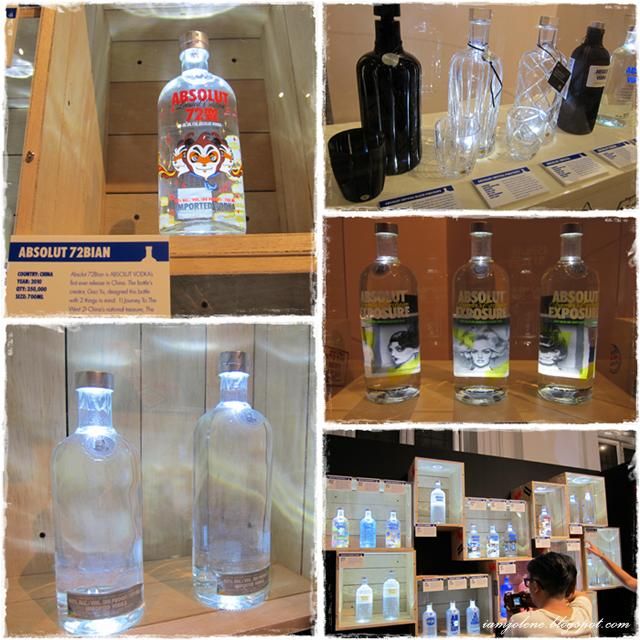 The city series.
Brooklyn holds fond memories for me.
Big big bottles! Plus a photobomb!
There was a room where rare bottles were housed.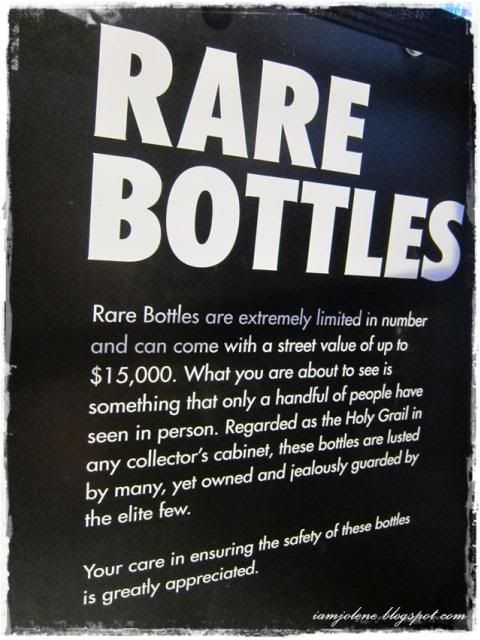 Top Left: The rare bottles.
Top Right: Absolut Terminator edition was produced in 2011 with a quantity of 3 worldwide. 2 of them are on Singapore soil and the third is owned by an American.
Bottom Left: One of my favourite-- B-store and friends. There are 20 bottles in the world. I love the trinket and charms.
Bottom Right: Another favourite though I only like it for its back.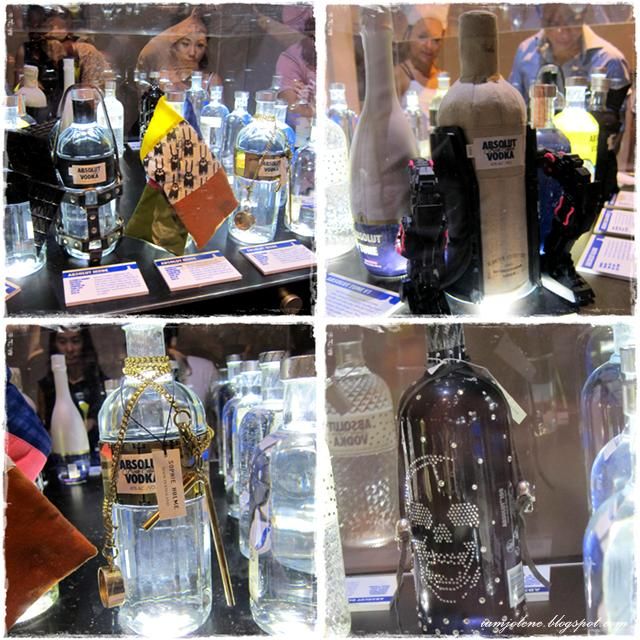 In the music room, there were capsules with a single bottle in each of them. Lifting and putting down the bottle in the lighted depression would create music. We were in the bass capsule.
I personally dislike odd shape bottles which spoils the whole look of Absolut.
I wonder how much they spent on their collection.
[All photos in this section were taken using Canon S95, iPhone 4s and iPhone 5.]

~*Dad and Sis's Birthday at Oscar's 2013*~
In the same fashion, my dad and Jas's birthday would always be celebrated together. In the same fashion, it clashed with the finals of the F1 night race in Singapore.
Since my dad couldn't get his oyster fix for his last birthday, he suggested oysters again for this birthday. It had been one whole year since his last craving. Poor Daddy!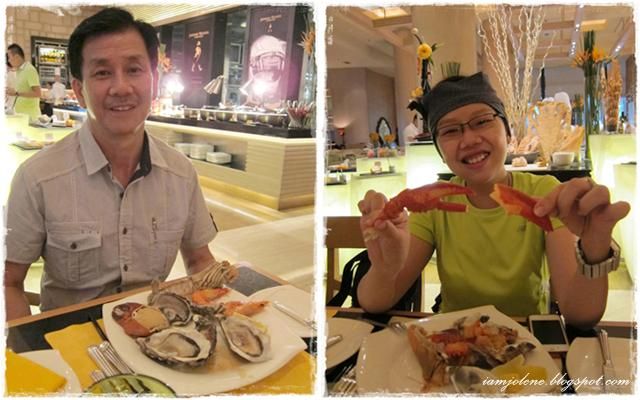 I was so glad that I chose Oscar's buffet for my dad was in for a treat when it came to oysters. 6 whole buckets of oysters from various regions awaited him! The only gripe is that you can't help yourself with as many oysters as you want as the "chef" would be there opening your choice of oysters for you. This made my dad a little shy as he could not freely help himself to the oysters. On the other hand, my dear hubby simply didn't care and just kept asking the chef to open. Kh said the chef seemed to smirk as he opened the oysters, as if taking note of who ate a tad too much.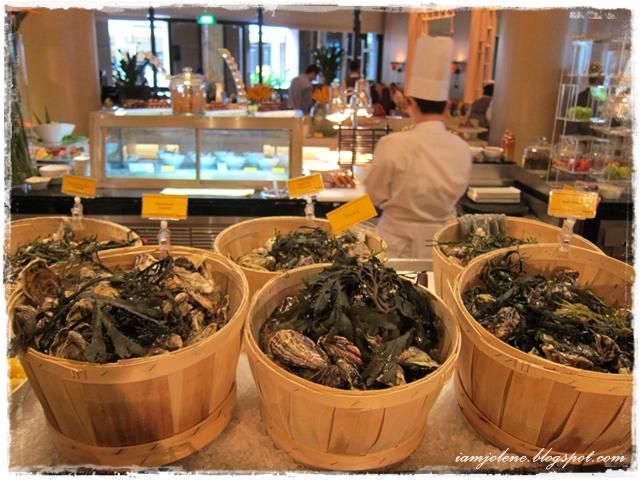 Kh and I were really early and while waiting for my family, all we could feast on was this visual treat in front of our table. That was the bread table.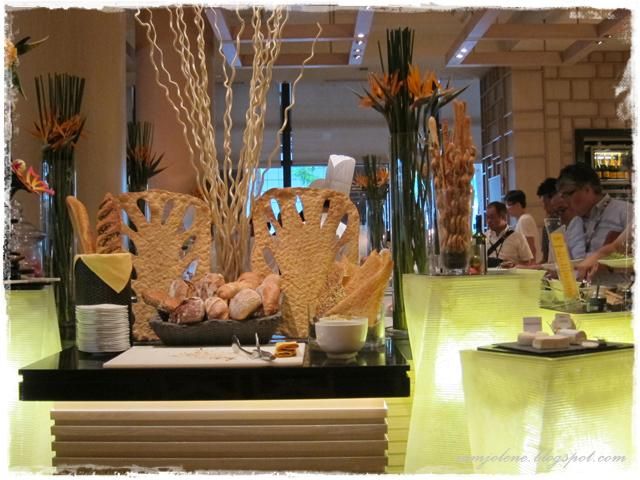 The cold stuff.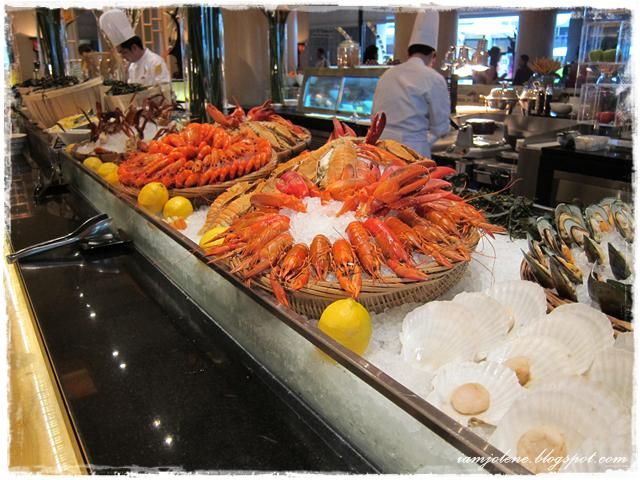 The salad bar.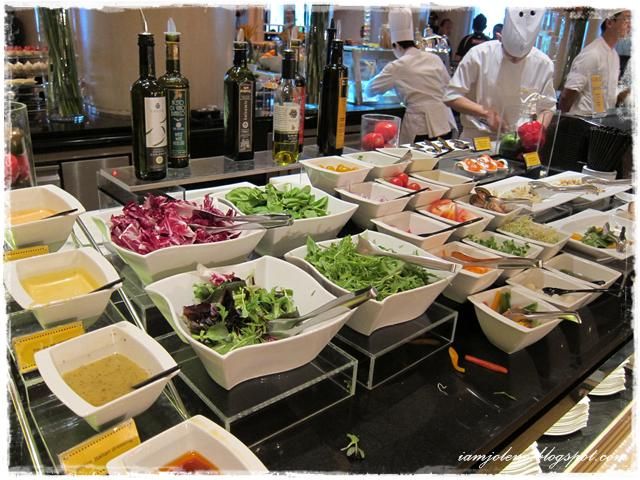 I've never seen so many cheese in an international buffet before. The bottom right shows the salad bowl made of cheese which the "chef" would toss and mix your choice ingredients in.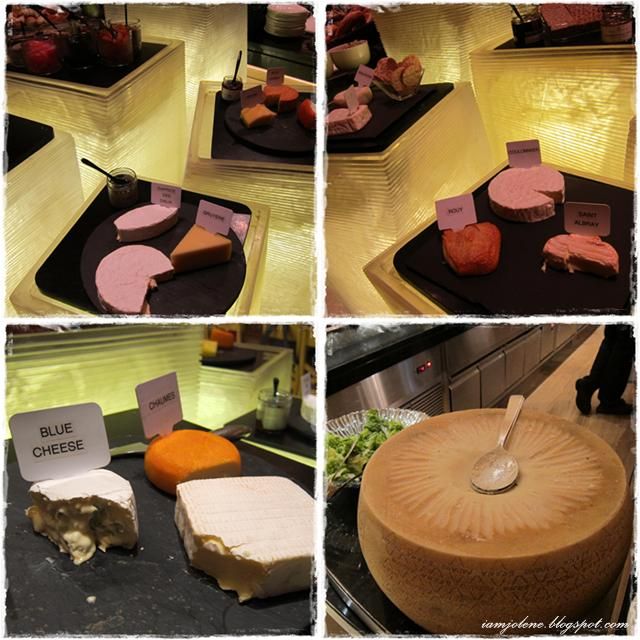 The desserts table.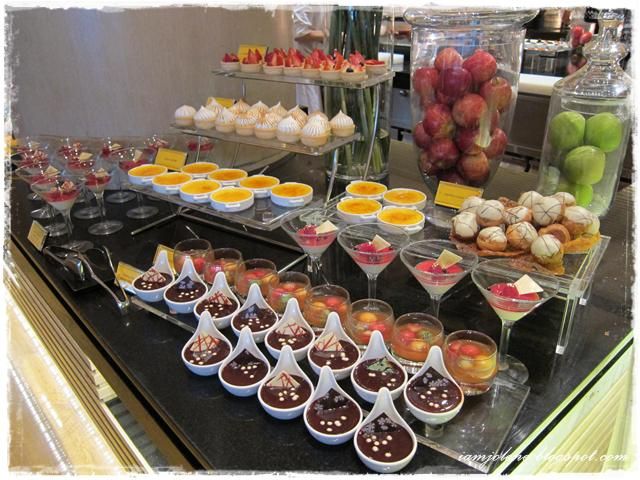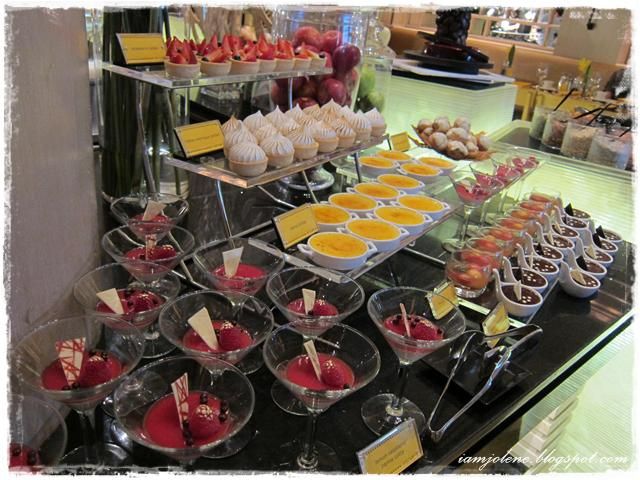 My family finally arrived and we started whacking the food.The sashimi consisted of the usual salmon, tuna and swordfish. They had one more variety of sashimi-- tilapia (the red one). I've never eaten tilapia sashimi before and I didn't quite like the taste. The only tilapia I know were those we rear when they were just mere fry. The hot food did not fare as well as the cold food but overall, it was a really good buffet.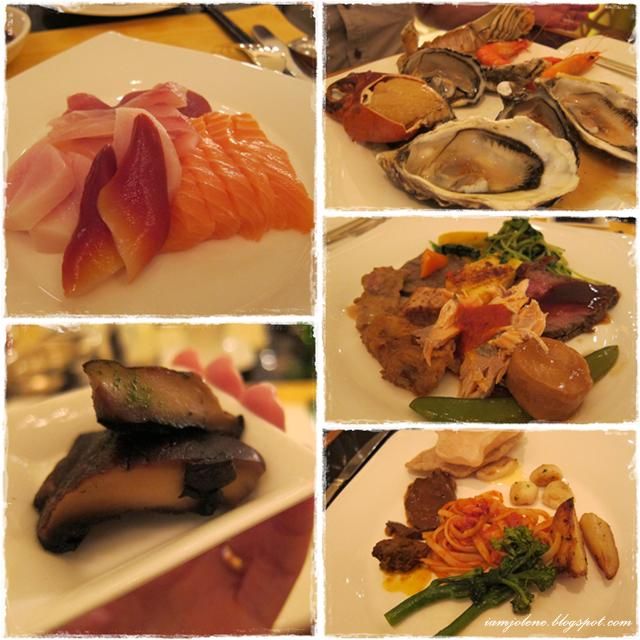 Top Left: Cheese and crackers
Top Right: Jas's salad with prawn crackers
Bottom Left: Joa's salad
Bottom Right: Is the top one a prawn? The underside looked like that of a crayfish.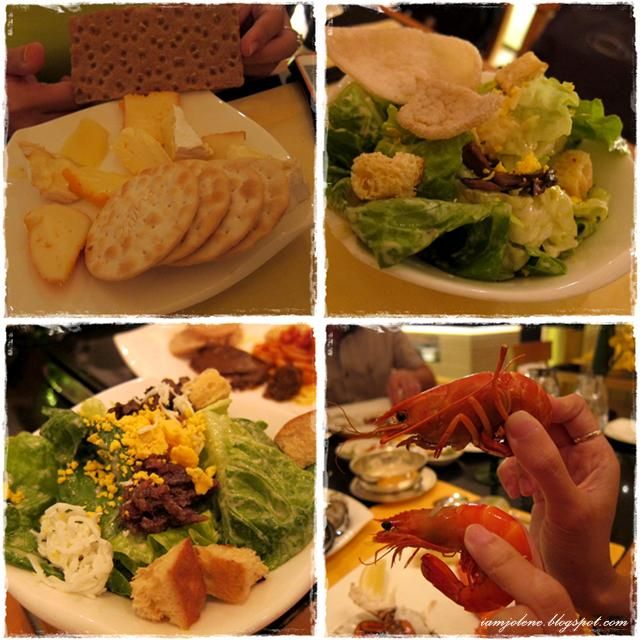 I like the taste of raw oysters but somehow I could never take more than 3 without the compelling need to wash the 3rd one down my throat with something. 6 was the maximum I went that evening as I wanted to try all 6 of them from the various regions. I requested for the chef to place my oysters in the exact order as the buckets so that I could identify the oysters I was eating. I like Fine de Claire No. 3 and Coffin Bay. With the right amount of lemon juice and tobasco sauce, the oysters were heavenly.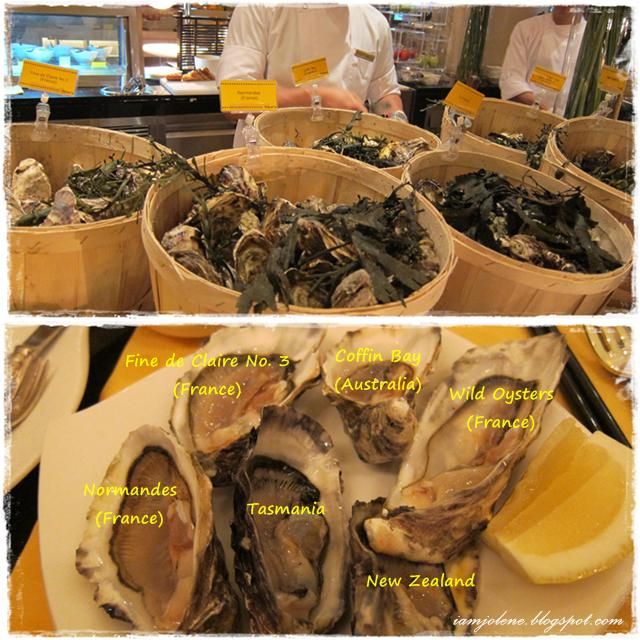 Located outdoor was the Asian booth. The Asian food did not fare as well too. The tom yam, bak kut teh and prawn noodles were not as good as those found in hawker centres.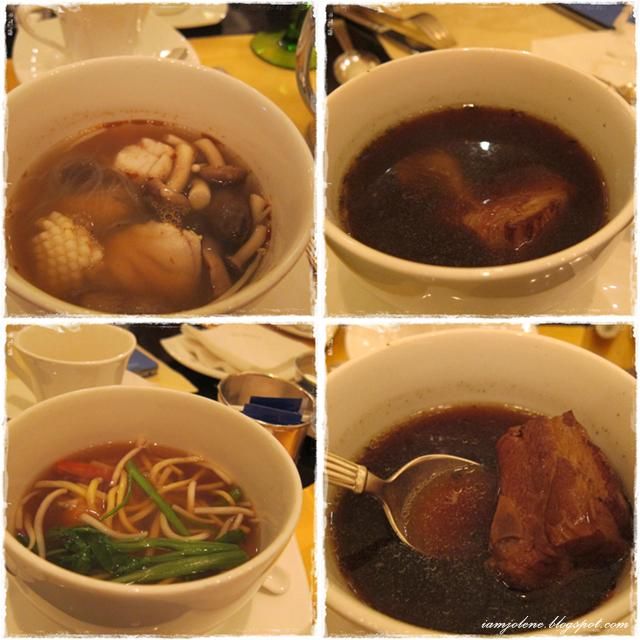 The most unqiue display of desserts were the macarons. I almost did not see them at all.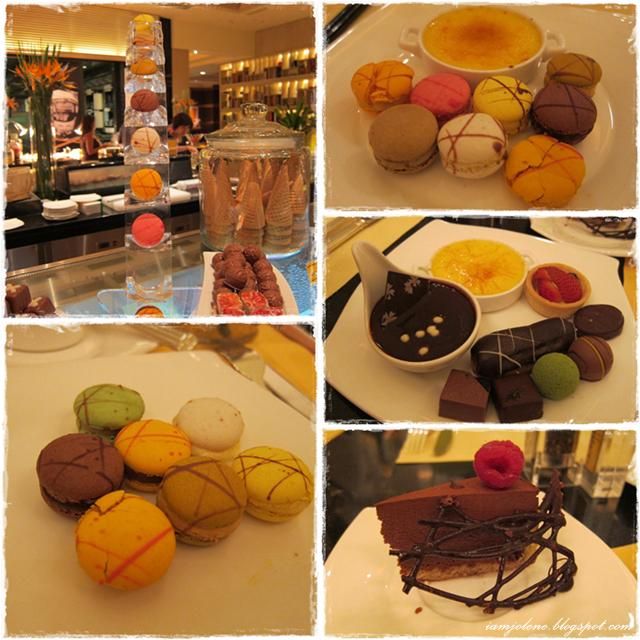 I hope you haven't been reading my blog on an empty stomach. Looking at human photos would definitely help. All of us wanted a shot with dad.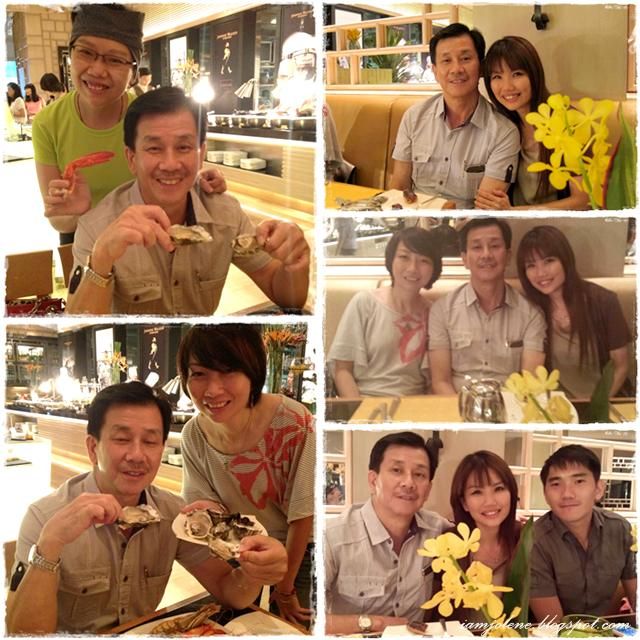 This made my mum so jealous... hahaha... that she said, "I also want to take one with Daddy!"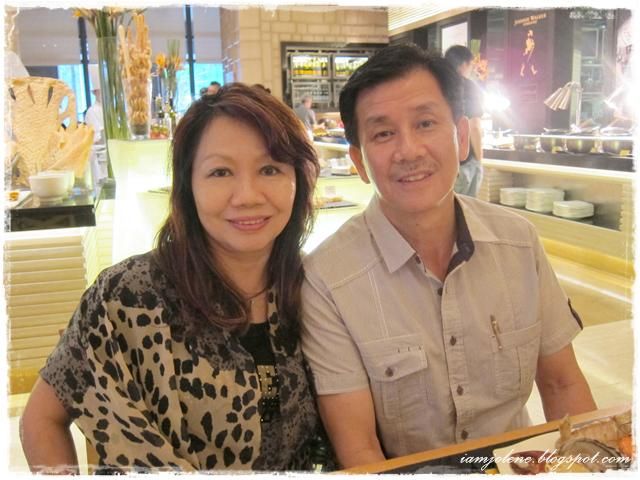 Guess why were all of us looking in the same direction?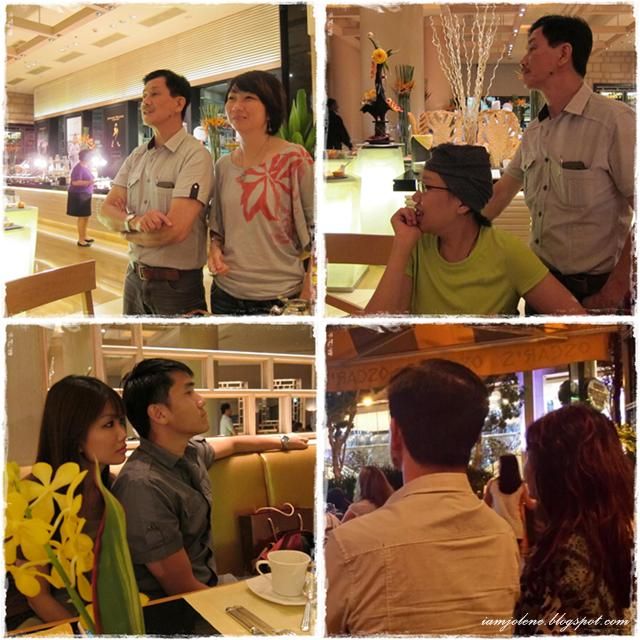 The F1 race had started and we were watching it on TV. Oscar's is located in Conrad Hotel which is in the heart of the city where the F1 night city race was held. Hence, we could hear the roaring engines and wheels of the cars from the restaurant.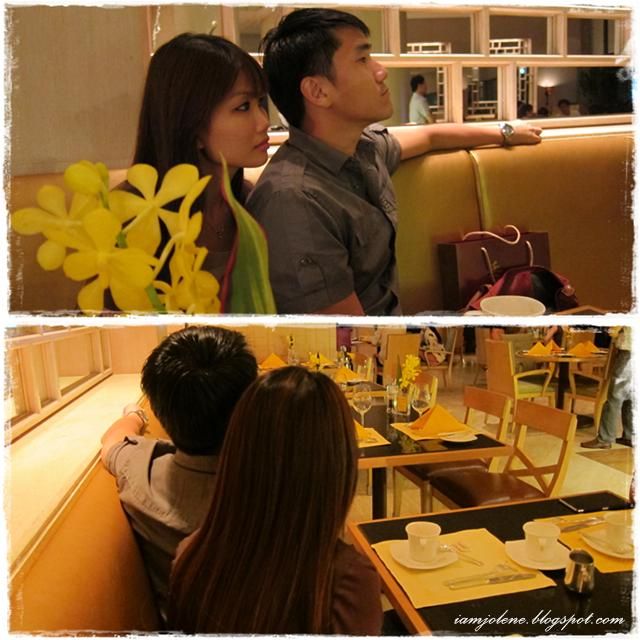 There was also a big screen at the outdoor seating so each time my dad wanted to imbibe in the F1 buzz, he would head outdoors for the big screen and the deafening "vrooooooom". The restaurant looked empty from the photo. Earlier in the evening, there were a lot of Japanese diners with F1 lanyard around their necks. Most of the patrons had left to watch the race before it was aired live. It was really funny to see everyone glued to the screen, from the patrons, to the wait staff, to the chef, to even the manager. Nobody went to the buffet table too.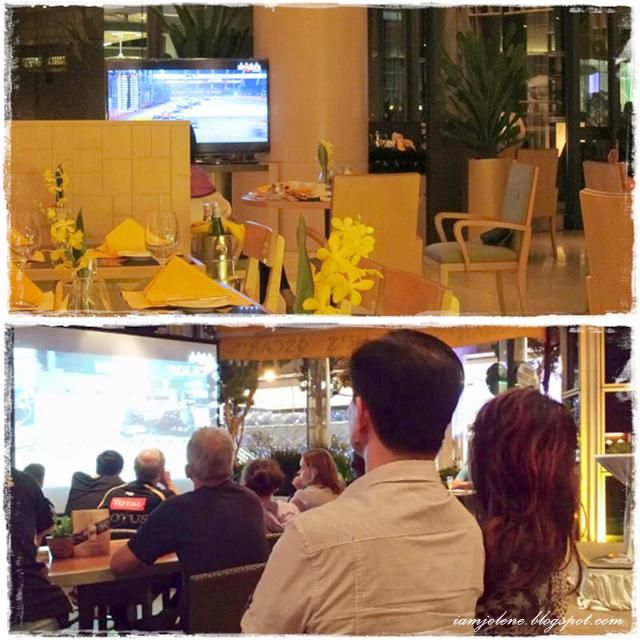 During the advertisement break, my dad went to whack more oysters while the rest of us had desserts, tea and coffee. We also took the opportunity to snap many photos.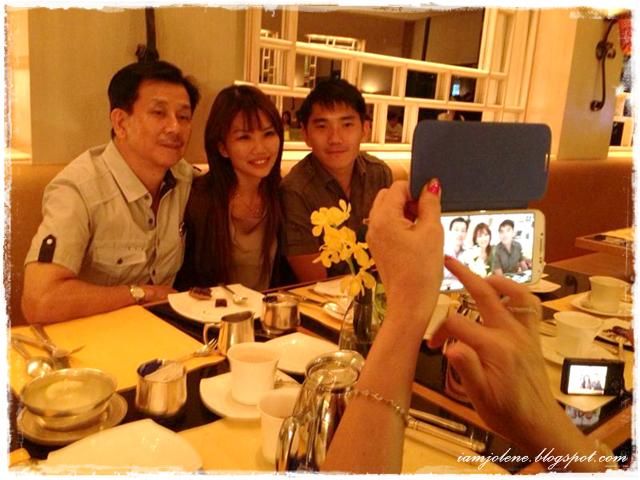 I just had to say something about the bottom right picture. The girl in the background is sooooo pretty. She was standing as close to the wall as possible as she knew we were snapping reflection shot. She didn't know that my mum's new Samsung Galaxy S4 (which we got for her birthday) was a wide screen camera. After snapping, my mum said out loud, "Wah, very nice... Eh? How come got the girl behind?" We all turned back and burst out laughing. The girl/lady turned to us and apologized. She had a sharp pixie face, defined nose, beautifully lined eyes and her complexion was so dewy. She looked just like a Taiwanese celebrity. Heck, she looked so pretty even when blowing her nose.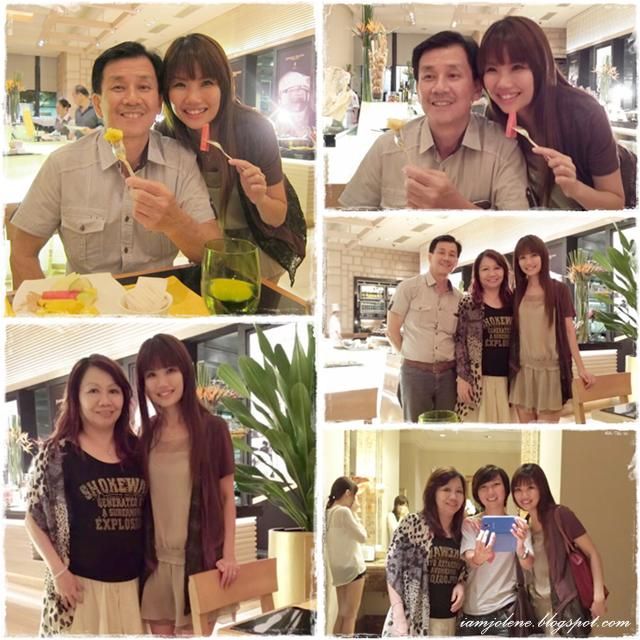 It was the first time we could squeeze 7 in a row for a family picture and still have so much space.
Top: I don't know what kinda fashion is that but kh felt it was his own definition of cool to wear his jeans folded up, revealing his ankles. Answering a very important call from work and looking so serious in such a dressing just amused all of us. My mother decided to "disturb" him.
Let me end off this post with a beautiful McLaren.
[All photos in this section were taken using Canon S95, iPhone 4s, iPhone 5 and Samsung Galaxy S4.]

~*Thank you*~
I reckon that in this post, I have loads of typo, grammatical and spelling errors, awkward expressions, and simply bad writing as I'm typing this with my eyes half. I feel lazy right now to even proofread my own writing.
Thank you to all you lovelies who left me comments on my previous post and to all my frequent and loyal blog readers/ friends who would always keep up with me here. I've been so busy at work that I often come home when the sky is dark and I would be too exhausted to even switch on my laptop or do anything constructive. Besides being busy at work, I'm also working on my many commitments after office hours with my eyes half open. It doesn't help that my usual after dinner gastrointestinal pain had increased in length and intensity for the past 2 weeks. The pain sometimes even extends throughout the night till the morning which is affecting my lifestyle quite a bit.
My blog needs to be dusted of cobwebs once a while. However, you would never see cobwebs on my my
Instagram
page. I would always be more active on platforms which could be accessed easily on my smartphones. If you like my pictures, do follow and drop me a message so that I could check out your page too! I don't entertain follow for follow requests but if we have enough meaningful exchanges here, I would naturally follow you back.