There is nothing in this world that is worth achieving more than the love from family and friends. I could not be any more thankful for all the wonderful people in my life especially during times when there are lots of challenges to cope with. Being around with people you love who love you is one of life's greatest blessing.
~*Dinner with My Other Family at Spruce*~
Not counting the super advanced birthday celebration with the
F4 gang this year
, my birthday was celebrated in advance with my other family. Cyn, Charlene and I are almost family as we've weathered through storms during my goddaughter,
Charmaine's
cancer days. Surprisingly, as close as we are for years, this was the first year we actually got together as a group to celebrate my birthday, along with all the partners. Godson Jase and my birthday are 5 days apart and so it was a Double J celebration that evening.
We met up at Spruce. It was the Vesak Day public holiday the next day and hence we could afford to meet up in the late evening after work without worrying about the next day.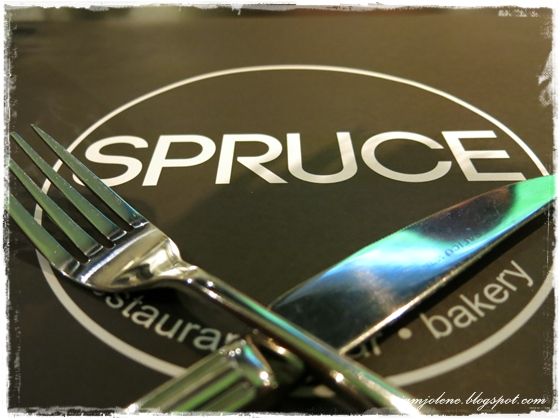 Baby Dylan joined us too!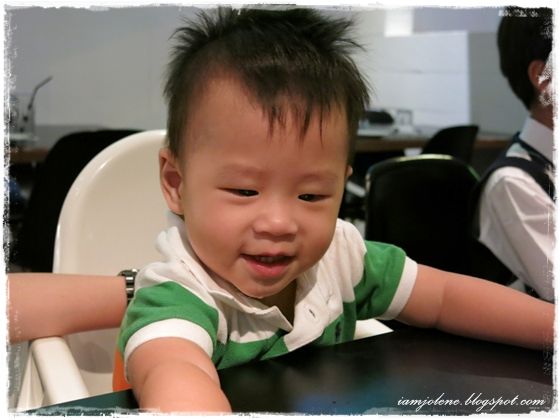 Dylan always looks so innocent that my heart melts whenever I look at his face. I bet Jase feels the same way coz that evening, he was always around him and looking out for him like a big brother.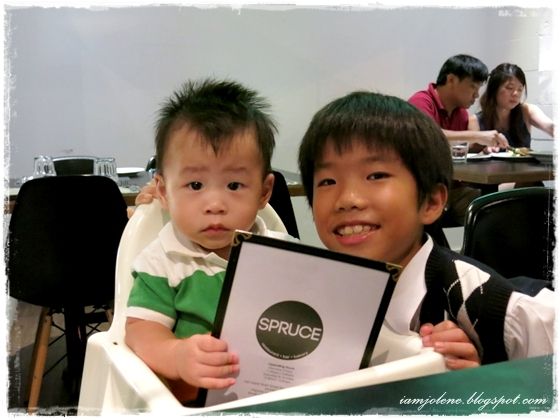 "Jase kor kor, why you always stick to me?"
Cheeky!
"I'm not always so innocent-looking. I can be cool too. Ima stick my fingers into my mouth and then do a cool point like this."
Dylan felt squashed between his mommy and Jase.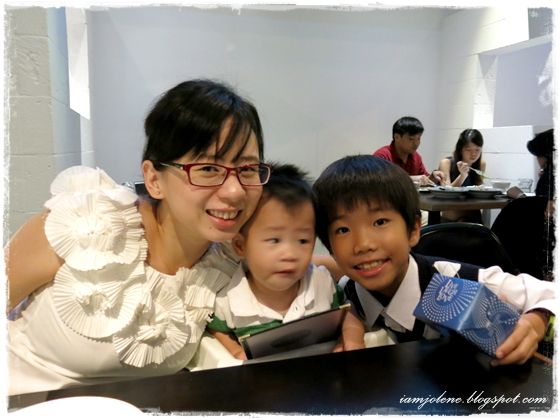 Where are you looking, Dylan?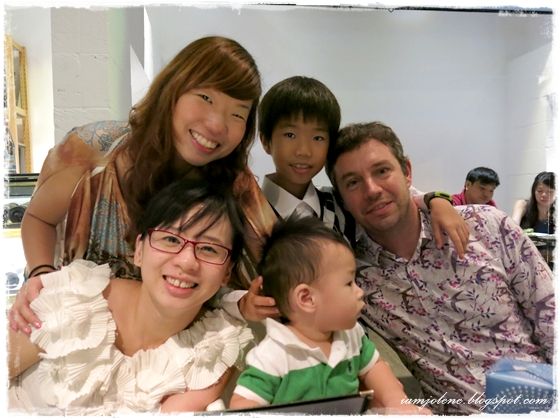 Jase waited for me to arrive before he opened his present from Charlene. It was an Adidas watch. Adidas is one of my favourite sports brand and I think I sorta influence Jase to like Adidas too. LoL... Or did he already have good taste?
Dylan seemed very happy in Cyn's bosom or maybe it's just the box.
It was my turn to open my present from Charlene.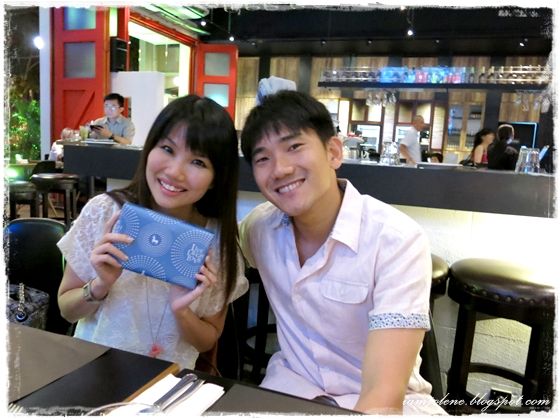 She got me a very unique birthday gift-- a BIBLE!
I can't stop laughing at the words on the packaging.
Charlene really thinks for me...
1. Bimbotic checked
2. Trendy checked
3. Eco-conscious checked
4. Lazy checked
I had guessed it was a book as I unwrapped the gift. When I saw what it was, I was momentarily speechless.
"I know what is gonna come out from my mouth would be unholy but this is a DAMN CHIO GOTHIC bible la!" I exclaimed to Cyn who was beside me.
[Aside: The word "damn" was already a mild replacement for another word which I frequently use to mean "extremely". And my good friends would most certainly know what that word is.]
All of us had a good laugh at my gift. Paddy who was the newest addition to our old gang was confused and Cyn had to explain to him how I always claim myself to be "non-practising Christian" who believe in God but slams many Christian's way of thinking and fervour in converting people. Moreover, all of us are creatures full of sins and the bible certainly was a humorous gift.
I had to summon Charlene to take these 2 shots for fun.
I bought a chio Precious Moment bible many years back to encourage myself to read the bible. Now with this super arty and fashionable Ed Hardy style bible, I have no excuse not to read the bible. Psst... The Precious Moments bible seemed to have been collecting dust.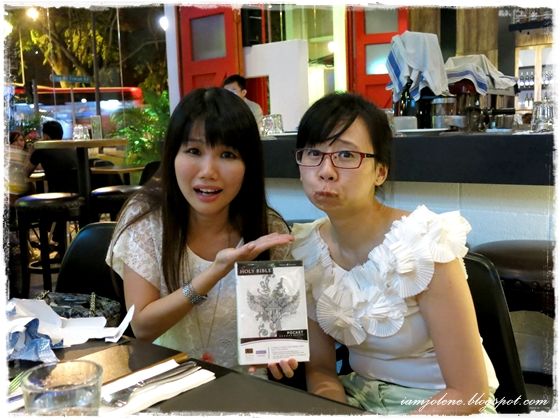 Cyn wanted to join in the girly shot too.
Godpa, Godma and Jase. He is growing taller and more fashionable by the days.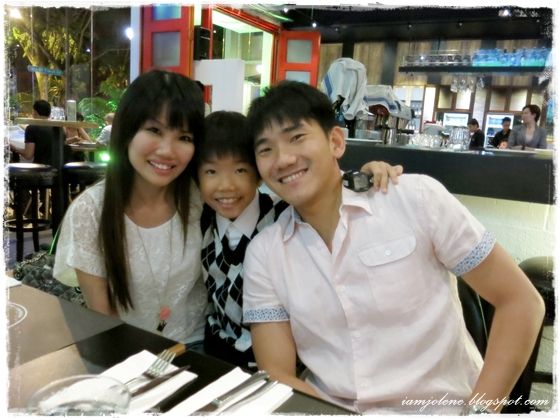 This was the shot before the one above. My expression and Jase's action was totally spontaneous. Thinking that kh would always spoil the picture, Jase and I made funny faces. My expression unknowingly actually matched his mock biting of my face.
2 is not a handful for Josh. It is 2 hands full. Ok lame.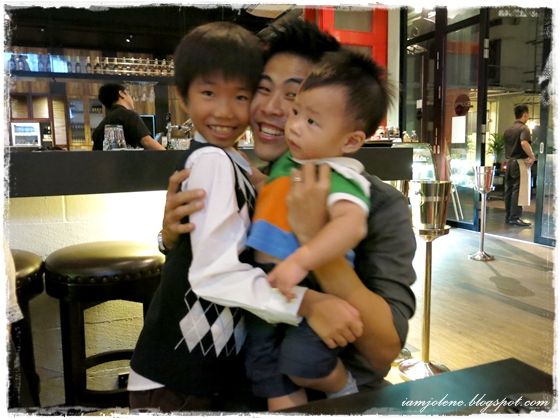 Kh and I unabashedly squeezed into the frame.
Everybody wanted a piece of Dylan...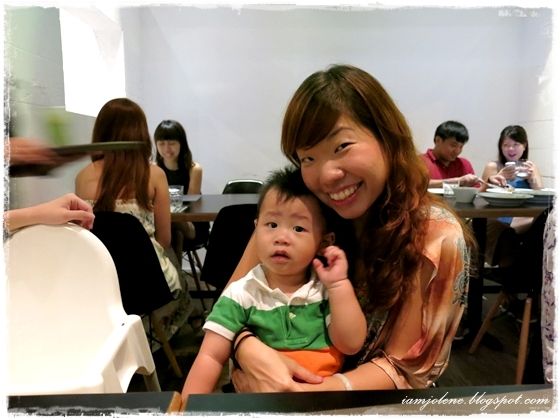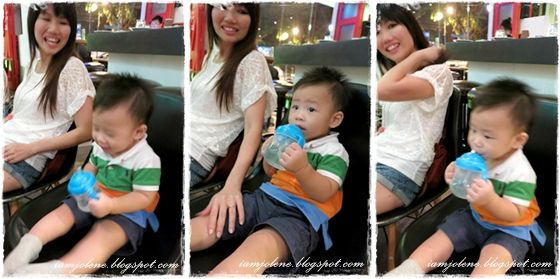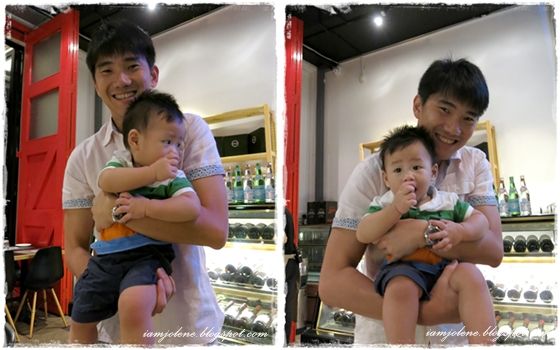 I love this series of shots coz Jase looked like a protective kor kor while Dylan clung onto him like a baby koala.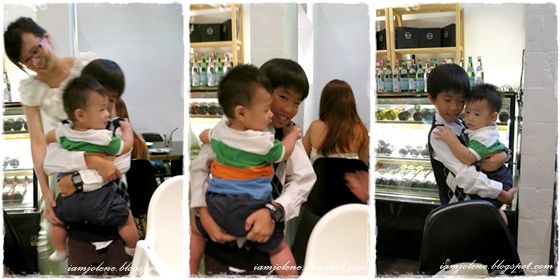 Kh's Tenderloin Steak Frites with add on Foie Gras for $12. That's quite reasonable for Foie Gras.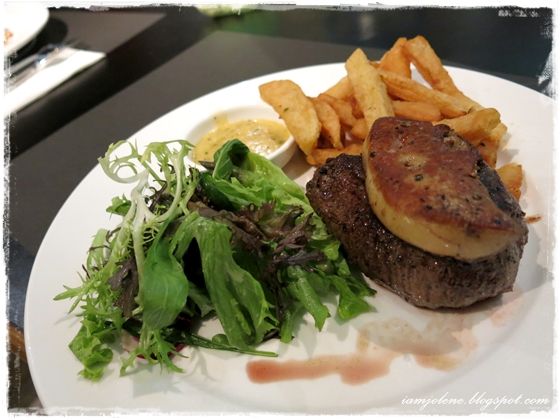 Josh had it without the Foie Gras.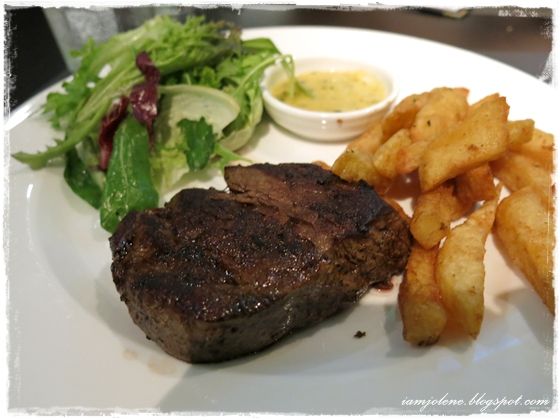 Paddy had the Spruce Burger.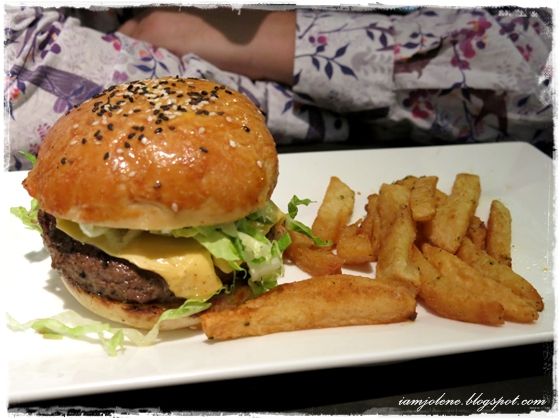 Cyn was so sickly, she could only think of Roasted "Pullet" Chicken.
I can't remember what Charlene's pasta was.
Whole Roasted Snapper. When I ordered this dish, I expected a whole fillet and not a whole fish! Well, the menu stated "whole fish" but it didn't occur to me that a whole fish literally meant a whole fish. Godson ordered the same dish and needless to say, we couldn't finish. Happy birthday to Double Js!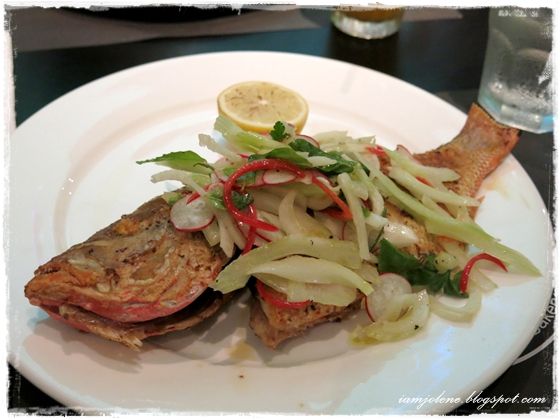 Dylan enjoyed being fed by Jase.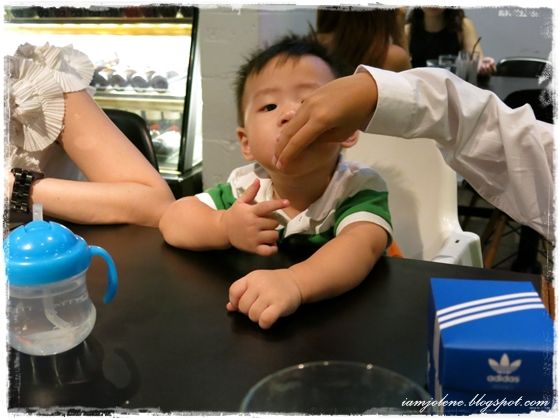 "Jase kor kor. What big teeth you have."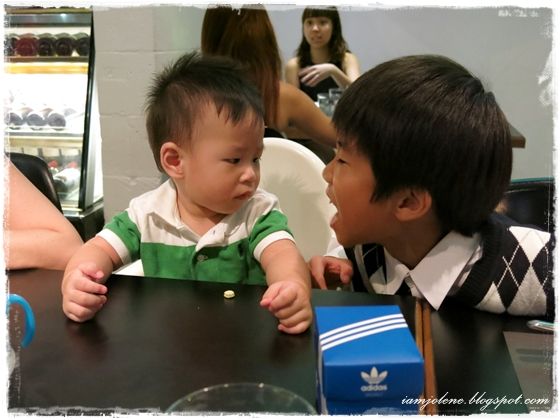 After all of us had finished our mains, I asked if we were gonna order dessert to share and nobody replied. We carried on chatting till kh passed Dylan to me and instructed me to bring him out of the restaurant for a walk. When I was about to step back indoors after having fed mosquitoes with our sweet tasty blood, Jase grabbed my hand and played a game of recognizing cars from their logos. (This boy sure knows his cars very well!) He went a few rounds and still refused to let me return to the restaurant. That was when I smelled a rat. I returned to find this on the table.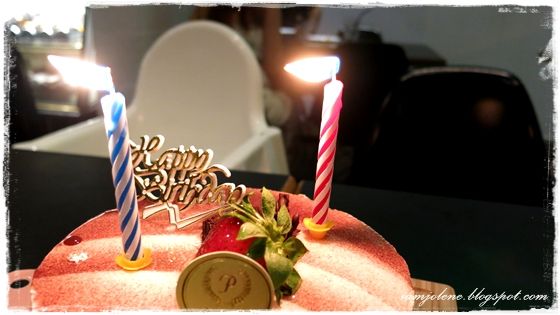 Jase asked if he was good at distracting and everyone said yes to being good at distracting but no to being natural when keeping surprises.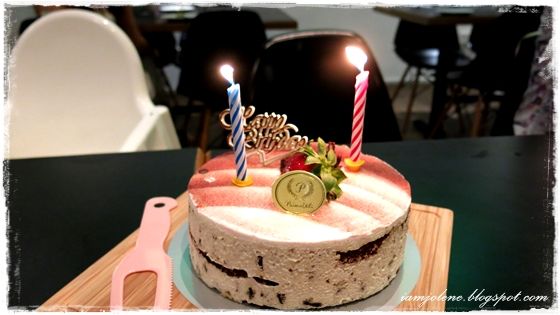 Happy birthday to us... Happy birthday to us...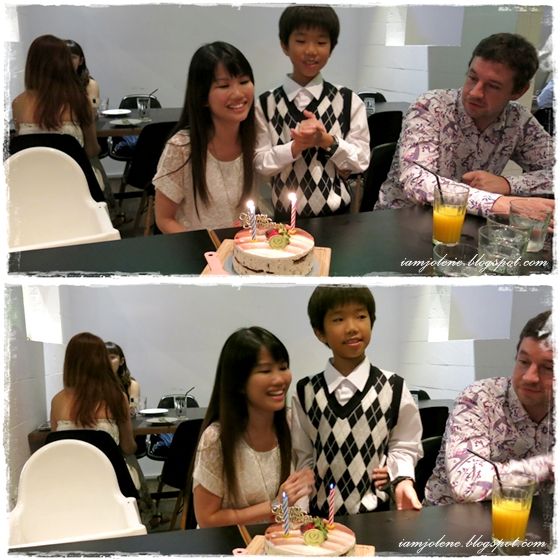 Time to make a wish and take a peek to see who was ready.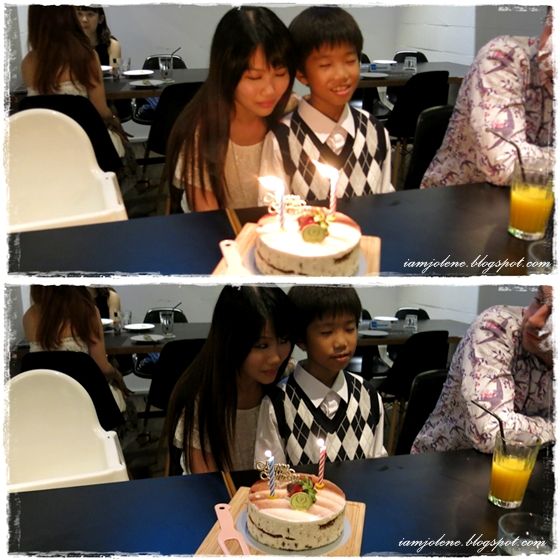 Blowing our wishes.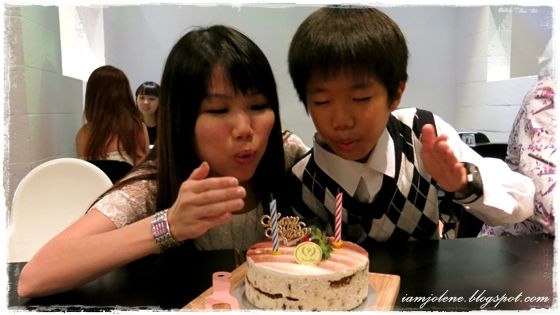 Obligatory cake cutting always leaves me wondering about the source and reasons for this practice.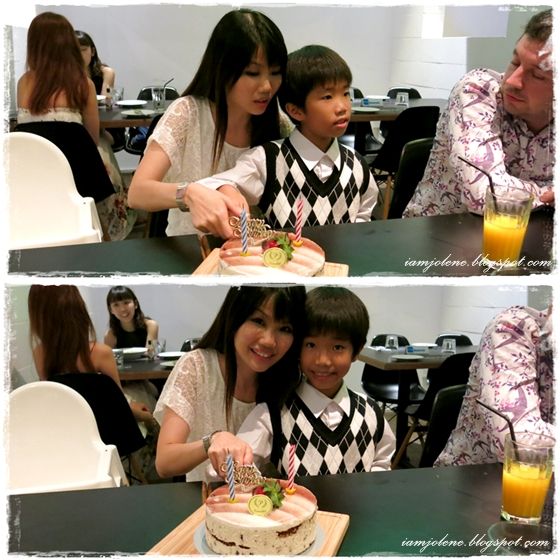 Dylan looked longingly at the cake and wondered why we were wasting time with the candle blowing and wish making. He was practically drooling.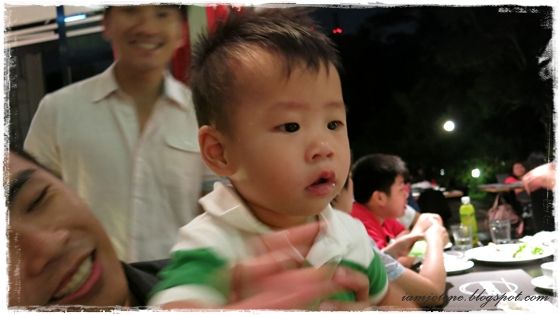 "Mummy, could I have some please?"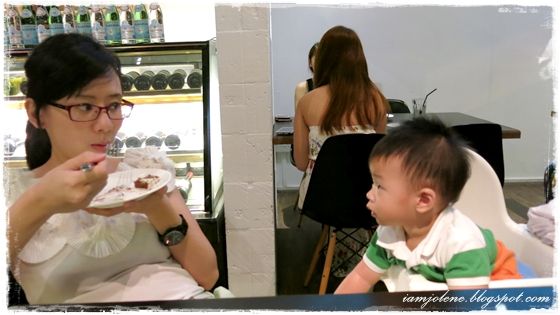 One of the ground rule set for Dylan is no watching of TV. He was fascinated by what was projected on the screen.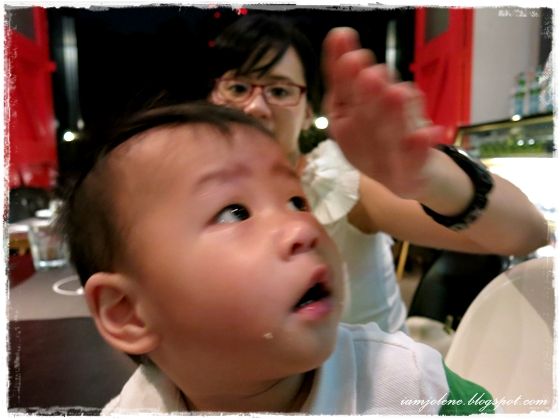 We are family... *sings to the tune*
Extracted and modified from my Facebook:
"Thank you babes and hunks, for the lovely evening of laughter and the SURPRISE cake. It was the first time having a double J celebration with Godson Jase. Thanx for putting in so much effort to distract me away from the restaurant while the rest prepared the not-so-surprising surprise cake. Thanx Cyn for being such a sport of a bimbo, making up, dolling up and feeling so happy despite your extreme illness. Thanx Charlene for being so spontaneous for a weekday meet up and for your incredibly unique gift. Thanx to all the partners hubz kh, Josh and Paddy for being the dash of colourful sprinkles. And of course cute little Dylan for being the cherry on top."

~*Staycation with the Hubz at Fullerton Hotel*~
On my actual birthday, we checked ourselves into Fullerton Hotel. There was a great promotion going on. We got the room and lots of dining perks with another free room stay to be used in a few month's time for a really sweet deal. For a last minute decision, it was too good to be missed.
That was the good.
Now, the bad.
I had a medical appointment in the morning. When the nurse gave me the date a few weeks back, I whined, "But it's my birhday..." She empathised with me and said she realised that too. So I was in great pain that morning after the medical appointment and experienced all the after-effects that only 10% of patients experienced. I nearly fainted when I got up from what I insisted was the "operating table" and they had to call kh into the room.
I felt really lousy to be the 10%.
So anyway for the rest of the weekend, I tried to enjoy myself.
It wasn't time to check in yet so after depositing our very small weekend bag at the concierge, we crossed over from Fullerton Hotel to One Fullerton for lunch at Bayside Crab Deli and Bar. There were simply too many tourists around the whole vicinity that weekend.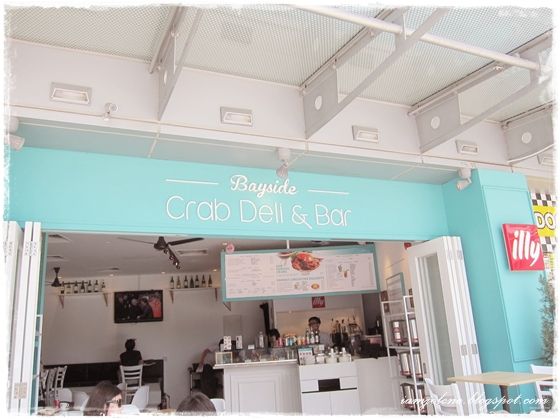 Kh's Carbonara.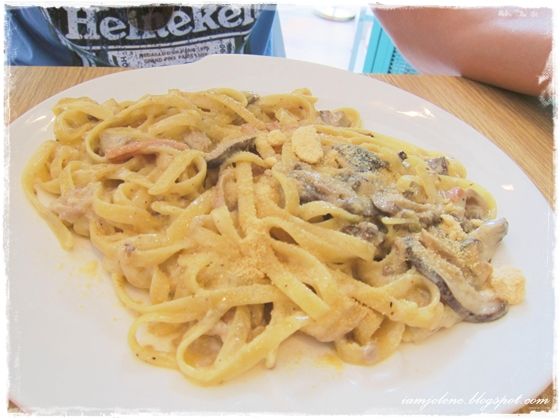 My burger... I never liked burgers that serve on plates but there weren't many food choices. The fries were good; I loved whatever that was sprinkled onto them.
For desserts, I had gigantic ice cream/ ice lollies.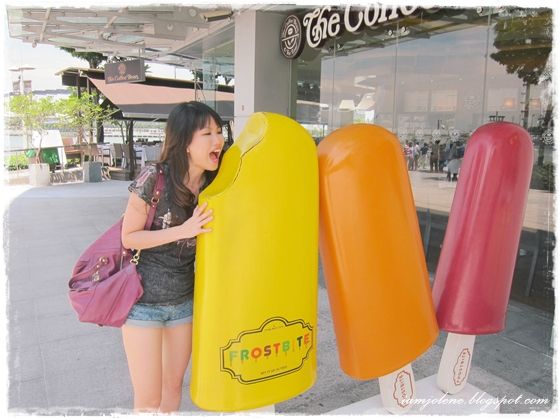 Marina Bay Sands (MBS) was where I'd wanted to stay but that long weekend with the public holiday on Friday jacked up the price to such an insane amount that I refused to book with them.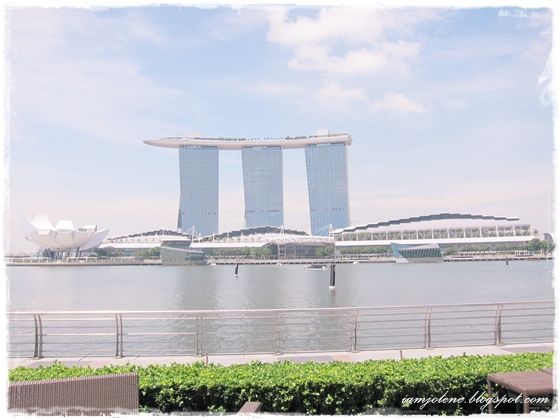 I know many of my overseas blogger friends know of Singapore largely due to MBS.
My siao hubby acting cool on the travellator.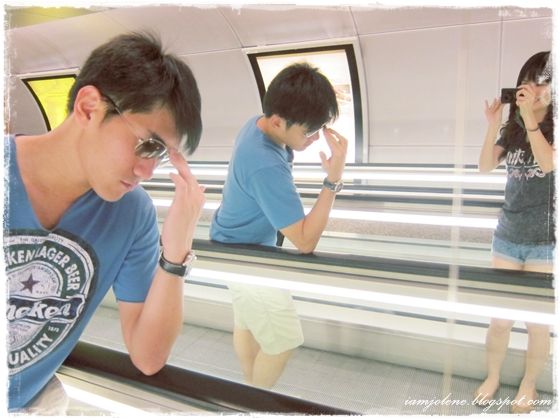 Back to the hotel...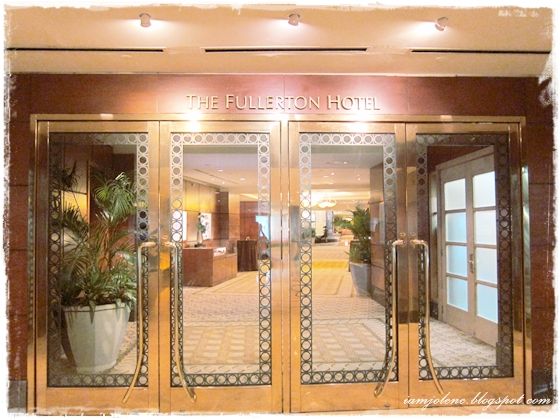 The famous koi pond under the grand staircase.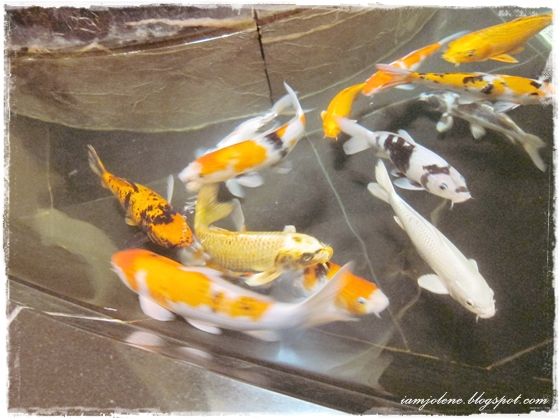 The grand staircase which could very well act as my ootd backdrop.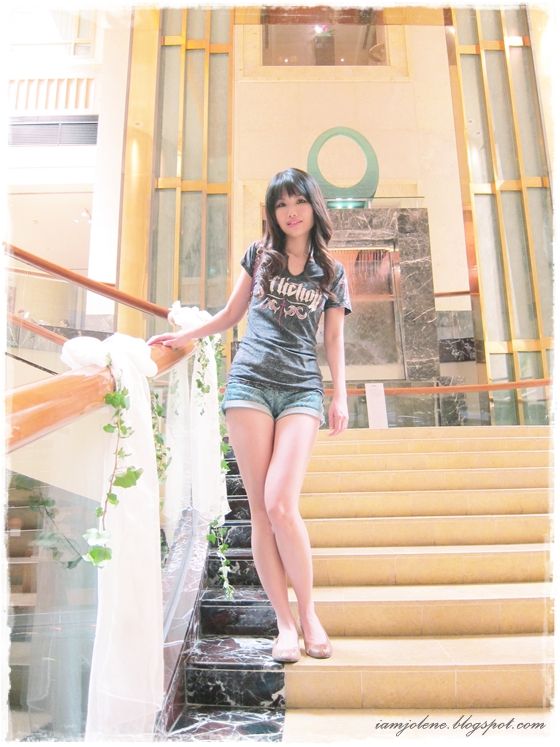 Outfit of the day:
♥ Affliction Stone Flower Short Sleeve Western Tee
♥ Cotton On Carissa Inca Tribal Printed Shorts
♥ Lanvin flats
Remember the
Lanvin shoes
which I raved about how it felt so buttery and velvety like I'm walking on cushion with no biting edges? Well, it bit a little after some time of walking. Sigh...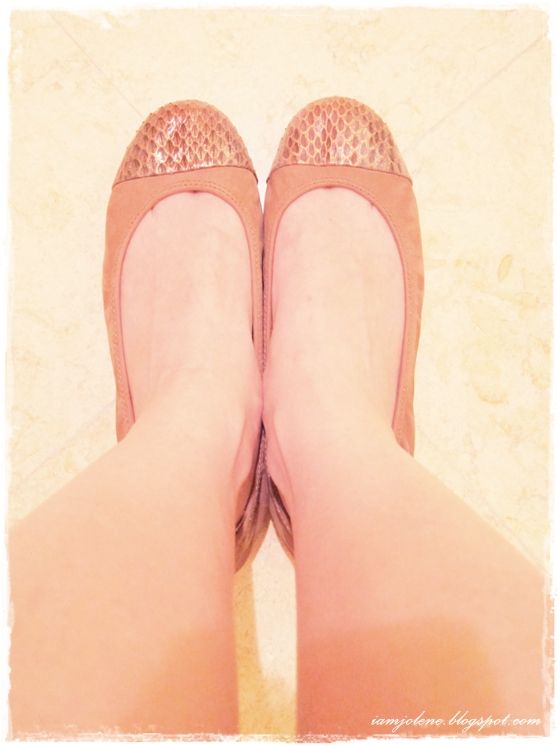 The inward facing rooms.
Identify the flags.
There were 2 weddings at the hotel that afternoon.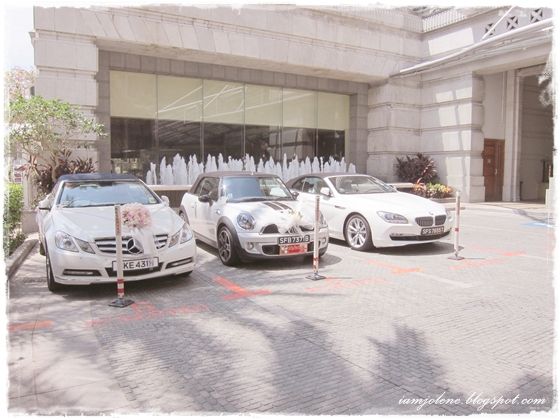 There was an exhibition of paintings by the Singapore association for Mental Health at the lobby. Do you recognise the great works these paintings are modelled after? I love the smiling cat as a twist.
Imitating the smiling cat.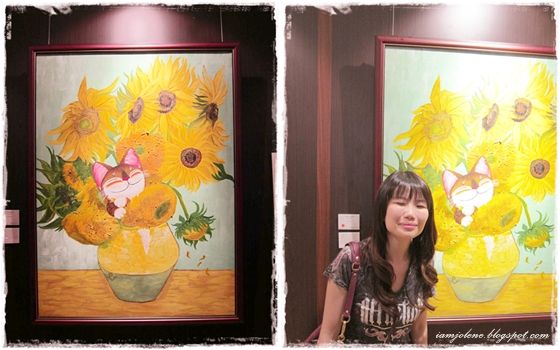 The Fullerton Bear welcomed us to our room.
The huge walk-in closet totally went untouched.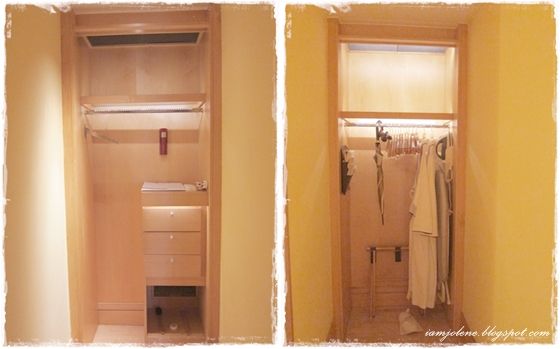 I love the large bathroom to bits. I spent almost 2 hours in there that night after bath slathering on their bath products and chatting on watsapp with my dear friend, evan.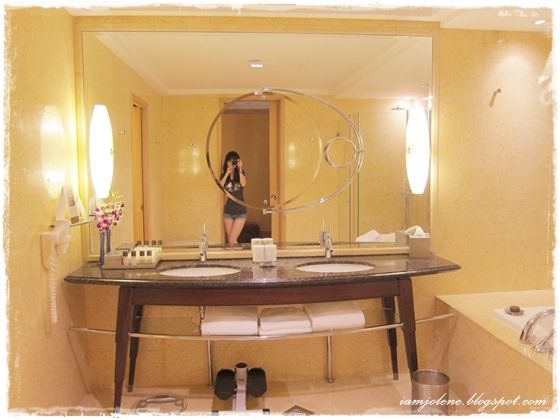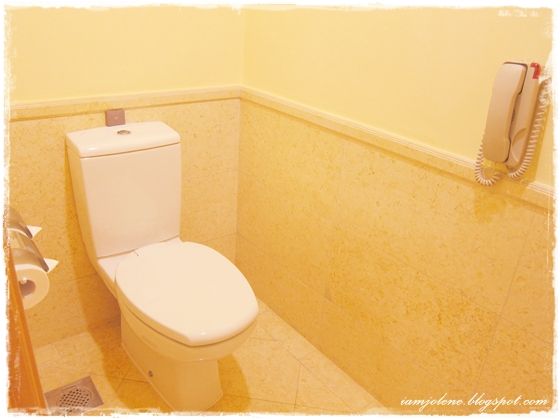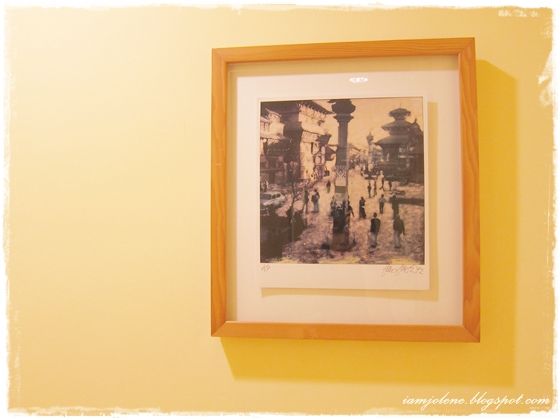 We were rather tickled by how small the tv looked in comparison to the room.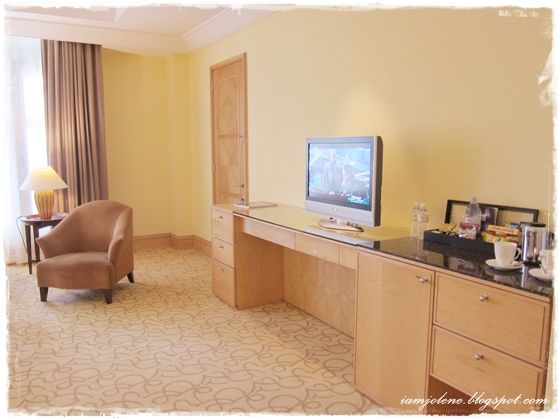 Fat Turd slumping on the armchair refused to budge for me to take a clear shot of the sitting area.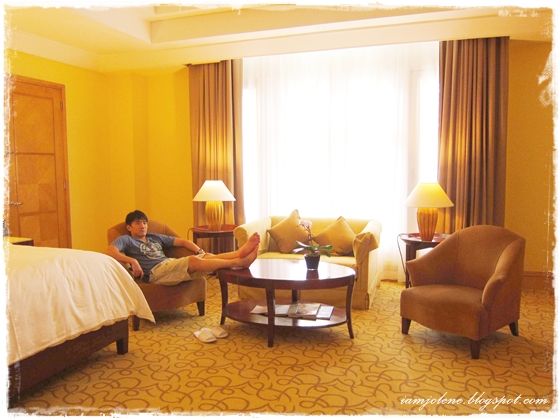 The other side of the room.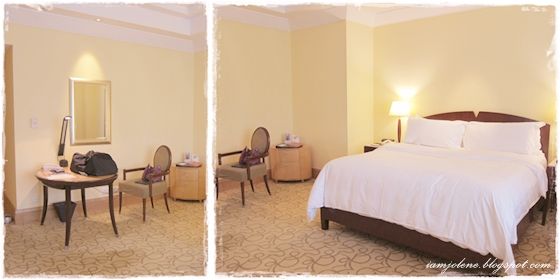 "Don't disturb me. I just wanna slump in my armchair."
"I won't disturb you after you help me take photo of me on the couch."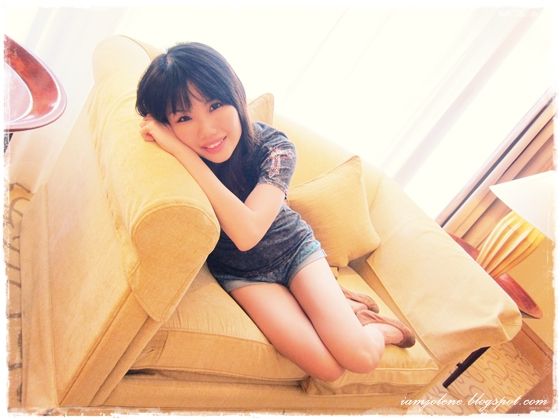 A once a year occurrence.
A video tour of the Heritage Room.
See, that's how small the TV looked. I was in pain and tired so I propped myself up on the bed to watch I, Robot. Kh couldn't stand the size of the screen and pulled the armchair to the foot of the bed to watch.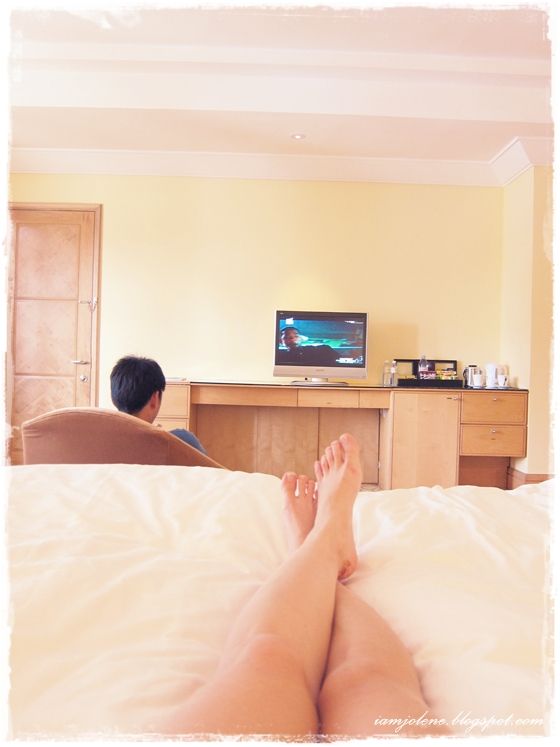 I spent the next half of the day snoozing away the pain and discomfort while kh watched TV. In the evening, we dined at The Lighthouse which is located on the 8th floor of the hotel.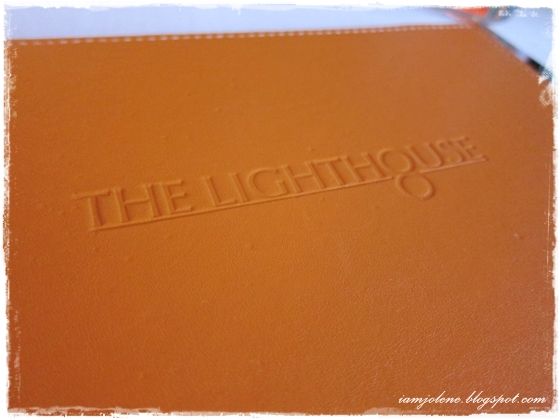 "Sitting at the apex of The Fullerton Hotel where lighthouse keepers used to guide ships in, this Italian restaurant is the latest beacon on the culinary scene today. The Lighthouse features delightful Italian cuisine amidst a lovely ambience, complete with panoramic views of Marina Bay and the city skyline. The establishment extends to an exclusive private lounge on the rooftop, perfect for a pre-prandial cocktail or aperitifs after dinner. Savour Italian creations while basking in the breathtaking views that make dining at The Lighthouse an unforgettable experience."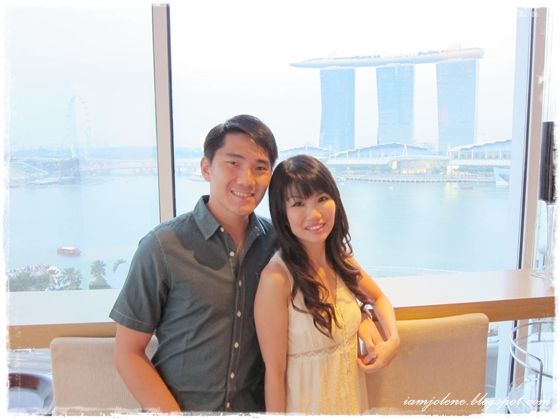 Beautiful sunset hues of pink and purple.
Us with our main course.
I LOVE the bread and the bread sticks! But I don't like that there wasn't vinegar served with the olive oil.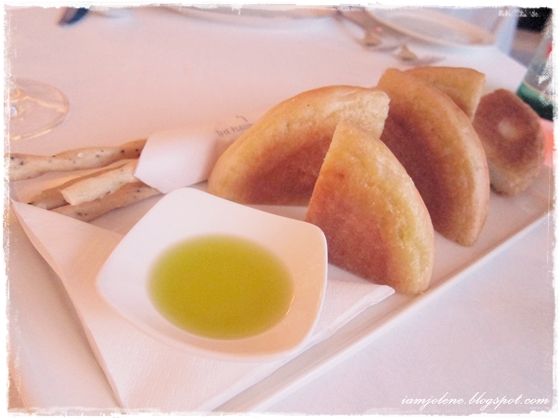 Our antipasti-- Black Angus Beef Carpaccio. I really love carpaccio for starters.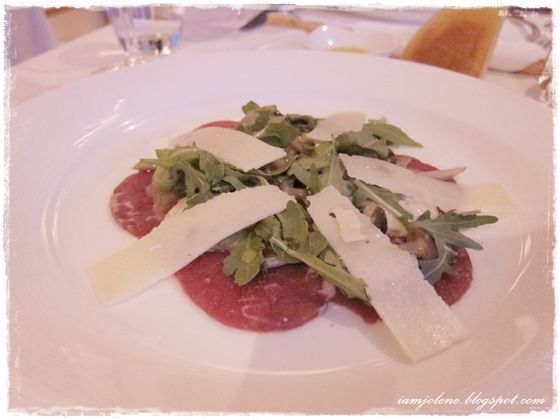 Kh's main dish recommended by our affable waiter-- Homenade Pappardelle. It is the restaurant's signature wild boar ragout. It was the first time we ever tasted wild boar meat and it was sooooooo good!
My main dish -- Seared Tuna Loin. The serving looked small for a main dish but I couldn't finish them. I love seared tuna but I probably wasn't in the right mood that day.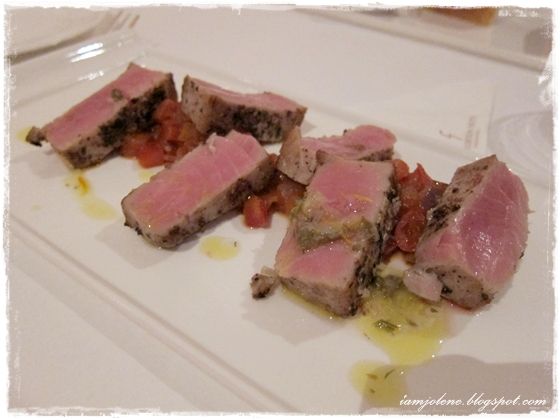 Kh and I felt that this was the BEST cheese platter we've ever eaten and we do not mind going back just to eat cheese.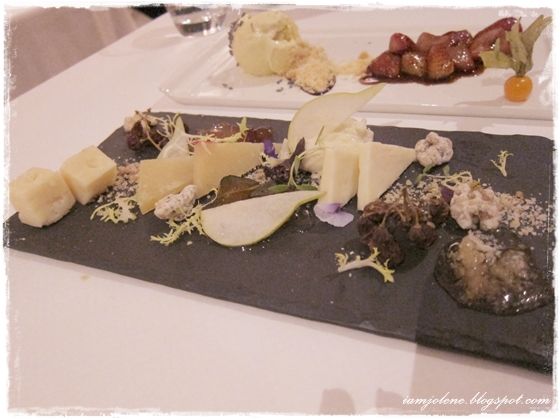 The various types of fruits and honey sauces complemented the cheese. Oh my, I feel like eating them now as I'm typing this.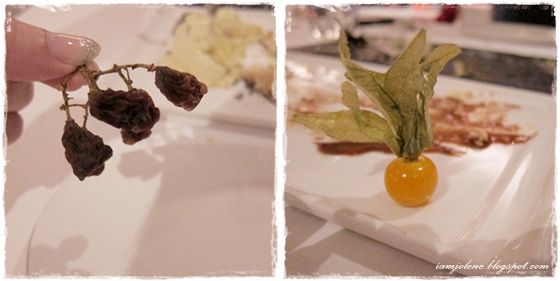 Strawberries and Lavendar ice cream.
All in all, we really enjoyed the food served at The Lighthouse. We aren't too sure if it could be considered a fine dining restaurant since the prices are quite reasonable. Moreover with the whole promotion package, the meal was even cheaper than some non fine dining places we've visited.
The hotel was so cold that water droplets condensed on my camera lens!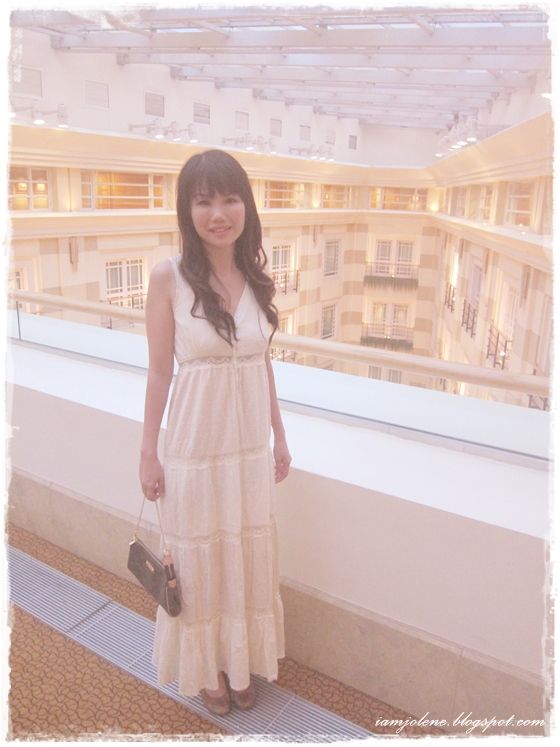 Outfit of the day:
♥ Forever Orange maxi dress
♥ LV Eva Clutch
♥ Lanvin flats
The magnificent cityscape by night atop the rooftop lounge. The view of the following photos pans from right to left and then to the back.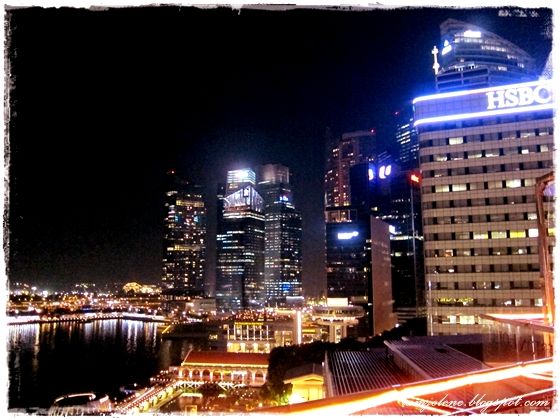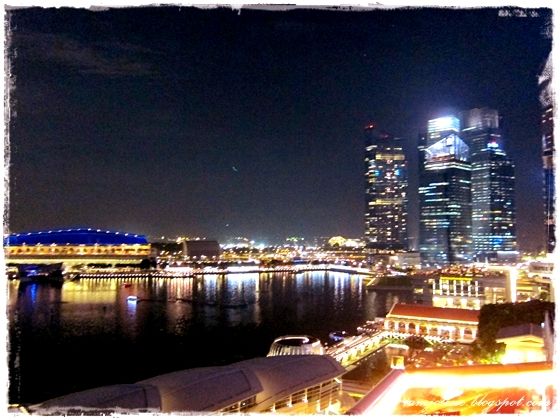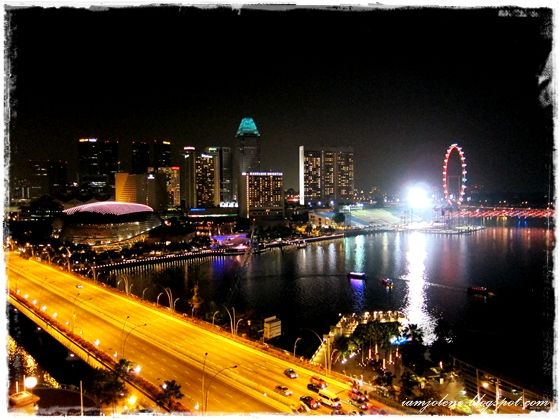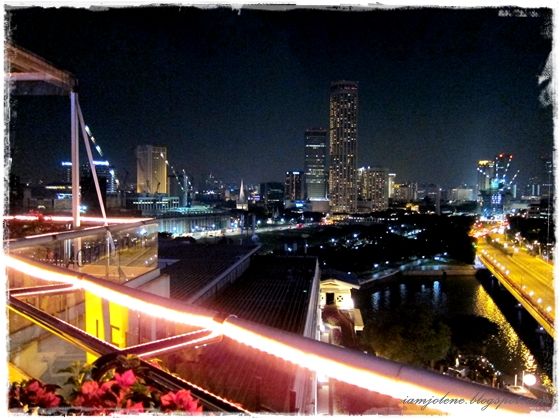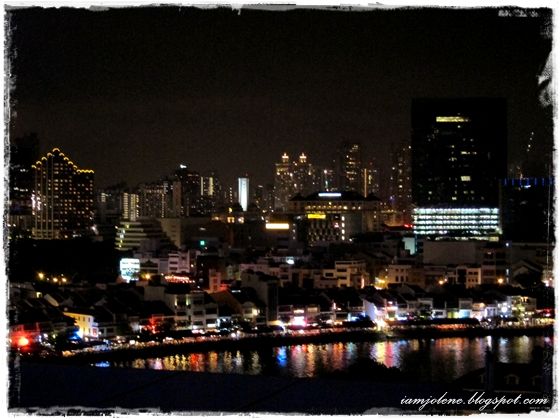 It was difficult to snap a good photo of us which depicts the beauty of the scenery.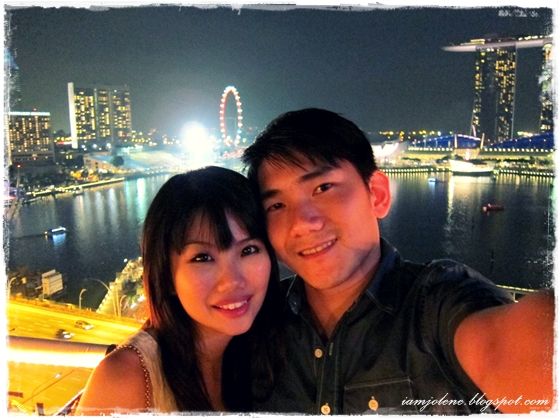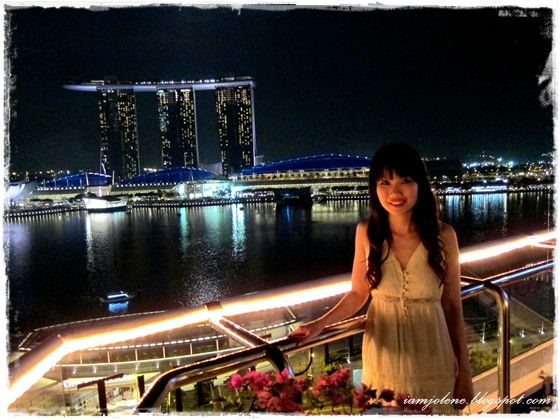 I love antique stuff.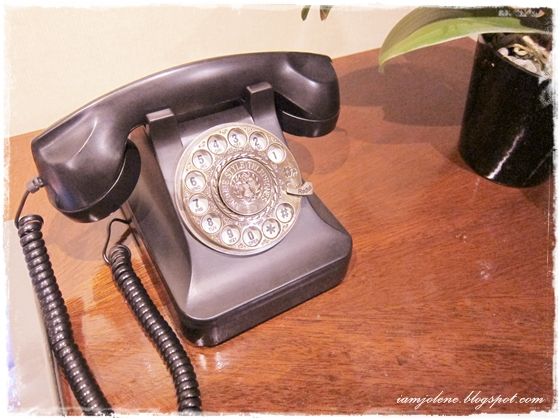 I've since switched to clear daily disposables after my cornea infection. Not being able to resist colours, I bought a box of daily disposables in grey to try too. I'm rather disappointed by the grey coz nobody could see the grey in my iris even at close range.
It looks like my previous Geo grey monthly but the effect on the iris is stark.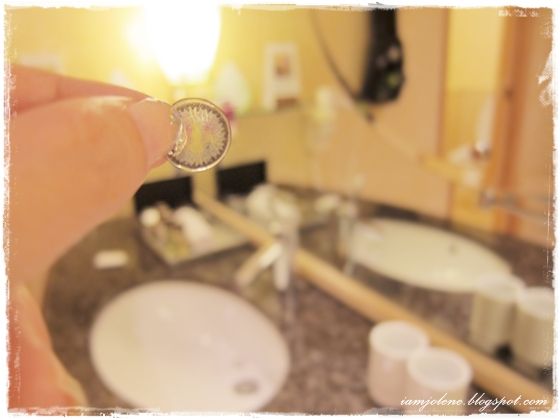 We had complimentary International buffet breakfast the next day.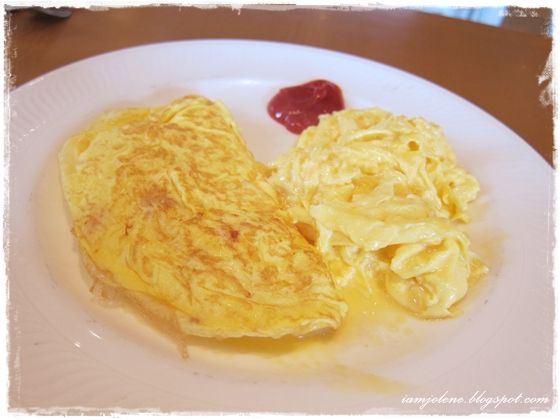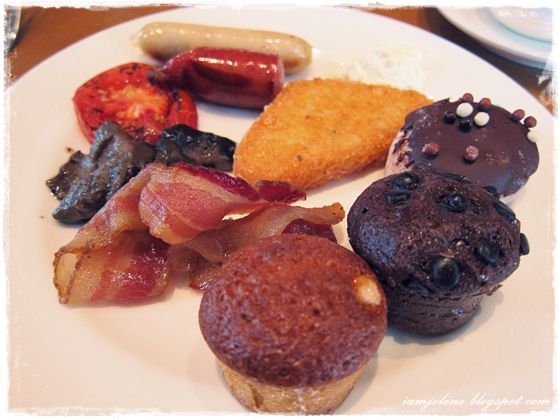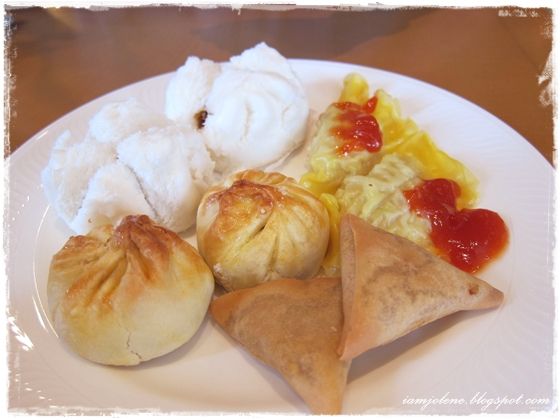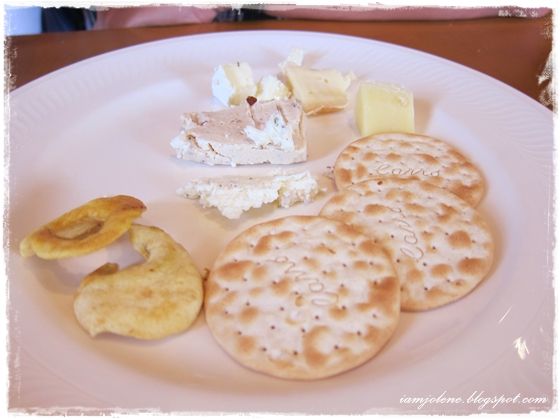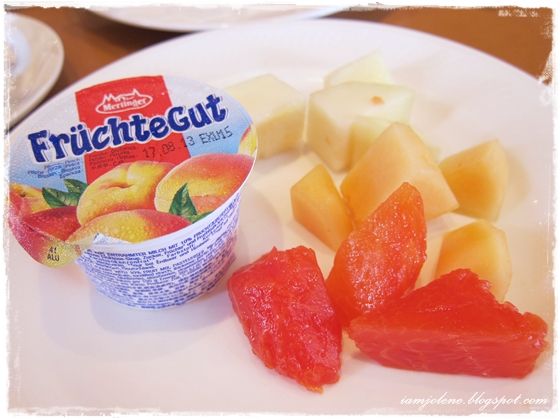 Pretty pastries that looked too good to be eaten.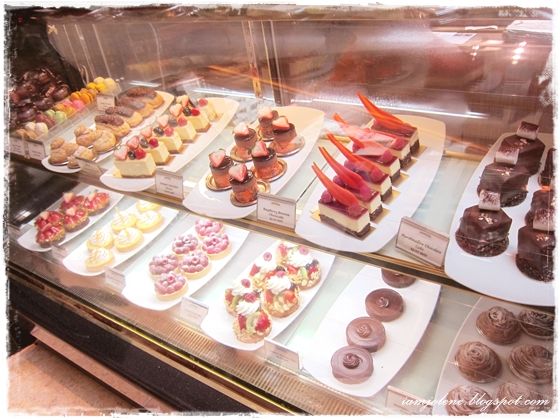 My nail polish flaked off the night before. Not being able to stand the roughness, I decided to go for a manicure after we checked out.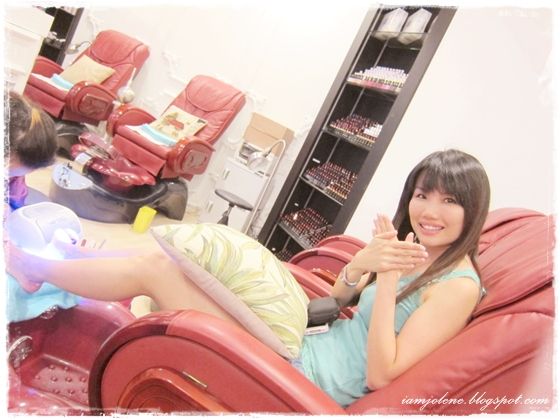 I ended up doing gelish as I wanted the polish to dry quickly. It was the first time doing gelish nails and I really love how lovely, strong and hard my nails were.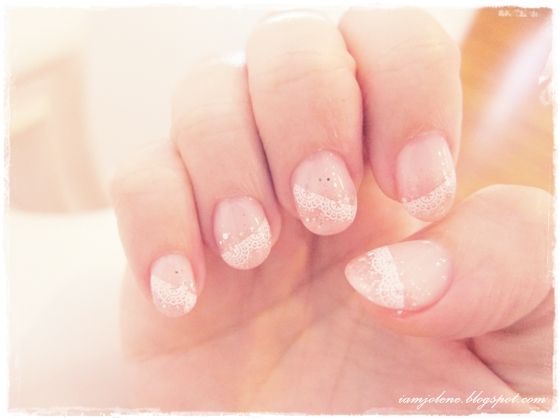 Yes, I have stubby nails but don't you think they already look lovely?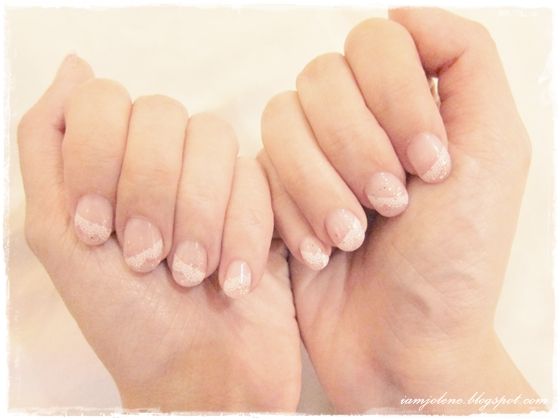 There were guys doing manicure and pedicure too (without the painting of course). I tried to get the hubby to do pedicure since the skin on his feet is totally ravaged by sports and he refused. After walking around, drinking coffee and playing Candy Crush on his iPad, he walked back to the nail palour only to see me still doing my nails. The staff were so cute to invite him to sit on the massage chair while waiting for me. He slowly caved in when he saw everyone soaking their feet in warm tubs of bubbles and asked if he could have that too. For wanting to soak his feet, he had no choice but to do a pedicure. Look at his defeated expression.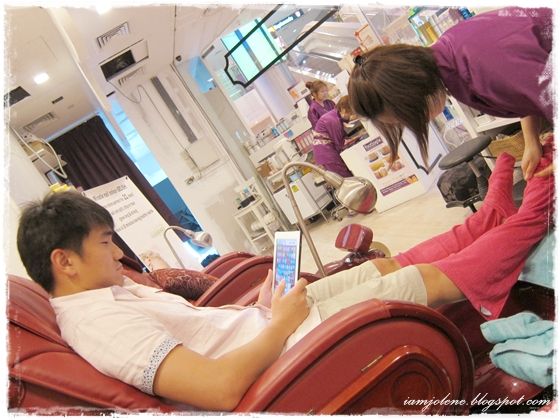 ~*Dinner with Family at The Famous Kitchen*~
The Famous Kitchen is literally a walk from my house but we haven't dined there with my family before. Love the food! I was a suaku and didn't know how FAMOUS this kitchen is with rows and rows of celebrities photos, both locals and overseas.
Their menu is simply extensive and I can't really remember the exact names of the dishes we ordered.
Kang Kong (with salted fish paste?)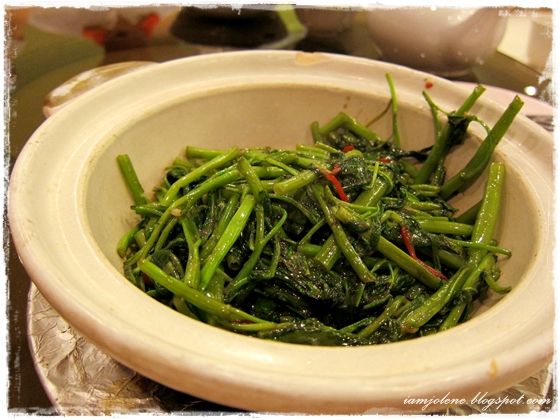 Drunken prawns in herbal soup.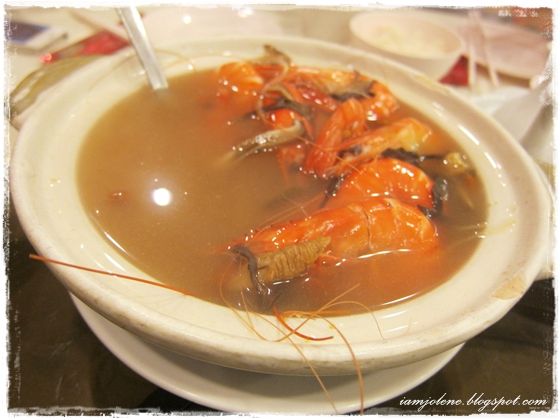 Cold appetizer -- chicken in wine.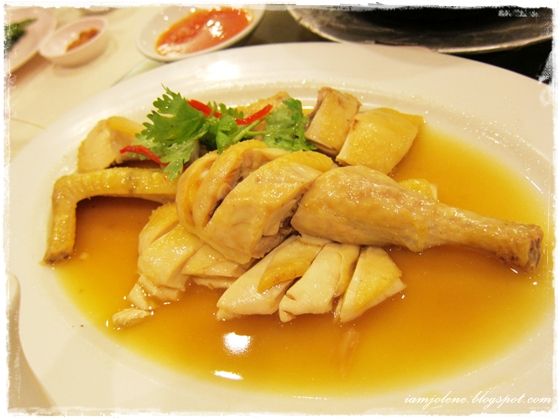 Some sliced fish.
Mummy insisted on having a fish dish despite all the seafood ordered.
Bitter gourd with salted egg.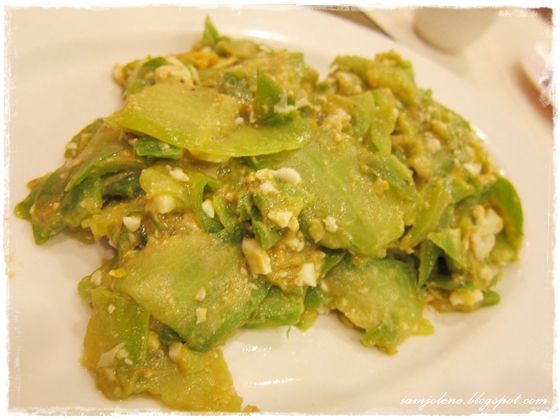 Crab in fried butter
Crab in creamy salted egg yolk.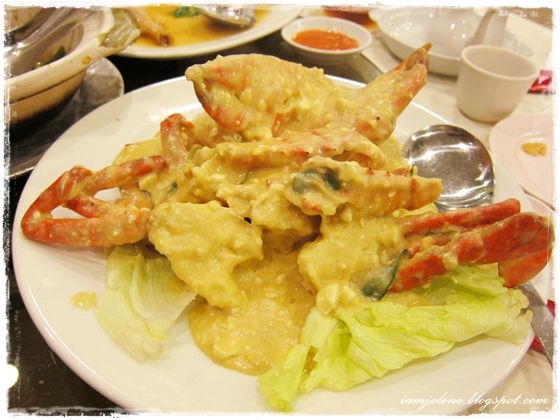 Mantou to go with the creamy crab gravy.
Orh Ni (Yam paste dessert).
We were a little disappointed that the cold desserts were served in plastic containers indicating that they were made some time ago.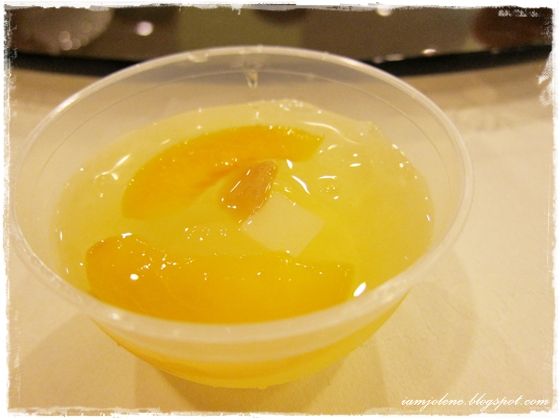 Mango pudding.
Daddy and Mummy.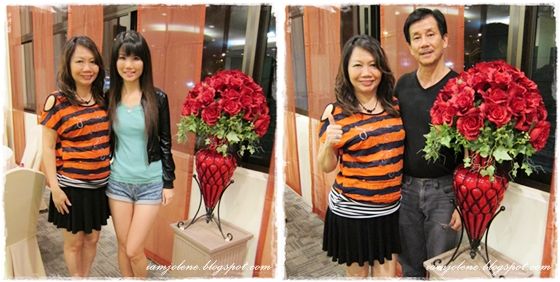 The lady boss wanted a picture with us too and we joked that we weren't celebrities. She even requested for us to send her the picture as she wanted to include more photos (of commoners probably... lol) on the wall.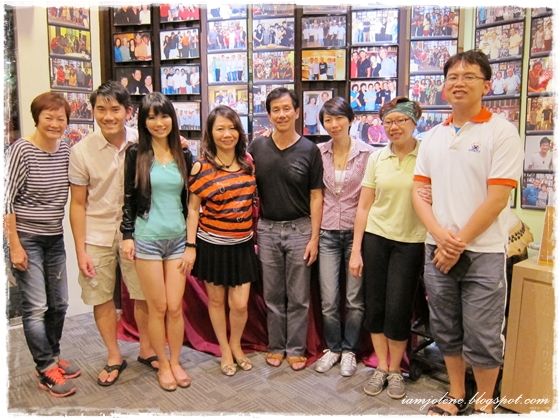 We had a fabulous time at The Famous Kitchen and were pleased with all the dishes we ordered. This is a place we would definitely visit over and over again.
~
I had initially wanted to publish this post before leaving for my Italy holiday trip. However, I wasn't able to tidy this blog post up and publish it before I flew off. I thought I would have some time over there at night to blog too but the wifi was so unstable that I did not even use my laptop throughout. Hibernated for more than 12 hours after flying back home and now I'm a little sickly. =( Let's hope the weekend would be a good time to rest.