Valentine's Day this year coincided with the the 5th day of the Lunar New Year. Both the hubby and I were on leave for the whole week after the CNY public holidays. Kh had been bugging me to apply for leave for a staycation at
Marina Bay Sands
(MBS) Hotel for our 12th year anniversary this year. Unfortunately after all the feasting and irregular meal timing during the CNY, my tummy problem was acting up really bad. The 2 days of leave proved more like a medical leave for me as I caught up with lots of loss sleep, lazed at home, slumped and hunched from pain while playing
Candy Crush Saga
.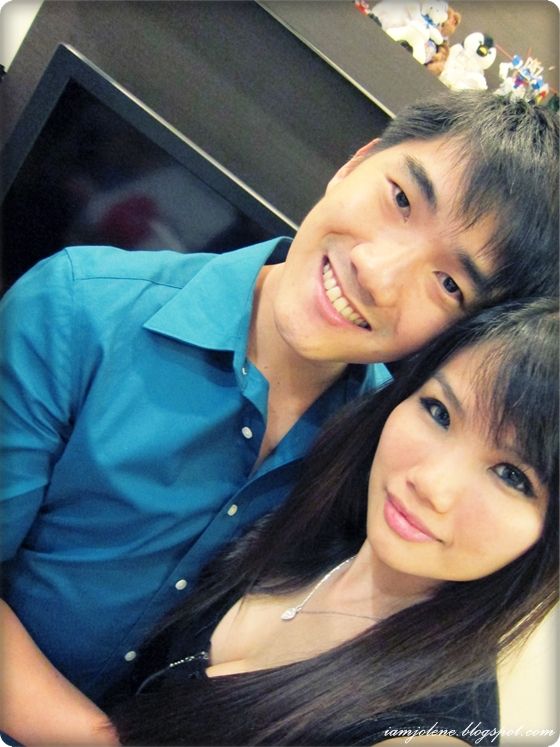 Due to my tummy problem, Kh did not plan anything in advance for Valentine's Day and did not make any reservation at any restaurant. When my tummy was feeling much better, we were racking our brains on where to go and I decided on walking into any restaurant at MBS The Shoppes which would accept walk-in patrons. We tried our luck at
漁 Yú Cuisine
and sure enough they had seats for us.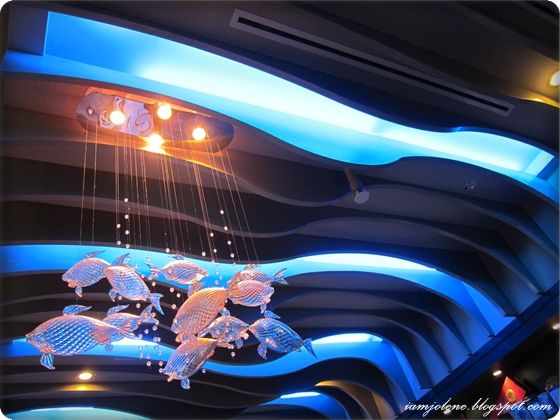 "漁 Yú Cuisine is a modern and hip chinese seafood, dimsum, grill and champagne bar concept restaurant. Spread over two levels, one can enjoy the entire spectacular view of Marina Bay in the evening on Yú's upper level over your favorite champagne, wine or just a glass of chilled beer with the most delectable dimsum, grill and exotic seafood."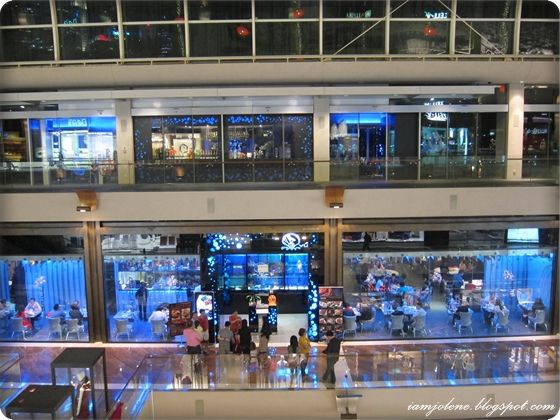 Here is a collage of me before (with 27 hours without food with headache and nausea building up together with the tummy pain) and after (enjoying the first solid food at 漁 Yú Cuisine after 27 hours).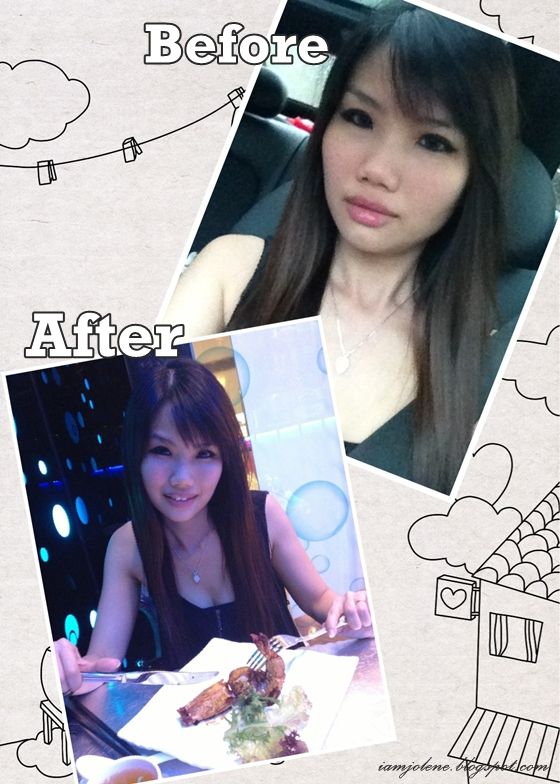 Since we were walk-in patrons, we were ushered to the seats that were facing the insides of the shopping mall rather than those window seats with spectacular views. We were only glad that they accepted us.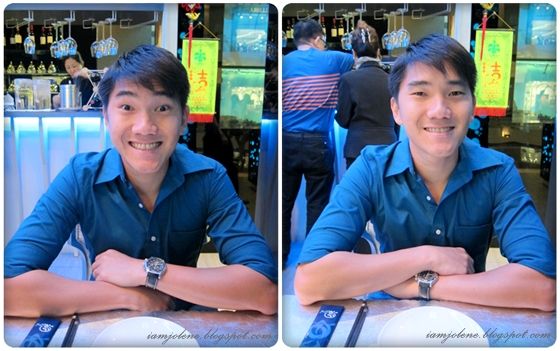 With the bubbles and blue themed lighting, I felt like a fish in an aquarium.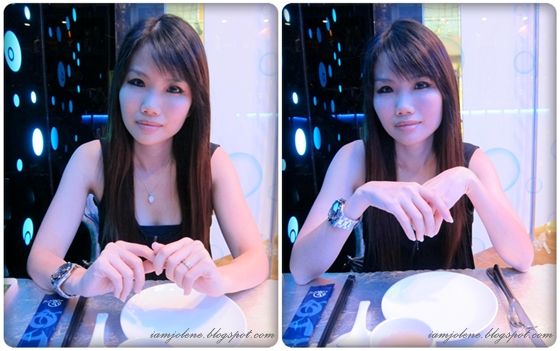 The restaurant offered a CNY set menu and a Valentine's Day set menu on top of the usual à la carte. We opted for the latter as we were quite hungry to think of what to order.
The fish skin crackers appetizer was lightly salted and very crunchy. I love it!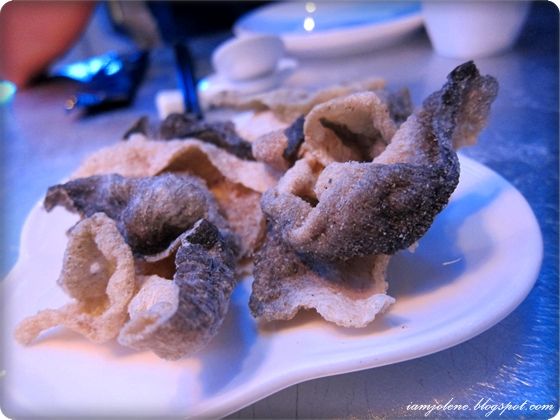 The roast meat platter consisted of roast pork, roast duck and char siew served with wasabi mustard sauce and plum sauce. I love the roast pork and roast duck a lot. They tasted so good on their own without the sauce and tasted just as good with the wasabi mustard sauce. The char siew was well charred but as char siew is on the sweet side, it did not quite agree with my taste bud that evening. Sweet food that evening seemed to trigger lots of pain.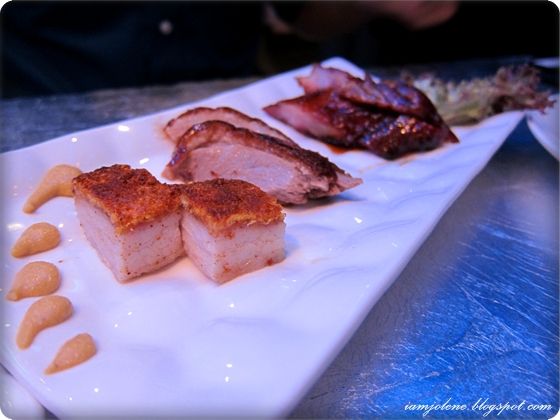 I'm simply craving for the shark cartilage soup with fish maw and scallop as I'm typing this. This is one of the best shark cartilage soup I've ever tasted. I try as much as possible to avoid ordering
shark fin soup
unless with a huge group of relatives or at Chinese wedding dinner that serve the dish. I sure hope that for shark cartilage soup, the sharks are not inhumanely treated as of shark finning. Does anyone have any idea?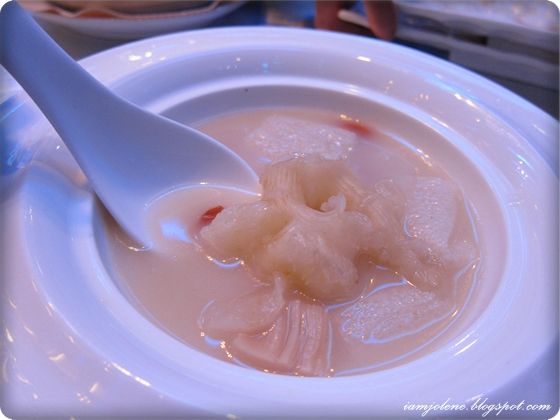 A call from work disrupted our conversation.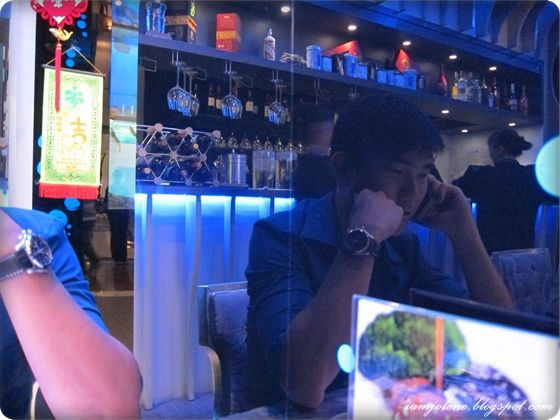 The things I do when I've got nothing to do.
By the 3rd dish, which was asparagus, squid and mini clams fried with XO (which taste really like sambal), all the 3 different kinds of sick (tummy pain, headache, nausea) were plaguing me and I wasn't enjoying the dish to my fullest capacity. The dish was a little spicy and I was merely picking at all the asparagus. Kh gladly finished my share, all the while commenting that this place served really good Chinese food and that we should bring our families there. I didn't know this restaurant is rated so well on
hungrygowhere.com
. I feel like trying some of the dishes that the reviewers recommend.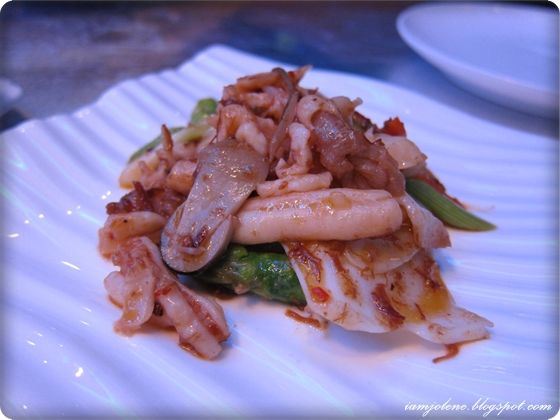 I can't remember how this king prawn dish was cooked as by then, I could only finish half of the prawn while kh gladly took my leftover including the cholesterol-rich prawn head.
The glutonous rice with lap cheong (Chinese sausage) was too sweet for my liking. After a small spoonful, my nausea was building up and once more, everything was passed to kh.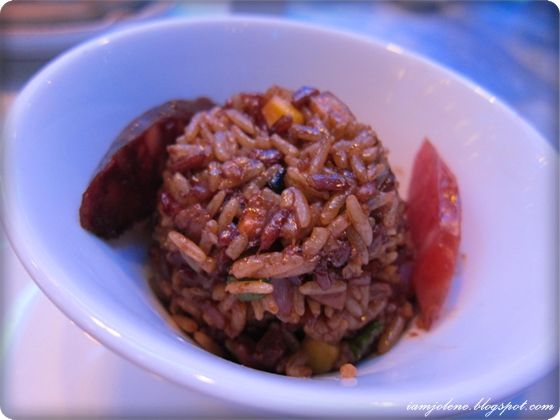 The pink honeydew sago with black pearls was extremely refreshing. I finished everything and was craving for more despite feeling nauseous for all the sweet dishes before.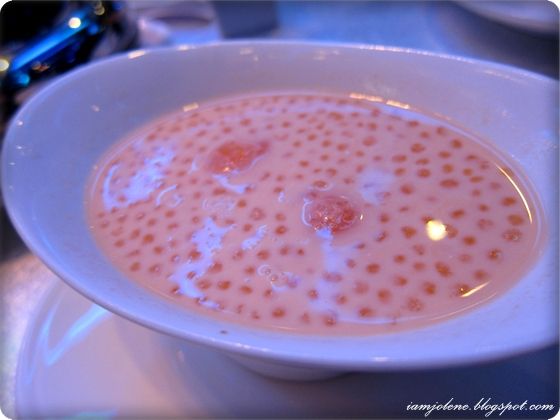 My 2nd sis took this picture for us. It was such a coincidence to bump into her at MBS The Shoppes.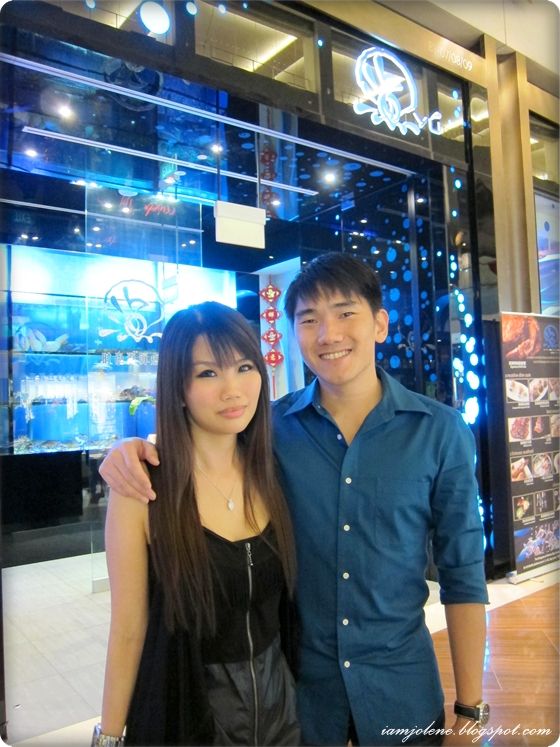 This unobservant lady strolled past the whole length of the restaurant from the outside while looking in and she did not even notice 2 stupid idiots waving their arms wildly to catch her attention. I had to call her on her mobile, asked her to freeze in her tracks, u-turn and take 20 steps back. This lady could even tell me that as she was looking into the restaurant, she had a hunch that kh and I would be here.
...
Then why you no see us???
After dinner, kh and I went window shopping. I liked how the water was gushing down from the inverted dome and I liked imagining that we were trapped from the outside world as I peered through the glass dome at the outside.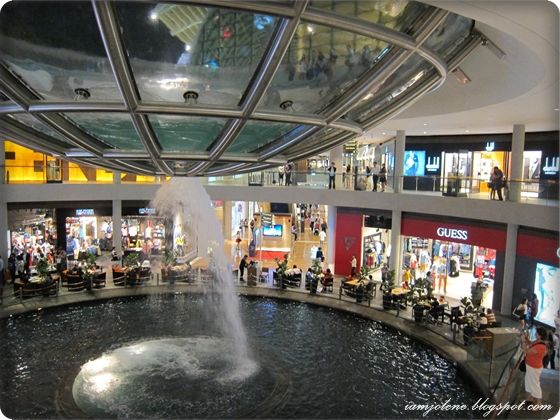 Oh dear! Will the gondola be sucked into the whirpool?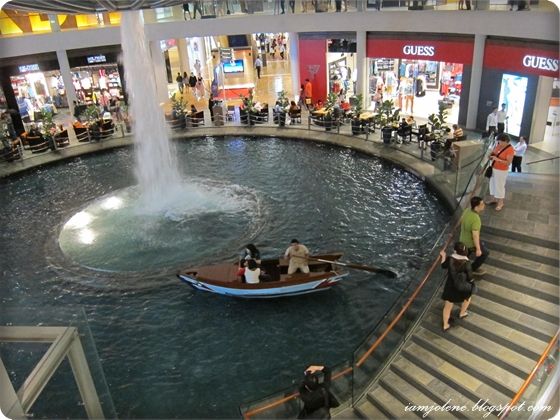 It was our first time in The Louis Vuitton Island Maison. For a pictorial tour of The LV Island Maison, head over to
this site
.
There was an ongoing exhibition. Check out the Chinese characters on the corals.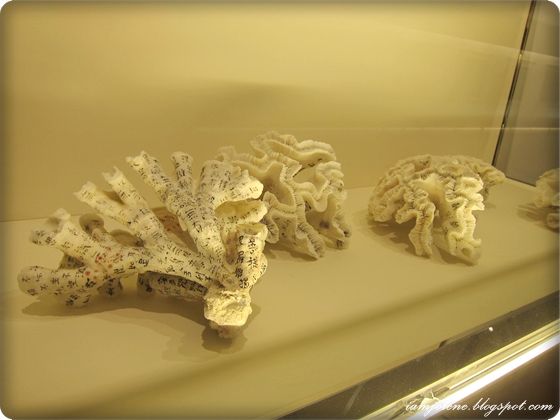 Chinese characters on the wood.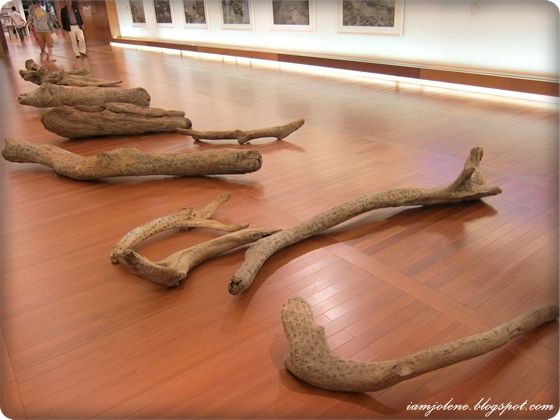 Chinese characters on the (fossil rock?)
I've been wanting to get kh a messenger bag ever since our Europe trip. The plan was put on hold since a messenger bag isn't really a necessity for somebody who seldom carries a bag. However when he does need a bag, he will not have any suitable one that could match his formal and smart casual outfits. We finally found a brown leather messenger bag that he really liked from Gucci.
Side note: We spent a lovely 1 hour plus in the boutique due to a very affable sales assistant. We were really impressed by her service. She even wrote a Thank You card for us each as I wrote her a good feedback.
I thought it was rather interesting that the loading and unloading "carpark" was opened to public due to the crowd on V day. This was taken at the end of the night. When we first parked, I was awed by all the cars parked in neat rows in the massive space the size of football fields even without any markings.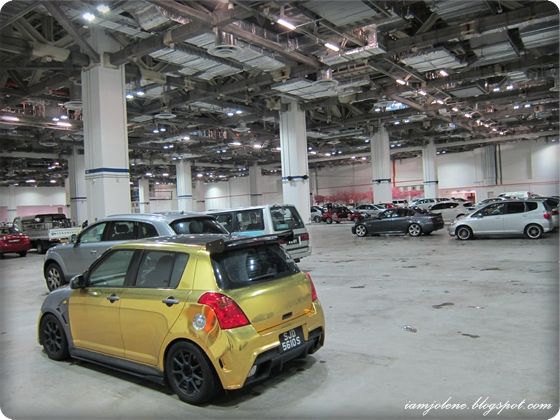 Although I was sick, I enjoyed the short evening out after being cooped at home the past 2 days. Happy V day and anniversary to you, hubby deardear!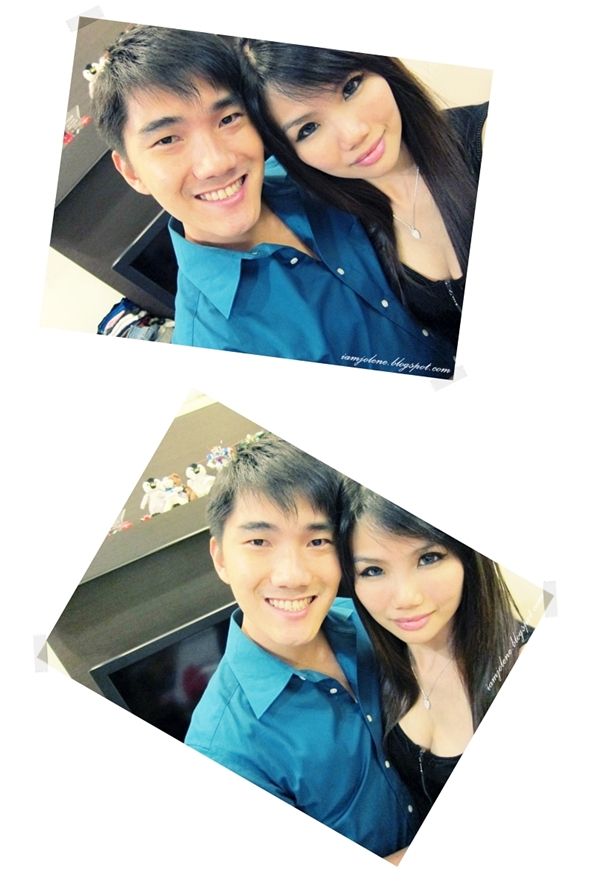 I did not have a full length shot for my outfit of the day. I was dressed totally in black -- black dress, black bag, black shoes, black black eye make up. It was the exact same look as
last Halloween
. I was just feeling really black.
♥ Max Mara black fringed dress
♥ Black boots from Bangkok
♥ Salvatore Ferragamo bag