It is a few more hours to Valentine's Day so here's wishing all of you a Happy Valentine's Day.
Well, Valentine's Day isn't just for couples. It is a day to show your love to your family and friends and even to strangers. Spread the love, give a little love like what I
shared on my blog
the other time.
As for those who have yet to prepare anything, are you running out of time to hand-make some craft or bake some cookies? Why not whip up something simple? I've collated some really simple Valentine's Day ideas coz me being so lazy, I can't even bother to read till the end of the ingredients list for some Valentine's recipe that I found on the Internet.
So lazy people let's unite and read on!
~*Love Toast Bread*~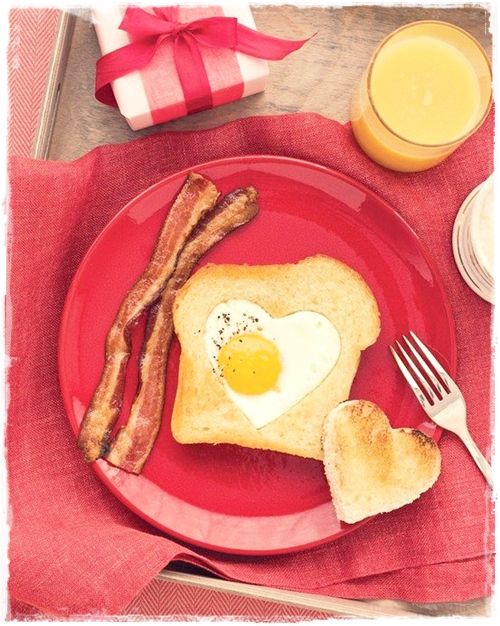 You need:
- bread
- heart-shaped cookie cutter
- egg
♥ Press the cookie cutter down onto the bread.
♥ Place the bread onto a lightly greased frying pan on low heat.
♥ Crack the egg into the hole.
♥ Cook the egg according to the doneness you like.
♥ Serve with sides like ham, bacon, fresh garden vegetables.
Be creative with your love toast bread and have fun!
~*Sunny Love Up Eggs*~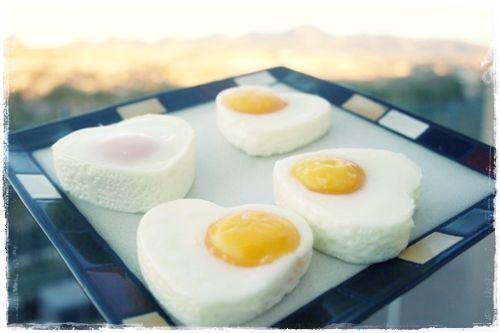 You need:
- egg
- heart-shaped egg mold
You don't even need me to tell you how to fry a sunny side up egg, do you?
~*Heart Boiled Eggs*~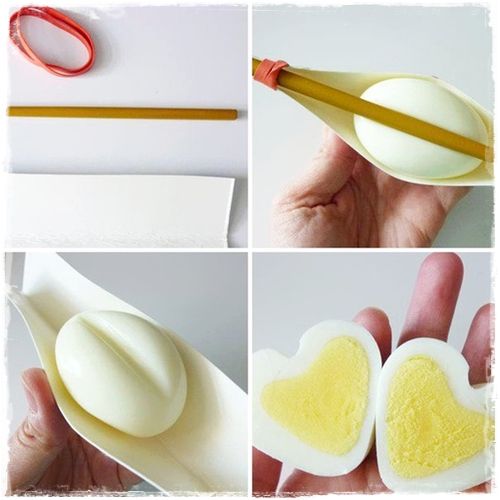 You need:
- egg
- milk carton or any juice carton (cut open, washed well and dried)
- chopsticks
- rubber bands
♥ Cut milk carton and fold it in half lengthwise.
♥ Make a hard boiled egg.
♥ While the egg is still warm, peel the egg and put the egg on the milk carton.
♥ Place a chopstick on the center of the egg and tie rubber bands on the both ends.
♥ Leave it to cool for about 1 hour.
♥ Take the chopstick off and cut the egg into half.
♥ Now you have heart boiled eggs for your egg salad or as a finger food.
♥ Serve with a dash of creativity.
If you are not a textual person, this video would help a lot!
~*Strawberry Nutella Crackers*~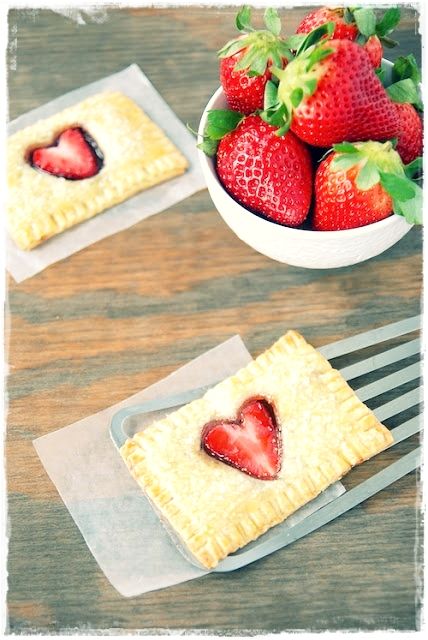 You need:
- sweet crackers (those airy kind)
- strawberries
- nutella (or any chocolate sauce)
- mini heart-shaped cookie cutter
♥ Cut strawberries lengthwise to resemble a heart.
♥ Using the smallest heart-shaped cookie cutter, press into crackers and peel off the flakes within the heart.
♥ Cut strawberries to fit.
♥ Drizzle nutella into the hole and press strawberry in.
Note: This is my own directions from what I see in the picture. I sure hope it works coz I've not tried it before.
~*Heart-Shaped Butter on Muffins*~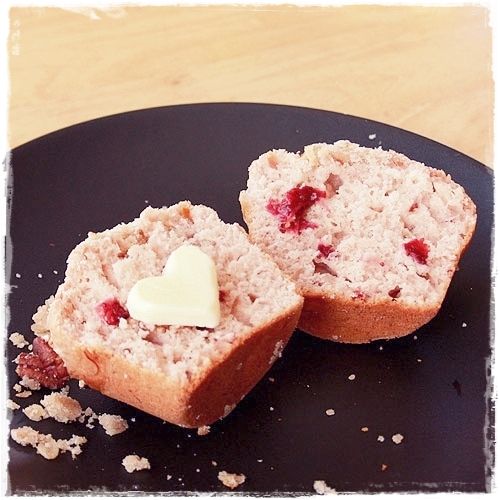 You need:
- muffins
- butter
- mini heart-shaped cookie cutter
Noooo!!! I'm not gonna give directions on how to make a muffin. This is for the laziest people around who would just pop by the store to buy some raspberry or cranberry muffins and cut heart-shaped butter out from cookie cutters. Such a cheat right?
~*No Bake Pots De Creme*~
This is the only one that requires more steps and for the full directions, please click
here
.
It is supposed to be simple as it doesn't require baking. However upon reading the directions, lazy me simply gave up though I would still love to share this with my more hardworking readers who could whip up a feast in the kitchen.