I'm trying to catch up with all the backdated entries from last year. Be prepared to be greeted with photos with Christmas decor and more Christmassy posts to come!
~
Some time in December last year, Bimbo Gerra invited Bimbo Zanne and Bimbo me, together with two other of their common friends, to an
L'Officiel
event held at at
Palais Renaissance
.
Palais Renaissance is where all the high end shops and boutiques are located and where our famed local celebrity hairstylist, David Gan's salon Passion is housed. It touts itself as an "exclusive shopping destination". Hence to us, Palais Renaissance is somewhat an
atas
place to hold an event which led to us terming this event as the "atas party" within our inner circle.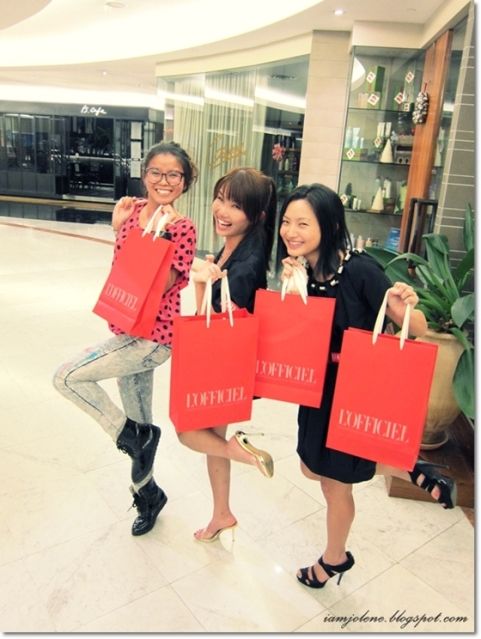 On usual days, I dislike attending social events where I have to rack my brains to think of what to wear and how to coordinate my shoes and accessories with my outfit before even mingling with people I don't know. However after checking with Gerra that there was no dress code at all, I decided to block that day in my calendar for this "atas party" without wasting any more time. Being very
yao kwee
could have contributed a great deal to my final decision as well.
Our conversation went something like this:
Gerra:
Come to this party! The door gift itself is worth $300 over.
Jo:
$300 door gift?! Ok I would sure be there but would there be food?
Gerra:
There would be finger food and wine too.
Jo:
Wheet! Ok ONZ!
By the time I met up with Gerra and her friend, we were both famished. There was not a single seat in view due to the dinner crowd at Orchard Ion's food court. I could not bear it any longer and bought some really delectable carrot cake from one of the stalls there. That was our post event snacks which were certainly not enough to satisfy my growling belly.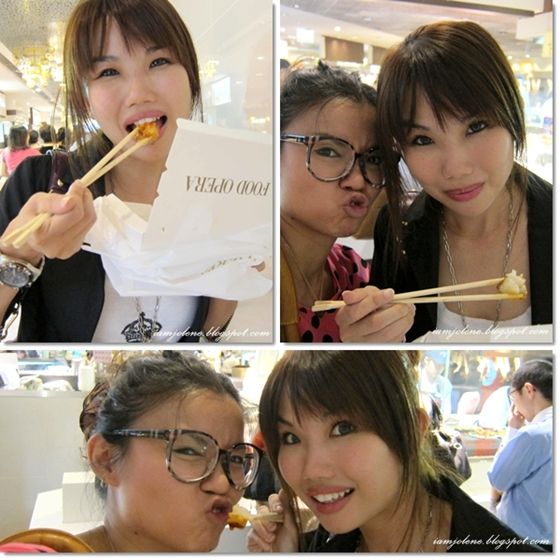 [Aside: Please bear with Gerra's annoying pout. She was really in an annoy-everybody mood that day and she relished in spoiling almost all our pictures.]
After our snacks, we slowly made our way to Palais Renaissance where we were served glasses and glasses of white wine after registering for the event.
We listened to Christmas carols, sipped white wine and popped chocolates while chatting with one another.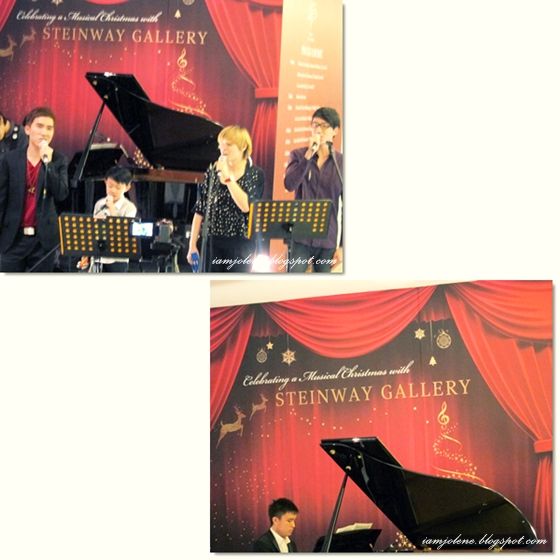 Soon, the fashion show commenced. The "stage" was actually integrated into the circular aisle of the mall. It was a little strange to hold the fashion show there as many guests who arrived late simply walked across the aisle to the registration counter during the show. There were also people milling around, completely oblivious to the leggy models strutting around with their gorgeous dresses.
Here are some of my and Gerra's favourite dresses: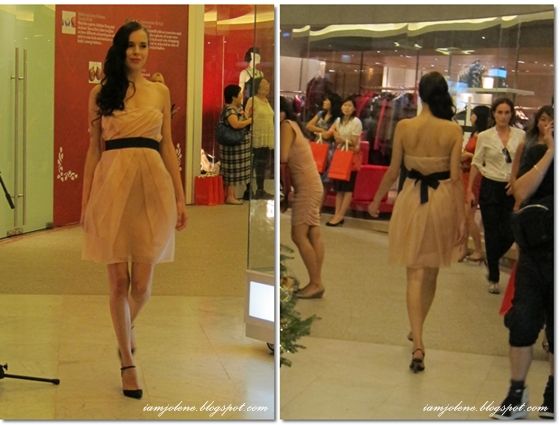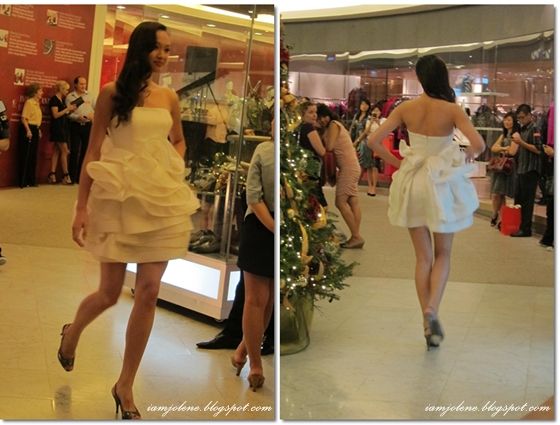 Throughout the whole fashion show, we espied many guests who simply walked right out of the mall with their door gift in toll after registering. Talk about opportunists!
Soon the rest of them arrived and with the 5 of us, that was when the real party began!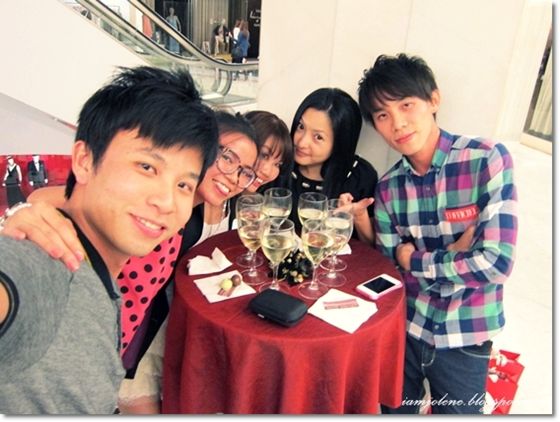 That was the second time I saw the two guys. They are common friends of Gerra and Zanne but not of mine. The first time I met them was last Halloween when they were already in costume and it took me quite a while to register their normal, out of character appearance and behaviour. You can view their Halloween get up in
this post
. I wonder if you are able to identify who they are.
I left my camera with them to take a call and I'm not too sure what to make out of the photos. I'm not too sure why the 3 photos located at the top of this collage were taken.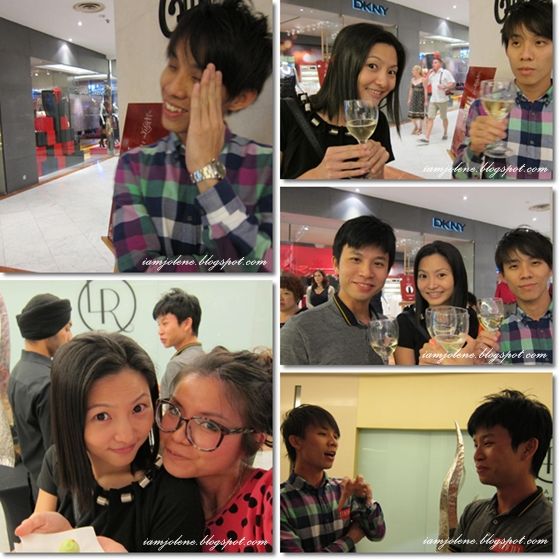 Still holding on the line and being an "aunt agony" to the person on the other end of the line, my bimbos texted me that canapes were finally served. Any more wine on an almost empty tummy and I would feel the gnawing pain. I had to find a way to fill my tummy without abandoning my friend on the line.
When I reached where the group was, I was crestfallen to see more chocolates instead of savoury food. I simply have to eat savoury food when I'm hungry. They explained that they saw savoury canapes being served on the upper levels.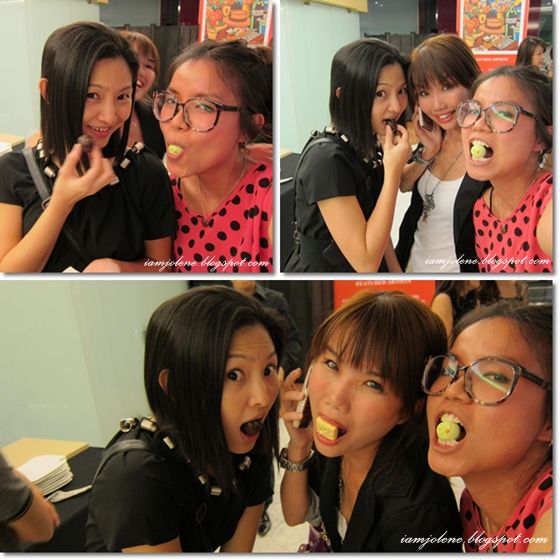 [Aside: You could see me still holding on to my phone while I shoved chocolates and sweet treats down like a yau kwee.]
More trays of sweet treats were served to us.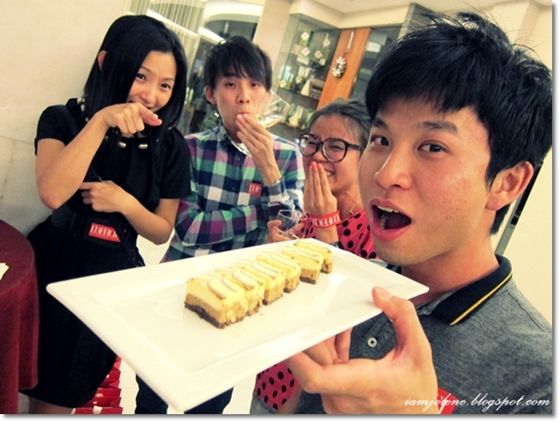 The moment I felt immense hope was the moment when I spotted butlers with savoury canapes on their trays. Alas! They were still at the upper levels. Just when we were contemplating whether to zip up the escalator, a butler appeared before us with some chicken snacks in a cone. That was EUPHORIA~!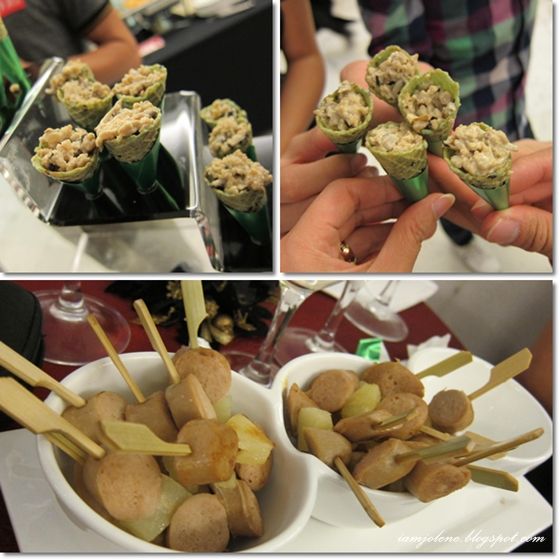 Soon, skewered sausages with pineapples magically appeared too. Those were really delicious, or probably because we were hungry. I've never tasted such good sausages on skewers before. Seeing that half of the guests had left, the butler said we could have the whole tray. Boy, were we ecstatic!
"Let's have all the food and not give the boys any!"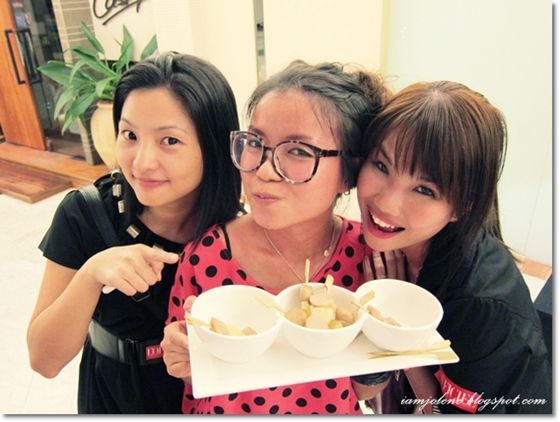 "Fine! We will drink wine!"
Ambassadors for Casey Inc. Hair and Beauty? They should really thank us for free advertising on my blog.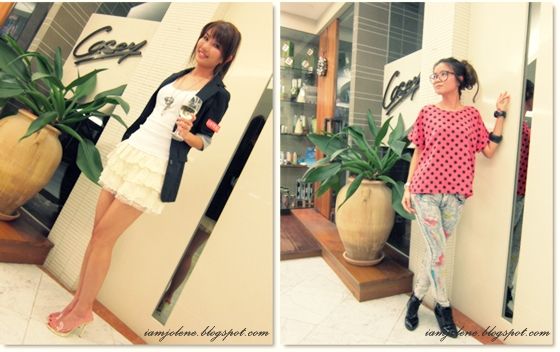 I wanted a shot with Zanne as we seldom meet up but annoying Gerra simply refused to let us have a good picture. She just had to squeeze herself into every picture. We finally managed to punch her out of the screen.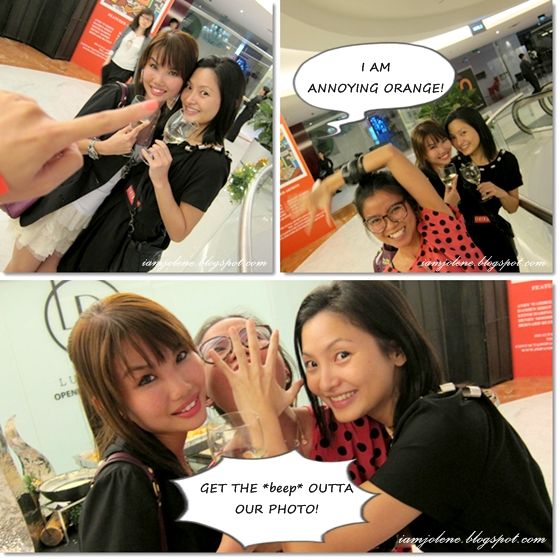 This would be how bimbos behave when conferred with door gift worth more than $388.
[Aside: We felt so cheated when upon unraveling the gift at home, we found out that Palais shops and boutique vouchers took up most of the $388 value. We did not have use for those vouchers at all. There was also some pretty gifts and miniature products inside which I have given to my family members for I had no use for them too.]
It was fortunate that we stayed till the end coz Gerra actually won the 2nd prize in the lucky draw. Yay!
After the event, we had no use for the stickers anymore.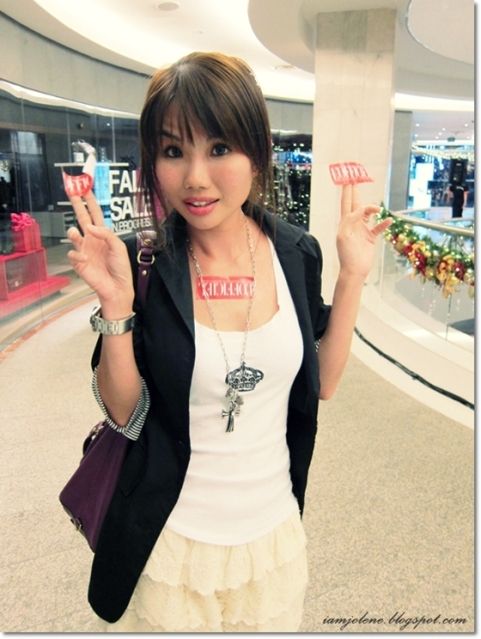 Notti Zanne found a great place to stick those stickers.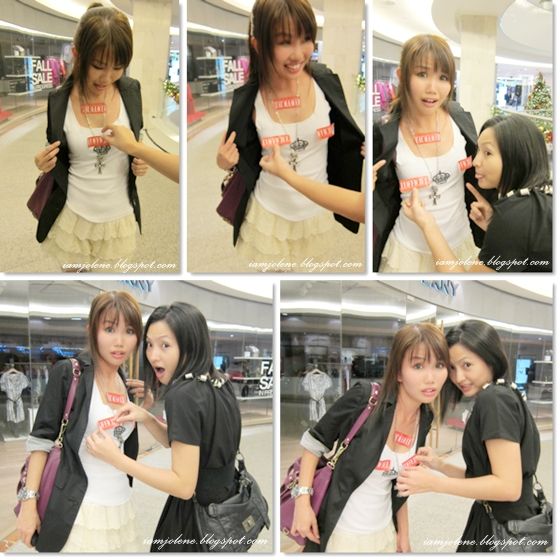 "What have you done to me?"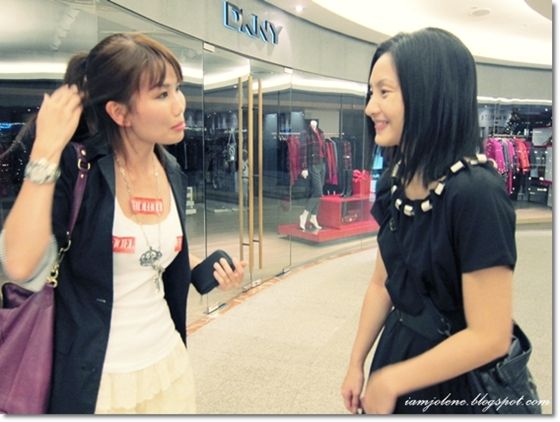 Gerra wants the stickers on her boobies too so we gladly pasted for her. She had that really weird withholding-her-laughter kinda expression coz Zanne uttered something really very funny which would be censored on my blog.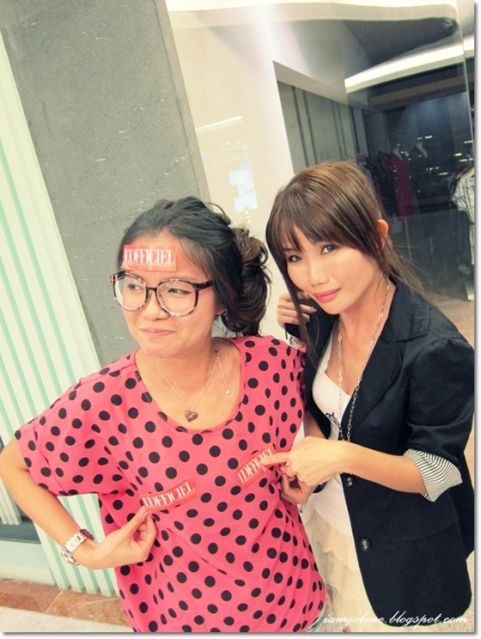 "I'm the clean version of where to paste the stickers."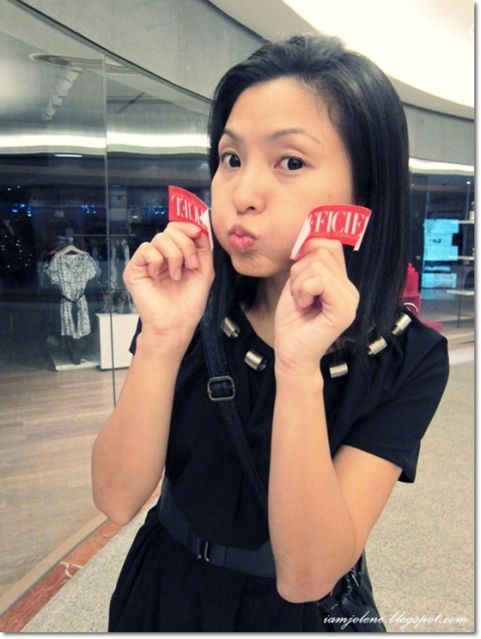 As if pasting the stickers wasn't entertaining enough, we used Gerra's glasses (prescriptive glasses and not just those with no degree) as props to see who had the cutest face with oversized glasses on.
Then came the ugly pervert series.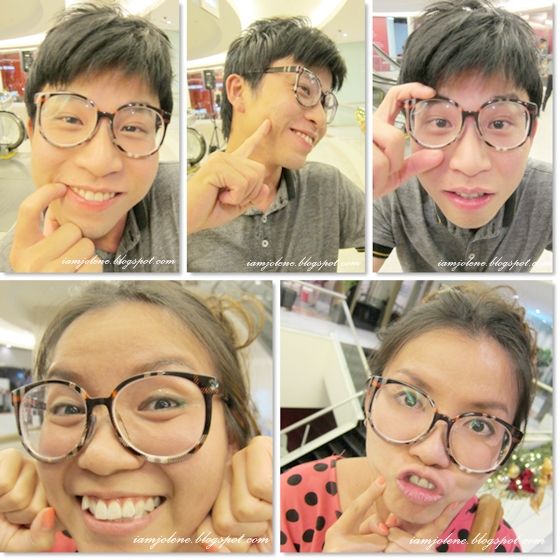 When the party was over, we adjoined to Red Dot Brewhouse @ Dempsey Road.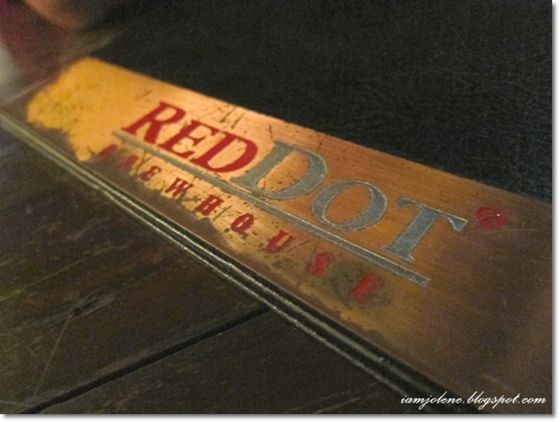 After poring over the menu for a while, we decided to settle for some calming tea to wash those wine down and some hot food.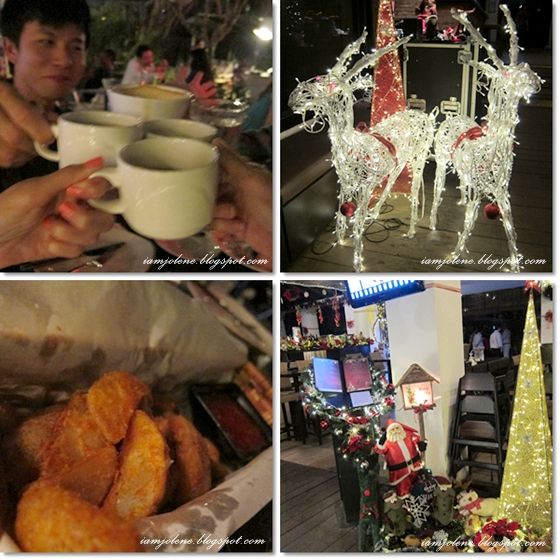 Everyone ordered various flavours of tea except for the alcoholic Zanne who continued with her dose of alcohol.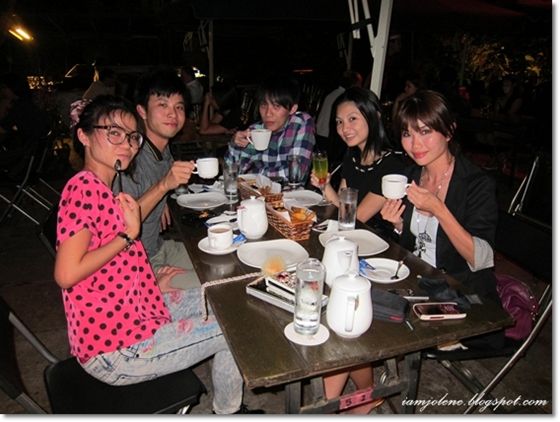 What I wore:
♥ ClubCouture tank top
♥ No label black blazer
♥ "Liz Lisa" cream tiered skorts
♥ No label chunky chain necklace
♥ Seiko men's watch
♥ Spinel golden heels
I will end off this post with something that tickles my feet -- the words on the bottom sole of my heels.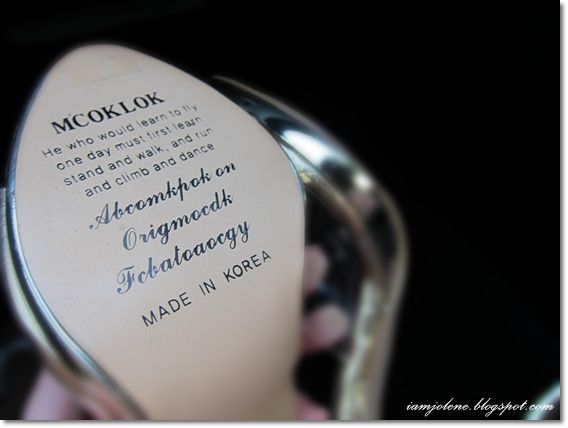 ~~~
Extension of Giveaway
If you haven't already known, I'm hosting a
giveaway
. There would be 3 sets of prizes to be given out. Click
here
to participate in my giveaway.