Don't you love receiving parcels? I certainly do! Whenever I do online shopping, I can't wait for my parcels to arrive.
Last month, I received a parcel even when I didn't order anything off the internet.
The parcel came all the way from the UK.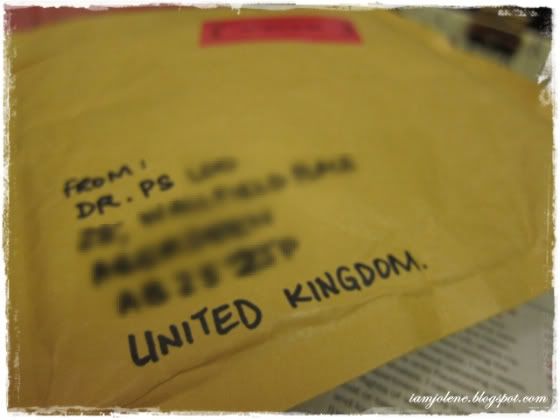 It was sent by my blogger friend, Peh Sun aka
Squeeze the Pug
.
When I opened the parcel, I saw a handwritten note and something lovingly wrapped with pink wrapper and a cute little pink ribbon.
She drew in the tall hat, tuxedo and sleek boots for the puggy pug pug. How cute!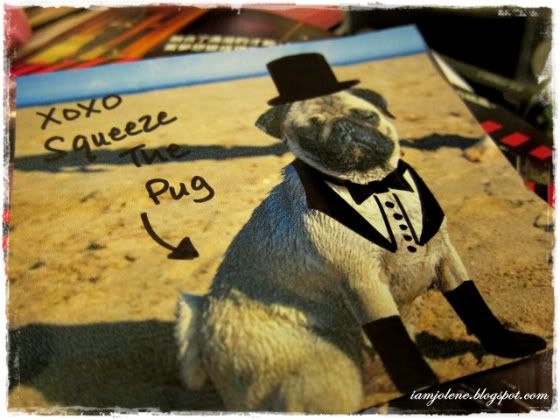 Unwrapping the pink package, a mini La Mer jar peeked at me. When I saw it, I just could not help exclaiming how cute it was that my hubby thought I was quite mad squealing at a jar.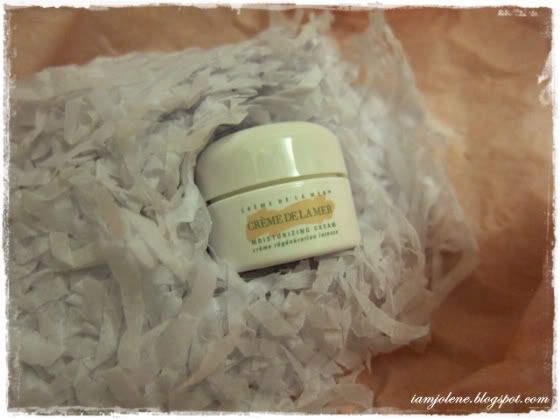 It's so lovely of Peh Sun to send me a mini La Mer for no rhyme or reason at all. Ok, she did have a reason. As seen from the handwritten note, she was inspired by my
Lamer La Mer
post a while back and decided to give me a surprise.
Isn't she such a lovely and thoughtful lady?
If you haven't already visited Peh Sun's blog, you should. She's a beautiful doctor who has a great penchant for Chanel. In fact, what led me to her blog was her very detailed post on the Chanel black classic flap. I'm in awe of her Chanel collection.
She's really very sweet and sincere and you could definitely tell from the way she writes her comments. I'll always look forward to reading what she has to say coz she always puts a smile on my face. After a few exchanges over blogger and emails, we realised how much we have in common. It's really uncanny yet absolutely remarkable to have found someone on the internet with so many similarities. We both joked about how we could be related.
To rub her love for Chanel onto her readers, Peh Sun has this
amazing giveaway
with lots of Chanel goodies from the skincare and make up range. (Of course you weren't expecting a classic flap, were you?) This is the most generous and coveted giveaway I've ever seen in the blogosphere.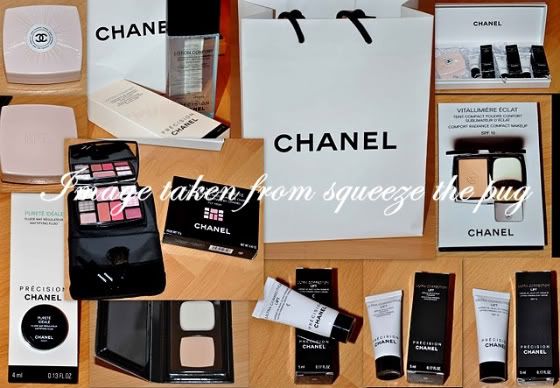 THE Winner's prize:
Chanel Precision Lotion Confort Toner (full sized 200ml sealed bottle with box)
Chanel Travel Makeup palette (Full sized, new and boxed, complete with Chanel mirror compact, makeup tools/brushes and velvet black Chanel pouch)
Chanel No.5 Soap bar (full-sized & sealed)
Chanel Vitalumiere Ecalt Confort Radiance Compact Makeup B20 beige SPF 10 (mini powder compact with sponge)
Chanel Precision Purette Matifying Fluid (mini pot, 4ml)
Chanel Precision Ultra Correction Lift, firming Day cream (mini tube, boxed)
Chanel Precision Ultra Correction Lift, firming Night cream (mini tube, boxed)
Chanel Precision Ultra Sculpting Firming Concentrate (mini tube, boxed)
Chanel white hard box (from the No5 Chanel Paris, this box smells strongly of the iconic Chanel No.5)
Chanel white paper bag
What an impressive list! She has really set a very high benchmark for giveaways eh? After reading so many blogs, I realise it's common for people to hold giveaways once they hit a certain number of followers and I thought of holding one when I hit 100. By then, I've to wrack my brains to come up with decent gifts.
I'm a bird that goes cheap cheap cheap when it comes to make up and skincare. Most of the low and middle range drugstore products work very well on me. Not counting gifts from friends, my most expensive skincare product is SK-II Facial Treatment Essence whereas my most expensive make up is SK-II Cellumination Pancake. I've thought of trying out some from the Chanel range when my skin gets more mature and just not long after that, I saw Peh Sun's awesome giveaway.
I've to confess very honestly that I may not use some of the items in the giveaway but should I win, I would definitely know how to put them into good use even if I don't use them for myself. So here I am spreading the word for Peh Sun.
If you're a blogger and you want to try your luck in winning these items, why don't you hop over to her
blog
, follow her and leave a comment? It's open to international readers as well. The closing date is still far (12 July 2011) so no worries about being late.
And... even if you do not want to participate, visiting her blog will be a fruitful trip coz her entries are interesting to read.
And and... If you follow me and leave me a comment, I might put in a good word for you too. Nah... You didn't fall for that did you?