Deardear was treated to
Au Petit Salut
for his birthday this year. This is the first time we're celebrating his birthday as husband and wife. =)
"Au Petit Salut aims to create a dining experience to capture the full essence of traditional-style country cuisine and bring about the deceptive simplicity of traditional French cuisine to a culinary style that puts premium on quality products."
cocktail & mocktail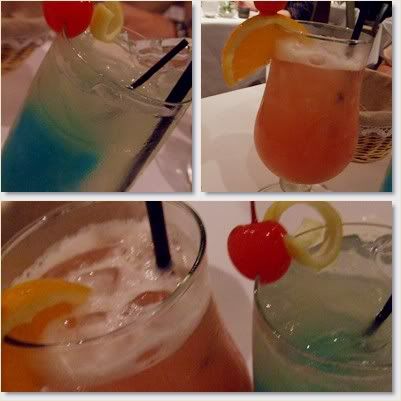 Guess who chose what?
The cocktail is Au Petit's very own concoction. The alcohol is in the shot glass which is submerged in the soda. Really unique. That's mine. However, I preferred the sweet taste of Sex on the Beach.
The yummilicious food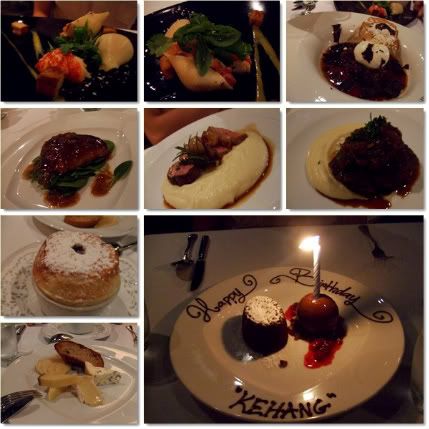 ~*1st Entrée*~
Cold pasta shell stuffed with lobster, sage and orange,
bouillabaisse vinaigrette
Verdict: Love the succulent lobster!
~*2nd Entrées*~
Pan-seared duck foie gras served with baby spinach
red onions and Xeres vinegar
Verdict: The foie gras here isn't comparable to that at
The Cliff
but for the much affordable price we paid as compared to The Cliff, nobody's complaining. Plus it is HUGE! First time eating such huge foie gras. As I'm typing this and looking at the photo, I can't help but crave for the rich velvety taste of foie gras once more.
~*Main*~
His...
Oven roasted Welch lamb saddle on the bone served
with mashed potatoes, garlic confit and lamb jus
Hers...
Pan seared beef tenderloin served with shallots and garlic confit,
mashed potato, red wine sauce
Verdict: Kh's lamb looked more appetising but I personally cannot stand the taste of lamb. He enjoyed his dish a lot and he thought that my beef was good too. However, I didn't quite like mine. I was craving for steak but the tenderloin wasn't close to steak. Love the mashed potato though.
~*Desserts*~
His...
Orange and Grand Marnier soufflé with chocolate truffle + complimentary birthday dessert
Hers...
Selection of matured French farm cheeses served
with walnut bread
Verdict: The soufflé was drenched with Grand Marnier that we were pretty overwhelemed. I swear one could get drunk just by eating the whole soufflé. It was fortunate that we didn't choose the same desserts. The cheese was a great balance on the tastebud after all the sweetness from the soufflé and kh's complimentary birthday dessert.
~*Choice of coffee or tea*~
As usual, he would have his dosage of coffee. As for me, they recommended Vanilla tea and since I hadn't tried it before, I decided to go for it. It was great!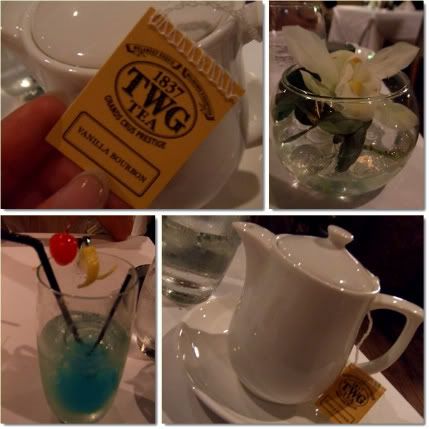 We also ordered an ala carte dish with truffles (the fungi, not the chocolate) as it was seasonal and not on the menu. The waitress urged us to give it a try and we were glad we did. That was lipsmacking!
kh smiling so cheekily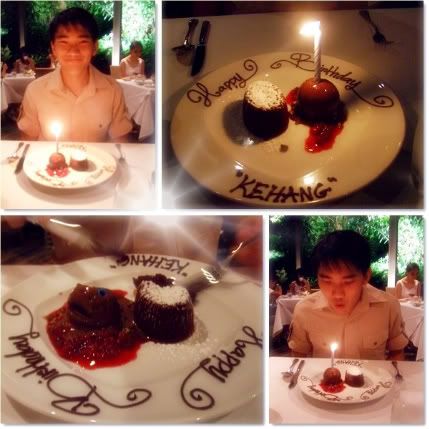 Food: *** 1/2
Affordable French fare. I can't help comparing Au Petit Salut to The Cliff so my ratings above may not be accurate. Kh felt that the food was great.
Ambience: *** 1/2
Breezy alfresco dining with cozy setting and lush greenery all around.
Even though I booked 2 days in advance, we were informed over the phone that indoor seating would be full that day. We were seated outside and it was neither hot nor humid. Pretty comfortable in fact.
Service: ****
Warm and friendly. The waitresses often laughed with us and was personable rather than professional which is something I like.
Price: Value for $$ considering it's French
Au Petit Salut is the place to go for French fare at affordable prices.
We spent about $200 ++ (can't remember the exact amount) on 2 set dinners, separate ala carte and drinks.