To be updated...
Haha I have to put this dummy entry here as a few of you have already sms me that you have checked my blog but there is no updates on that day.
Not many photos this time...
I'll update when I come back.
Tata Ü
~*~*~*~*~*~*~*~*~*~*~*~*~*~*~*~*~*~*~*~*~*~*~*~*~*~*~*~
Updated!
Joa and I were really late. We missed the dinner somewhere in Chinatown and reached Party World at 9+.
To Joa, such a pleasant coincidence that we were both at TPY. It was really nice meeting up with you first and going there together. I had a nice chat with you. =). You make me feel like trying out for SIA.
When we arrived at party world, the guys and the gals were segregated into two gangs. This always happens every year.
The boys
The gals
I still can't shake off the thinking that we are still boys and gals… After all, we knew each other when we were mere kids.
C*******g hao3 you3 man3 tian1 xia4! It's good that they changed their tagline. I used to amend their tagline to "Probably the best beer in the world… Probably not!" A world of friends has so much more meaning than a tagline which screams I'm not telling the truth.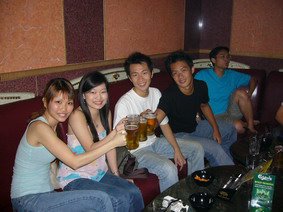 The KTV session was more of a talking/ chatting session for me. I don't know many Chinese songs and even if I've heard them somewhere before, I don't know how to sing. Everyone was so into serious singing. I started inserting all the duets that I remembered how to sing as well as those fast and loud songs that everyone could sing together. That's what KTV session is all about.
Then somebody chose Emil Chau's "peng2 you3" and although cliché, it was a good choice. That is one song that everyone could sing.
And then when a lot of them had gone home, leaving with only a few of us, things got wild and fun. When I was outside with jf, yh called me and asked us to hurry coz
zz
was singing all my songs away and was torturing their ears.
Imagine our surprise when we flung the door open, only to see zz dancing on the couch and tormenting them with his singing while the rest of the guys were grooving away on the floor.
And I reiterate… that's what I call K session!
So we joined in the fun. We danced, we grooved, we followed the moves and gestures on the mtv. We screamed, we shouted, we hollered at the top of our voices. Of course we did sing too… In fact, we sang our lungs out.
Hey yh, you are not supposed to pose here. You are supposed to act crazy like that crazy gal behind. (BTW this 2 friends have been in the same class with me from pri 1 to 6, which means we have known each other for 17 years!)
After the shouting session, we squeezed into zz's car and headed for supper at Yishun. That was the first time I squeezed into a car of 7 grown kids… 5 boys 2 gals.
We ate and chatted till 3+am. Then we really had to go as I had work the next day and jf had tuition in the morning.
To sum up the night's happening…. It was FUN! We should have more of these gathering. Although I do meet up with the different groups of close primary school friends every now and then, we ought to have more large scale meet ups often. Why wait til 7th January 2007? Quick! Somebody go organize another one this year.
Don't look at me.