All these through my vision therapy eyewear…
You all should really give this "pinhole glasses" a try. The first time I saw it, I had my contact lenses on and was quite skeptical about it. My colleague with slight myopia actually tried it on and was surprised that she could see everything clearly. We shot many unanswerable questions at the promoter, who was obviously quite new, and all she could say was her boss with degree of 400+ wore it for 2 years and now his vision is 25. That satisfied us.
Today, without my glasses or contacts, I tried it and WOOH… I bought it immediately. I did not buy it at the same Guardian so I hope the promoter doesn't earn any commission or I would feel quite bad.
Please refer to
The Bates Method
for more information.
The week that just passed had been a huge breather. I managed to catch 2 movies with kh.
Corpse Bride
and
Into the Blue
Both were in a spur of moment decision but they weren't too bad.
Corpse Bride is touchingly bittersweet. I teared towards the end when Emily the corpse gave up Victor to his human bride. "Till death do us part…" Yes, she had died and so had to part with Victor.
The show is well worth the money if you watch it during the weekdays as it is only like slightly more than an hour long.
Victor's dead doggie is my favourite character in the movie.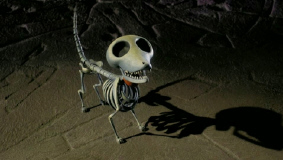 Into the Blue is a little lame and somewhat unbelievable but hey, we watched it coz of Jessica Alba so who cares?
We were looking for shows to kill time and the show time for Into the Blue was just right. I asked kh what the show was about and he replied that it was some treasure hunting plot.
Okay I don't care what's the plot. I would watch any show to see Jessica Alba's hot body!
She is hot!
Look at her tanned and toned bod!
In Sin City, she looks every ounce as innocent as she was oozing with stripper's appeal.
In Fantastic Four, she looks hot even in a tacky high-temperature-resistent-suit.
In Honey, she shook her bon bon so well, it was simply bootylicious!
And I simply adore her smile.
Jessica Alba... Hot, tanned, sexy, sweet, innocent, beautiful...
This is what I see now.