I typed everything in a whirl. Whatever came into my mind, I typed it word for word. Sweet memories… happy times… stirred feelings and most importantly, honest thoughts.
When I felt that there was nothing more to type, I stared at the page, read through and wondered if I should post it up. It's not like me to type such stuff publicly.
In the end I posted it up, wishing and hoping that nobody would laugh at me or be so totally grossed out.
I don't know why I did that.
I felt foolish…
But this foolish boy actually replied to my foolish post.
And then I didn't feel that foolish anymore.
I was glad I did that.
But I won't do such embarrassing stuff anymore. I shall revert to my old self as from now.
~*~*~*~*~*~*~*~*~*~*~*~*~*~*~*~*~*~*~*~*~*~*~*~*~*~*~*~*~*~*~*~*~*
Ok promise kept.
I went to see my doctor last night to stop my parents and friends from nagging at and scolding me.
My doc seemed delighted to see me. She said she hasn't seen me for a very long time.
Look at what little treats I got from the trip to the doctor's.
DRUGS!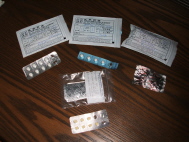 I think they look more like some kinda dodgy drugs like this. $40 leh!!! It's like club drugs lor.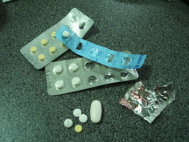 Julie suggested washing them down with Coke. She professed some grand theory that long ago Coke was used as a cough mixture. I think she thinks she is talking to a geena. But she sounded so convincing. Btw, I met up with good pals Julie and
Tammy
for lunch this afternoon. It was kinda impromptu. Tam was so in a rush that she kept glancing at her watch throughout the whole meal. Next time, the NUS boys should join us at TP for lunch on Wednesdays. It's not too difficult right? I can bring some bak kwa if it will lure
teoks
out.