Just in case you are wondering about the above title, it has got nothing to do with Voldemort. Due to privacy issues, I made it a point not to address my family, friends and whoever who appears on my blog by their real names. Many of my friends were fine with me shortening their names or using their initials on my blog while some had no issues with me using their first names. Cliques of friends were given group names solely to be used on my blog so that it would be easier for me to refer to the various groups in writing. (However, there would be times when the group names stuck throughout. Take for example, the
F4
.)
This post chronicles all the meet-up sessions with April and Viv from last year till now and Viv suggested "That Group That Shall Not Be Named" to be used on my blog coz we can't think of anything else.
As most of you already know, I'm forever doing a throwback on my blog. The time lapse is really distinct when I'm blogging about friends who are pregnant or friends with kids as you would soon see.

~*Tea at TWG 2012*~
That Group That Shall Not Be Named met up for tea at TWG last June.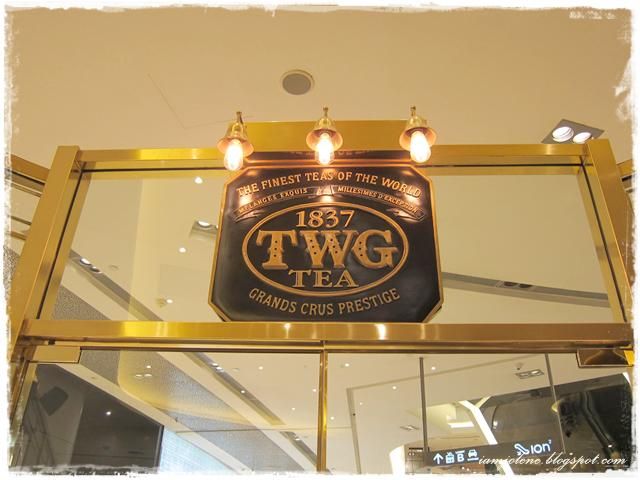 April was the epitome of an elegant and beautiful mother. She was practically glowing with radiance. When we met up then, she was due to deliver in about 2-3 months time.
Both viv and I often see each other back then that we needn't have a shot together so we were both fighting for a picture moment with the beautiful mummy.
I really love having tea sessions at TWG. I just don't like how I could take 10 minutes to pore through the list of tea even if it was not my first time there.
Ya, I just love to do those individual "candid" shots thingy.
Viv did this effect with some app and we felt like we were in a spaceship.
Even without any effects, we looked like aliens through the reflection.
April was always so busy that it was quite difficult to catch her. Arranging a meet up with her was so difficult that once she had a free date, we would try to push everything away and make ourselves available on that day. In fact, it seemed like we only meet once a year with the
last outing
being her birthday lunch the previous year (2011). Hence I'm really glad that we have been meeting up more often these 2 years and I hope we would continue to have more regular meet-up sessions. One session is never enough to finish updating about what's going on in our lives.
[All photos in this section were taken using Canon S95 and iPhone 4.]

~*Happy One Month Birthday to Talya 2012*~
Talya turned one (month) last September and April threw a one-month-old baby shower. We were so late due to work that there was hardly any food left. Hence, you don't see the usual food photos lurking around in this segment. Meanwhile, I took the opportunity to take more photos of Talya and of Kh's expresson when he saw her socks. He reckoned that Bruce must have forced those "I love Dad" socks upon Talya's little feet.
The 2 beauties.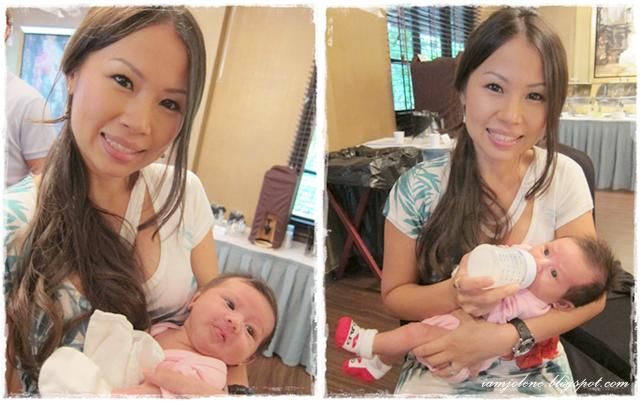 3 of us with the centre of attraction.
Aside: I love to hold baby's heads which somehow look like I'm squishing them in photos.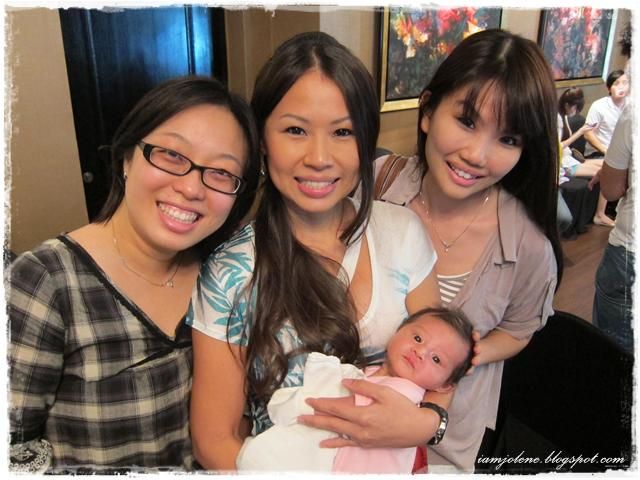 I hate the harsh flash of this group photo but the one without flash had us standing normally but with awkward expressions. Bruce looked totally stunned by the flash here while the rest of us each grabbed a part of Talya at the count of 3.
I shall hijack this segment of updates with That Group That Shall Not Be Named with some photos of dinner with the hubz. After Talya's baby shower, Kh and I ate at
TCC
which is one of our favourite dining places. We had the Tuna Tataki Salad to share. He had some nondescript baked rice and I had Tobiko Scallop Pasta with sauteed scallops.
Kh signed the bill with the pen the waitress had provided and said that the pen should be given to me instead. Other than implying I should get a best teacher recognition, he was also implying that I should sign the bill.
-_-|||
[All photos in this section were taken using Canon S95.]

~*The One with The Baby and The Cat 2013*~
April invited us over for lunch as Viv and I wanted to see Talya as well as PetPet her Scottish Fold cat. Since our
last visit
to their home, there was an addition of a Bengal cat called "The Little One". Yes, it really is called "The Little One". It was difficult to snap a picture of him when he wasn't moving and he tended to shy away.
How we missed PetPet!
Bruce was always doing funny things to PetPet.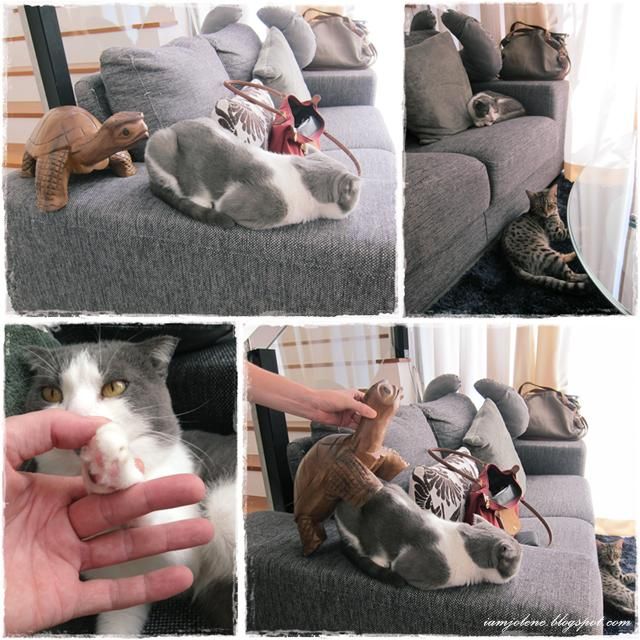 Cute little PetPet.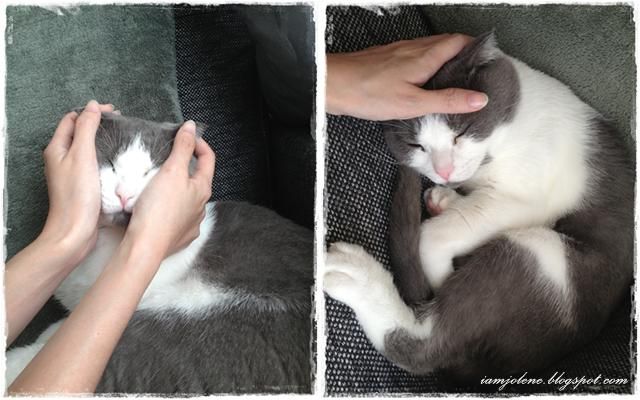 How I love his pink paws!
Talya was finally awake and smiling so radiantly. She certainly didn't look like a baby who had just woken up.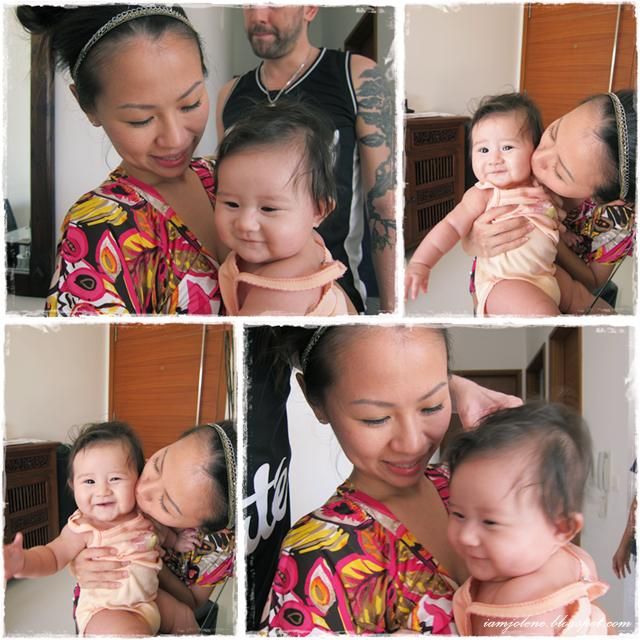 Talya had her first solid food that day and Bruce felt that it was appropriate to allow her to pose with a knife.
I really love this photo of Talya smiling. She is so adorable. Before this photo, I took many videos of Bruce "bullying" her. He was practically playing with her like a doll and making her shake her booty at mummy. It was hilarious! Talya seemed to enjoy being bullied by Bruce as she was smiling and laughing cheekily all the way.
Top: More evidence of Daddy bullying Talya.
Bottom: Evidence of a good Daddy. Aww...
It was our turn to bully Talya.
Fortunately, she smiled (see photo on right) and so nobody could charge us for child abuse.
The girls!
By then it was time for Talya's nap and she was fast getting cranky. All of us ignored her and smiled for the camera while she started wailing.
This was how our parting shot looked like on Bruce's phone. He insisted that all of us were smiling and that Talya was laughing with her eyes closed and mouth wide open. Hahaha...
Once again, I shall hijack this segment of updates with food photos. For dinner, the hubz and I went to Cotton Bleu. Since our
first visit
there, we had favourable impression of the place.
Special mention of their bread once more. Crusty on the outside; warm and fluffy on the inside. I really love their bread. It was Blue Mussels weekend and kh ordered that for his mains. I was not sure how mussels could ever be filling for a main course but I do know that it was really lip smacking. We slurped the last drop of soup. I had some I-can't-remember-the-name crepe.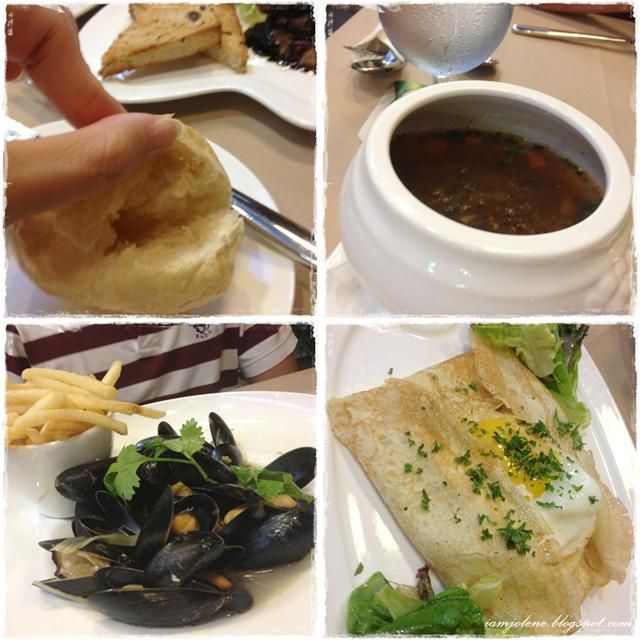 Outfit that day was from
Fleurfaerie
.
[All photos in this section were taken using Canon S95.]

~*The Double Meeting in a Day 2013*~
I am getting more current with my updates as I progress in this post and I'm really excited for being able to catch up. Last month, we met up at Marmalade Pantry for lunch. You would find this section of photos familiar since I've featured them in the
October Instagram
snapshots post just last week.
Our lunch consisted of pastas and burgers. Viv had Carbonara. I had Scallop Bisque Linguine. April had mini burgers from the kid's menu pretending that it was for Talya but it was actually really for herself. Even the waiter had to reaffirm with April that she hadn't ordered for herself yet. Just 3 fries with salt dusted off was all Talya got in addition to the peach packed from home.
That was Round 1 of the gathering with Little Talya being the star that afternoon.
She is growing up to be a really pretty little girl.
Talya is such a doll and quite well-behaved. She was a little shy though and shied away when we wanted to carry her. April said she was at the Daddy only and Mummy only stage. Oh man but when she walked, she just grabbed anyone's hand for balance and pulled us everywhere. She got down to walk at one point after lunch and she grabbed my hand and strung me along. When I felt how wet her hand was, I asked April, "Did she just remove her hand from her mouth?" To which, April answered, "Yes, I'm afraid so."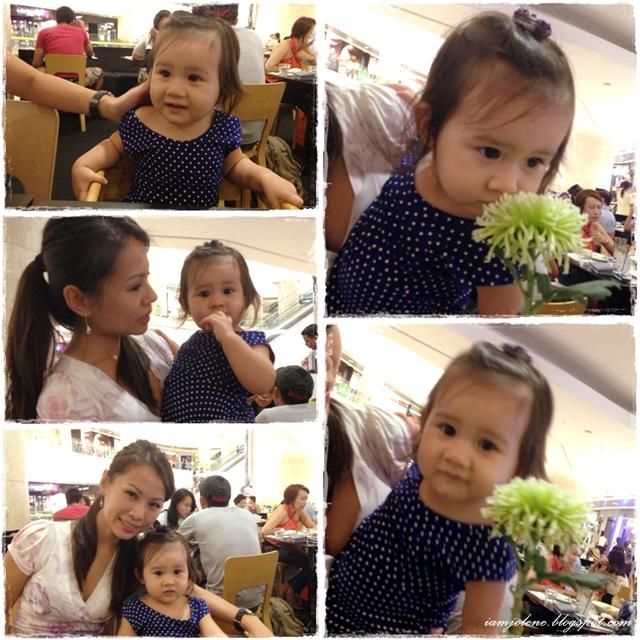 Even as Talya did a "like a boss" pose with her legs on the table, even as she went "no no no no no" in her babyish voice, she is just so adorable. After a few hours away from home, Talya was beginning to get cranky like most children of that age. April had to bid us goodbye to put Talya to bed and then meet us for dinner in the evening.
Round 2 of the gathering was at Cotton Bleu. Let me just reuse the picture from just now. There were many eateries along the rows of shophouses and April being the earliest to reach, chose Cotton Bleu.
I had Boeuf Bourguignon for my mains which I ordered on my maiden visit there and fell in love with the tender chunks of beef stewed in red wine and served with mashed potatoes. I love the comforting home-cooked flavour. Viv had Steak Frites and April (the one who eats like a bird) had French onion soup. All of us had fries to share. We felt that everything was good except the lavender creme brûlée. It tasted really odd or perhaps, I don't have a strong liking for lavender.
We were glad to have Round 2 for it was when we could really chat and keep ourselves updated on one another's lives.
In Viv's words, "In the afternoon, we met Talya's mummy. At night, we met April." How her words ring true. A woman wears many hats and very often, when the mummy hat is put on, all other identities seem to cease. All hail to the mummies in the world.
We chatted till the restaurant closed and still felt like there was so much more to say.
Have you ever seen taxi vouchers before? I did not even know taxi vouchers existed. April insisted on splitting the cost of dinner but we argued that all she had was soup. Since we would not accept her money, she dug out two crumpled taxi vouchers and asked for us to accept them. She explained that the vouchers were crumpled as Talya once played with them and dropped them into a tub of water. I thought that was really funny.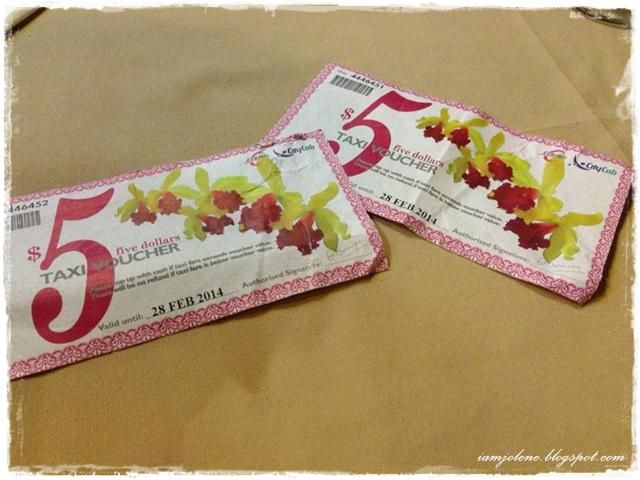 Copied and pasted from my Instagram page:
Sponsorship of my super belated bday present from Viv. Pretty pretty Coach handbag in pink and classic Coach brown. Well, I didn't intend to have another bag. It's all Viv's fault. She wanted a Coach bag for herself and started sending me pics of some bags to seek my opinion. She asked me if I wanted and that she could get it for me too while she was there since it was so affordable. I told her I've got enough bags. To entice me further, she told me that there was a 30% on top of 30% off SGD$315 so it was $146. "Wah! So cheap ah? But I've really got enough bags..." said me. So after she dangled a carrot saying she would sponsor half the bag for my belated birthday present, the rest was history. Happy gal now!
We had to call it a day as the restaurant was closing but just as we were walking away, we felt that we had not taken enough pictures of the 3 of us. So we just stood in front of a spa palour and snapped away.
I hope that That Group That Shall Not Be Named could meet up more often. We made a significant improvement from meeting once a year to twice a year. Cheers to gal pals and friendship!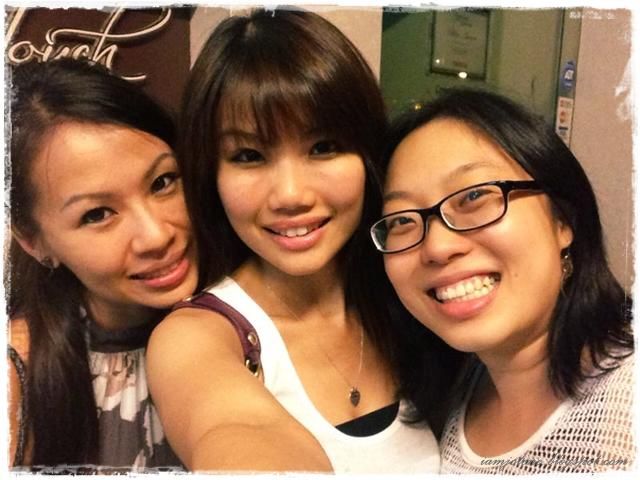 [All photos in this section were taken using iPhone 5.]