~*Day 2: Xtina's Hen's Night*~
Xtina's bachelorette's party took place at
Lantern Bar
, a stylish rooftop bar at The Fullerton Bay Hotel.
Lantern Bar is voted one of the most popular "after work" drinks venues in Singapore (so much so that bookings for tables are recommended). I heard that it is quite an
atas
place with very expensive finger food and drinks. Fortunately for us, our friend DJ Sanakan Damian was spinning that night and invited us to hold Xtina's hen's night there. Hence, we totally skipped the reservation process.
The lift opened with a beautiful view of the pool. The city night scape view from the bar was magnificent and the whole place was dazzling with lights. The environment of the bar was posh but not intimidating. The place was like United Colours of Benetton -- there were many foreigners there.
Presenting masterminds Number 1, 2 and 3 respectively for the evil deeds that night:
Tiff, Jo, Gera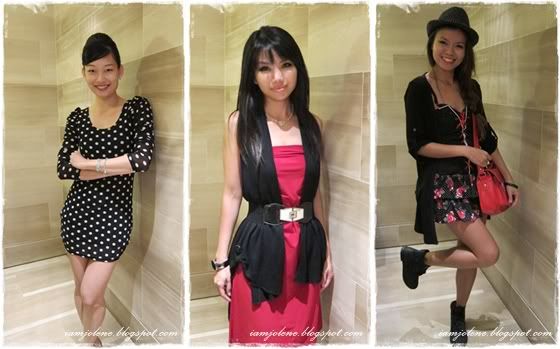 The black and red theme was purely coincidental though these two colours always ring "devilish" in my mind.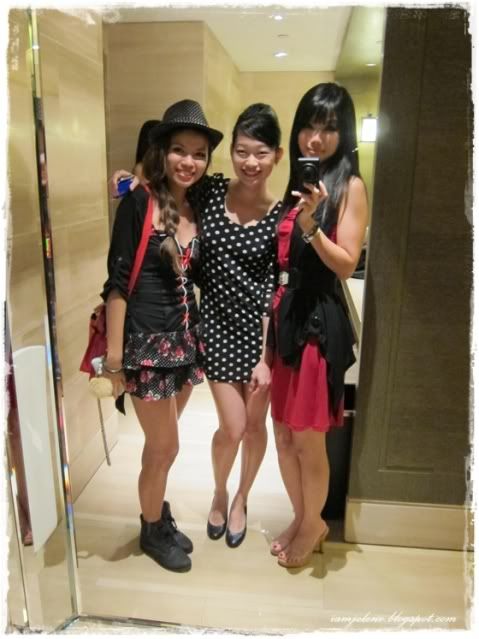 We made Xtina clip on a huge flower on her head to show that she was the main star that night.
It was full house and we waited around at the standing tables while snacking on finger foods for most of us had not taken our dinner yet. The food was great but be prepared to fork out more buck for them at such an atas place.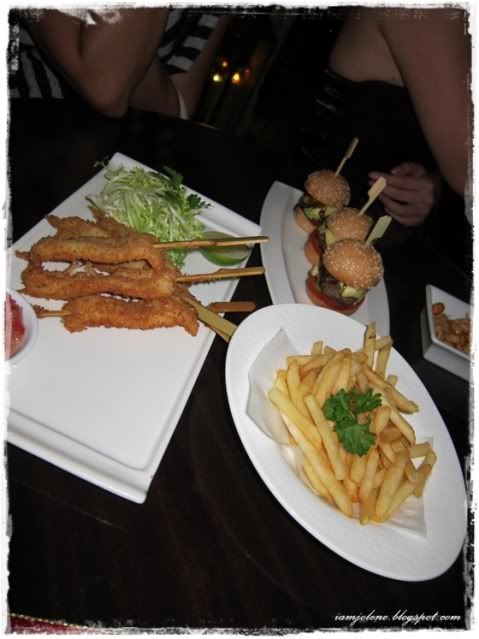 Even though Xtina's jie mei (sisters aka bridesmaids) constitute friends from various phases in her life, we all happen to be acquainted with one another and so had lots to chat about while waiting for a better table to accommodate the whole lot of us. Xtina's youngest sis joined us too. In retrospect, it must have been the most shocking day of her life.
With Damian's help, we finally managed to snag a huge table for our entourage. Some of the jie mei lured Xtina away to the ladies and made sure she stayed in there for a long time while the rest of us hurriedly got down to business.
Out popped the cake which I had custom made. Once we opened the box, there were lots of squeals from our own group as well as from the other patrons.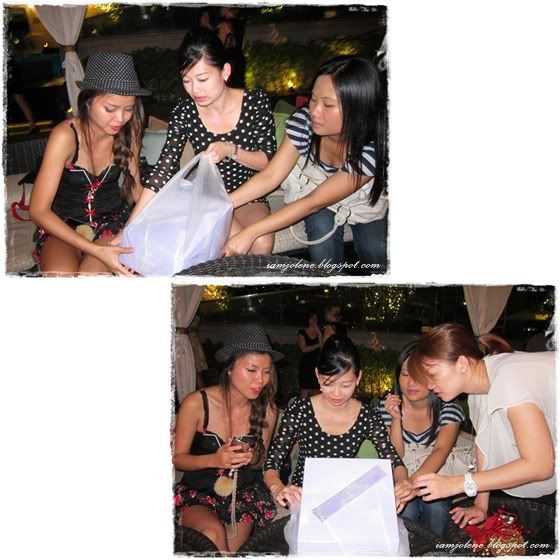 If you are below 18 years of age, please hit the x-button and don't come back. If you insist on scrolling, don't go running to your mummy saying that my blog is unsuitable for the young.
For the rest of you, please continue to scroll down.
Presenting our cake for the bride-to-be -- a Pumping Pole of Penile Power!
Our group screamed as the erected Wiggedy Wang had fallen horizontally! The other patrons screamed coz they thought it was fun seeing a Wiggedy Wang cake complete with edible "hair" and cum.
Guess who came up with these words? No, not me. It was Tiff.
After marvelling at and fixing the cake, we wasted no time in preparing Xtina's white polo tee for her to collect kisses with.
Xtina obviously loved the tee a lot.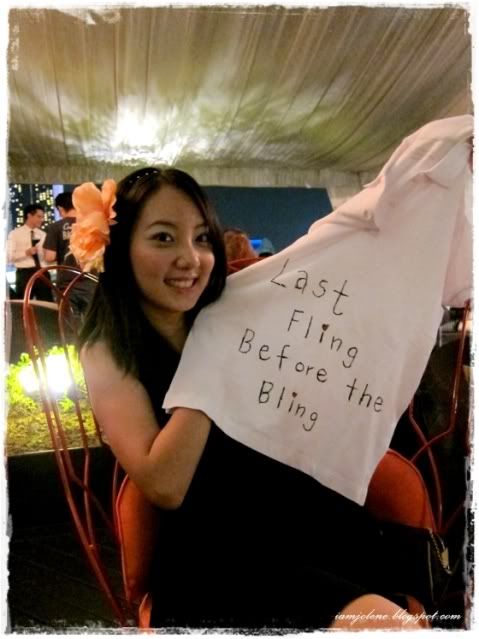 Tiffy helped Xtina to put the tee on and arranged her hair such that she looked like the most gorgeous bride-to-be ever.
Our gorgeous Bimbo!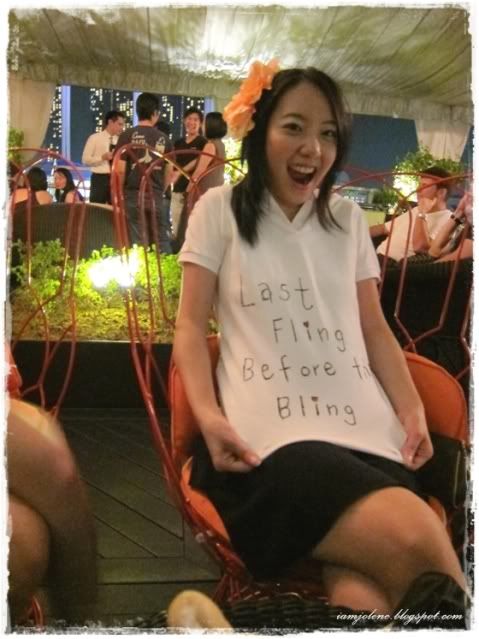 All of us made a promise that what happened at Lantern would stay at Lantern and that some photos would only be for our private viewing. Hence, whatever you see here have been approved by Xtina.
Cheeky jie meis kissed Xtina at all her significant areas.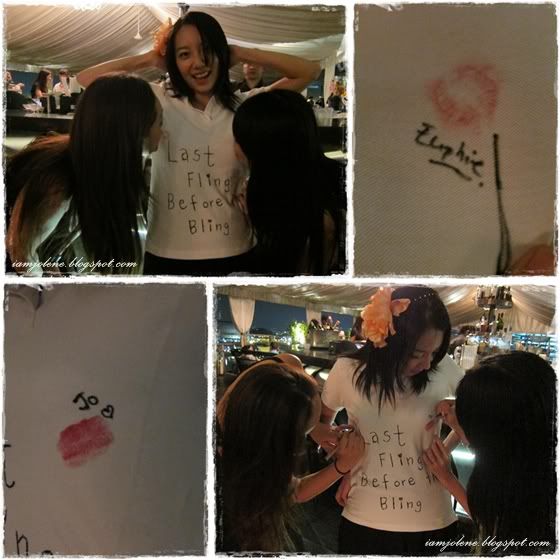 And then there were untold stories... and all I can say is everyone enjoyed the night.
After the wildness at Lantern, a few of us adjourned to St James for Xtina's last night of clubbing as a single lady. When the music got bad, everyone suddenly realised that they were exhausted and posed like this: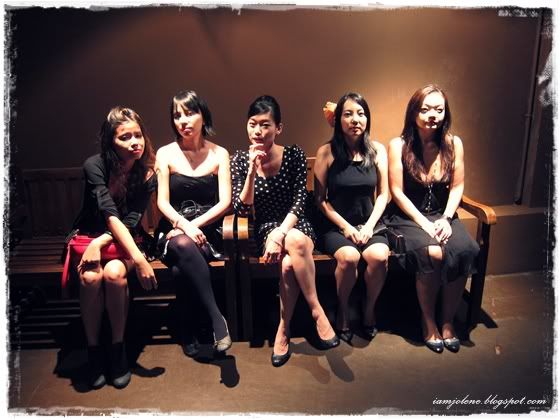 We ended the night with supper of delicious local food like oyster omelette and bbq chicken wings at Food Republic outside St James.
I would end this post with the unfortunate tale of the Pumping Pole of Penile Power.
Boys boys boys... This is what we tigress would do should you cheat on us -- chopping off of manhood and pulling out tuft of pubic hair! In case you are wondering, the "hair" is edible as it is fat choy (Cantonese for "hair vegetable" aka black moss). We tried nibbling and found it very gross though.
That summed up Day 2 of Xtina's 4 days wedding grandeur. We had a whale of a time and we were glad that Xtina enjoyed herself while being so sporting at the same time.
Love you, babe!
*muax*